Kestrel Timberleaf Teardrop Campers under 1,000 lbs
Timberleaf's Kestrel teardrop with its ultra-light weight of just 860 lbs, offers an affordable, and towable upgrade from a tent to a hard-side shelter....
               For sure, big, luxurious RVs with residential-like features, always will be attracting buyers, admirers, and the attention of the media. However, it seems that under the pressure of surrounding "reality" as well as growing eco-consciousness, we are becoming more and more inclined to the idea that "More is Less" or (in other words) – "Small is Beautiful".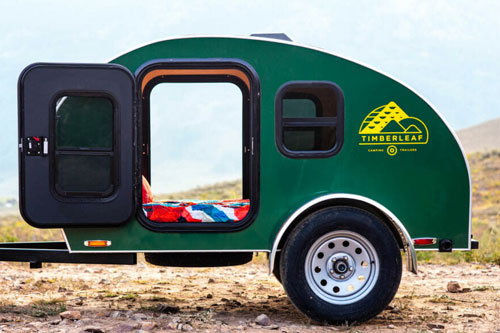 Timberleaf Kestler teardrop trailer

And here - just to have a good perception of proportions
That's why on these pages we dedicate more and more space to smaller, ultra-lite travel trailers. And especially attractive are those with dry weight below 1,000 lbs, not because it is a "magic number" but because they can be easily towed by most of the popular, energy-efficient cars. Such travel trailers represent a special class of campers – a sort of "Transition" from traditional tents to small, towable "hard-shell" shelters that offer better weather protection, instant readiness on a campsite, and precious mobility, from tents inheriting only similarly tight sleeping space.
           So here comes the story "written" by Mr. & Mrs. Kevin and Paula Molick. Their passion for outdoor journeys once again confirmed the belief of Greek philosopher Plato (375 BC) that "Necessity is a mother of all inventions". In 2015, the Timberleaf was born and the rest is a History in Progress. Today, the company founded and owned by Mr. Mrs. Molick (located in Ground Junction, CO), offers three versions of teardrop campers correspondingly: Classic, Pika, and Kestrel.
Classic - was Timberleaf's first and most "complete" model in terms of size, standard features and amenities. Basically, it represents the original ideas and needs of company founders.
Pika – While smaller than the Classic, "inherited" most of its features from the Classic model (rear galley, electrical package, skylight, etc….). However, in an attempt to shave off some pounds, it lost generous interior cabinetry and with it – almost 1/3 of the weight.
Kestrel is the latest and smallest addition to the Timberleaf family of teardrops. It does not have the typical for teardrop rear hatch with a galley, further shrinking its size and weight to well below 1,000 lbs. Shortly speaking, Kestrel basically, represents the mentioned above – a "weather-protected (hard-wall) tent" that is easy to tow, always ready to use, and still affordable.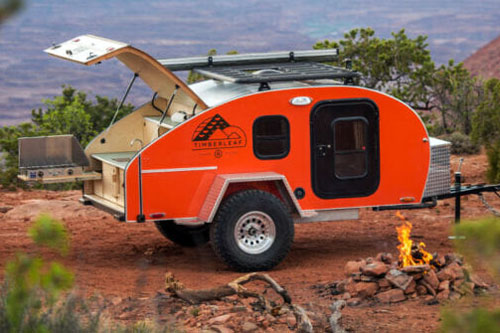 Timberleaf Classic
Timberleaf Pika
Timberleaf Kestler
         Note that all three models: Classic, Pika, and Kestrel come in Standard (Highway), All-Road, and Off-road versions. The main differences are ground clearance, suspension, and wheels.
---
Parameter

Dry weight (lbs)


Shell
Length
Width
Headroom
Overall length


Classic

1,500

120"
61"
48"
168"

Pika

1,025

96"
55.5"
48"
144"

Kestrel

860

90"
55.5"
48"
138"
---
Timberleaf Kestrel
            Kestrel shares the same design as its predecessors Pika and Classic. Namely, 2" x 3" fully welded, powder-coated steel frame and wooden structure covered with 0.040" aluminum skin (enamel-baked sidewalls and anodized aluminum top). The Interior is finished with Baltic Birch plywood painted with 100% Zero-VOC water-based polyurethane.
Note: 100% Zero-VOC Paints: Oil-based paints contain Volatile Organic Compounds (VOC). These toxic chemicals require months (if not years) to gas off and so, they are harmful when applied in small, closed spaces. That's why Timberleaf makes use of water-based, 100% Zero-VOC paints. Their downside is slightly lower durability compared to oil-based paints and a more difficult painting process.

Kestler's interior is built around the double-size mattress
(Behind the pillows is the storage w/shelf on top of it)
Kestler: Rear end with a shelf and cubbies
         Kestrel represents the mentioned earlier minimalistic design offering a sleeping space defined by the dimensions of a double-size mattress (75" x 54"). The mattress is 6" thick, however, an 8" thick one is available as an option. Two side doors with windows and two additional windows offer enough natural light to enhance the feeling of "warmness" created by the Baltic Birch interior finish. All windows are vented and with additional help from a ceiling vent the small interior somehow maintains the "contact" with the outdoors (an optional skylight can further boost this experience).
Unlike most traditional teardrops (including Classic and Pika), Kestrel does not have a rear-hatch galley. This unorthodox approach was necessary to keep the trailer's dry weight well under 1,000 lbs.
As expected, interior is quite "Spartan". The standard additions are:
Full width, Headboard storage with sliding doors and shelf on the top of it (the front of the trailer)
Full width shelf, and cabbies (the rear side of the trailer)
The headboard storage is relatively spacious and thanks to its location next to the doors it's easily accessible. The advantage of easy accessibility also shares the the shelf on top of it. However, it's a bit harder to access the rear shelf and cubbies located at the foot of the mattress. Well, think about how difficult it can be to reach something inside of the tent, especially when it's not tall enough so you have to crawl to get there :-)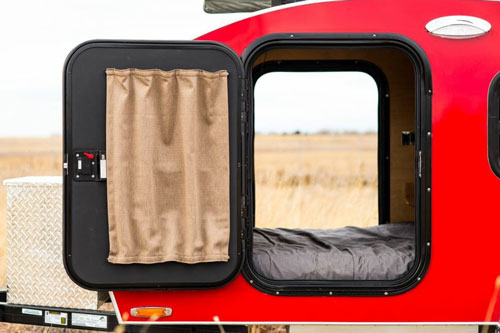 Kestler: Optional window curtain
Kestler: Optional Skylight
        Kestrel (in its standard version) is not equipped with Power Kit, so two reading and one ceiling LED lights are operated by AA batteries. However, the trailer comes with a 7-pin connector and is fully pre-wired for the optional Power System including 75 Ah, deep-cycle AGM battery, trickle charger, two interior USB ports, 12Vdc port, as well as interior and exterior lights, and optional electric fun (either 4-speed or 10-speed one with thermostat and rain sensor). Also, the solar kit (Panel, 20A MPPT charger, and Monitoring System) is available from the list of options.
Note: The Trickle Charger is a low-voltage charger, which means that it can be permanently connected to the battery without the risk of overcharging and/or overheating it. This in turn ensures the battery's long-term health.

Optional side-wall folding shelf
        To make it clear – there is a long list of options available for Standard Kestler. However, just to remind you – this trailer was built as a "close-to-tent" upgrade with a dry weight of only 860 lbs (390 kg). Just as an example – adding the power Kit, roof rack, awning, window shades, LPG bottle w/brackets, and tongue storage box (as well as for "emotional" benefits – Skylight) will still keep the trailer weight under 1,000 lbs. And the clear benefits are:

Ability to tow it by a typical family car,
Very affordable price. As of today, the Standard Kestrel comes at 8,750 $ (and with mentioned above options its cost goes to about 12.5 k$)
Availability of Off-Road version (certainly of interest for aficionados of journeys on unbeaten paths)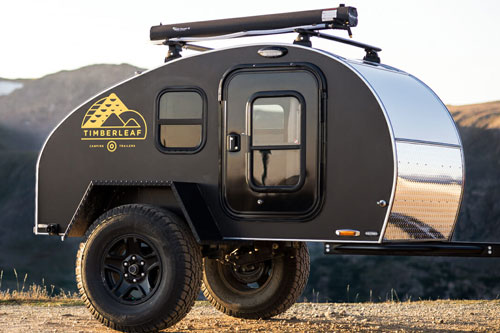 Kestler Teardrop in its Off-Road version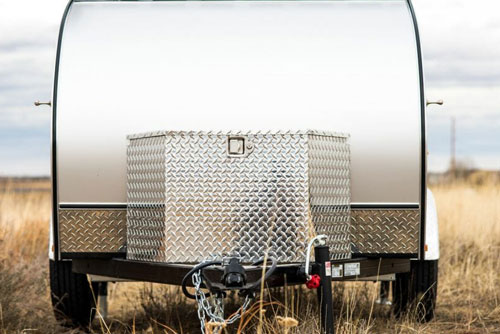 Optional tongue Storage Box
      If you need more storage space, Timberleaf offers two options:
a) 7.5 cu. ft tongue storage box. 
Made from a diamond aluminum plate; it's lockable and seals make it weather resistant.
b) Roof racks
- Standard, general-purpose 3-bar rack. It can support an RTT (Roof-Top-Tent), and it's necessary if you want to install an awning or an exterior shower).
- Full Platform rack. It's a sort of big roof basket, where you can safely transport "small items (firewood, small containers etc…).
Note that the Kestrel's Off-Road package includes Timbren Axle-less suspension and 31" BFG AT tires (together they increase ground clearance by 5 ½"), as well as electric brakes, rock protection, and articulating Max-Coupler (to keep it short).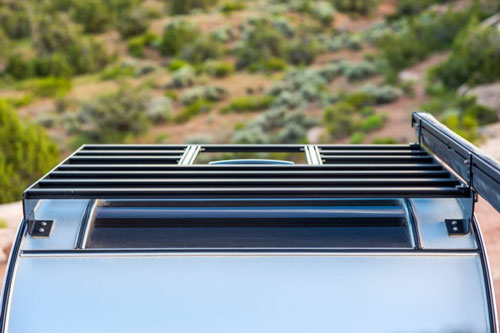 Roof rack (this one is mounted on a Timberleaf Pika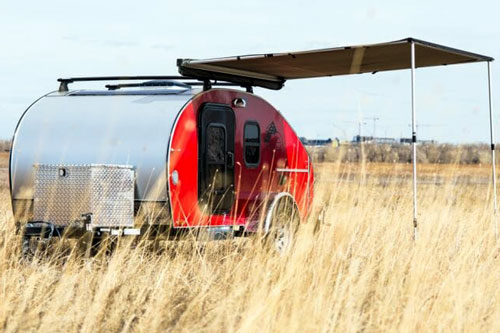 ... and then once you have the roof rack, you can also install the side awning
          In case you need more features and amenities (especially the galley and coming with it - water, cooler, sink, stove, countertop, drawers, and cabinets, as well as larger cargo capabilities, you still have two excellent choices: Pika or higher-end Classic. They come with a rear-access hatch, power system, skylight, and (Classic) – with slightly more interior space.
Kestrel Specifications
---
Exterior length
Exterior width (1)
Exterior height (1)
Interior length
Interior width
Headroom (2)
Dry weight
GVWR
Hitch height (3)
Tongue weight
Ground clearance (4)
Sleeps

138"
77.5"
66"
75"
54"
43"
860 lbs
2,000 lbs
13 ¼"
100 lbs
10 ¾"
2
---
1. Standard model (All-Road and Off-road versions are correspondingly 67" and 71.5" high.
2. Floor to ceiling (w/mattress, depending on its thickness 35" -to -37")
3. Standard model (All-Road and Off-road versions correspondingly 15 ½" and 19")
4. Standard model (All-Road and Off-road versions correspondingly 11 ¾" and 16 ¼")

Construction

Frame: 2" x 3", 90" x 54" fully welded, powder-coated steel frame
Shell: wooden structure w/40 mils enamel-baked aluminum sides and 40 mils clear anodized aluminum top
Interior: Baltic Birch plywood finished w/100% zero-VOC waterborne paint (Polyurethane)
Insulation: R-7 (ceiling only)
Suspension: 2,000 lbs, Independent Torsion axle
Wheels: ST205/75/R15 w/15" aluminum rims
Fenders: Round aluminum
Windows: two 14" x 16" venting, side windows
Doors: two 26" x 36" side doors w/venting windows
Coupler: 2" (ball)
Connector: 7-way blade
Note:
7-pin connector provides the wires for Tail, Stop and Left & Right turn signal lights, electrical brakes, and charge (if a trailer comes with its own battery), as well as a return wire (to the battery of the towing vehicle). The return path is also provided by the GND path if the trailer's battery is grounded to the trailer's frame and that the trailer's "Grounding scheme" matches the one in the towing car (usually minus (-) is connected to the chassis/frame). However due to the presence of the coupler in the electrical path, the its reliability may be questionable. 
Kestler comes with a 2" ball. But what kind of hitch you need to install in your towing vehicle is another question. Below is a guide provided by Timberleaf

You have to measure the distance "C". Base on the result you will have to chose either a Rise, Straight or Drop ball mount hitch.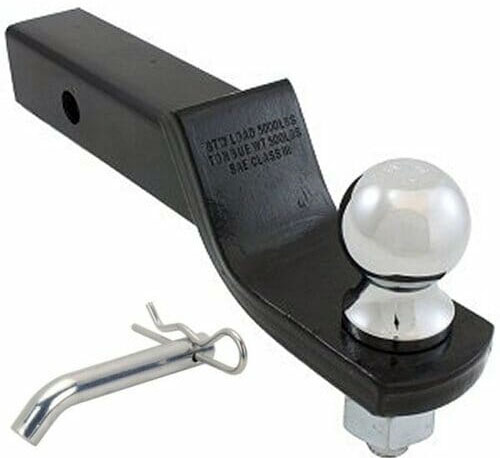 Here (as an example) the Drop Ball Hitch
Kestler Features
Standard Interior Features

6" Foam Mattress (75" x 54")
3 x (AA-batteries powered) LED lights ( 2 x reading, 1 central)
Pre-wired for optional Power System
Roof, passive ventilation
Large, full-width shelf
Storage cubby
Large, headboard cabinet w/sliding doors
Kestler: Front headboard storage w/sliding doors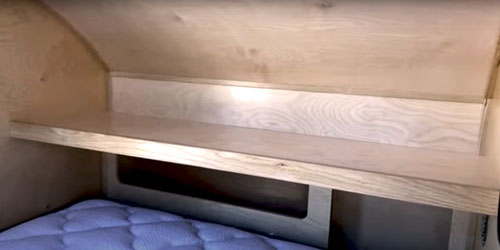 Kestler: Rear shelf and cubbies
Standard Exterior Features

Spare tire (under the frame)
2" rear receiver (for bike rack…)
Tongue stabilizer
On the right: optional rear stabilizer (the same model is used as a tongue stabilizer)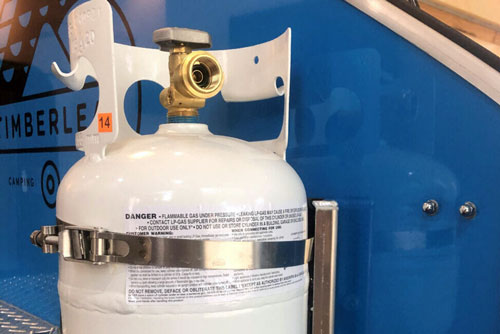 Optional LPG Tank and bracket
Options

Power System (includes 75-Ah AGM deep-cycle battery, trickle battery charger, 2 x USB ports, 12Vdc interior and exterior lights, and power supply for fun)
Solar Panel and Installation (Includes Monitoring Screen and 20A MPPT charger)
Skylight (clear or tinted) w/ shade
Roof rack: Standard 3-bars (49 ¾" x 52 ½") or Full Platform
Rhino 2000 Awning (98" x 83", requires roof rack)
4-speed electric fun
10-speed electric fun w/thermostat and rain sensor
8" thick mattress
Window curtains (doors and windows)
2 x Interior, side-wall folding shelves (Alder or Baltic Birch)
LPG Tank w/mounting bracket
2 x Rear stabilizing Jacks
Tongue lock
Propex heater (LPG)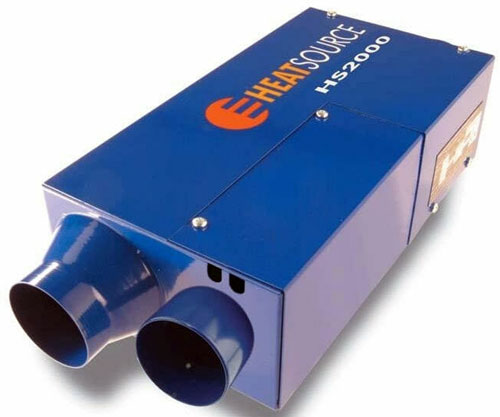 Propex LPG Heater
Summarizing: Timberleaf's Kestrel with its weight of just 860 lbs, offers an affordable, comfortable, and towable upgrade from a weather-sensitive tent to a weather-protected, hard-side shelter. Its minimalistic design with no bells and whistles, it matches the expectations of eco-friendly RV-ers, but at the same time offers the promise of an adventurous spirit, so characteristic of backpackers' journeys….. And all that at a very affordable price of about $8,750 (not to mention the fact, that at some extra $, it also comes in an Off-Road version!).
Go back to: --> Ultra-Lite campers under 1,000 lbs 
Unless otherwise indicated, all pictures are courtesy of Timberleaf Trailers
Note:  Check with the manufacturer and / or authorized RV Dealer for the up-to-date list of features, options as well as latest specifications. These written above may not be accurate and certainly are subject to change by the factory. We are not responsible for any inaccuracy, the above text is provided only for the general information.
This review was written based on publicly available information for the benefits of the community of RV-ers. We do not receive any gratification or financial benefits from RV manufacturers, dealers, and any other promoters of RVs. 
We are NOT involved in sale and/or retail of RVs!