Kid Pop up Play Tent
About Kid Pop up Play Tent
When it comes to playing, children can be very demanding so parents usually have difficulties to answer their needs.
That's why it is very important for kids to have their own toys that will allow them to enter the world of imagination and fun.
The best way for that is getting them a kids' play tent.
Since kids often like to play with the replicas of larger things so pop up play tents are a great opportunity for the little ones to have a lot of fun inside.
Play tents are very interesting and come in various sizes, shapes and designs. There are play tents shaped as animals, castles, school buses, wigwams, some are cowboy tents, monster tents just to name a few…..
The bottom line is - there are numerous designs to choose from that will make children happy and excited. Usually play tents are very easy to assemble and do not take up a lot of room. Furthermore, when the kids are not using tents for playing you can keep kids' toys inside.
Kids play tents are proven to be very useful since they improve motor skills and coordination. They improve creativity in your kids and also while playing in play tents kids learn to interact with their friends or siblings. Having pop up play tents provide kids their own personal space making them feel independent and happy especially when some of their friends coming for a sleep-over.
There are dozens of companies manufacturing play tents. However, there are only a few that stand out as companies, which are based on play tents. These are Pacific Play tents, Playhut, Haba.
An example of Pacific Play Tent for children

Pacific Play Tents is one of the most popular manufacturers of high quality and imaginative pop up play tents for kids for indoor and outdoor use. It's a private company which focuses on producing dome tents, bed tents, tunnels and playhouse tents. They have a wide range of colorful and unique play tents that allows kids to use their imagination and to pretend to be anywhere they want.
Playhut is another name in the world of play tents manufacturing. Their tents are tents that unfold and pop into place. These are the fastest tents for setting up and taking down. You can find many themes tents produced by Playhut. They offer a wide variety of different shapes and sizes suitable for most demanding kids.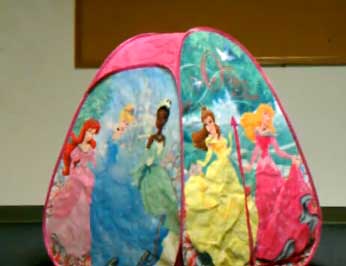 Playhut EZ-Twist play tent

Haba produces more stylish tents with decorative appearance, which, when popped up can be a permanent decoration in the kid's room.
There are many other companies making pop up play tents for kids so it may be a bit hard to decide which one is the best. When buying these tents for kids you have to decide what type of tent you want for your kid. Once you have narrowed your choice, try to find the company that focuses on the type of play tents you're searching for.
In summary, pop up play tents for kids are very useful promoting kids' imaginative ideas and are ideal for children's birthdays and parties.
---
Visitor's story.....

The kid pop up play tent has many advantages if you have little ones.
The tents just pop up and open up in seconds.
The kids love playing in them and playing board games and some even watch the portable DVD player.
When we traveled to New Hampshire one year, a family had four kids and a dog. They had there hands full, but managed just find with the help of two of the kid pop up play tent.
This family found a way to camp with four kids and a dog without any problems at all. The dog and the kids each had there own fid pop up play tent to do whatever they wanted to inside.
The dog did not seem as excited as the kids did, but he was a good dog anyway. The kids could watch a movie or play cards. Whatever they wanted to do in there little kid pop up play tent was okay with them.
The kid pop up play tent has become a big hit with families with kids. When we were in New Mexico, a family also had these play tents for the kids. There not that waterproof, when it rained out the kids came a running to the camper. The tent is mainly used to give the kids a place of there own instead of being cooped up in the camper with everyone else.
I have a kid pop up play tent that I use to store things in that I do not want to keep in the camper. I use it to keep shovels, rakes and repellants in when we are camping. There are many uses for the kid pop up play tent that are not noted on the package, but it sure does work for storage as well.
 About Us / Privacy Policy / Resources
Go from Kid Pop up Play Tent to Pop Up Campers Trailer Home