Karavan Classic Specs
Hybrid Off-road Travel Trailers
Kimberley Karavan Classic: specifications, technical information and the list of features for a hybrid off-road travel trailer.
This is a the continuation of the Kimberley Karavan Classic description from the previous page. This time Specifications, Technical Details, Standard and Optional Features as well as comments...
If you missed the previous page, please consider reading first:
--> Kimberley Karavan Classic: Description
Kimberley Karavan Classic can follow whenever your towing vehicle can go ....
Source: magazine.rvdaily.com.au
Specifications
Note that measures in imperial units are approximations from metric units, and they may slightly vary in models designed for US market.
---
Parameter

Road-configuration
Exterior length (1)
Exterior width
Exterior height (2)
Campsite configuration
Exterior length (1)
Exterior width
Exterior height (2)
Shell length
Shell headroom
Dry weight (3)
GVWR
Tongue weight (3)
Fresh water tanks
Grey water tank (4)
Black water tank
LPG (5)
Sleep (6)


Imperial Units


17' 8"-18' 2"
75.6"
6'11"- 7'4"

22'-22'6"
75.6"
10'2"-10'7"
-
≈ 7'
3,330+ lbs
5,420 lbs
287+ lbs
26.4 + 15.4 gals
13.2 gals
none
2 x 9.2 lbs
2

Metric Units


539 – 553 cm
159 cm
211.5-223.5 cm

671-685 cm
159 cm
310-322 cm
-
-
1,510+ kg
2,459 kg
130+ kg
70 + 120 l
60 l
none
2 x 4.5 kg
2

---
1. With compact drawbar extension
2. With 285/65/R17 wheels and rooftop A/C unit
3. With standard features
4. Optional 
5. Optional
6. Standard layout
Karavan Classic: The pleasure and relax time....
Karavan Classic: Technical Data
Construction

Frame: Laser-cut, interlocked, hot-dip galvanized steel w/ Anti-Sway Bar
Shell: Composite FRP sandwich with core from closed cell rigid extruded polystyrene; High Molecular Weight Thermoplastic (HMWT), alloys, and marine-grade stainless steel
Floor: ArmaPET (high strength and thermal resistance composite from Armacell (Canada)
Windows: 5 x large, sliding, tinted
Suspension: Independent trailing arm w/custom air-springs, and 2.5" mono-tube racing shock absorbers
Wheels: Steel rims w/AT265/75/R17 tires (optional alloy rims w/17" AT tires)
Brakes: Power-assisted Hydraulic, w/12" Vented Disc (5,500 lbs rating, 1,200 psi pressure; Parking- Brake function included.
Lifting System: Remotely controlled 12V "worm drive" Linak actuator w/manual crank backup
Stone protection: Polyurethane stone protection system on stone guards (optional Frontal Stone Deflector)
Hitch: Articulating McHitch 5,500 lbs Off-road Easy Hitch (Optional VC DO35 – 7,700 lbs Off Road Hitch)
Interior finish: "soft" thermal barrier preventing condensation
Connector: Anderson
Karavan Classic: Traditional drum brakes are replaced by more efficient, ventilated disc brakes
Articulating McHitch coupling
Notes:

HMWT – Typically, these Fiber-Reinforced Polymers (FRPs), are Polyethylene-based HMWPE, well known for their excellent impact strength. They are corrosion-resistant, and water-repellent but are also wear-resistant, non-sticking, and self-lubricating. While, due to the higher density they may not be the first-choice materials for lightweight RVs, in an off-road environment high mechanical strength as well as weather and abrasion resistance are pre-conditions for long-lasting and durable structures.
Worm-drive actuator is a gear arrangement in which a "worm" screw interlocks with a wheel. It generates high output torque and (what's more important) – it is self-locking. In the case of pop-up trailers, it prevents uncontrolled drops!
Standard version of Air Suspension requires periodical manual filling. To make it easier, the manufacturer offers an optional kit including Air Compressor w/tank and Remotely-Controlled Electric Filling System (unfortunately quite costly).
Anti Sway bar is attached between the hitch of the towing vehicle and the trailer's tongue (that's why they are called Hitch Sway Bars in contrast to more traditional Suspension Sway Bars). It helps to reduce side-to-side movements of the trailer on the highway but also improves the stability of the tandem (towing vehicle and trailer) on uneven paths when exposed to twisting as well as push-forward/pull-backward forces.
Airbag Springs are sort of "Rubber Bladders" containing compressed air. They can be "on-demand" inflated or deflated by the compressor to "adjust" the suspension to the load, speed, and quality of road (flat versus bumpy). In an off-road environment, they are recognized for their ability to significantly smooth the ride over bumpy terrains.
McHitch - The most significant advantage of the McHitch coupling is its precise nature (the large receiver collar helps you slip it on). However, un-hitching may be a more difficult process, as it requires good alignment (especially horizontal) of the hitch and receiver. Lat moment news: On February 2023, McHitch ceased production!
Karavan Classic: Sleeping quarter
Source: T&T Overland (Expandable Trailer Goes Anywhere: Kimberly Karavan)
Sleeping/Living area

Queen-size bed with dual layer foam mattress (optional Innerspring)
Under-bed drawers, magazine racks, mirror and privacy screen
Artificial leather seatings: small for 1 person w/storage, and larger (for 3 persons)
Slide-out table
Bed step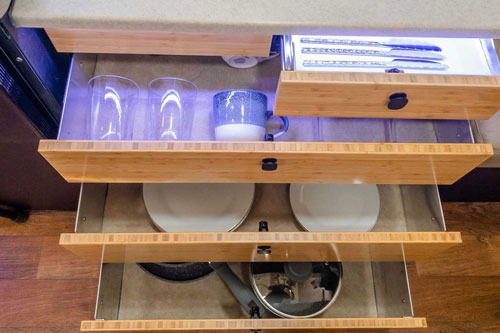 Karavan Classic: Kitchen cabinet drawers (bamboo fronts represent the only wood in the trailer)
Karavan Classic: 12Vdc compressor-based fridge with freezer
Source: RVTrader (USA)
Kitchen (Interior)

Cordian-equivalent benchtop
Stainless-steel sink w/hot & cold water,
4.2 cu. ft compressor-based fridge w/freezer
Energy-efficient, portable, 1-burner induction cooktop (Options include a diesel cooktop or countertop-integrated 2-burner induction cooktop)
Microwave (optional)
2 x large under-countertop cabinets with drawers
Front shelves and cupboards
Dedicated ceiling-mounted Fantastic Fan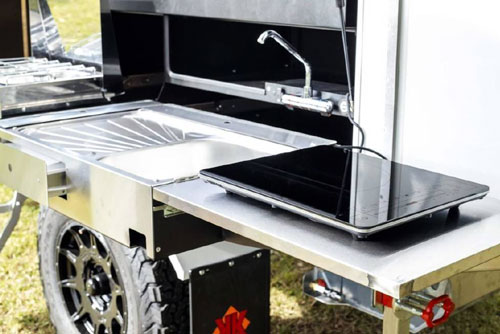 Karavan Classic; Optional 1-burner inductive cooktop
Kitchen (Exterior)

large stainless-steel sink w/hot and cold water
2-burner, stainless-steel stove w/griller (LPG)
Stainless steel benchtop
Stainless steel drawer
Shelves/cupboards
1 x AC power outlet
Weber BabyQ BBQ (optional)
2 x WOK burners (optional)
E-Version (no LPG) including Weber BabyQ BBQ and 1-burner Induction cooktop.
"Drawer Fridge" (option)
Exterior Features

Multi height dual wheel Jockey Wheel
Rear Stabilizers
Fold Out Triple Entry Step
7.2' x 9.8' Kwik Awning w/valance and zip for walls
A-frame mounted Multibox
Holders for 2 x 4.2 lbs LPG bottles (US version: 1 x 20lbs)
2 x Jerry-can holders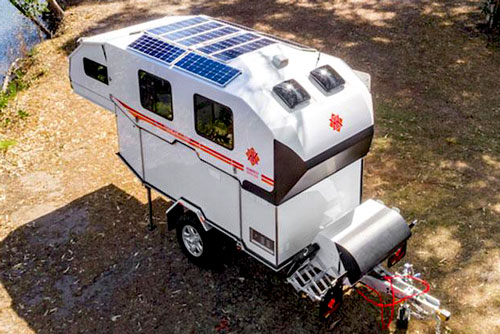 Karavan Classic: Merlin's Solar panels
Source: caravancampingsales.com.au
Energy Systems (Electrical, LPG, Diesel)

48V Power Hub with Control Panel (Multibox)
X-Stream fast charging 3,000W AC charger w/70A DC Output at 13.6V
3,600W AC Pure Sinewave inverter,,
2 x Solar regulators (1,600W max)
Merlin, 240W roof-mounted Solar Panels w/30Amp MPPT Regulator
60A DC/DC Charger (1,000W).
Bluetooth and Wifi.
SMART Monitor for total power control
2,000Wh, 48V Lithium Battery (up to 10,000Wh available as an option)
LED lights throughout (include bar light over kitchen benchtop and over dinette)
LED trailer lights (tail, brake, turn, park…)
Power outlets (Interior and outdoor galley AC, 12Vdc, USB…)
Anderson Plug Cable
AC Surge Protector
2 x Fantastic fans
1 x toilet power vent

LPG: 2 x 9.2 lbs tanks/ 1 x 20 lbs US version (both optional) w/plumbing lines
Left: US version with 1 x 20 lbs tank, Right: Australian version
Diesel: 2.6 gals tank w/plumbing lines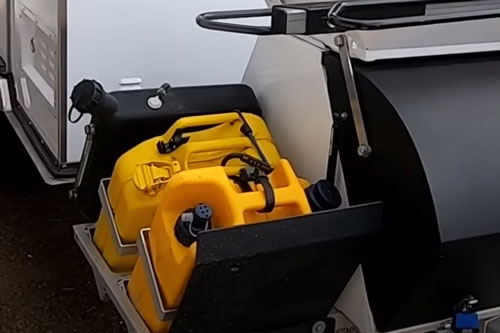 Karavan Classic: Diesel (black) and Jerry cans (yellow). Not that one of Jerry cans you can use for extra diesel fuel.
Source: T&T Overland (Expandable Trailer Goes Anywhere: Kimberly Karavan)
Water/Plumbing

2 x Freshwater tanks (rear 26.4 gals and front 15.4 gals) w/monitors (includes separate plumbing lines w/valves)
2 x Water pumps
Water Tank Outlet Tap
13.2 gallons Greywater tank (Option)
Diesel, on-demand Webasto Water/Air Heater
Inline Water Filter System (optional)
Shower ensuite with hot/cold water
Outdoor shower (optional)
Waterless (Composting) swing-away toilet /Wrappon Toilet is an option.
Karavan Classic: Toilet/Shower ensuite 
Source: RVTrader (USA)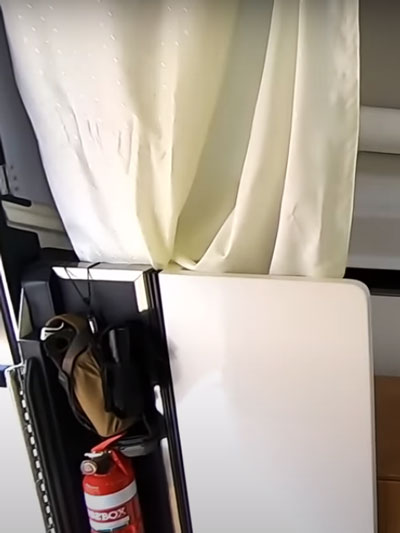 Karavan Classic: Toilet/Shower ensuite (here shown w/curtain)
Source: T&T Overland (Expandable Trailer Goes Anywhere: Kimberly Karavan)
Notes:

One water tank serves kitchen sinks (indoor and outdoor) while another one is connected to showers. This arrangement in an off-grid environment allows refilling showers' tank with potentially "lower-quality" water from lakes, and creeks without cross contamination with your freshwater etc..
"Wrappon" is a portable toilet equipped with an "automatic wrap mechanism" originally developed by Japan Safety. Since the excrement is automatically wrapped (individually wrapped) each time, odors and microorganisms (bacteria) are sealed.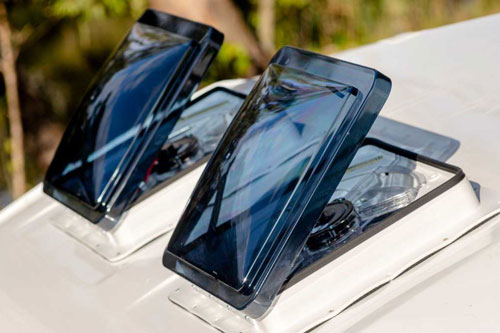 Karavan Classic: Two Fantastic Fans covering kitchen and shower
Climate Control

2 x ceiling-mounted Fantastic Fans
Hi-speed Cabin Air Pressurizer
Webasto Water/Air heater
Roof-mounted AC unit w/reversible mode (optional)
Diesel Air Heater Ducted w/air speed controller, 2kW rating (optional)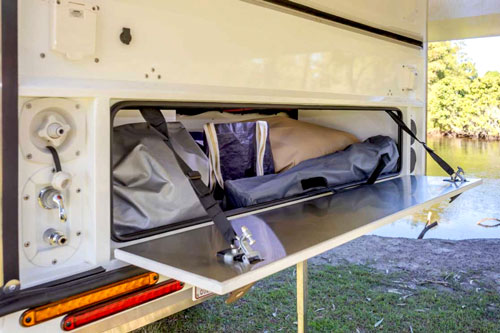 Karavan Classic: Rear storage compartment
Storage

10.6 cu.ft Multibox front storage box
Rear storage compartment
2 x pull-out under-bed drawers
Kargo Karrier mounted on the top of Multibox (optional)
Safety

Spare wheel (underbelly-mounted)
One-touch electric Parking Brake
Fire Extinguisher
Pre-wired for a Reverse Camera
WiTi Anti-theft, GPS tracking …. (Options)
Karavan Classic: The white box on the roof is the inlet for the Cebine Air Pressurizer, next to it - Radio Antenna
Multiledia

Bluetooth Soundbar (Compatible with smartphones / USB / MP3, Integrated Bluetooth music streaming & remote control)
LCD TV, Antenna, Satellite Antenna, Modem, GPS-tracking, Anti-Theft etc ……(all options)
Options (here only very limited selection from an endless list)

Drawbar Extension
Outside Hot/Cold Shower w/ Visi-Flow AUX water source
12.3 gallons greywater tank
Diesel Air Heater Ducted w/air speed controller (2kW rating)
Microwave Oven
Selection of kitchen/galley appliances
Lightweight Rooftop AC roof-mounted with reverse cycle heating
Merlin, roof-mounted solar panels (up to 600W total)
Underbed Mattress Di-Electric Membrane Heater
Bed Step with Seadeck Cover
Winterization (all plumbing and water tanks)
LED reading lights
Front Stone Deflector
Large selection of Canvas
Large choice of Multimedia hardware
Tongue-mounted bike rack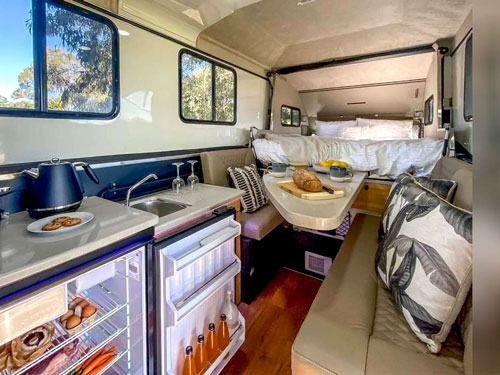 Kimberley Karavan Classic: as for an off-road travel trailer it looks very inviting....
Source: RVTrader (USA)
Summarizing: Kimberley's Karavan Classic is a rare example of a Hybrid travel trailer. It offers compactness on the road necessary for off-road RVs, but also comfort, interior space, and headroom when unfolded. And all that within the protection of hard sidewalls. The almost endless list of options allows you to customize the camper according to your needs….
Note that the Australian Kimberley (located on the east coast in Ballina), also has branches in the US (Bellefontaine, OH) and in the UK (Nottingham, Chesterfield, and Darlington).

Before leaving this page: That's the Kimberley's family of trailers including also luxurious Cruisers Class T and S (top left) as well as the Off-road Camper Trailer (bottom left) representing the the lower end of the product line. 
Go back to:
--> Innovative RVs
---
Unless otherwise indicated, pictures are courtesy of Kimberley Karavans
Note:  Check with the manufacturer and / or authorized RV Dealer for the up-to-date list of features, options as well as latest specifications. These written above may not be accurate and certainly are subject to change by the factory. We are not responsible for any inaccuracy, the above text is provided only for the general information.
This review was written based on publicly available information for the benefits of the community of RV-ers. We do not receive any gratification or financial benefits from RV manufacturers, dealers, and any other promoters of RVs. 
We are NOT involved in sale and/or retail of RVs!