Lance 1575 Travel Trailer
Top 2018 Medium-size RVs
Lance 1575 is a modern, well-designed and stylishly finished medium-size travel trailer offering for RV-ers all most important features and amenities with tons of extra storage space....

        For more than half-century, Lance - Lancaster (CA) based company is known as one of the leading manufacturers of Truck Campers. With time they expanded their business to Toy Haulers. However, it was the recent introduction of ultra-lite Travel Trailers that sealed Lance's position as one of the leaders of the RV industry. 
The series of ultra-lite travel trailers includes models ranging from the smallest 1475 (overall length of 19'8", shell's length of 14'10" and dry weight of only 2,500 lbs) to the largest one – model 2375 (overall length of 28', shell's length of 23'6" and dry weight of 4,900 lbs). 
For this 2018 presentation we selected the 2nd- lightest model Lance 1575 as it meets our fundamental requirements for top medium-size lite RVs. With its dry weight of just 2,650 lbs it addresses the large population of owners of small SUVs and compact trucks. With its floor-plan, set of basic and optional features as well as sleek aerodynamic lines and stylishness it answers the needs of most RV-ers believing that "small" is not only beautiful, but can be also comfortable.
Lance 1575 Travel Trailer: model 2018
  ... and it's floor-plan
        The model 1575 shares the construction characteristics of Lance Ultra-lite series of travel trailers. The chassis is made from bolted tempered steel extrusions subsequently powder-coated for rust protection. It's strong but at the same time lightweight structure.  It's worth to mention that by eliminating welds (replaced by Huck bolts) the chassis is also more durable (welds are the weakest spots when it comes to corrosion). The all-aluminum frame (including floor, sidewalls and roof) as well as composite structure (bonded-laminated Azdel panels replacing traditional plywood and/or luan), the shell is lite but also rot and mold resistant (and so very durable). Good thermal properties of Azdel and fiberglass combined with extra block-foam insulation of roof and floor promises comfortable RV-ing experience ove an extended season.
        Note, that while the two smallest models of Lance Ultra-Lite family of travel trailers (respectively 1475 & 1575) have enclosed, insulated and heated fresh-water tank, they are not "All-Season" RVs and should not be used in temperatures permanently below the freezing point. Also note, that all remaining larger models have an option of an "All-Weather" package making them suitable for most climate zones.

Thanks to 3 windows the bedroom is very bright and if you are in the nature it will offer "mind-calming" (or exciting) views....
There is no room for the night table next to the bed, but still, you will find small shelf for "stuff" and all necessary plugs you may need (110Vac/12Vdc/UBS next to the bed...
Galley is small but has all appliances you may need to enjoy cooking (here w/optional microwave oven)
         The 1575 floor-plan is what distinguishes this model from many other similar-size travel trailers. The front queen-size innerspring mattress coming with pillows and bedspreads makes the bedroom. Given trailer's "narrow body" (84 3.4") the bed spreads across the width of the camper. With it comes well-known inconvenience: you have to "jump/climb" over the 2nd person to get to the back of the bed. However, we have to admit that Lance did everything possible to make it a comfortable zone. Large side windows with a panoramic front one makes it a very bright and "well-connected" with the surrounding nature place. The swing-bracket-mounted TV on the opposite wall and two individual LED reading lights make it also a corner where you can relax….
         The galley includes all you may need to prepare all sorts of meals. The 3-burner stove (optionally range w/oven), microwave oven (also offered as an option), 5 cu. ft fridge with separate freezer and nice working space (both sink and stove have flush-mounted lids), hood w/ exhaust fan and lights) if not the limited space will certainly remind you "residential environment". This feeling is greatly "reinforced" by stylish (European-style) softly-rounded shape of the overhead cabinet, cleverly designed LED lights, under-mounted spice-shelf, not mentioning "small'-but meaningful" details and the elegance of stainless-steel appliances. On the opposite side (street-side) you will find a large U-shaped dinette in "extended" (unusually "deep" if you wish) slide-out section.  Two small corner overhead cabinets, wall-mounted watch and dimmed LED lights makes it not only the essential part of the kitchen but actually part of the living space.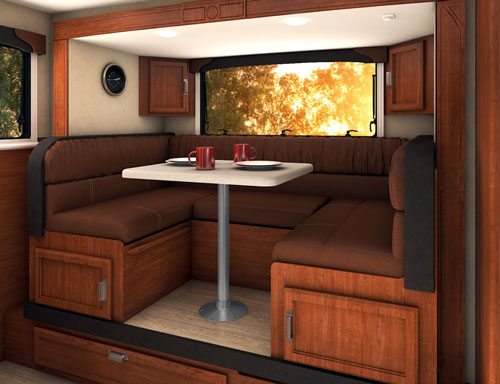 Dinette is housed in spacious slide-out unit. Note all the extra storage space under the seats and floor.
Bath is small but thanks to the skylight quite bright what makes it looking more roomy than it really is. Unfortunately there is no vanity w/sink so you may have to use shower or kitchen sink...
       Finally, at the back of the camper you will find small (but still quite functional) bath. It includes foot-flushed toilet, shower with shallow tub and curtain and the medicine cabinet with mirror door. The large skylight above the shower makes it looking larger than it really is. Unfortunately, there is no room for vanity w/sink so you will be forced to use your galley's sink for brushing teeth.
All of us will agree, that the interior finish makes the big difference in our perception of "warmness" and charm. For that reason, Lance offers three options of interior décor to choose from: correspondingly Midnight, Passage or Roadster.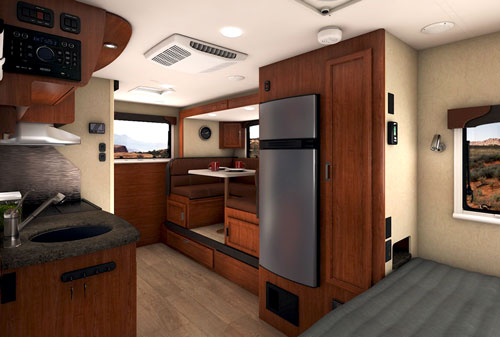 Lance 1575: Interior
       The comfort and elegance of an RV play an important role in our "buying" decision process. But "esthetics" should not overshadow practical aspects of the design. And here we can say, that when it comes to storage space, Lance 1575 makes real difference compared to competition. The front pass-through storage is large, easily accessible from both sides of the trailer, but also from the inside (large door under the bed). It can be also well organized when equipped with optional sliding-out storage tray. There is also a large storage space in the dinette slide-out unit (accessible from the outside). But this is not all when it comes to the dinette. There is ample storage space under both seats (accessible from inside via side doors, and smaller, but long storage compartment under dinette's floor (also accessible from the interior).  
Lance also designed interior compartment for the battery. Accessible from the outside, it is an elegant and practical alternative to tongue-mounted battery racks exposed to debris but first of all dirt, mud and weather elements. For the same reasons, also LPG bottle(s) are housed in an elegant, aerodynamically shaped tongue-mounted molded-fiberglass compartment.
There is also a dedicated storage for sewer hose with much bigger diameter than typical storage in the rear bumper.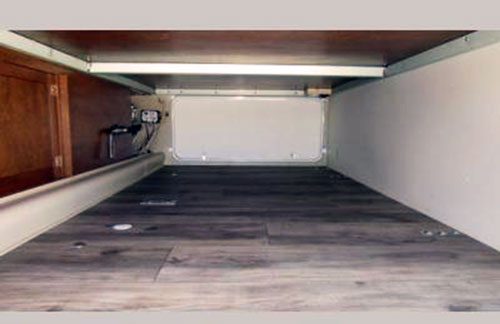 Exterior pass-through storage has also access from the interior of the trailer (see door on the left). On the back, you can see the slide-out driving mechanism allowing you to manually open/close the unit just in case the electrical hardware fails (hopefully never, but it is always good to have the "Plan B")
Exterior storage under the dinette slide-out unit is also very spacious
       Let's make it clear – large extra storage and impressive cargo limit (about 1,000 lbs) give you chance to pack a lot of (we hope useful) camping gear. That means chance to enjoy also trailer's "outdoor living room" (patio protected by the power awning) and obviously all kinds of outdoor activities. BTW- the patio awning is protected from strong winds by wind-sensor, offering a "no headache" solution to drizzling rain or scorching sun. Unless you disable the function, under strong wind conditions the awning will automatically roll back.

So before continuing to the next page let's make a short "walking tour" of the Lance 1575 travel trailer offered for 2018.
To continue to specs and features, go --> NEXT
Note:  Check with the manufacturer and / or authorized RV Dealer for the up-to-date list of features, options as well as latest specifications. These written above may not be accurate and certainly are subject to change by the factory. We are not responsible for any inaccuracy, the above text is provided only for the general information.
This review was written based on publicly available information for the benefits of the community of RV-ers. We do not receive any gratification or financial benefits from RV manufacturers, dealers, and any other promoters of RVs. 
We are NOT involved in sale and/or retail of RVs!