Luna Travel Trailers

inTech RV
inTech's Luna teardrop travel trailers are modern all-aluminum/fiberglass RVs, lightweight, stylish, roomy and very affordable; they are ideal for quick getaways for 2

           The economic crisis at the end of the first decade of 2000 decimated the RV industry. Industry's answer was too familiar: lowered prices to lure customers and coming with it lower quality and less standard features. That prompted two friends - Adam Maxwell and Tom Franko to start their own company with the clear goal to revers these trends, namely, to design and manufacture the best trailers possible. That's how back in 2010, the inTech RV was born. After few years, the new company located in Nappanee (Indiana) emerged almost "out-of-nowhere" taking the RV market by surprise.  Currently, inTech offers series of unmatched in quality and features travel trailers, correspondingly:  Chase, Pursue, Explore as well as the latest models Luna Lite and Luna. The latter left the doors of the 94,000 square foot factory in 2017. 

Luna Teardrop-style Travel Trailer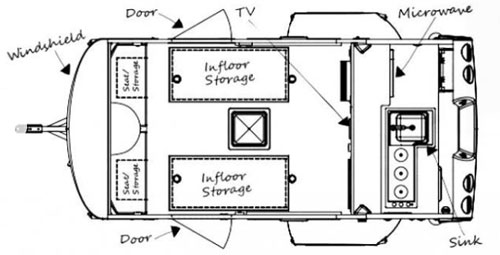 ... and its floor-plan
        All Luna models are designed and manufactured to last (and obviously to serve the best possible way their customers). To achieve this ambitious goal, trailers' chassis and cage frames are made from welded aluminum, while shells (sidewalls and roof) from fiberglass.  Thanks to such design, the two most destructive enemies – rot and rust are eliminated while the trailers are lightweight and extremely durable. Combination of founders' vision, good engineering practices and quality work of finest Amish craftsmen, led Luna travel trailers to conquer the RV market by storm.  In fact, already in 2018, so less than one year after Luna travel trailers hit the road, they received RV Business' recognition as some of the best RVs of the year.
Both Luna models belong to the class of teardrop-style trailers. Traditionally, such trailers have curved-down front. However, Luna's front-end, based on strong customer feedback was modified to make the trailer roomier compared to traditional teardrops. Luna's front-cap is nearly upright with forward inclination. As the result, its aerodynamic profile is slightly affected.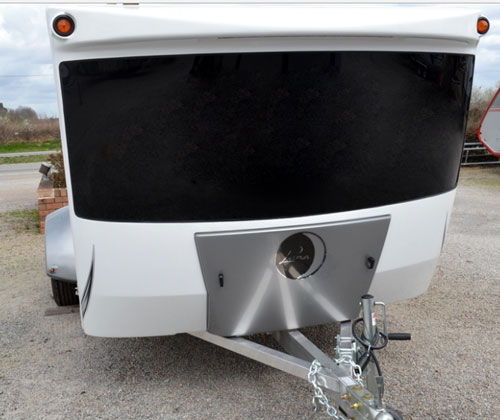 Luna: Enormous panoramic windshield at the front-end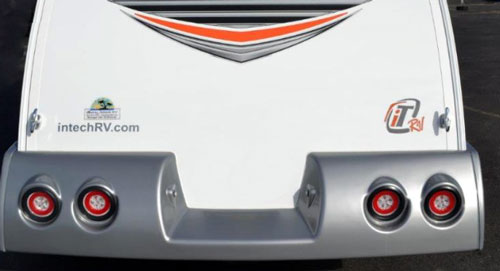 Luna: Rear-end with its impressive bumper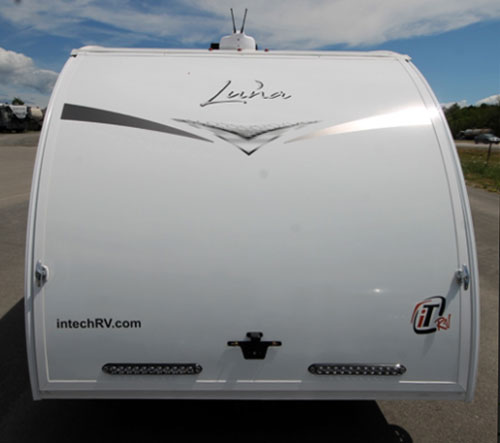 Luna-Lite: its rear-end is more modest to shave-off some weight
Interior
     Front caps of both versions of Luna trailers have an enormous windshield offering amazing panoramic views not only on surroundings (hopefully nature) but also at the night sky! Two large tinted side windows offer more daily light, but also fresh air as they can be opened upwards. Day/night shades provide privacy when needed.
Like every windshield, also this one may be exposed to flying debris from the towing vehicle.  Although it is made from three-ply tempered glass (robust enough to prevent damage), the company, probably prompted by customer feedback recently started development of protecting windshield cover.
Interior is modest, but roomy enough to offer shelter in case of bad weather. Two futon-style folding mattresses can be easily moved across the floor to accommodate your needs. In folded position with backrests and cup holders they can serve as sort of "lunge" area to relax, read books (2 LED reading lights greatly help) or simply listen to the music, watch the TV. The music is available from the standard AM/FM/DVD Stereo with 2 internal and 2 external speakers. The TV is optional (correspondingly 40" LCD for Luna and 32" for its Lite version).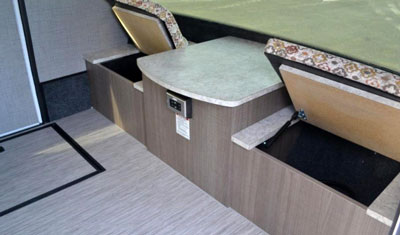 Luna: Interior (visible seats with storage and table)
       For night, both futons can be unfolded to create large (82" long) comfortable sleeping platform. Along the front-end there are two seating places with a table in between. While the interior headroom of 4'6" is more than enough to comfortably sit or sleep, as in any small travel trailer (especially teardrop-style), interior it's not the best setting for consumption of more elaborated dishes. The table is basically good enough for keeping on small items (phones, iPads, computer, books, magazines etc.  but also snacks, cups of coffee or glasses of wine. But that's pretty much all.
You wouldn't find inside any storage cabinets, but there is substantial storage space under both front seats as well as under the floor. Such interior arrangement makes the trailer roomy (as the matter of fact, it feels roomier than it really is). 
Ceiling power vent (or optional MaxxAir) as well as optional A/C with heat pump (Luna) or just A/C (Luna Lite) should add to the comfort when needed. The bottom line – Luna's interior was designed to offer space and simplicity!  And certainly, this goal was perfectly achieved. 
To facilitate access, the trailer has two entrance doors (curbside and street-side). Both have small circular windows and radius tops. 
Rear Kitchenette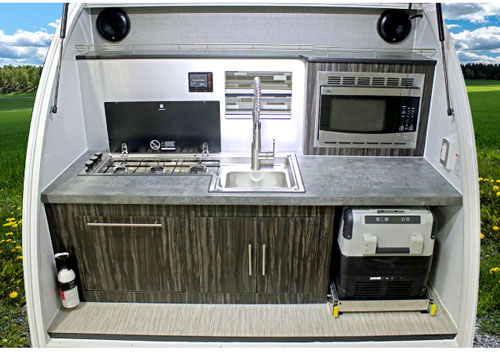 Luna: rear kitchenette is quite impressive and certainly very stylish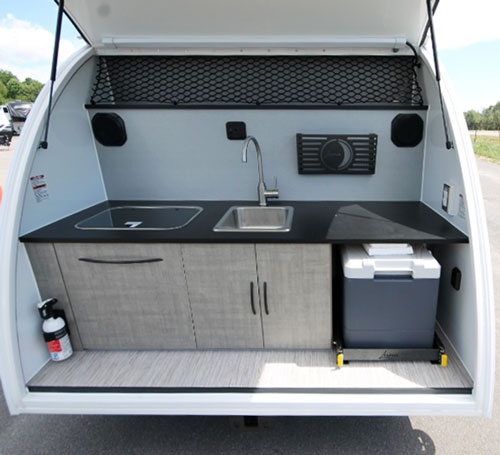 Luna-Lite's kitchenette is more modest.
        The rear hatch kitchenette is just opposite of simplicity. It is equipped with almost everything you may need when on the road. The stainless-steel combo sink with 3-burner stove (2-burners in Lite version) and stainless-still microwave oven (only Luna) are the central parts of the galley. Hi-rise, commercial-style pull-down faucet and tinted-glass stove cover add the stylishness.  Clever design still leaves a lot of work-space.
         Out of three kitchen cabinets, the rightmost houses a 12V refrigerator with deep freezer. Located on the slide-out tray it is easily accessible by opening the top cover. The center cabinet can be used as the storage area, although it also keeps fresh and gray water tubing and battery container. The upper shelf all along the width of the trailer protected by railing (or net) as well as small storage compartments below, complete the kitchen storage area. Big, gas-struts assisted hatch door opens upward protecting from weather elements (sun or rain). The LED lights help at night! 
The kitchen comes with 8 gallons fresh water tank, water heater and water pump as well as control panel. Thanks to 2 exterior speakers the rear area (provided good weather) will not only serve as a "cooking & dining corner" , but also as an area where you can relax, listen to the music (if you do not prefer to listen to the Mother Nature).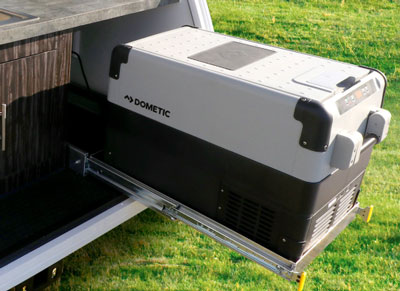 Refrigerator on slide-out tray is easily accessible
      Note that a lot of camping gear (folding chairs, table etc..) can be stored inside of the spacy trailer when on the road. The cargo limit is quite considerable given trailer's lightweight design (dry weight in the range from 1,450 lbs to 1,800 lbs) and GVWR of 2,200 lbs.
Due to lite designs, Luna trailers can be towed by most small SUVs as well as crossovers and pickup trucks. Luna Lite (depending on cargo load) can be even towed by larger family cars.
Now, Rich takes us on a quick walk-through of the award winning Luna teardrop trailer.

Please continue to see the technical specifications of Luna trailers as well as their standard features and options:
 --> Luna Teardrop Campers: Specifications 
Or go back to: --> Review of  Top Small Travel Trailers
Pictures are courtesy of inTech RV as well as SunnyIslandRV.com and HolidayOnWheelssc.com
Note:  Check with the manufacturer and / or authorized RV Dealer for the up-to-date list of features, options as well as latest specifications. These written above may not be accurate and certainly are subject to change by the factory. We are not responsible for any inaccuracy, the above text is provided only for the general information.
This review was written based on publicly available information for the benefits of the community of RV-ers. We do not receive any gratification or financial benefits from RV manufacturers, dealers, and any other promoters of RVs. 
We are NOT involved in sale and/or retail of RVs!