Mink 2.0 Camper Specs
Ultra-lite travel trailers
Mink 2.0 camper is designed for rough Icelandic terrain, its unpredictable weather and remoteness, but still offers functionality, comfort, and direct "touch" with the surrounding nature....
This is the continuation of the presentation of Mink 2.0 Camper from the previous page:
--> Mink 2.0 Camper- Example of Nordic Design
All- Season Camper
         Thanks to good thermal insulation as well as heating and ventilation systems, Mink 2.0 teardrop is truly an All-Season camper. Conceived in Iceland, designed in Sweden, and built in Latvia, it's targeting Scandinavian markets (and obviously Scandinavian climate). The lack of a freshwater tank seems to eliminate not only extra weight but first of all - problems with freezing temperatures (and so more "pounds/kilograms" and energy).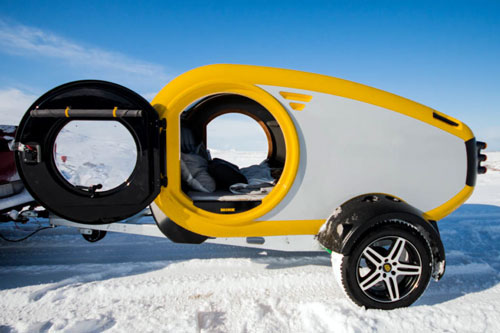 Mink 2.0 Camper in sub-zero environment...
Source: www.we-love-camping.com (Mink 2.0 Sports Camper, the Tear Drop for Winter)
      The potential condensation problem (very real in northern climate zones) was solved by the ventilation and heating systems. The latter splits the forced airflow the way to keep the interior temperature profile relatively uniform, preventing this way the area underneath the mattress from becoming a cold condensation zone! On the other hand, the ventilation system helps the evacuation of the humidity outdoors….

Mink 2.0 camper: AirFlow™ Active Ventilation System
Mink 2.0 - Specifications
---
Exterior length
Exterior width
Exterior height
Shell length
Shell width
Shell headroom
Dry Weight
GVWR
Tongue weight
Tongue height
Ground clearance
Sleep

13'6"
6'10"
6'
9'3"
59"
?
1,146 lbs
1,654 lbs
163.1 lbs
18"
12"
2 (+1)

411,6 cm
208 cm
182.9 cm
281.1 cm
151.1 cm

520 kg
750 kg
74 kg
45 cm
33 cm
---
Mink 2.0 - making the shell
Construction

Frame: AL-KO, Reinforced, galvanized steel
Shell: Frameless, Solid Shell Structure (1.2", Injection Molded ABS plastic w/0.75" Armaflex insulation layer)
Suspension: Independent, Torsion w/AL-KO shock absorbers
Wheels: Aluminum rims, with AT225/55/R17 tires
Doors: two circular, w/round, openable PMMA windows
Ceiling: Large, panoramic PMMA skylight
Rear Hatch: Gas-struts assisted.
Connector: 13-pin
Mink 2.0: Selection of colors
Mink 2.0: Panoramic Skylight as a Window to the Universe
Notes:

ABS (Acrylonitrile Butadiene Styrene) is a thermoplastic and amorphous polymer. It is very structurally sturdy, has a strong resistance to corrosive chemicals and/or physical impacts, and is easily machined, sanded, glued, and painted. Also, it is rather harmless and fully recyclable!
PMMA (Polymethyl Methacrylate): It's a see-through, high-gloss Acrylic material characterized by excellent transparency, stronger-than-glass glass strength, and scratch resistance. It's also more than twice as light as traditional glass.
Mink 2.0 - View on the bed
Interior Features

Queen-size bed
Salvador upholstered headrest (soft, artificial leather w/ abrasion tear resistance)
79" X 55" (200 cm x 140 cm) memory foam mattress
55" x 20" (140 x 50) Height-adjusted canvas bunk bed w/2 black oak dowels
Duvet Kit and Mink blankets (Optional)
Panoramic Skylight w/ blinds
2 x large opening side windows w/HD blinds
2 x "Mink" storage pockets
Mosquito nets (doors)
Exterior Features

2× front and 2× rear rugged, aluminum handles
Tong Jack w/wheel
Mink 2.0: Presentation of the galley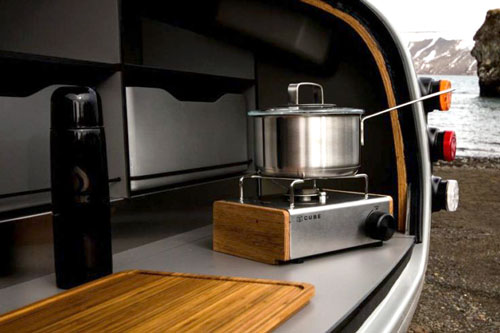 ... and the view of the real one (here with a cutting board and an optional Cube stove)
Source: www.we-love-camping.com (Mink 2.0 Sports Camper, the Tear Drop for Winter)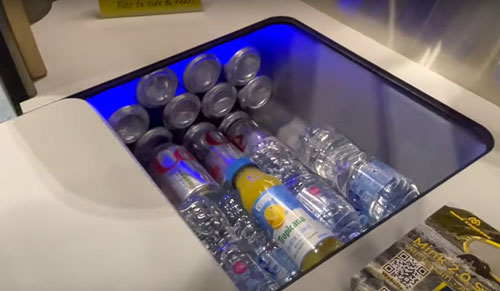 Mink 2.0 Camper: Illuminated Ice Chest
Source: The Camping and Caravanning Club (YT, MINK Sports Camper review)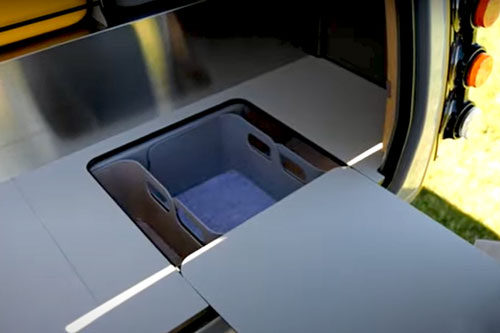 Mink 2.0: Galley's Countertop storage
Mink Campers Sweden
Mink 2.0 Camper:  Fender's cupholders
Source: YT - MINK Sports Camper review: Camping & Caravanning (The Camping and Caravanning Club)

Galley

High-Pressure Laminate (HPL) countertop with integrated Ice Chest and Storage Compartment
9.5 gallon (36l) Illuminated Ice Chest
3 x large removable plastic storage boxes
3 x storage shelves
Custom Cube gas stove (optional)
Oak cutting board.
Shelf w/3 boxes
LED Lights, UBS,12dc ports,240 Vac socket
Note: HPL Interior surface finish (HPL) is one of the most durable decorative surface materials. It's characterized by high chemical, fire, and wear resistance, so crucial for kitchen countertops!
Mink 2.0 Camper: Shore connection
Source: Mink Campers Sweden (YT - MINK Camper presentation)
Electrical

70Ah Battery (located in a galvanized steel storage box)
Battery monitoring system
Shore Power connector (tongue)
13-pin connector w/towing vehicle
DEFA Multi-Charger 1205 Flex (12V, 5A)
Cabin: Ceiling LED mood light, 4× USB, 1× 220Vac and 1 x 12Vdc sockets
Galley: LED light, 1 x 220Vac and 12Vdc sockets
Mink 2.0 camper: wall-integrated ventilation system (here exterior vents)
Source: The Camping and Caravanning Club (YT, MINK Sports Camper review) 
Heating/Ventilation System

Sidewalls AirFlow™ Integrated Static Ventilation System
Webasto, Diesel-fueled, Integrated Heating system w/ thermostat (Optional)
Notes:

AirFlow™ is a 2-way system. It creates higher interior pressure when on the road, to prevent the penetration of sand and dust. However, when not driving, it creates a lower interior pressure to assure steady airflow into the camper.
The forced-air system runs on Diesel (the tank is located on the front of the camper). It distributes about 70% of hot air along the ceiling, and the remaining 30% along the floor (under the mattress). This way the mattress is kept "pleasurably -worm" (appreciated on cold nights) as well as, by keeping the entire body of the shell warmer, it's preventing condensation.
Mink 2:0 Camper: Visible Hand Break (as well as optional Cargo Platform w/Ball Hitch Fixture)
Source: The Camping and Caravanning Club (YT, MINK Sports Camper review) 
Safety

AL-KO mechanical hand break (tongue)
AL-KO emergency breaks
Overrun braking system
Mink 2.0 Camper: Solar panel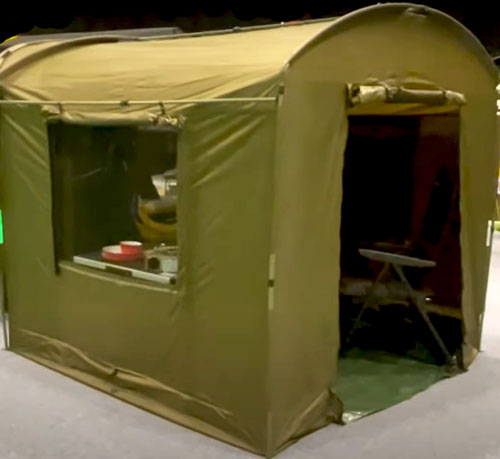 Optional Tent-like Awning
Source: The Camping and Caravanning Club (YT, MINK Sports Camper review) 

Mink's Optional Cutlery and Enamel kits
Source: expeditionportal.com
Options

Solar Kit (105W panel, Victron BlueSolar MPPT 75/10 Charge Controller
Heating System w/ 3.2 gallon (12 l) front Diesel tank
Tongue Cargo Platform
Cargo Ball Hitch (located on the cargo platform allows for the installation of racks for bike, skis,,,,)
Bike rack (for 2 bikes)
Ski rack (for up to 4 sets of skis/2 snowboards)
Bluetooth Bose Speaker
Duvet kit (2x decorative pillows, 2x duvet, linen and a sheet)
Mink signature wool blanket
Mink cutlery
Cube Gas stove
Enamelware kit
Tent-like Awning (26.5 lbs/12kg), can be used on the back (galley) or on the side (doors).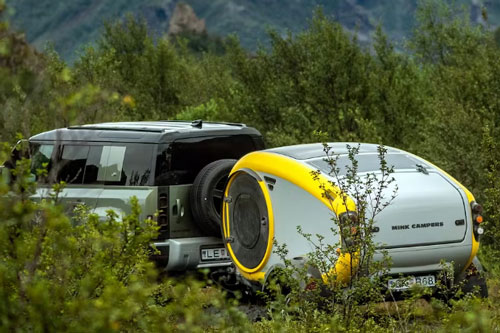 Mink 2.0 camper off the beaten path....
Summarizing: Mink 2.0 Teardrop is an extremely well-designed camper for the journey to nature. The minimalistic design does not offer all you may need on the road (especially troubling may be a lack of water). However, despite some shortcomings, Mink 2.0 isn't just a regular "budget" camper. Yes, it is not an embodiment of luxury, but certainly, it's a fascinating work of art and imagination turned into a comfortable "bed on wheels".
Go back to: --> Best Campers under 2,000lbs
or --> Best Off-Road Campers
---
Unless otherwise indicated, all pictures are courtesy of Mink Campers
Note:  Check with the manufacturer and / or authorized RV Dealer for the up-to-date list of features, options as well as latest specifications. These written above may not be accurate and certainly are subject to change by the factory. We are not responsible for any inaccuracy, the above text is provided only for the general information.
This review was written based on publicly available information for the benefits of the community of RV-ers. We do not receive any gratification or financial benefits from RV manufacturers, dealers, and any other promoters of RVs. 
We are NOT involved in sale and/or retail of RVs!