Mink 2.0 Camper
Ultra-lite travel trailers
Mink 2.0 isn't just a typical camper, it's a fascinating work of imagination turned into an eye-catching, functionable and comfortable "bed on wheels"....
          When asked where in the world we can find the best small off-road campers, most RV-ers will point to Australia and South Africa. No surprise, because we all know that Outback or Kruger National Park are not for luxurious "House-of Cards"-like rigs. To enjoy such journeys on top of having a "brave heart", you also need a functional, comfortable and "open to nature" camper, while to survive – the rugged and reliable one.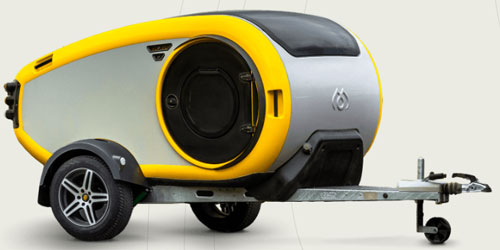 Mink 2.0 off-road camper
              At first, it may be then surprising that in the search for best small campers we turned eyes on Iceland. But there is a reason for that – Iceland is a country where Humans managed to live in a healthy "symbiosis" with Mother Nature. This mostly "empty" (protected from industrial activities) land is thriving with natural wonders enclosed by an unspoiled environment, where the sound of silence is broken only by crashing waves, roaring waterfalls, and the sniffle of wind. No wonder, it's a paradise for nature-loving tourists, and obviously for RV-ers. But it's also an ambiance and inspiration for new ideas.
To keep the long story short:
         In 2015 a "Client" from Reykjavik approached Jordi Hans Design Group (Jönköping, (Sweden)) to design a Nordic version of a traditional teardrop camper. A camper reflecting the roughness of Icelandic terrain, the unpredictability of its weather, and the remoteness of everything in this scarcely populated island, but at the same time offering functionality, comfort, and direct "touch" with the surrounding nature.

Mink 2.0 teardrop camper - front view
Mink 2.0 Camper: View from the inside
        The Swedish design group transformed the traditional "square-edged" teardrop's shell into a much softer, smooth-edged, rounded shape, somehow naturally blending with works of nature so visible in Iceland. The story goes that the overall design of the shell's silhouette (including the palette of colors) was inspired by the toucan's head (in fact, the similarity is so striking, that initially the teardrop was called "Mini-Toucan"). In the end, local patriotism prevailed, and the camper was christened "Mink" in recognition of native Icelandic animals. The captivating exterior is only part of the overall design goal. Equally important was to make this traditionally small camper purposeful, relaxing, and visually spacious. However, probably the most difficult task was to offer protection from Icelandic rainy, windy, and cold weather, while at the same time offering the continuous visual contact with the surrounding nature.

Short story of the Mink teardrop
Source: Mink (animal) - courtesy of Húsdýragarðurinn Park & Zoo Reykjavík
Well, while it was quite a daunting task, it turned out to be a success. In the spring of 2017, the first model of the Mink teardrop was presented to the public. And thanks to the enthusiastic reaction of social media, the Icelandic Mink Campers EHF (Reykjavik) almost instantly became the star on the international markets!
In 2019, after 2 years of road experience and feedback from customers, Mink Campers released the new model Mink 2.0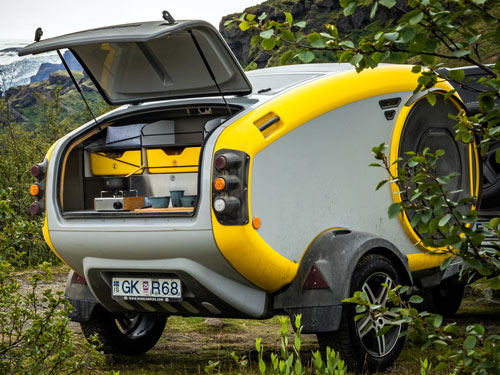 Mink 2.0 teardrop camper - rear view w/ open hatch
Mink 2.0 Teardrop
Construction
    Mink's design shows deeply rooted in the Scandinavian mentality care for eco-friendliness. That's why sustainability and durability were the leading design requirements. The frame (as well as other crucial components) is coming from Al-KO (German company named after its founder Alois Kober, now globally recognized for high-quality frames and suspensions for trailers). The reinforced frame made from galvanized steel is supported by an independent, torsion suspension assisted by shock absorbers (all from Al-KO).
The frameless Solid Shell Structure™ is made from 1.2" thick Injection Molded ABS plastic lined with a 0.75" thick layer of Armaflex insulation (known for high R-value). As expected from an off-road teardrop, it seats on 17" aluminum wheels with AT225/55/R17 tires and has 12" of ground clearance.
Altogether, the whole structure with its full length of 162" (cabin 111" x 59") and standard features weighs only 1,146 lbs (520kG).
       While the robust, reliable, and lightweight design, as well as its sustainability, are essential factors, the camper's stylishness, esthetics, and in general "visual impression" are equally important for potential buyers. And from this point of view, Mink 2.0 is turning heads. It's not only because of its soft shape and pattern of colors. A very strong accent is also added by rounded side doors with rounded windows. While many at first may associate this part of the design with a "Washing machine", in more plausible (but also elegant) scenario, they rather exemplify Toucan eyes 😊.
On top of mentioned above qualities, the Mink teardrop brings another value: the Scandinavian Quality Certificate (I guess it tells you all, so no need for details).

Mink 2.0 teardrop camper - rear view
Mink 2.0 teardrop camper - Unique "circular" doors with window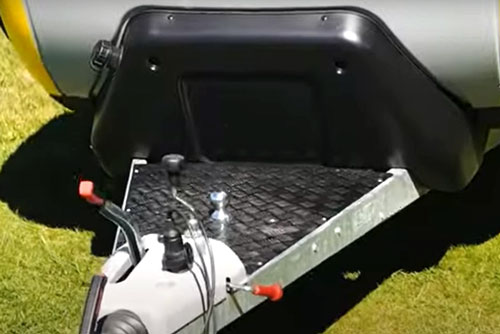 Mink 2.0 Camper: Visible diesel tank supporting the Webcasto heater
Source: Mink Campers Sweden
Interior
        While off-road RV-ing is mostly focused on outdoor activities, the ambiance of the cabin's interior will always be part of your journey. After all, it's a place where at the end of the day you come to relax, to dream, so it should create warm, friendly feelings. Having this in mind, designers made an effort to transform the ultimately tight space into an intimate sleeping area, but at the same time bright and visibly in contact with the outdoors. And all that with traditional Scandinavian minimalism, so without any bells and whistles.
These goals are achieved by:

Comfy bed with an upholstered headrest from soft (artificial) leather, queen-size, 10" thick memory foam mattress and optional duvet kit and custom Mink blankets as well as general interior finish.
Webcasto (optional, diesel-run, forced-air heating system) that directs part of a warm airflow underneath the mattress keeping it this way pleasantly warm and dry.
Panoramic Skylight extending over more than half of the camper's ceiling and two large openable side-door windows. If you don't know - the Icelandic sky is incredibly starry and frequently flooded by "Northern Lights", so the Skylight opens the door (I should say – "window") to Heavens!
        Mink 2.0 camper is designed to provide a comfortable sleeping area for two adults. The camper also comes with a standard, canvas, bunk bed (55" x 20") suspended on oak dowels in the rear part of the cabin. It can sleep a child, but frankly, it is much more useful when serving as interior storage (note that it can be height-adjusted and/or fully removed).

Mink 2.0 teardrop camper - Bed with headrest
Mink 2.0 - Wall-Integrated Heating System
Galley
         Under the rear hatch door, you will find a spacious galley. With its two rows of plastic storage boxes on the shelves (one protected by a net), robust but elegant HPL-laminated countertop with an integrated 9.5 gallons Ice Chest and storage compartment, the galley seems to meet basic expectations. For most RV-ers, the optional one-burner Cube stove will be a must, but those more demanding can also opt for optional Cutlery and Enamelware Sets.
LED lights, UBS, and 12Vdc charging ports as well as 220Vac outlet complete the galley.
        It's true - Mink 2.0 lacks a sink and fresh-water tank, and so for many the whole concept may look like a "No-go-zone"! It's very personal decision, so it's hard to argue about that. However, please note that:

The Ice Chest (BTW- it's illuminated) can hold up to 9.5 gallons of bottled water at low temperatures, and...
Iceland is one of the very few countries in the World with an abundance of pristine-clear, fresh water. And that means that you can safely drink the water from the stream or river!
Note 2 cupholders molded in each fender, handy for coffee mugs or bottles when you sit outside for a drink (it's called "functional minimalism" 😊).
When lifted, the rear hatch creates a partially protected area with headroom of up to 6.5 ft. You can enjoy all the advantages of an open-air kitchen, however you are still exposed to the side wind and rain. That's why Mink offers an optional tent-like awning that can be attached to the camper's rear end. It's worth noting that it can also be attached to the side doors.

Mink 2.0 teardrop camper - Galley
Mink 2.0 teardrop camper - breakfast?
Mink 2.0 Camper: Handy fender's cupholders
Source:  The Camping and Caravanning Club (YT -
MINK Sports Camper review)

Electrical Power
      Mink 2.0 camper comes equipped with basic electrical installation including LED ceiling lights, rear hatch LED Light, as well as four USB ports, two 12Vdc ports, and two 220Vac outlets (split between cabin and galley). The low-voltage power is available from the camper's 70Ah AGM battery (Monitoring System included), charged through the cable (13-pin connector) from the towing vehicle.
The AC-power (220Vac, or 110Vac for North American markets) is available only when the camper is connected to the grid (for that purpose the power socket is located on the tongue). In such case, camper's battery is being charged directly, thanks to the DEFA 12Vdc/5A charger.
          Understandably, it may not be enough in an off-road (off-grid) environment, so the manufacturer offers optional Solar Kit. It includes the roof-mounted 105W solar panel with MPPT Controller. To make it clear -when out of the grid, you can't count on an abundance of electrical power. However, you should have enough of energy for basic needs (lights, phone, and computer chargers etc…). We like it or not, we are in Iceland where people live in line with Scandinavian minimalistic approach (more is less)!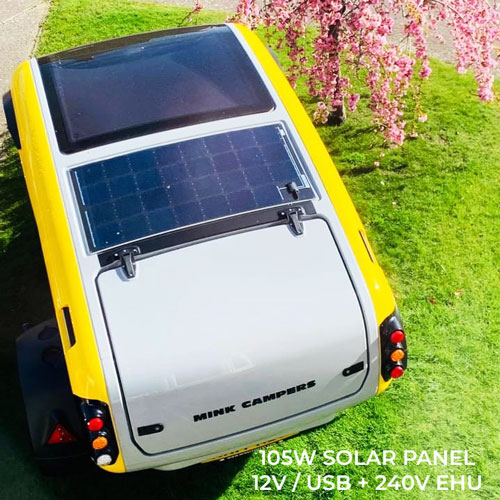 Mink 2.0 teardrop camper - Solar Panel (note the frontal panoramic skylight)
Source: www.sports-camper.co.uk/
Storage
        Mink 2.0 Teardrop does not provide dedicated storage space for what you may need on your journey. The two small "pockets" on the side walls are barely good enough to hold small personal stuff.
The optional, tongue-mounted cargo platform provides a storage area, although so far, the company does not offer any dedicated storage box that can be easily installed on it. As of now, the cargo platform (with the help of extra ball hitch fixture) is rather designed for racks holding bikes, skis, snowboards etc…
So basically, when it comes to storage, you can count only on the cabin's bunk bed and the trunk of your towing car.
The good news is that when on the road, thanks to about 500 lbs (230kg) cargo limit, you can use camper's interior space for the transport of necessary camping gear. And the bunk bed greatly helps to organize your stored items.

Mink 2.0 teardrop camper - Bunk bed serves the best as a storage area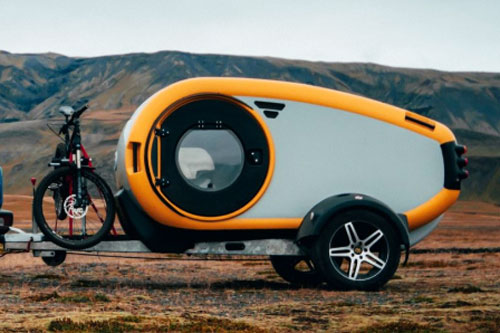 Mink 2.0: Here with an optional Cargo Platform and installed on it Bike Rack
Source: Expeditionportal
Off-Road Design
         Mink 2.0 camper has all that is necessary to go off-beaten paths. Its very low center of gravity guarantees stability not only on high-speed highways but also on uneven, bumpy roads. Thanks to 12" ground clearance, Mink 2.0 can handle practically any situation characteristic of an all-terrain driving environment.
Note that recently, Mink Campers introduced a new model under the name Highlander. It has the same specs as Mink 2.0, however, as being specifically designed for extremely rugged terrains, it has bigger wheels, tires, fenders, and as a result, bigger ground clearance!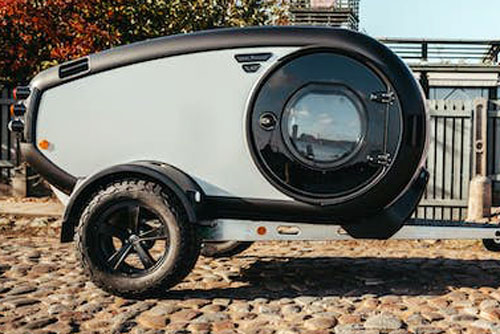 Mink Campers: Highlander
     Another important problem in the off-road environment is dust. To deal with it, Mink is equipped with a wall-integrated AirFlow™ system. During towing, it generates slightly higher interior pressure, preventing this way infiltration of dust. In contrast, on the campsite, it generates a slightly lower interior pressure, which helps the inflow of fresh air from the outside.
Note: Iceland has 3 categories of roads:
Paved (the famous Ring Road is a good example)
Gravel Roads (small, secondary roads, usually leading to scenic areas)
So-called F-roads (yes, you are right thinking this way

😊

, because these are rough, narrow mountain roads crossing rivers, where 4-wheel drive Jeep, good skills and brave heart are necessary. But in this case, I must disappoint you - "F" stands for "Fjall" meaning "Mountain".
And possibly another disappointment: In Iceland, it is strictly prohibited to go Off- mentioned above, government-recognized roads!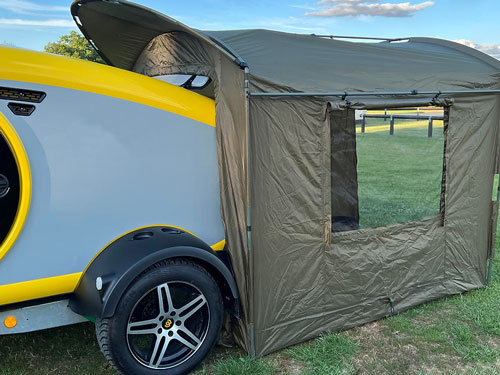 Mink 2.0 with an optional tent-like awning attached to the galley
Source: www.sports-camper.co.uk
To discover more details about the Mink 2.0 Teardrop as well as to see all its technical specifications go to:
or go back to: --> Best Campers under 2,000lbs
---
Unless otherwise specified, pictures are courtesy of Mink Campers 
Note:  Check with the manufacturer and / or authorized RV Dealer for the up-to-date list of features, options as well as latest specifications. These written above may not be accurate and certainly are subject to change by the factory. We are not responsible for any inaccuracy, the above text is provided only for the general information.
This review was written based on publicly available information for the benefits of the community of RV-ers. We do not receive any gratification or financial benefits from RV manufacturers, dealers, and any other promoters of RVs. 
We are NOT involved in sale and/or retail of RVs!