Mobi-Lodge Camper pecsOff-Road Travel Trailers
Mobi-Lodge Continental travel trailer - specifications, construction details as well as the list of standard features and options.

         What differentiates Mobi-Lodge travel trailers from the competition is their expandable design. Slide-out modules are quite popular in traditional "on-road" higher-end RVs, but rarely (if at all) seen in off-road applications. If you missed the presentation of Mobi-Lodge Continental camper, please go to:
Otherwise, after the descriptive part let's get to technical details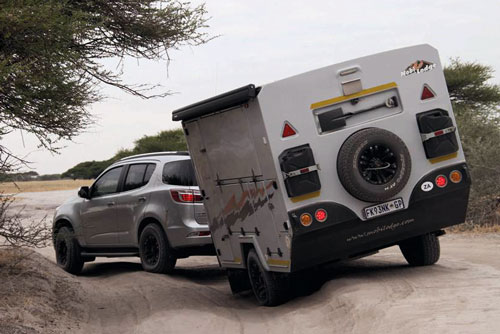 Mobi-Lodge Continental travel trailer

Specifications

---
Overall length (1)

Cabin length

Travel mode width

Camp mode width (2)

Exterior Hight

Interior headroom

Dry weight

GVWR (3)

Tongue weight

Ground clearance

Freshwater tank

Graywater tank

Blackwater tank

LPG

Awning

Sleeps

18'5 "

15'5 "

82.7 "

11'6 "

8'2 "

6'5 "

3,020 lbs

3,858 lbs

143+ lbs

?

40 gallons

?

none

11 lbs

Yes

2

5.6m

4.7m

2.1m

3.5m

2.5m

1.95m

1,370 kg

1,750 kg

65+ kg

?

150 liters

?

non

5 kg

Yes

2
---
1. All imperial dimensions (feet, inches, pounds ..) are converted from metric units and represent approximate values.
2. Slide-out bedroom deployed, exterior fold-out kitchen closed
3. Can be upgraded to 4,300 lbs (1,950 kg)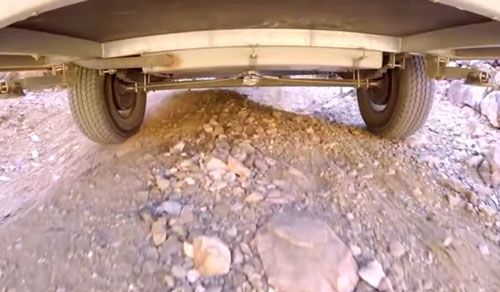 Galvanized steel chassis
Construction Details:
Chassis : Hot-deep galvanized 0.16 "(4mm) -thick steel frame
Shell : Steel-braced fiberglass, mono-hull construction
Floor : 0.7 "marine-grade ply covered with fiberglass
Hinges & fittings : stainless steel
Axle : Single, 5,500 lbs (2.5 ton) Buirquip brake axle
Suspension : Heavy-duty rated 5,512 lbs (2,500 kg) w / long leaf springs
Wheels: 16 "alloy mags w / Hankook Dynapro 265/70/16 all-terrain tires. 
Windows : Sliding, armored glass
Stabilizers : 4 (body) and 2 (slide-out) manual, HD tongue wheel
Coupler : Run-in type with 6,173 lbs (2,800kg) rating
Slide-out : One (bedroom)
12V Electrical wiring : Anderson connector
Colors : White with charcoal contrasts (Standard)
Aerodynamic nose
Interior Features
74 cu. Ft, 3-sections storage (closet, wardrobe, and pantry)
Compartment for Water Heater, LPG, and tools (rubber hammer, screwdrivers, plier, cutter…)
Compartment for 12V battery (specs for 2) and AC / DC converter
4 x plastic containers (5.3 gallons each)
4 armored glass sliding windows w / privacy canvas & insects screens (bedroom and dining / kitchen
Countertop along the window
Storage pockets  
Panoramic window opens the interior dining corner into nature
Interior Dining Area
Flip-up dining table for 2
2 x Spider camping chairs w / backrests (can be upgraded to Director chairs w / side tray)
pantry
Minibar & 4 wine glasses with holders for 3 wine bottles
Bedroom is a bright part of the design
Bedroom
Slide-out unit w / bed island;
Walk-around double-size bed
Luxury mattress
Linen set with double bed duvet, fitted sheet & two pillows
2 x night tables
Electrical outlets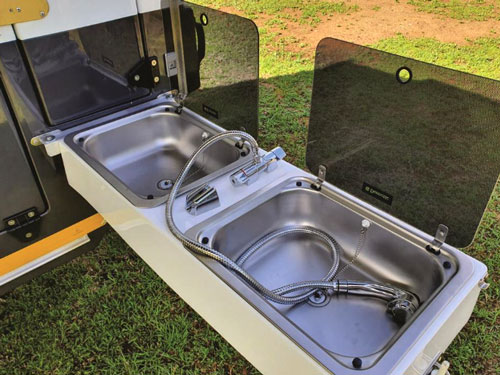 Fold-down stainless steel sink
Visible the new interior fridge (here with open door)
Fold-out outdoor Kitchen
Fiberglass fold-up roof with gas struts
Microwave 
Two burner gas stove with glass top backsplash
Luxury 2-bowls stainless steel sink w / glass covers (all in a separate fold-down module)
4.8 cu. ft (135 liters) 2-way fridge w / freezer (located across entrance doors) 
Fold-down working space
Pantry w / cupboards
Complete kitchen set for four including, cutlery, plates, bowls, mugs, glasses…, stove ware (pan, pots ..), kettle, food containers, 
2.6 gallons drinking water tank w / dedicated compartment…
Stainless steel BBQ in a canvas bag (stored under the microwave);
Backlit lighting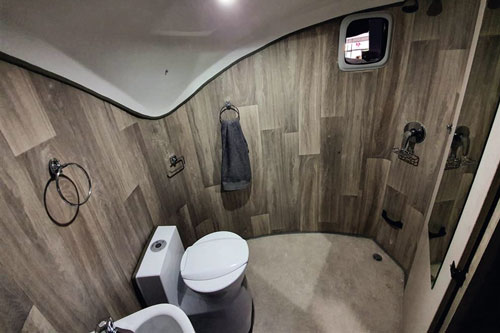 Toilet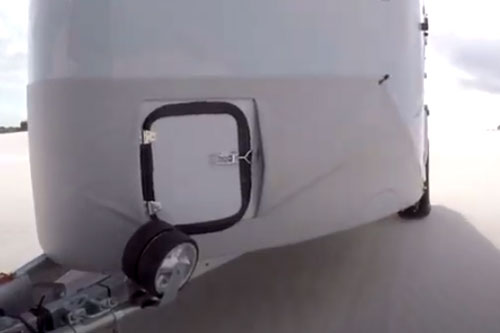 Service door for the toilet (note the gravel protection over the front)
Bathroom
Dry bath in camper's nose with 24.8 sq ft (2.3 m2) area
Luxury water-flushed toilet w / ceramic bowl and 3.7 gallons (14l) chemical cassette (serviced from the outside)
Bath sink w / hot & cold water 
Spacious shower with height adjustable shower head 
12Vdc roof-mounted fan
Window
2 x towel hangers and holders
Toilet paper holder
Mirror 
Water / Plumbing
On-demand gas geyser water heater 
40 gallons (150L) freshwater tank 
Dometic 12V high-pressure pump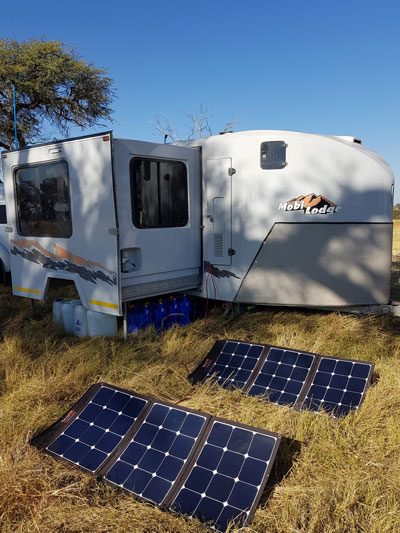 Portable solar panels (option)
Electric / LPG
Shore power connection w / 50ft (15m) long cable
Advanced 15A AC / DC battery charger w / monitor & alarm system
105 Ah AGM deep-cycle battery (2nd battery optional)
12Vdc roof-mounted fan (bathroom) 
4 x AC power plugs (originally 220Vac)
LED lights (4 indoor, 5 outdoor, trailer brake and indicators)
11 lbs LPG tank
Exterior Features
2 x Black 5.3 gallons (20l) Jerry fuel tank w / mounting brackets
Shovel (rear-mounted)
Standard crank awning with three poles (stored in a canvas bag with zip, fixed to roofline above the kitchen)
Full-size spare wheel is a standard feature
Safety
Fixed digital safe
Fire extinguisher
Shovel
Spare tire
Tools
With an optional tent
Options
Canvas cover over the slide-out bedroom to protect against seeds & branches
Upgrade to the standard crank awnings including:
Three tent sides 13.1 'x 6.2' (4m x 2.5m) with windows & front door to fit standard awning
Draft skirt to fit standard canvas awning
105A deep cycle battery 
12k BTU split A / C unit with exterior compressor
2 x Quattro caravan movers with remote control, manual engage and metal protection guards 
Upgrade to 3x BF Goodridge 265/70/16 All-Terrain Tires
Sunroof with shade & fly net Roof vent with shade & fly net,
 12V 2-way fan module (bedroom)
Upgrade to 2x Directors camping chairs w / side tray
Upgrade of GVWR to 4,300 lbs (1,950 kg) 
Upgrade to Hotel-grade double mattress
 Upgrade to Hotel-grade queen mattress 
Upgrade to luxury linen set for queen bed duvet, fitted sheet & two pillows  
Imported crank awning 11.5 'wide x 8.2' deep (3.5mx 2.5m). The two integrated legs can be fitted to the side of the caravan or downwards, secured to the ground. The awnings come with wind straps. Two wind panels with a draft skirt can be used with or without the crank awning. A front panel can also be used to form an enclosed tent under the kitchen awning. It includes:
Upgrade to luxury crank awning, with rafter bar & wind straps (above the kitchen) 
Upgrade to luxury crank awning, with wind straps, (above the slide-out)
Two wind panels with windows & draft skirt for use with or without kitchen crank awning 
Front canvas slide panel with window & door for use with crank awning
Alternative to the standard canvas   awning or luxury crank awnings. It covers 180 degrees towards the rear. The tent sides can be fitted individually as needed and a room divider is also included for your guests. It includes:
Upgrade to 180 swing awning, 
23 ft (7m) side panels with pipes, windows & door for swing awning 
Draft skirt to fit swing awning, around to the rear 
Off-road kit including:
Canvas & rubber stone guard fitted to front of body 
2x Blue 5.3 gallons (20L) metal Jerry water cans 
 Metal protection guard in front of the water tank 
Solar Power System including:

Up to 2 x 130W slimline solar panel fitted to the roof (<6A) plus 15A controller
Up to 2 x220W portable fold-out solar panels with 10m cable (<12A) plus adequate smart controller
Go back to: -> Extreme Off-road RVs
---
All pictures are courtesy of Mobi-Lodge
Note:  Check with the manufacturer and / or authorized RV Dealer for the up-to-date list of features, options as well as latest specifications. These written above may not be accurate and certainly are subject to change by the factory. We are not responsible for any inaccuracy, the above text is provided only for the general information.
This review was written based on publicly available information for the benefits of the community of RV-ers. We do not receive any gratification or financial benefits from RV manufacturers, dealers, and any other promoters of RVs. 
We are NOT involved in sale and/or retail of RVs!