Mobi-Lodge Continental Off-Road Travel Trailers
South-African Mobi-Lodge Continental is the company's flagship travel trailer; the slide-out bedroom offers comfort, while off-road design promises memorable adventures ...

          It may not be that obvious to the wider range of North-American RV-ers that South Africa is one of the world's leaders in the design and manufacturing of off-road recreational vehicles. And there is a valid reason for that - African roads or rather the lack of them. No wonder (given such vast territory of wilderness), that the South African industry of off-road vehicles emerged as a sort of "Spécialité de la Maison"!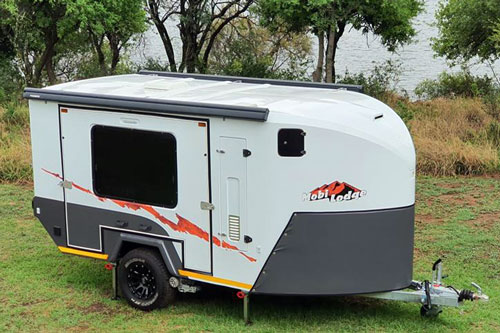 Mobi-Lodge Continental travel trailer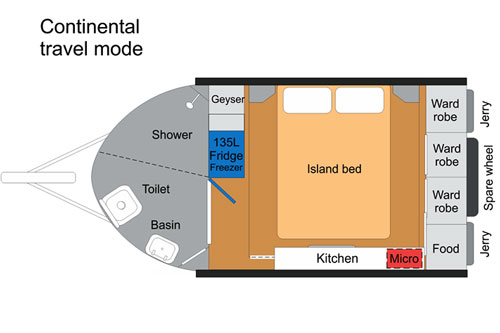 Floor-plan in the road configuration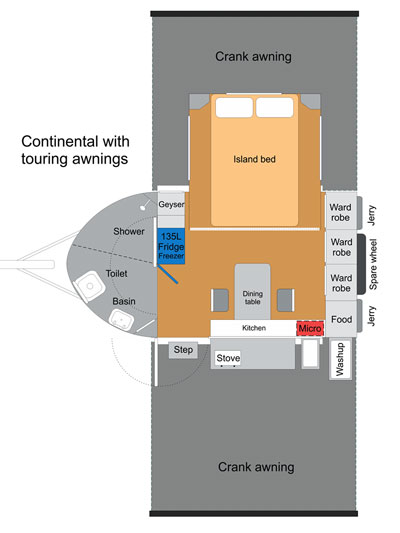 Floor-plan in the camping configuration

One of the recent raising stars of the South African RV industry is Mobi-Lodge (Middelburg, Mpumalanga, SA). You got it right - the company name suggests a new "breed" of mobile homes specifically crafted for African wilderness: a "Mobile Log Cabin" that can go everywhere!
         The company founder, Mr. Marius Ras built his first Mobi-Lodge model back in 2013. In 2015, first commercial units rolled out from the factory floor and the rest is history. Now, in 2020, the company offers several Mobi-Lodge models like Custom, Expedition, Ultimate, Continental, Delux, and Liberty as well as a more compact version - Mobi X Adventure Trailer. 
All mentioned models (with the exception of X-Adventure) pretty much share the same body - the main difference is the selection of standard and luxury features targeting either off-road adventures (Expedition), predominantly on-road use (Deluxe) or both situations (Ultimate). The Liberty model has special "trimmings" to answer particular needs. It was developed for wheel-chair use so it includes remotely-controlled lift, wider entrance door, and correspondingly adapted interior layout. 
Finally, there is the Continental - the first from the series of Mobi-Lodge travel trailers offered with the new floor-plan version. It's the flagship model targeting international adventurers, so with no hesitation, we selected it for this presentation hoping that it may soon find its way to North American markets.
              In the road configuration (both On & Off-road environment), the Mobi-Lodge Continental looks like a traditional compact trailer. Its sleek aerodynamic front-nose promises good fuel efficiency on highways. On the other hand - the generous ground clearance, as well as characteristic departure angle, guarantees smooth rides on bumpy off-road tracts.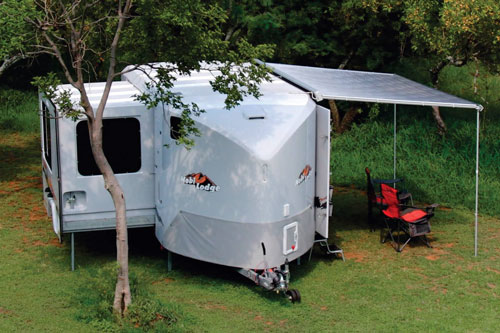 Mobi-Lodge Continental on the camping site

That's what makes the difference: slide-out bedroom
          So far it seems familiar! However, what differentiates Mobi-Lodge travel trailers from the "pack" is their expandable design. Slide-out modules are quite popular in traditional "on-road" higher-end RVs, but rarely (if at all) seen in off-road applications. Mainly, it's due to their higher weight and demanding, mechanically "stressful" environment that sets serious design challenges. Well, with the dry weight of 1,370kg (about 3,020 lb) the Continental seems to be in-line with similar size off-road trailers. When it comes to the reliability as well as the quality of air & watertight design (dust and rain seals) - it's to be seen, although given huge experience of the South African RV industry and abundance of suitable testing grounds we may assume that Mobi - Lodge will pass the real life-tests.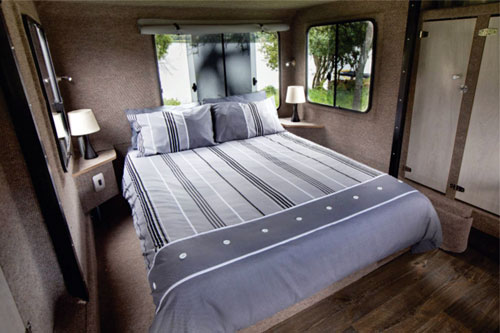 Impressive Bedroom (on the right wall you can see wardrobes )
        Continental's slide-out module makes an impressive Bedroom Island with a walk-around double-size bed in the middle and night tables on both sides. It deserves the name "island", because indeed it creates an ambiance of an oasis "disconnected" from the reality of surrounding wilderness revealed by three large windows! And that's the big difference compared to traditional off-road campers where sleeping place is usually squeezed in a crowded interior or relocated to the rooftop tent. Note that Continental's bedroom can also be used in the road mode (w / o pulling-out the module).
The bedroom effortlessly slides-out by almost 4/6 feet (1.4 meters) thanks to a proprietary bearing system and then is secured by extra two adjustable stabilizers (note that the main shell has 4 manual stabilizers and heavy-duty tongue wheel to balance- out its camping configuration).
Outdoor Kitchen-Bar (newest 2020 version)
Outdoor Kitchen
            The exterior fold-out kitchen may match even demanding expectations. Its modular design accessible only from the outside offers a large cupboard / pantry across the sidewall coming with kitchenware, 2-burner gas stove, and a fold-down working area. The double-bowl stainless-steel sink with dark glass covers is housed in a separate fold-down module next to the kitchen. The faucet w / hot & cold water can swing even out of the sinks area (practical if you need water for other than dish-washing applications). Note that the sink module can be oriented either towards the kitchen-bar or trailer's rear end (depending on the customer's needs).
Older versions of Mobi-Lodge trailers also included an externally accessible pull-out fridge. However, in Continental's new 2020 version, the pull-out fridge was replaced by a large (4.8 cu.ft / 135 l) interior fridge w / freezer located across the entrance doors. Now, the freed space is housing a microwave and a small stainless-steel BBQ (in a canvas bag) while the compartment's fold-down door offers an extra workspace. The whole concept of the kitchen bears a resemblance to an open-bar (in contrast to popular versions of "slide-out" kitchenettes). The deep awning across the sidewall provides much-needed cover from weather elements (be it rain of scorching sun).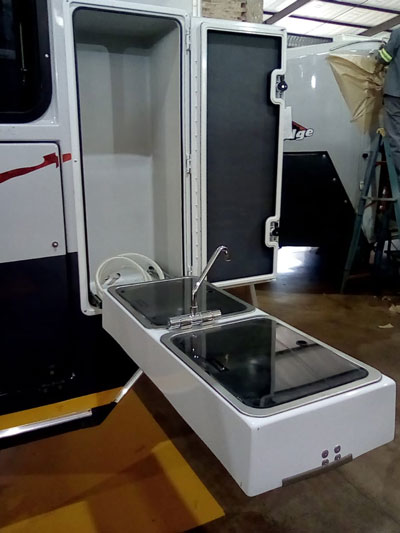 Fold-down dual-bowls sink with glass lids
The outdoor kitchen comes fully equipped with kitchenware, cutlery, utensils; you will even find a mini-bar with 4 glasses and holders for 3 bottles of wine! 
          The cabin (after pulling-out the bedroom module) offers quite a spacious dining area. Thanks to large sliding windows (all with privacy canvas and insect screens), it is opened into outdoors and frankly, looks roomier than it really is. The long countertop across the kitchen-bar window, flip-up table, and two portable chairs seem to offer a modest but functional dining corner. It's a roomy area even when the table is set-up, allowing for unobstructed access to wardrobes and interior pantry corner. 
But the real fun is outside under an umbrella of the awning (in its standard version, it is a crank-type canvas tent with 3 poles - all stored in a zipped bag fixed to the roofline). It's where you can get in touch with nature, feel the morning breeze, enjoy the sounds of wildlife… For these reasons, the manufacturer offers several options expending the outdoor "living quarters" - ranging from upgraded (although still crank-type) awnings to large 180-degrees tents offering increased functionality (extra rooms) and protection.
Mobi-Lodge Continental with an optional tent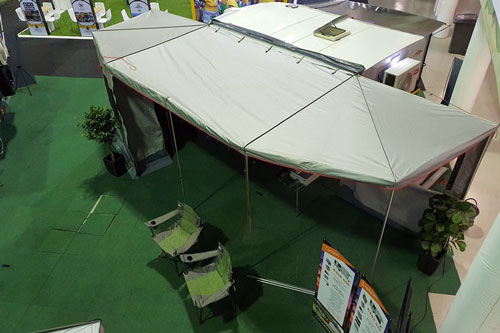 That's how in may look in practice
Energy
               The single 105Ah deep-cycle AGM battery (standard feature) can be backed by another, optional one. Under normal circumstances, the camper's battery is charged by the towing vehicle (via an Anderson Connector) or from the shore power thanks to the standard AC / DC battery charger. In off-grid environment, the electrical energy can be provided by optional solar panels. They are coming in two versions: up to 2 (130W each) roof-mounted panels and up to 2 (220W each) portable panels. The limitations are imposed by the Solar Power controllers (maximum power they can handle)! BTW - it does not seem to be very practical that both types of solar panels (roof and portable) need a dedicated controller (although it can still be an economic solution when they come as "supplier's packages")
Mobi-Lodge Continental comes with shore power connection (about 50ft long cable included). It is necessary for operating the microwave but also for an optional 12k BTU A / C unit. Note that the mentioned earlier new fridge is optimized for the operation at 12Vdc.
 The Water Heater (known as "Gas Geyser") provides on-demand hot water to the outdoor kitchen-bar (sink), bath sink, and shower. Both - the water heater the 2-burner cooktop they are fed from the 11lbs LPG tank.
The two rear-mounted fuel Jerry cans (5.3 gallons each) are part of standard features and are intended for increased autonomy of the towing vehicle. The limited overall capacity makes them a sort of "safety-net" in an off-road environment where the closest gas station may be far behind the horizon.
Toilet is separated from the shower compartment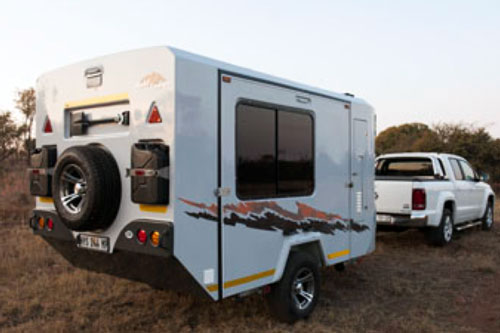 2 Jerry-can fuel tanks, spare tire and shovel are part of standard features.
Water
        The 40 gallons (150L) water tank with a 12V high-pressure pump is the main source of freshwater for cooking, washing, toilet, and shower. The water storage capacity can be increased by two optional Jerry cans (with a total capacity of 10.6 gallons). Note that the 5.3 gallons drinking water tank housed in a dedicated kitchen compartment is part of the standard features. Definitely, the Mobi-Lodge Continental trailer does not have the black water tank. The toilet is water-flushed; however, it operates with a removable chemical cassette (accessible from the outside). It is not clear however where the greywater ends-up. While it can be easily imagined that the water from the kitchen sink can be collected in a dedicated water bucket, it will be quite an unrealistic method for the collection of greywater from the bath!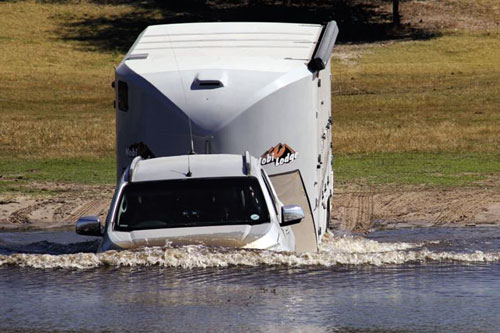 True meaning of Off-Road RV-ing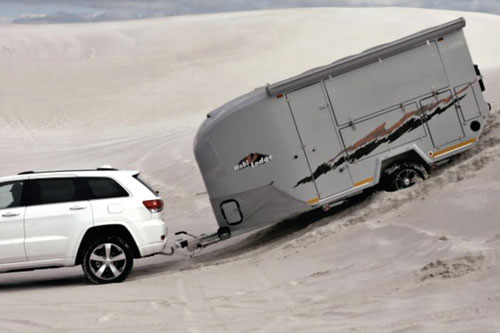 Off-road design
          While practically every South African RV will face off-road environment, the Continental in its standard version is not fully optimized for wilderness (for that, Mobi-Lodge promotes the "Expedition"). It does not mean however, that the Continental can not be used for longer off-road / off-grid adventures. With its characteristic departure angle (shared with most Mobi-Lodge trailers) it can easily negotiate tough no-road environment. The shovel and full-size spare wheel (both standard features) add some level of security on bumpy tracts. You will need however optional canvas & rubber stone guard to protect the front nose from gravel and debris as well as the 2nd battery and solar power. 
Let's also mention overall construction strength. The steel-braced, mono-hull fiberglass shell is extremely robust and watertight. The floor is made from marine-grade ply enveloped in fiberglass while all hinges and fittings from stainless-steel. It promises robustness and durability - much needed for off-road adventures.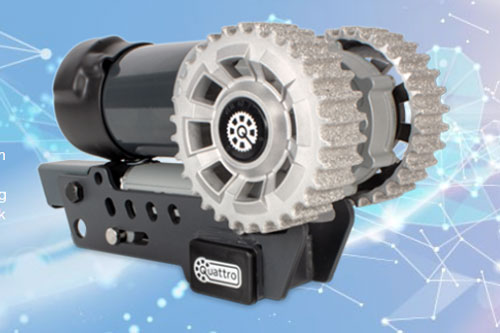 Quattro Camper Mover

maneuverability
       Mobi-Lodge travel trailers can be equipped with a little known in North America Camper Maneuverability Assistance. The optional Quattro Caravan Mover (s) offers incredible power being able to move travel trailers in tight places like campground sites, storage areas but also when it may be the most appreciated - in an off-road environment. The video below may give more answers than thousands of words, so be my guests .
Isn't it amazing?

To see technical specifications, construction details as well as the list of standard features and options go to:
-> Specs of Mobi-Lodge Continental
---
All pictures are courtesy of Mobi-Lodge
Note:  Check with the manufacturer and / or authorized RV Dealer for the up-to-date list of features, options as well as latest specifications. These written above may not be accurate and certainly are subject to change by the factory. We are not responsible for any inaccuracy, the above text is provided only for the general information.
This review was written based on publicly available information for the benefits of the community of RV-ers. We do not receive any gratification or financial benefits from RV manufacturers, dealers, and any other promoters of RVs. 
We are NOT involved in sale and/or retail of RVs!