Most Popular Winter Campsites around the World



Winter is an attractive outdoor season; find some of the best RV winter destinations and campsites where you can stay in your home away from home....

Recreational vehicles are fun for camping year round, not just in the summertime and there are many destinations available that offer full amenities even throughout the winter weather.
You can enjoy the many activities and travel destinations nearby, and still come home to a nice cozy RV for a little rest and relaxation.
In this article we will show you some of the best winter RV destinations around the world.

#1 Manning Winter Camping
7500 British Columbia 3,
Manning Park, BC V0X 1R0, Canada
1-800-689-9025

The Lone Duck and Cambie Creek Campgrounds at Manning Park Resort is just the place you have been looking for to park your RV for the winter. At their RV sites they are first come first serve and have sites that go all the way up to full service depending on what your needs may be. What to do? They have so many options to choose from it is hard to know where to start your activities with fun items such as hiking, horseback trail rides, kayaking and boating! You can even fish at Lightning Lake! They offer shelters with wood stoves, large parking areas and access to their backcountry trails and lakes!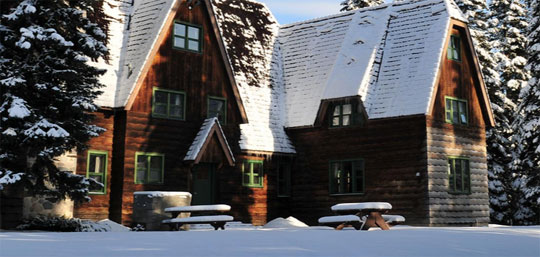 Manning Park Resort in winter is even more charming for visitors...
Source: http://winter.manningpark.com

#2 Winter Camping in Kelowna
1980 Union Rd.
Kelowna, BC V1V 2E8
(250) 763-9840

In Kelowna they have a comprehensive RV site that offers a range of campsites numbering over 15 separate sites. You can have your pick of venues here, with anything from a site located next to a beautiful apple orchard, urbanesque campsites, mountain venues, and Simple Park like settings. Their sites have full beach access, lovely picnic areas, full laundry facilities, and sewer hookups. You must be sure to pay a visit to their delightful apple orchards, inviting pools and take a tour of the winery and pick up a bottle to enjoy!

#3 Winter Camping Canungra
Brisbane Holiday Village
10 Holmead Road
Eight Mile Plains, Brisbane, Australia
Phone: 07 3341 6133
International Phone: +61 7 3341 6133

Brisbane Gateway Resort boasts a large array of sites for recreational vehicles. The RV sites that they rent out are well maintained, very spacious and feature electrical hookups, water and sewer services and are walking distance from the other amenities offered. They even offer an 18-hole miniature golf course as well as a nice playground area and even tennis courts! This is a great place to spend your winter months.

Winter Camping Near Pakenham
Ice fishing is one of the favorite winter's activities (poor fish, even ice does not provide the safety shelter :-(.....

#4 .Cedar Cove Resort
100 Cedar Cove Road
White Lake;  Ontario K0A 3L0
Canada
613-623-3133

Now this is a resort that knows how to cut loose, they offer many different types of boat rentals so you can head out for some fun on the lake, from motorboats all the way down to canoes and kayaks. If you arrive at a time when the lake has already frozen, that is okay too because you can rent one of their ice fishing huts and have a blast hooking the big one! Their RV sites offer full service hookups, bathing and restroom facilities as well as WiFi.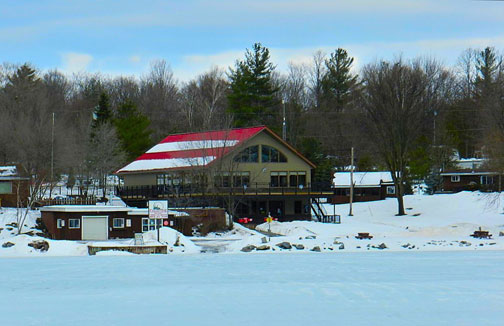 It's open during winter time!
Source: http://www.cedarcove.ca

---
#5 Riverbend Park
2918 County RD 29
Parkingham Ontario K0A 2X0
+1 613-624-5426

This RV park has many fun activities for you to partake of from canoeing and boat rides on the Mississippi, to playing darts, horseshoes or going on a wagon ride or maybe you want to head to the 18-hole golf course located nearby. Whatever your pleasure, they have something to offer everyone. They have full service hookups with WiFi, electric and water.

#6 Rust de Winter Camping
Southern Gateway Ext 4
N1 Main Road
Polokwane, 0700
South Africa
+27 15 293 3611/2/3

This campsite is great if you are ready to rough it a bit, their campsites do not offer electricity and you must supply your own water. On the plus side you are in beautiful Africa and you can take a safari tour, and check out the local wildlife such as lions, zebras and giraffes!

#7 Camping in Tasmania in winter
Arthur River
PO Box 21
Queenstown TAS 7467
Australia
+(03) 6457 1212

This campground facility offers basic restroom facilities and showers, however you must pack out your own trash they do not offer this service. This lovely place offers many activities such as hiking and biking as well as exploring with a guide the local wildlife.

 About Us / Privacy Policy / Resources
Go to: Pop-up Travel Trailers
or:  Best Winter Travel Trailers