6 Best Winter Travel Trailers
Best 4-season, well insulated from the top to bottom and from front to back RVs open new windows for winter outdoor fan; luxury mixed with warmness and charm….

In recent years RV industry realized the increased demand for "All-Seasons" recreational vehicles.
Addressing this growing demand they introduced to the market new models of campers that can extend the RV-ing season well outside of the traditional vacation time into winter months.
Thanks to improved (or extra) shell insulation, double windows, underbelly heating and special care of water tanks and pipes these modern travel trailers can offer you a comfortable (warm) vacations not only in mountains, but also in areas covered by snow.
Needless to say that such RVs open new windows of opportunity for those that may prefer skiing in the mountains over sunbathing on the crowded beaches.
And by the way, if someone still would like to take "sun-bath", it is not unusual and certainly very attractive to expose your body to the winter sun somewhere on the mountain slope. Most winter RVs belong to the class of luxury (or "almost-luxury" vehicles. And the reason is obvious – contrary to the summer time when you stay long hours outside, during winter after potentially exhausting outdoor activities, you would like to recover in nice, warm, and comfortable "home-like" environment.

Of many 4-season trailers on the market, listed below are some of the best ones that can bring you in full comfort face to face with the Mother Nature in her Winter's incarnation….

1. Canyon Trail by Gulf Stream Inc.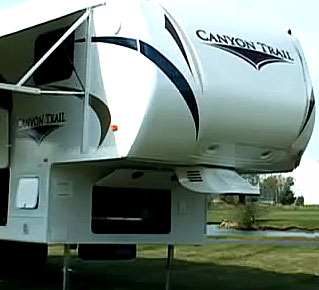 Canyon Trail "All-Seasons" 5th wheel camper

This is a premium luxury travel trailer built for 4-sesons camping including winter with freezing temperatures. To achieve that, Gulf Stream designed all its Canyon trailers and fifth wheels with enhanced insulation and protection. The "Winterization" includes the following features:
Forced-air, R-38 insulated, heated, enclosed "underbelly" holding water tanks, plumbing and dump valves,

R-32 floor insulation with extra insulation of aluminum joints and areas under the bedroom and bath with R-14 Thermal Foil,
2-nch thick sidewalls with R-14 insulation covering also aluminum studs to eliminate any thermal bridges,
R-14 Thermal Foil insulation of slide-outs' floors,
R-38 thermal insulation of the roof (it also includes vapor barriers and vents),
Side-walls from AZDEL composite panels made from fiberglass and polypropylene resin with about 3-times better thermal barrier compared to traditional wood (extra benefit is a lightweight construction),
Dual LP tanks for extended autonomy.
The bottom line is that Canyon trailers made by Gulf Stream are some of the best winter-ready campers available on the market. And, just to make it clear – you can expect "home-away-from-home" environment thanks to luxuries interior.

---
2. Brookstone by Coachmen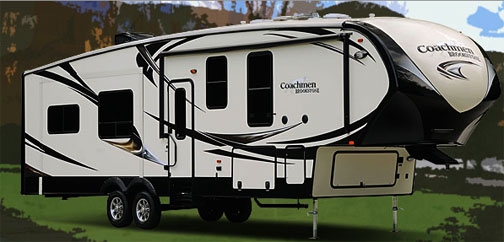 Brookstone Fifth Wheel luxurious 4-seasons camper

Brookstone is an "All-season" fifth wheel camper designed specifically for hot summers and cold winters. On top of "Radiant" technology used for roof and floor insulation (in other words two-way reflective-absorptive barrier for heat) the so-called Arctic Eskimo Package includes enclosed, forced-air heated underbelly covering water tanks, plumbing and termination valves. High R-factor insulation in ceiling, walls and floor (high-density foam), as well as vented attic provide "warm comfort" inside of the camper across large swings of external temperatures including those below the freezing point.
Optional, dual-Pane windows minimize thermal bridges, while electric fireplace acts not only as a heating element but also adds a dose of romanticism and charm definitely warming "hearts"….

---
3. Cardinal campers
Cardinal 5th Wheel - Model 3850RL: Luxury, a lot of living space, "plenty" of slide-outs and all ready for any season...

Cardinal Fifth Wheels are made by well recognized in RV industry - Forest-River. These are 4-season units designed to provide comfort across the wide range of temperatures. External insulation includes R-9 block foam in sidewalls, two layers of R7 roof insulation combined with radian R38 foil in roof and floor as well as radiant-foil insulated "sub-floor" (also called "basement") with forced air heat to protect water systems. Especially good insulation covers front and rear walls – with layers of R14 fiberglass and R38 radiant foil. Sub-floor (underbelly) includes 12V heating pads around water tanks for extra safety.  Dual-pane dark-tinted windows with safety glass add much-needed thermal barrier. 
And if this is not enough, please note 15,000 BTU A/C system which with the "little" help of attic vents keeps interior comfortable during hot summer days as well as for colder temperatures 42,000 BTU furnace fed from dual 30lbs LP bottles equipped with auto-switch.

---
Let's see how the Arctic Fox is made... and what does it look inside and outside once it is finished...

4. Arctic Fox by Northwood
Arctic Fox is a series of 4-season Travel Trailers and Fifth-Wheels made by Northwood.  The series includes several models with different sizes (23' to 35.6') and floor-plans. However all of them share two common features: they are made for "Arctic" climate and provide exceptional "home-like" interiors.
The first step to make them "Arctic-friendly" is the fully insulated and heated with circulating warm air the area holding water tanks, pipes and valves. The living area (in other words shell) is insulated with residential quality Rigid Foam, Batten (R-18 fiberglass) and R-15 Reflective Foil.

---
5. Elevation by Crossroads
Crossroad Elevation Toy Hauler (too big to fit into picture) :-)

The series of Toy-Haulers Elevation is made by Crossroads.  They have aluminum frame construction making them substantially lighter than comparable wood models. Their interiors represent the class of luxury RVs, providing elegant, quiet and beautifully furnished living space offering truly "Home-away-from-home" experience. The series Elevation (as the name may suggest) are designed for camping in wider range of external temperatures.  Standard construction includes thermal foil insulation on ceiling, floor, sidewalls, slide-outs as well as front and rear caps.
Also the basic configuration includes enclosed and heated underbelly protecting water tanks, plumbing and valves. 15,000 BTU ducted A/C and 40,000 BTU furnace fed from dual 40 LP bottles guarantee comfortable interior temperatures regardless of the outside weather.  Optional "Polar Package" includes dual-pane windows (tinted), battery-ran heat-pads and heat pump.
Lightweight construction, luxurious interior and a lot of space for your favorite toys make Elevation one of the best non-motorized Toy-Haulers for 4-seasons camping adventure.

---
6. Ice Haven by Gulf Stream Inc.
Ice Heaven - view from the front (note rubberized floor with fishing holes)
Source: www.gulfstreamrvtrailers.com

As its name suggests this travel trailer is specifically designed for winter camping. And actually it is targeting "ice-fishing" enthusiasts so its interior is comfortable but rather modest. It simply serve the main purpose – fishing activities! Powerful furnace with two LP tanks, good winter insulation, double-pane windows, insulated entry door and "no-slip" rubber floor guarantee you warmness and safety. The trailer is well furnished (2 folding bunks, galley, kitchen with 3-burner range & oven, large dinette, reinforced buy window, portable toilet…).
And especially for fishing aficionados – power landing gear to lower/rise unit on the ice and fishing holes in the floor so you can do your job sitting inside and drinking coffee (well, poor fish).

 About Us / Privacy Policy / Resources
Winter Travel Trailers Skirting / Camper Winter Tires / Buyers Guide for Winter Travel Trailers /  Winter Pop Up Forums / How to Winterize Camper /  Winter Camper Tents /  Winter Equipment List  / Winter Camping Gear 

Go to: Pop-up Travel Trailers and RVs