Motor Home RV Internet Connection
These days the motor home RV internet connections is not anymore a luxury...

There are several various options for your RV motor home internet connection
Today, many people can't imagine their life without having an internet access all the time, even when they are on the road.
Since internet became inevitable and very important part of modern life, most people wish to stay "connected" while enjoying the comfort of their motor homes.
While in the past the only way to access the internet while travelling with your RV was to plug in to a dial-up modem at a campground, nowadays there are several means how you can have the internet access.
Wireless Internet Access for your RV motor homes
The first option is WiFi, which is at the same time the cheapest option provided for free by many campgrounds. The number of campgrounds offering WiFi internet access is increasing all the time because the number of campers using this type of internet service is getting bigger and bigger.
In order to use this service, you must have a laptop with wireless option. Then the only thing you have to do is to connect to the park's wireless "hotspot". The speed and the range of the wireless internet will depend on the WiFi network and the campground's configuration.
Since many campers use the same internet connection at a particular campground, it may happen that the speed of wireless service decreases, as great number of people is using it at the same time. However, if you don't need high speed access and you need internet just to open your e-mails, this type of internet access will do the job.
The most famous WiFi providers in USA are Tengo Internet-the largest high-speed wireless internet provider and WiFi internet installer which manages internet access at more than 900 RV parks and resorts, campgrounds, hotels and marinas in 48 states, Canada and Mexico.
The second important Wifi provider is Cyberonic Internet Communication.
Satellite Internet access for RVS
However, if you need a high speed internet for streaming any video then the better solution for you would be satellite internet system. It operates with dish type antennas, which use GPS technology to locate and lock on to a satellite which further provides internet connection. There are two main types of antennas-automatic mounted roof antenna and tripod as a separate auxiliary unit.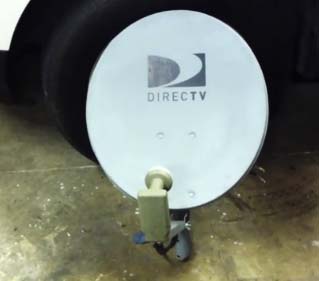 Satellite Direct TV

The greatest advantage to a satellite internet system is that you can have internet access even in far distance areas where wired or wireless internet is not available.
Beside the necessary equipment for the satellite internet system, all you need is a clear view of the southern sky.
As far as the automatic roof mounted satellite dish, they are permanently attached to the roof of your motor home and don't require any additional storage space. As most of these antennas are automatic, this means that they are programmed to automatically find the satellite.
You only have to take care of where you will park in order to have a clear line of sight to the southern sky. Automatic feature of these antennas significantly influences their price, which ranges from $4,500 to $7,500 for the system and installation while monthly service is about $90.
The most famous manufacturers of automatic satellite units are MotoSAT's Datastorm, Ground Control and Starband.
When we speak of tripod mounted satellite dish, its advantage over the roof-mounted antenna is that you can park even under a tree or other obstacle and set up the tripod mounted satellite nearby where you can get a clear view of the southern sky. They are much less expensive but it takes some time to set them up and also they need to be stored for transport. The cost for the equipment and training for tripod satellite unit is about $1,500 while monthly service is from $50 to $60 depending on the provider.
The main companies providing tripod satellite systems are Hughes and Direcway.
Presentation of RV satellite dish "travelite dish"

---
Visitor's story

Just as many RV-ers want their mobile homes to be every bit as luxurious as their homes, they also are no longer willing to forego internet access.
If this description fits you, then we have some ideas to help you find the right internet access for you.
Many RV parks and campgrounds offer Internet access, either free or at a minimal charge, however many of them are dial up which can be slow.
One popular method of access is a satellite system which allows you to connect at broadband speeds, from the comfort of your motor coach or 5th wheeler You can be on the Internet within 10 business days.
Most satellite Internet providers also offer direct TV. You have to purchase a special bracket that costs around $80.00.
Be aware that this is a subscription service and internet access alone generally cost about 100 a month adding TV will cost an additional fee.
You can purchase wireless internet cards. My wife and I have cards for our laptops which we use exclusively while traveling in our camper van. More and more places now provide wireless internet access for their customers.
Bookstores, truck stops, motels, cafes, RV parks and even some fast food restaurants have these services. We always check before we make a reservation to be sure an RV park or hotel for motor home RV internet connection, especially if we will be spending more than one night.
WiFi is fast becoming the most available and popular means of internet access for recreational vehicle users, truckers and other frequent travelers.
WiFi is short for wireless fidelity and is the name for wireless internet access that uses unlicensed 2.4 GHz radio frequencies. Radio waves are broadcast from an access point on a tower in the immediate area. It is also known as 80211.b and 80211.g.
The standard at most motor home resorts is 802.11b because g devices can "talk" to b access points.
 About Us / Privacy Policy / Resources
Go from Motor Home RV Internet Connection to Pop Up Campers Trailer Home

Motor Home RV Camping