New Fifth Wheel Camper Parts
Somewhere down the line, you might need new fifth wheel camper parts - it's about your safety and easiness of driving.
Fifth Wheels are some of the most complex campers.
Since the trailer is so closely attached to the truck and it is usually very large and heavy, there are special components and parts that have been designed to keep the trailer in place and make driving easier and more enjoyable.

1. Hitches
A hitch is one of the most important parts of a fifth wheel. This holds in place the trailer, and assures that it won't move or won't detach during driving.
A high quality hitch is essential especially when you are carrying heavy loads, but not only. There are various types of hitches out there, and the right one should be chosen according to the weight of the trailer and the type of the truck.

B&W hitch attachments....

Models

Blue Ox BedSaver for Reese 16K Slider Hitch
This hitch is equipped with a Bed Saver. It holds securely the king pin, assuring no damage to the bed of the truck while you are driving. It doesn't make the hitching and unhitching of the trailer more difficult. This hitch weighs 35 lbs.

Pullrite Super 5th Wheel Hitch
This hitch eliminates the risk of dropping the trailer while driving and getting into a serious accident. It locks automatically. You do not need a safety pin or a lever for this hitch. The design of the latch eliminates the focused wear points. It weighs 177.4 lbs.

Kwik SlideReese Fifth Wheel Hitch
To assure maximum safety, this hitch has a two-jaw locking system. The patented Kwik-Slide switches are known for their security. They have a powder coated electrostatic finish. This hitch weighs 156 lbs.


And now little demonstration on how to properly hitch a fifth wheel trailer to a truck
2. Stabilizers

You can easily stabilize your trailer with just one simple part. Stabilizers eliminate trailer movement. There are more types of stabilizers with various functions. When you have a fifth wheel, it happens a lot that it moves from side to side and there is also often a front to back movement. This can be not only disturbing, but sometimes also dangerous. This is why you need stabilizers!

Models

FASTJACK Stabilizer Kit
The Fastjack kit has three legs and offers maximum stabilization even on an uneven ground. It slips under the trailer's pin.  It has large base pads for a firm stand. It is one of the most lightweight stabilizers that you can find on the market.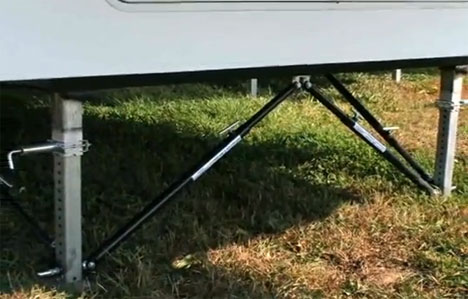 5th Wheel with installed JT Strong Arm Jack stabilizer

JT Strong Arm Jack Stabilizer System
This stabilizer system eliminates the chassis movement problem. If you have this system you won't need any tripods or pin stabilizers. If you use the JT strong arm jack stabilizer, you will notice an elimination of all side-to-side and front-to-back movement. It requires a one-time permanent installation therefore it is hassle free.

Stabilizer Jack Pads
These stabilizer jack pads have been made for fifth wheel stabilizers. If you are on a soft or uneven ground, you will need these to stabilize your fifth wheel. They are very light and durable. They weigh 2.4 lbs.

3. Sliding Fifth Wheels
Sliders are helping driving and they increase safety by increasing the space between the cab and the trailer of fifth wheels.

Models
Pro Series Fifth Wheel Slider
This slider increases space between the cab and the trailer, which makes turning much safer and easier.
Besides having a better turning clearance thank to this device, this slider is also lightweight. It has a 4-roller design, which makes it slide smoothly. It can be easily adjusted and it includes a rubber grip handle. It is easy to install.

Curt R16 Round Tube Slider
The tube slider will eliminate any clearance problems while turning that you have been having with your fifth wheel. It gives you 12" of travel. It is ideal for a short-bed pickup. It has been designed for use on trucks with beds shorter than 8', it is not recommended for longer ones or ones shorter than 6 feet. It is made of carbide powder coated steel and it has the gross towing weight of 16,000 lbs.

Reese Round Tube Slider
 The Reese Round Tube slider is especially useful during slow-speed turns. It assures comfortable and safe driving, and prevents the trailer from hitting the cab. Thanks to the round, embossed rails it slides very smoothly. It has a powder coat finish against corrosion, which makes it very durable. It can be used with Reese 16,000-lb and 20,000-lb 5th-wheel trailer hitches.

See how the sliding hitch works in short-bed trucks

4. Other parts
Brackets
Brackets are needed for the fifth wheel hitches.
They can be mounted on the hitch base. The best brackets are made of a non corrosive finish that will make them durable.

Legs
Legs can be attached to standard fifth-wheel base rails. The ones that have the best stability are the ones with wide-stance legs.

Other fifth wheel parts include fifth wheel covers, handle parts, hitch anchors and more.

---
Visitor's story.....

One item that I found to be of great importance for 5th wheel owners is the Adco Tyvek cover.
The cover is made with breathable fabric yet durable enough to keep dust and dirt out. You can protect you outside from hot sun beating down on it, snow, rain and windstorms.
This helps to protect the exterior from weathering over years. It also makes it nice because you do not have to wash it as much. If you live in Wisconsin where winters are harsh or Wyoming where summers are overbearing, you will want one of these covers for protection.
Other new 5th wheel parts might include a new gooseneck hitch, a long plate or a tailgate for the truck pulling the camper. These parts can be found at local dealers or online at various dealers. Three things to remember about ordering new parts is to always know the length by foot for the trailer you have, the width by foot and the year. A 2001 part might not be compatible with a 2002, it all depends what the dealer tells you. You can buy quality new parts from Keystone and Valley, these are just a few of the dealers.
New fifth wheel camper parts might also include a venting system, scissor jacks for stabilization, stacker jacks, coupler locks, water regulator, lights, bulbs and drain hoses. Everything you need make your camping experience go smoothly can be found at local dealers or online.
After determining what part or parts you will need, you also need some information about the year of your 5th wheel and the make and model. Some parts might not be interchangeable. Parts that require some sort of technical knowledge might need a repair service at a recreational vehicle dealer.
 About Us / Privacy Policy / Resources
Find Here Worldwide Beach Camping Parks Directory

Go from New Fifth Wheel Camper Parts to Pop Up Campers Trailer Home