Living Vehicle
Off-grid RVs
Living Vehicle is one of first affordable & comfortable off-grid RVs, thanks to huge water tanks and solar energy, and storage space it can support off-grid living for 2 persons for almost one month.
          Most of available off-road/off-grid RVs are designed as sort of extension to the existing line of traditional recreational vehicles.  Exception are so called "Expedition RVs", - usually robust, "heavyweight" and pricy behemoths that can take you almost everywhere, even to the "end of the World" , but also ruin financially.
Usually, traditional RV industry seeing new opportunities tries to somehow "adapt" existing expertise and models to new tasks (in this case off-grid environment). Well, the best approach however is to start the design from scratch because all "short-cuts" necessary to fit an idea into more-or-less existing structure will require too many compromises to achieve goals so essential for off-grid RV-ers.
Off-Grid Living Vehicle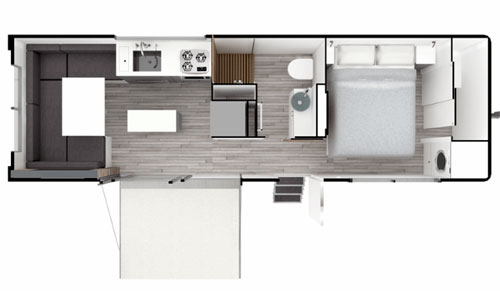 And its floor-plan
It is then very encouraging for aficionados of boondocking to see new, small companies bringing their often revolutionary, designs to the off-grid RV market. Their main advantages are new, out-of-the-box" visions and lack of often detrimental "bias" due to long lasting customs and traditions from the past.
       One of such companies is Californian "Living Vehicle" - founded in 2010 by Mr. Hofmann and these days ran jointly by himself and his wife. To make it clear – the company does not come from nowhere. Professionally, Mr. Hofmann is a well-recognized architect for his designs of mobile homes as well as for remodeling of vintage RVs. But even better - his knowledge of the "matter" comes not only from countless interactions with his customers of let's face it – usually luxurious mobile homes, but also from his own experience of real-world known as boondocking. Frankly, you cannot have better starting point when lunching the new business.
      The Living Vehicle travel trailer was designed with the goal to meet the following requirements: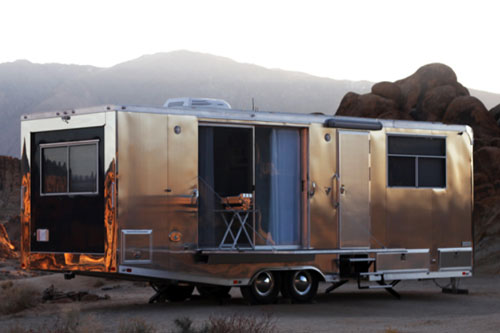 Living Vehicle: All-aluminum structure
Low dry weight 
      An off-grid RV must be spacious (to offer comfortable living conditions), have large cargo capacity (long-term living requires a lot of water, large bank of electrical batteries, necessary (but not typical in traditional RVs) appliances and in general "stuff" to carry – all quite heavy). If these already difficult to meet requirements are not tough enough, there is one more. An off-grid RV should be also designed as off-road one and be towable by affordable vehicles (in the case of LV – the Ford F-250 will do the job).
Given these constraints, designers concluded that the only viable solution is an "all-aluminum" structure. Indeed, the Living Vehicle's shell, frame, chassis and all cabinetry are made from aluminum. Despite its size and off-road construction, it weighs only 8,750 lbs when living the factory doors, what for its size (30'11" overall length, 27'4" shell) and generous set of  features is quite an achievement.
Adequate water and energy autonomy 
      Longer-term off-grid living requires over-sized fresh water tank (in fact availability of the fresh water is usually the main limiting factor determining the length of your out-of-civilization trip). To tackle this problem, the Living Vehicle is equipped with an impressive 100 gallons fresh water tank. The combined capacity of grey and black water tanks exceed this number (they are correspondingly 62 and 45 gallons).
It may be worth to mention that the company is currently working on practical solutions for water purifying, treatment and re-circulation systems allowing for significant extension of off-grid autonomy in the future.
These days it is much easier to offer electrical energy – thanks to availability of renewable sources. In practical terms - it is the matter of availability of unobstructed area on the roof for solar panels, weight (bank of batteries) and for sure the budget!  (to which you have to also add the cost of Inverter, Control & Monitor system etc.. 
For your information - Living Vehicle's standard features include 1,400W of installed solar power, 4 lithium-ion batteries and 3kW pure-sinewave Inverter. The latter is necessary for such appliances as washer/dryer, dishwasher, microwave and eventually additional small appliances that traditionally run on 110Vac and you may like to have in your mobile home (coffee-maker, toaster, iron, hair dryer etc..).
Living Vehicle: Living space
Close-to Residential environment 
      "Boondocking" life-style means that your off-grid RV is not a temporary "home-away-from-home", but rather your primary "Residence" (although in fact "away"). And whatever it means, we expect to find in such residence all we may need in our daily life. So, without going into details, we will certainly appreciate practical but also stylish interior design, free space and sort of "warm", comfortable ambiance…. .
In these aspects the Living Vehicle (LV) is a good example of the design that is fully dedicated to make this mobile home so inviting that it will become the favorite place you want to come back every day.   
Kitchen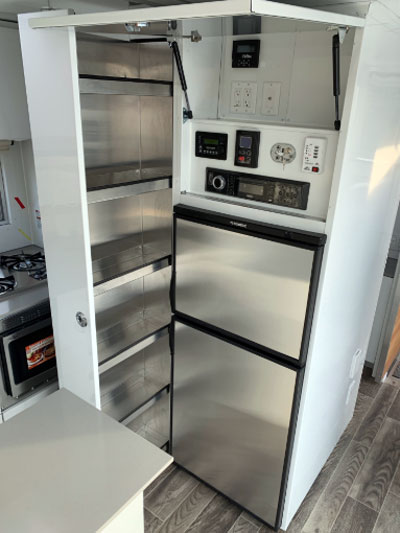 Kitchen: pull-out pantry and fridge w/freezer
      Let's start with the kitchen.  As rightfully pointed-out by Brillat-Savarin (The Physiology of Taste) – "The pleasure of the table belongs to all ages, to all conditions, to all countries, and to all areas; it mingles with all other pleasures and remains at last to console us for their departure".
Well, it's true – such pleasures also "belong" to aficionados of off-grid living! 
       That's why the LV's kitchen is a designed for those who love gourmet cuisine. Spacious, with plenty of storage space in kitchen's cabinetry, floor-to-ceiling pull-out pantry and an elegant central island, the kitchen is also very generously equipped.  Large refrigerator w/freezer, 3-burner propane cooktop, microwave convection oven, very large stainless-steel sink with high-rising faucet and soap dispenser makes it the place where you can prepare meals with love as one of the ingredients. But this is not all – a large window all-along the main countertop makes it a bright area nicely opened into the nature, while dishwasher (!) as well as trash & recycling chute make it easy to keep clean. 
Next to it, you will find a dining area in form of familiar to RV-ers dinette. But there is big difference compared to traditional dining/living areas. Generous sofas surrounding the table, large window on the back wall and huge, 8-ft wide sliding glass doors leading to the deck that beautifully opens the living area into the outside world. Robust cables on each side of the deck lock it in the horizontal position above the ground, while modular railing protects from accidental "stepping-out"! 
The portable stainless-steel BBQ and propane's quick-connect "strategically" located on the deck offers the possibility to move outdoors final stages of cooking.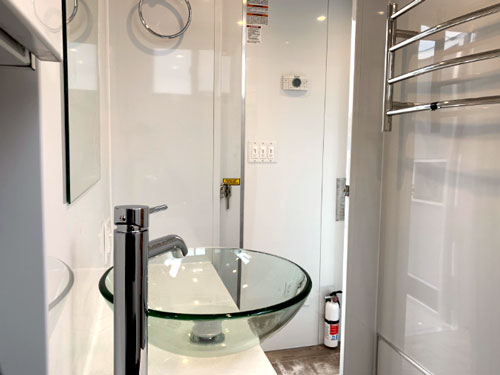 Bathroom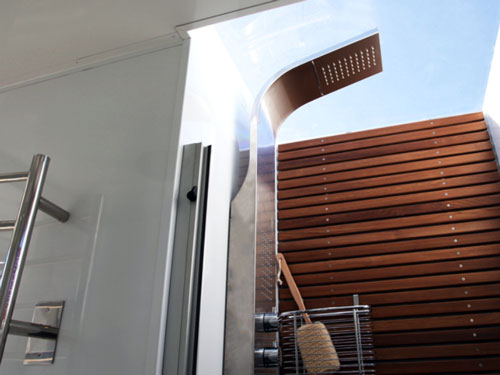 Shower
       It's one of the places whose importance should never be underestimated. While the LV is also equipped with an exterior shower, bathroom (especially for ladies) is a sanctuary for daily "rituals" and so must be spacious, functional, but also elegant, bright and pleasant. In other words – a place where you can calm down, relax and then some time later walk out smiling. Understanding these needs LV's designers make it the way you can feel like visiting a spa. Sort of open space with hardwood-lined shower cabin (shower panel with multiple spray settings for on-grid and off-grid environment) and skylight above.  Then, residential vanity with glass vessel sink, medicine cabinet, mirror and residential hardware (faucet, radiator, towel rings and bars), baskets, shelves, vitreous china residential toilet, ventilation system…. Just imagine the space filled with soothing music, candlelight and some "heavenly" aromas! You have it all – only sublime details are left to your imagination. Well, with one exception – an afternoon in a bathtub or Jacuzzi you still have to leave for "better times" .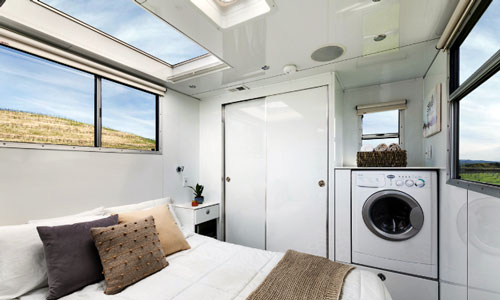 Bedroom and laundry "corner"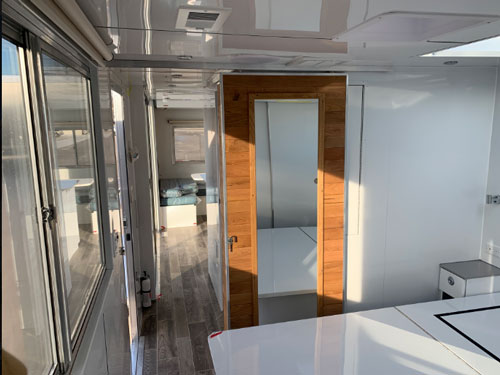 View from the bedroom towards living quarters
       Bedroom is a sacred place where you shouldn't not feel "squeezed", confined in a stuffed box, claustrophobic. After all, you wouldn't like to have nightmares but rather beautiful dreams (if any). The private bedroom should make it easier to happen, and LV's main sleeping place certainly meets this criterion. Queen-size bed with memory-foam mattress and handy nightstands of both sides, dresser with drawers, full height closet and laundry & linen storage (as well as an underbed supported by gas struts) make it functional. Additionally, a large side-wall window and even larger skylight that brings inside the charm of starry nights and lets your dreams fly high , creates overwhelming feelings of spaciousness…. 
Next to the closet you will also find a laundry with combo Washer/Dryer and above it a working area brightened by a small window (front side of the trailer). It can be used as an working-space (but also as an area for ironing, folding cloths etc…).
If you need more sleeping place – just notice that the dinette can be easily converted into double-size bed, comfortable for two persons.  And if this is not enough (or if you want to keep the living space accessible or just avoid daily hassles with unfolding, setting the bed and folding it back), you may opt of an Euroloft feature. It's a double-size bed, normally suspended at the ceiling above the dining area that can be lowered for the night the way that the dining corner is still accessible.   
Interior seen from the dining area (note large sliding glass doors on the right)
Aesthetics and Stylishness
      As earlier mentioned, the whole structure of LV (including also cabinetry) is made from the aluminum. RV's exterior is polished but left "raw" following founder's philosophy that the trailer with time should blend with the surrounding nature sharing with Her all kind of "scars" coming with the "aging process". Quoting Mr. Hofmann – "The Mather Nature is the master painter, the paint and paintbrush are the rain, wind, heat, cold, snow and air… . Bottom line - you may have to get used to the idea, that touches of tree's branches and traces left by rocks are the random strokes of the paintbrush rather than "ugly" scratches. Well, I'm not sure that it is convincing argument for all those that still remember the old residential windows' frames made from the raw aluminum. But it is also true, that many great painters did not gain recognition in their life time.
Interior is a completely different story as all aluminum surfaces (including cabinetry) are thermally powder-coated with protective layers of "paint". BTW - customer may select preferred colors for cabinetry, counter-tops but also for floor's planks and upholstery (although the choice is limited to the palette of colors made available by manufacturer).
            Long-term boondocking requires carefully planned list of items to take - camping gear, clothing, food, tools, necessities and all the "stuff" that matters to you. Although our human ability to "gather and accumulate" all kind of so-called "useful stuff" is almost unlimited (in traditional residential houses we can fill every inch of space in the garage, basement, attic, garden's shed…) on RV-ing trips we must trim our appetite for gathering. It's the time when "Enough" is definitely much better than "More". 

Having say so, we have to admit, that numerous (often oversized) storage compartments available in Living Vehicle leave us a lot of room for "stuff". On top of all interior storage (underbed, bedroom closet, kitchen and bath cabinetry, pantry and so on…  the LV offers several exterior storage compartments including large rear pass-through storage. There is also a 2" rear hitch receiver (for carrying bicycles or kayak) and front A-frame space for heavy equipment (motorbike, generator etc…). Note, that LV has dedicated exterior compartments for the batteries and for LPG bottles. 
       Off-grid RV almost automatically implies off-road capabilities (can you see yourself living off-grid on Walmart's parking lot?). Not surprisingly, the Living Vehicle is specially designed for "no-road" environment. For that purpose, the RV's strength is reinforced by 7" high-capacity A-frame and 5" shell's frame (all aluminum).  These are hidden, but crucial details making off-road escapades safe. More visible is a characteristic departure angle at the rear end of the trailer, increasing the ground clearance necessary to drive over steep slopes and abrupt level changes.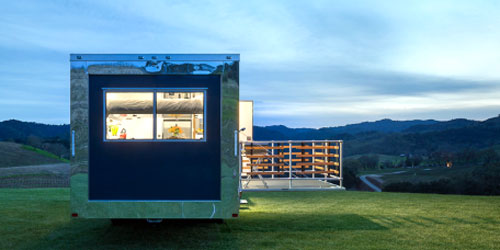 The deck allows to reach out into the nature 
       Superior thermal insulation, dual-pane windows, enclosed and heated underbelly and exterior compartments housing all vital systems as well as ducted A/C with Heat pump and propane furnace make the year-round living a comfortable and realistic endeavor. The only limitation will be the length of boondocking, this time mostly determined by the energy autonomy. Note, that in colder "winter zones", the amount of harvested solar energy will substantially go down (shorter days and lower position of sun above the horizon). The latter can be compensated to some extend by tilting solar panels, but it's not an easy task and may not be enough). Similarly, the LPG-run furnace will rather sooner than later run out of gas, despite its impressive capacity (60 lbs). 
Specifications
---
Overall Exterior length

Shell length

Exterior width

Exterior height w/AC

Interior height (ceiling)

Living surface

Dry weight

Cargo capacity

GVWR

Hitch weight

Ground clearance

Fresh water

Grey water

Black water

LPG

Electrical Power

Awning

Sleeps (1)

30'11"

27'4"

8'4"

10'11"

6'8"

215 square feet

8,750 lbs

4,450 lbs

13,200 lbs

990 lbs

14"

100 galls

62 galls

45 galls

60 lbs (2 x 30)

1,400 W solar

?

4
---
1. Can be upgraded to 6 persons with an optional Euroloft (suspended bed above the dinette)

Trash bins are accessible from the outside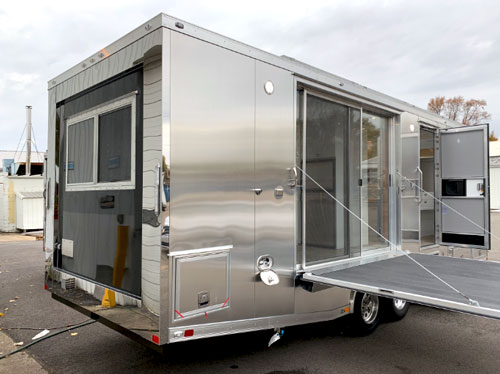 The deck (here shown  without railing) is supported by two cables. 
Construction:
Frame:  Aluminum
Shell: Aluminum (structure and walls with stainless finish) as well as some Stainless-steel trim panels 
Roof: seamless aluminum
Protection: Stainless rock guard
Insulation: Ceiling (R-21, Floor (R-19.5, Walls (R-7),  
Subfloor: Heated
Deck: self-supporting w/railing 
Windows: Dual pane
Axle: Dual torsion
Brakes: Electric, independent on 4 wheels
Off-road capability: Reinforced structure, Rear departure angle
Normally, we will follow here with the list of RV's interior and exterior features. We do it especially when the manufacturer's web-site is badly structured and the vital information is "scattered" all-over the map.  However, here we will make an exception, because the Living Vehicle web-site is so well organized and provides so many details, that there is no point to duplicate what is already available and clear. So, if what you read above inspired you to do more research, please go directly to:
-->  Living Vehicle

Go back to --> Review of Off-Grid RVs
or --> Off-grid RVs: Basics
Summarizing: The Living Vehicle is one of the first affordable and comfortable mobile residence designed for longer off-grid adventures. According to the manufacturer, the LV can support comfortable off-grid living for 2 people over almost one month. In practice, the main limitation will be determined by fresh water and food supplies.
"Affordable" has highly relative meaning – if I'm not mistaken, new LVs are offered in the price range from 130k$-150k$.  It's not cheap, but compared to many other traditional, higher-end RVs it can be still considered as a very reasonable price to pay for a Mobile Residence.
All pictures courtesy of Living Vehicle
---
Note:  Check with the manufacturer and / or authorized RV Dealer for the up-to-date list of features, options as well as latest specifications. These written above may not be accurate and certainly are subject to change by the factory. We are not responsible for any inaccuracy, the above text is provided only for the general information.
This review was written based on publicly available information for the benefits of the community of RV-ers. We do not receive any gratification or financial benefits from RV manufacturers, dealers, and any other promoters of RVs. 
We are NOT involved in sale and/or retail of RVs!