Pop Up Camper Offroad
Pop Up Camper Offroad or where the real fun starts!

Off-road pop up campers have a rugged construction that have been built to be used off road.
If you don't like to spend your time in crowded camping places and you are really interested in the nature and the outdoors, such a camper can guarantee you a great time.
Off road campers can take you to less explored places where you can feel closer to nature.
They still provide all the comfort that you could need during a short or a longer travel, such as a bathroom, a kitchen where you can cook and a cozy, warm and most importantly dry place to sleep.

1. Baja from Jayco

Jayco is well known for their pop up campers, no wonder they also have a great model of an off road pop up that has made vacation of many adventurers an unforgettable experience. It has been built for adventure and comfort, so if you love to go off road but you also like to have a comfortable place to sleep, cook, eat and shower, this is a good choice.
It has several storage cabinets, porrta potti cabinet, king-size and double beds, dinette with fridge, furnace and several other features. Not only that you can sleep in a comfortable place here, but you also have stereo, a water purifying system not even mentioning extra options. These include heated bed mats, outdoor grill, deluxe screen room etc..

Specifications
Unloaded Vehicle Weight (lbs) 2,470 
Dry Hitch Weight (lbs) 300
Gross Vehicle Weight Rating (lbs) 4,550
Cargo Carrying Capacity (lbs) 2,080 
Travel Length 20' 6" 
Campsite Length 24' 2" 
Exterior Width 85"
Travel Height 69" 
Fresh Water Capacity (gals) 30.5 
Gray Waste Water Capacity (gals) 11
Black Waste Water Capacity (gals) 5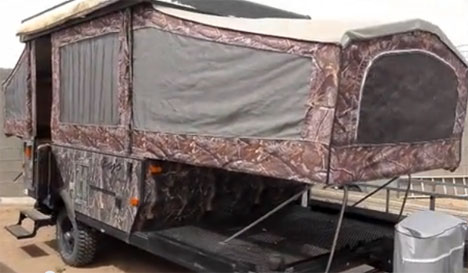 Jayco Baja off road camper looks ready for wilderness

2. Horizon from Adventure Trailers

Just like the name of the company suggests, these trailers have been made for the most adventurous people out there. The Horizon is a small trailer that can unfold into a surprisingly spacy and comfortable living space. It is a compact trailer that can be divided into three compartments. It also has enough of storage space for your sports equipment or whatever you decide to carry with you to wilderness. It comes with a small kitchen where you have a stove, fridge and a water tank and some space to prepare meals. With all this features the trailer is still lightweight.

Specifications
Overall Length 124" 
Overall Width 68" 
Capacity - 54 Cubic Feet 
Water Tank 19 Gallons 
Trailer Weight 1100 lbs.


Voila! Horizon Adventure Trailer in action!

3. Commander from Conqueror

One of the best features of this robust camper is its suspension system with heavy duty shock absorbers. You don't have to worry about wooden doors and internal furniture and appliances while you are driving the Commander.
Commander comes with slide-out units and a pop up roof for more space. The kitchen is equipped with a fridge and storage space. On top of impressive storage space it also offers a comfortable sleeping area equipped with two double beds or three single beds. The bathroom has hot water. It comes with special doors and lightweight aluminum interior that won't cause any problems during off road driving. The pop up part of the camper is made of heavy duty canvas, and it comes with accessories such as poles and other components. For specifications about the camper visit the website of Conqueror.

4. SylvanSport GO from SylvanSport
 This off road pop up camper has been built keeping mind the idea that most people who like to go off road do so because they like to enjoy sports.
Mountain biking, fishing, hiking, snowboarding, skiing, kayaking and other sports can be enjoyed more easily if you go with the SylvanSport Go off road pop up.
This camper is also called the Swiss army knife of camping trailers, which proves how versatile it can be. It has lots of space to carry off road bikes, motorcycles, kayaks and more.
Unfolding canvas provide a cozy and comfortable place to sleep
The trailer is lightweight; folded has low aerodynamic profile so not only it will save you fuel, but it also makes driving trouble free. This trailer is user friendly, which means that you won't need to worry about heavy components and latches. It all works very easily: even the tent area can be removed without the need for any tools.
 Specifications
Interior Floor Dimension 48 x 84 in
Standing Height (Camping Mode) 77 in
Trailer Size (Travel Mode) 143 x 75 x 53 in
Trailer Size (Transport Mode) 143 x 75 x 81 in
Trailer Size (Camping Mode) 154 x 124 x 108 in
Weight (unloaded) 840 lbs
Cargo Capacity (Travel Mode) 81 x 48 x 17 in
Cargo Capacity (Transport Mode) 84 x 48 x 48 in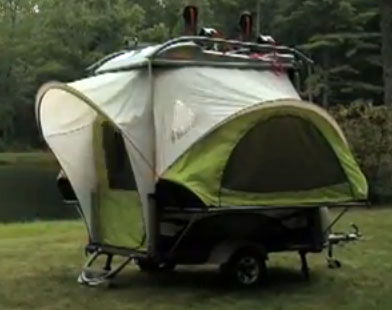 Here it is: SilvanSportGo off-road camper

---
Visitor's story......

You can do some backwoods camping or as we like to say, some pop up camper off-road camping.
In different parts of Nebraska, you with have some chances for offroad camping that will just amaze you.
The area is scenic and beautiful while having decent weather to enjoy. You probably will not find any areas in Nevada for offroad camping except I the dessert, but you will travel well if you stay closer to the outside of any area.
The best thing for offroad camping is the truck camper more so than a popup camper would be. If you travel around and do a lot of offroad camping, you might find the truck camper superb for this type of camping.
Back in 1985 or 1986, there was a couple doing some offroad camping deep in the woods when a tornado went through. They were untouched by the storm and were very impressed with the protection they had from the trees and vegetation.
Now I do not think this is the reason why they were protected, but then I am not a meteorologist. If you do, some offroad camping you might need to have a power generator to supply you with power as well as a power generator to hook up certain appliances. If you have the necessary equipment, you can actually separate yourself from everyone and have total peace.
If you decide on pop up camper offroad camping, you need to keep in mind; you will most likely be deep in the woods or an open area where the critters and bugs are plentiful. You might need some extra precautions to take depending on what state and area you are going too. I mean, bear country did not get that name because they have no bears.
 About Us / Privacy Policy / Resources
 Go from Pop Up Camper Offroad to Pop Up Campers Trailer Home
Camping Parks in US,  Campground Parks in Canada