Pop Up Camper Replacement Parts
Pop up camper replacement parts may save your holiday.
In a hurry?

Pop up campers or tent trailers are easy to use and they make camping more comfortable. However, they are not as durable as most other RVs, and some pop up camper parts have to be replaced from time to time.
Whether you have an old pop up that needs to be put into better shape or you just purchased a second hand one, here are a few things that will help you out.
Wheels and tires
When it comes to replacing old parts of pop up campers, tires are the ones that need replacement the most often. When you choose the tires and the wheels you have to make sure that they are suitable for a pop up camper and they have the right weight capacity and pressure.
If you want the most durable and sturdy tires for your pop ups, choose Goodyear Marathon Radial tires. They are the most recommended ones by pop up users and they have an enhanced sidewall rubber. Besides the stores listed here you can check out Tire Rack if you want to buy pop up camper tires.
Awnings
Awnings broke quite often since you always have to roll them out and roll them up. They usually have a system that works with a spring, which breaks if it is overused. Awnings come in more sizes, and there are many shops where you can find durable and long lasting awnings.
Lift systems
The lift system is what makes a pop up camper rise, or "pop up". There are more types of list systems that are used and known among pop up camper manufacturers. These are the C&R Universal Lift, the Palomino Lift System, the Heco Lift System, the Apache Lift System, the Coleman/Fleetwood Lift System, the Goshen Lift Sysstem, the L&W Lift System, the Starcraft Lift System, and the Forest River Lift System. Most of these lift systems can be found and replaced.
The lift systems made nowadays are most often electronic, however the majority of pop ups that you can buy and that people own have the old system, which works with a winch, a pulley and a crank. These are connected with cables which often broke and need replacement. If your lift system is not working, you don't necessarily have to change the whole thing. Stores also sell parts of lift systems separately, such spring arms, lift springs, cables, lift posts, winches and pulleys.
Canvas
If there are holes and tears on your canvas and you don't want to start patching it (which is also just a temporary solution) you can replace the whole canvas part. Various stores manufacture high quality tents for pop ups that are made of durable and water resistant fabrics. The new high quality canvas types manufactured nowadays can make your camper look like brand new, and also be more effective against sunlight, wind and rain.
Cushions covers
Stores that sell pop up camper parts also usually sell cushion covers for the camper. If you have a pop up camper you will see that these often need replacement, either because they are stained or because they are damaged by moist.
Presentation from CamperPartsandSupplies

Where to look for pop up camper replacement parts
Camping World
This website has almost anything that you need for RVs and pop ups. At Camping World you can find for instance the perfect tires for pop ups, the Goodyear Marathon Radial tires.
Campout
Campout is also a frequently visited online store by camper owners. At this store you can find for example very high quality awnings for your pop up camper.
Pop Up Parts
A store made especially for pop up campers.
Tthey sell canvas replacements, lift systems and their parts, and other things that might need replacing in the pop up such as cushion covers, curtains and valances.
This online store also has a forum, so if you are not sure which product to buy, you can get into contact with other people easily.
Discount RV Parts
This is one of the most popular websites for campers and pop up campers as well. They have a lot of warehouses all over the USA, so you can visit them both online and offline. They will help you locate the warehouse that is closest to you, this way you can pick up everything and save on shipping.
RV Supply Warehouse
While this store has mostly parts and supplies for RVs and not only for pop up campers, here you can find various other parts that you might have to replace in your pop up. These are water tanks, vents, air conditioners, outdoor supplies and more.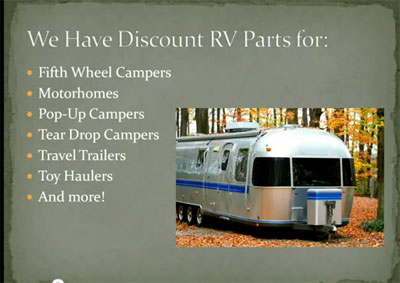 Ebay
Websites such as eBay are great for finding rare and generally hard-to-find parts for pop up campers. If you are looking for parts for an old pop up camper that is no longer manufactured, you should look for them on eBay. If someone decides to get rid of certain parts that are still in good quality, you have a good chance to get them for a good price. Most private sellers on eBay use the auction system, which is convenient because you can place any bid you want.
Original manufacturers
If you are lucky and your pop up camper is not too old, you will be able to find original replacement parts manufactured by the same company that made your pop up. If your camper is Palomino, Apache, and Rockwood you can contact the company and see whether they have the parts you need. Replacement parts for other brands such as Starcraft or Dutchmen are more difficult to find, but in this case you can try looking for second hand parts in a good condition.
Other popular brands
There are a lot of manufacturers of pop up camper replacement parts, and they vary depending on the part in question. If you are looking for high quality canvas, cushion cover or curtains, Canvas Replacements is the best brand. They use a high quality fabric for all the products mentioned above that resists well UV and also moist. Other brands that are well known for their high quality is for example Bear Creek Canvas. Dometic, Camco and Adco RV supplies manufacture vents and air conditioners that you might have to replace, and brands such as Goodyear make great tires for pop ups.
---
Visitor's Story....
The typical pop up camper has a number of parts, which need proper maintenance and care.
You would need access to camper replacement parts when one of them gets faulty and needs to be replaced.
Some of the most important components in a pop up trailer would include awnings, kitchen units, jockey wheels and spare wheels.
Having some amount of knowledge on these components would help you have a trouble free holiday.
The kitchen unit that comes with more expensive pop up campers, has a gas cooker, a washbasin and storage facilities.
Less expensive campers may not have a separate kitchen unit. In this case, you would have to purchase the part separately. In both cases, you might need to replace individual components in the units whenever they get faulty.
The awning for the camper is the next most important component. It extends the usable area under the camper and serves as a good covered space for cooking, sleeping or relaxing under the shade. The price of the base unit may not always cover the cost of the awning. In such cases, you can buy them separately.
A spare wheel or tire is another important component in the camper, especially during an emergency. The spare tire can either be in the car or attached underneath the trailer. The wheels for the car and the trailer however are different and cannot be interchanged. Carrying a spare tire for your specific model of camper is therefore important, as you may not be able to find one in an emergency.
A jockey wheel is a useful optional component that you can use to make it convenient to hook up the trailer to the car.
Having access to all the pop up camper replacement parts can make your camping trip more pleasurable and smooth sailing. You can visit the following sites for pop up camper replacement parts:
Popupexplorer.com
Rvsupplywarehouse.com
 About Us / Privacy Policy / Resources
Go from Pop Up Camper Replacement Parts to Pop Up Campers Trailer Home