Retreat Hyper 200R ERV
Specifications
The series of Retreat Hyper ERVs includes five floorplans with body lengths ranging from 18ft 6" to 22ft 6".  Below are specs for the 20ft long 200R model...
The previous page provided the detailed description of the Retreat Hyper series of all-electric travel trailers. 
To read it, see: --> Retreat ERV Hyper Review

Otherwise, let's continue to technical specifications:
Retreat ERV Hyper 200R
Source: Caravan Camping Sales (Australia)
Off-road characteristics
      The Retreat Hyper 2200R is designed for long stays in an "out-of-civilization" environment. For that, it was not only equipped with mentioned above features, appliances, amenities. It was also designed with special care to take you safely to hidden spots, to drive you over unbeaten paths, and even where there are no paths at all, and you will be first to make them!
To provide this capability (as well as to promise high reliability), the dual-axle Hyper EVR comes with Extreme Duty independent off-road coil suspension, high clearance, AT tires, and Cruisemaster DO35 coupling. With the rugged body and almost zero level of dust penetration (if at all), front stone-deflector, recovery points, and crash-resistant underbelly you can safely plan your next adventure.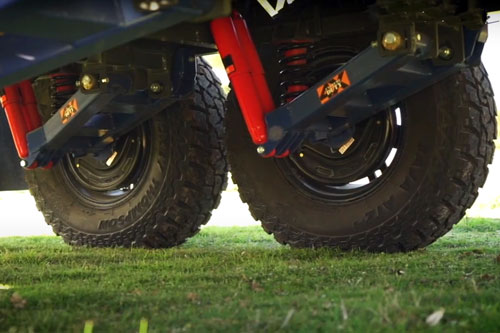 Heavy-duty off-road suspension with twin shocks
Source: Retreat Caravans
Specifications (Model Hyper 200R)

---
Exterior length

Body length

Exterior width

Exterior height

Interior headroom

Dry weight

Cargo

GVWR

Tongue weight (1)

Fresh water tank

Drinking water tank

Grey water tank

Black water (2)

Installed power

Battery Power

Awning

27.2 ft (8.28m)

20.3 ft (6.2m)

94.1" (2.39m)

118.1" (3.0m)

79.5" (2.02m)

6,208 lbs  (2,816 kg)

1,508 lbs (684 kg)

7,716 lbs (3,500 kg)

430 lbs  (195 kg)

2 x 39 gals (2 x 110 liter)

17.2 gals (65 liter)

39 gals (110 liter)

No 

17 x 107W (1.7kW)

14.3 KW

Power, full length
---
1. Corresponds to Dry Weight conditions
2. Cassette toilet includes a dedicated flush and black tanks
Construction:
Chassis:  Off-road, SuperGal, 6" x 2" (150mm x 50mm) laser-cut main rails w/cross sections and 6" extended A-frame
Note: SuperGal refers to the hot-dipped galvanization process in which RHS (rectangular hollow sections) are galvanized on both - external and internal surfaces.
Body:    Fiberglass Composite, Proprietary RXP construction w/outer aluminum and inner fiberglass finish
Note: RXP is a structure designed to improve the cabin's thermal properties (stay warmer in the winter and cool during the summer)
Isolation: Floor, walls, and roof
Floor: Composite, insulated
Protection: Front stone deflector, sides, rear, and wheel spats checker plates
Windows: Double-glazed
Axle: Dual
Suspension: ARV Alpha Extreme Duty independent off-road coil suspension (possible Al-Ko)
Wheels: MPC alloy rims, 265/R16 AT Mickey Thomson tires
Brakes: 12", electric drums
Coupling: CruiseMaster D035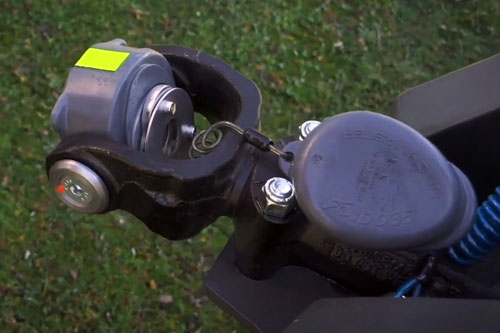 DO35 Coupling. Source: Retreat Caravans
Mickey Thomson AT tires. (Source: Retreat Caravans)

Interior
Door curtain
Dimond series leather upholstery (includes seat bases, magazine holder….)
Fiberglass- interior finish
Bedroom w/ fragment of the dinette
Source: Retreat Caravans (2019 ERV - 17,000km in a Fully Electric Caravan | Truly Off-Grid Experience) YT
Bedroom (Sleeping quarter)
Queen-size bed (72.8" x 60.6") w/storage   
Pillowtop mattress
3-pieces bed head
Numerous wardrobe cabinets
Reading lights
Power outlets
MaxiFan w/rain dome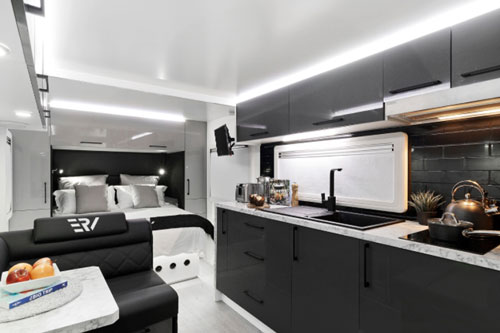 Fragment of the kitchen and dinette
Source: NewAtlas (All-electric off-grid glamping trailer ditches gas for solar power)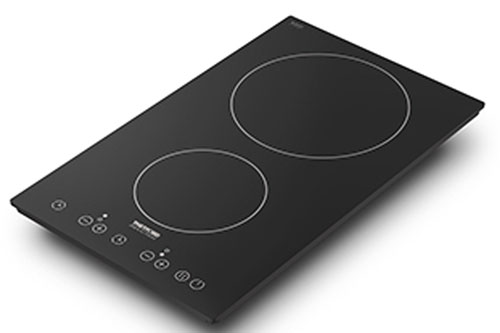 Thetford Topline 902 Induction cooktop
Source: Thetford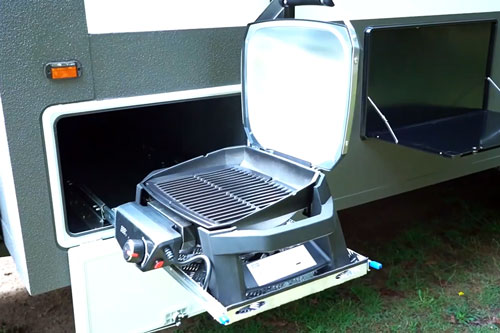 Weber Pulse 1000, Electric BBQ on the exterior slide-out.
Source: Retreat Caravans (ERV Promo Reel Video) YT
Coleman fridge on an external slide-out. Source: Retreat Caravans
Kitchen
Thetford Topline 902 Induction cooktop w/2 "burners"), (Induction zones 1 x 1.4 kW (1.8 kW Boost) / 1 x 1.8 kW (2.3 kW Boost)), black ceramic glass
Microwave/Convection Oven/Grill
224-liter (7.9 cu. ft) compressor fridge w/freezer
Black single-bowl sink w/lid and faucet
Cabinets w/ Acrylic doors and self-closing drawers
Weber Pulse 1000, Electric BBQ (exterior slide-out)
Dinette w/storage
9.5 gallons (36 litter) Coleman Fridge (exterior slide-out)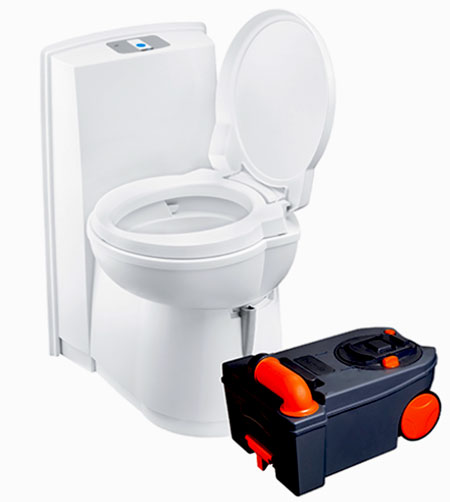 C263-CS - Ceramic cassette toilet, here with removed cassette
Source: Thetford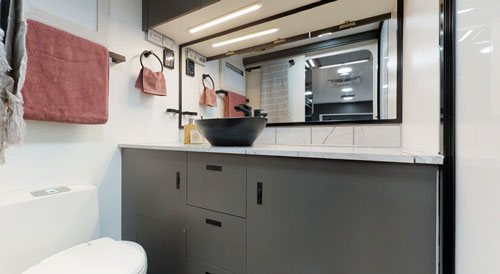 Bathroom. Source: Retreat Caravans
NCE Washing Machine (Source: Retreat Caravans)
Bath 
Fiberglass-shower (separate cubicle)
Thetford, ceramic cassette toilet
Black accessories (sink, faucet, holders, rails….)
Mirror
Cabinets
2 towel rails
NCE top loader washing machine
Power Awning (Source: Retreat Caravans)
Exterior
Double electric steps
1 Jerry can holder
A-frame mounted Tool-Box
Full-length Dometic Power Awning
Trail-A-Mate Jack (Hydraulic jockey wheel that can be converted into a jack w/solid base plate when needed).
Fold-down Picnic table
Slide-out Weber barbecue
Power Awning
The concept of the "Trail-a-Mate" hydraulic jack.
Source: Autobox
Electrical
Typical 16 x 107W (1712 W) roof-mounted solar panels (possible up to 2,400 W depending on the length of the model)
Chassis-integrated 14.3 kW/h Lithium-Ion Battery w/MasterVolt's BMS (Battery Management System)
CEMS (Central Energy Management System
48Vdc/240Vac main installation (110Vac for US versions).
5 kW Smart Inverter
External 240V hook-up
External 12V plug
12V Circuit breaker
3 x USB ports
Entrance steps light
2 x Floodlights
4 x exterior lights
Entertainment
24" smart TV w/arm
TV antenna
Fusion, Premium Stereo System
2 x interior, 2 x exterior speakers
Plumbing
2 x 110l (2 x 39 gals) Freshwater Tank w/ galvanized guards
110l (39 gals) Grey Water Tank w/galvanized guards
65 l (17.2 gals) Drinking Water Tank

Built-In Water Filter
6.3 gallons (24 Liter), 240Vac Electric Hot Water System
12V water pump
Top Loader 3kg Washing Machine
Outside Shower
Exterior Plumbing Pipe Protection
Manifold Water Distribution System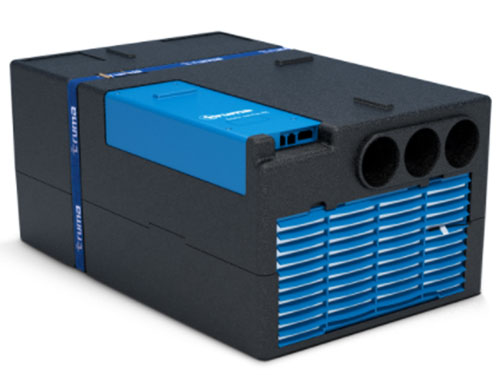 Truma's storage compartment air conditioner and heater in one
Source: Truma
Under-bed storage: Truma Sapphire Heater/AC unit
Source: Retreat Caravans (ERV Promo Reel Video) YT

Climate Control
Truma Sapphire Heater/AC unit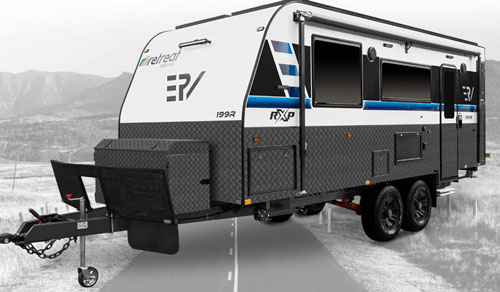 Retreat Hyper (model 199R): Front Stone Deflector an Tool-Box housing the slide-out fridge
Source: Retreat Caravans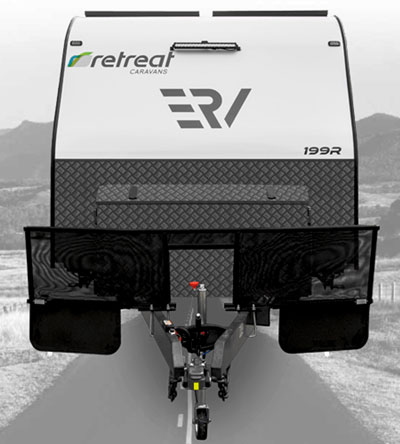 Hyper 199R: Full view of the Front Stone Deflector
Source: Retreat Caravans
Safety
Spare wheel
Front 3-arms bumper bar
Recovery points
Dexter sway control
Rear camera w/monitor
Front Stone deflector
The bottom line: ERV Hyper 200R opens a new era in the RV-ing lifestyle. The time when the length of your off-road adventure is only limited by the amount of water and food you can carry just came. And actually, the limiting factor will be rather your available time. Enjoy, and be sure, while it's just the beginning, it will last!
Note: The Retreat ERV Hyper series was designed for the Australian climate (read it – a lot of sun). Its energy system's characteristics will be certainly affected under more cloudy skies, in areas with shorter days, lower position of the sun above the horizon ….
Go back to: --> Innovative RVs
Note:  Check with the manufacturer and / or authorized RV Dealer for the up-to-date list of features, options as well as latest specifications. These written above may not be accurate and certainly are subject to change by the factory. We are not responsible for any inaccuracy, the above text is provided only for the general information.
This review was written based on publicly available information for the benefits of the community of RV-ers. We do not receive any gratification or financial benefits from RV manufacturers, dealers, and any other promoters of RVs. 
We are NOT involved in sale and/or retail of RVs!