Review of Trailer Tents
Inexpensive RV-ing
Review of manufacturers and models of Trailer Tents with specs, characteristics, pros and cons; all supported with pictures and videos....
       Growing popularity of rooftop tents initially designed for the class of 4WD vehicles brought back attention to their "lesser" cousins - trailer tents. 

       Historically trailer tents represent a next step to "luxury" from classic tents. However, for some reasons (with an exception of motor bikers), they did not get real traction in Northern America. But there is a strong case for trailer tents - their main advantage was (and still is) the comfort of sleeping above the ground at very low cost. 
For well understood reasons (crowdy roads, streets and National Parks) Trailer Tents are more popular in Europe. This is because the Old Continent accepted the idea that "small is beautiful" and that the Mother Nature has "limited patience". We can see however that the "message" is spreading across the whole world. As the result, more and more manufacturers are joining the efforts to offer trailer tents.
      It should be noted, that in most cases trailer tents come together with the trailer (designed specifically for that purpose). Some manufacturers however also offer just trailer tents, designed to be attached to most cargo trailers (they may eventually need a "special" (aftermarket or custom) rack to be securely attached to the trailer).

Cascadia
          Cascadia Vehicle Tents (Bend, Oregon) is a family owned and operated manufacturer of tents. As the company name indicates, tents (so far) are designed for vehicles (be it cars, pickup-trucks, 4WDs etc..). They include mostly soft (canvas-based) rooftop tents (16 models) as well as one Hard-Shell model. However, what is of our interest here - they also offer one model of trailer tent specifically designed for small pull-behind cargo trailer. And just for completeness, Cascadia also manufactures vehicle racks and camping gear…. 

Mt. Mazana trailer tent
       Mt. Mazama trailer tent is offered in two versions - Standard and Luxury (the latter is slightly larger and better equipped).
The tents are made from rip-stop polycotton fabrics, (360 gsm for the Standard model, and correspondingly 420 gsm for the Luxury one).  The tent's base most likely is made from honeycomb aluminum w/diamond plate (at least that is how Cascadia's rooftop tents are designed) and with ¾" to 1" steel poles throughout. 
Mt. Mazama tents come with foam mattress (3" thick for Standard and about 4" thick for Luxury one) w/ zipped washable cover, removable floors, ladder from square tube steel, heavy-duty 600 gsm PVC, waterproof & UV-resistant travel cover as well as with the Annex room.
      In difference to the Standard model, the Luxury one comes in "Stargazer" version with 2 large windows located in the tent's roof. Well, luxury obliges and also promises - in this case "romantic" nights under the starry-sky! 
---



Footprint

Standard

67" x 86"


Luxury

71" x 90.5"

---
     Both models are available in two versions accommodating different models of the cargo trailer: correspondingly for floor height off the ground of 47 or 57 inches.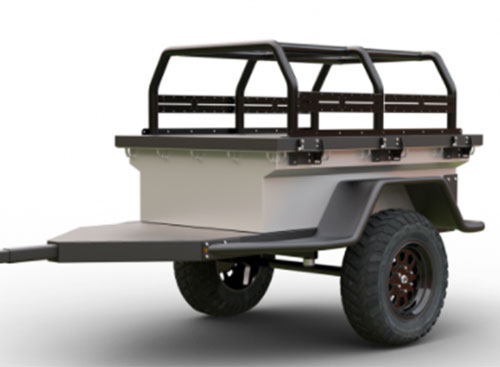 Off-Road cargo trailer (Cascadia)
It should be noted, that Cascadia Vehicle Tents (CVT) manufactures also the off-road cargo trailer. While the Mt. Mazana trailer tent can be purchased as a package with the trailer, the company also sells it individually, without the trailer.

Raclet
          Founded in 1919 in Paris, with more than 70 years' experience in camping gear business (started in 1943) Raclet is one of the oldest French manufacturers of leisure equipment. Starting with classic tents, sleeping bags etc., in late 70's company introduced first models of trailer tents. Today the brand Raclet is well known (and recognized for the quality of its products) throughout the Europe. 
The truth is that Raclet brought the design of trailer tents to new dimensions as they offer a lot of "residential-like" grandeur (bedroom(s), kitchen, living space….). In fact, one of Raclet's product lines offers residential tents.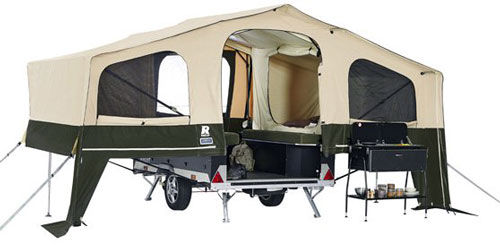 Raclet Quickstop trailer tent - Basic configuration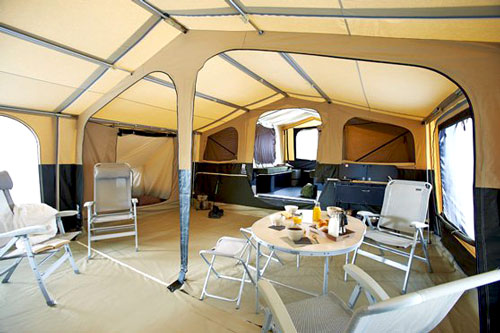 Quickstop - here in an "impressive" full configuration with optional bedroom, annex and awning-covered rooms.
Currently Raclet offers several models belonging to the family of Touring Trailer Tents. These are: standard Panama-Up, Solena, Armada and Moovea (last two available in UK) as well as off-road QuickStop and Panama-Up-All-Terrain.  
See details at: --> Raclet Trailer Tents
---
Eezi-Awn
         Eezi-Awn is the South-African manufacturer of expedition-grade camping equipment. Thanks to more than 30-years of hard-learned experience in African bush and Australian Outback, the company gained world-wide recognition for the quality of its products. Today Eezi-Awn rooftop tents, trailer tents, retractable awnings, roof-racks are present on 4 continents including such countries as US. UK, Australia, Switzerland, Belgium and obviously southern corners of Africa.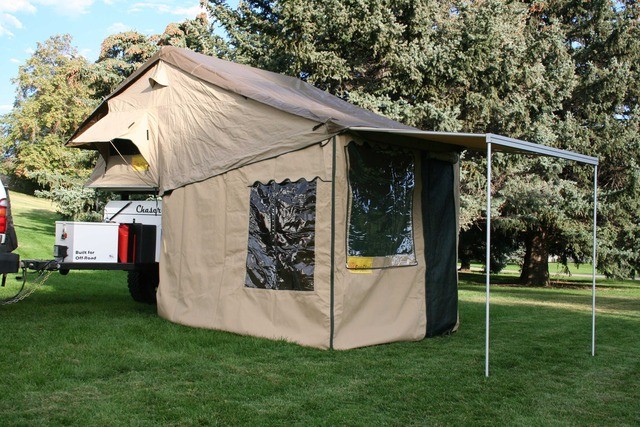 Globe Drifter trailer tent
      Currently Eezi-Awn offers two models of Trailer Tents (TTs), correspondingly Globe Tracker and Globe Drifter. These two models have a lot of similarities with company's flagship products Rooftop Tents (especially series Jazz) however, they are specifically designed for use on trailers or low platform vehicles. Basically, a typical RTT can be also installed on the low platform like trailer or truck bed, however the side walls of the annex room (if any) will leave canvas dragging on the ground, windows may end-up on the floor and height of the entrance door will be significantly smaller. 

    Designed especially for trailer tents Globe Tracker and Globe Drifter solve this problem. They combine the luxury of the "above-the-ground" sleeping room with ground-level private quarters.
Tents are made from polycotton, ripstop fabrics (Teflon coated 260 gsm for Globe Tracker and wax-coated 340 gsm for Globe Drifter). The double-stitched fabrics (w/wax coated cotton thread) is supported by powder-coated steel bows. The whole structure is attached to polyurethane-encased and aluminum-reinforced plyboard.  Both tents have unique slide-out anodized aluminum roof-extender covering the entry to the sleeping compartment and the living area.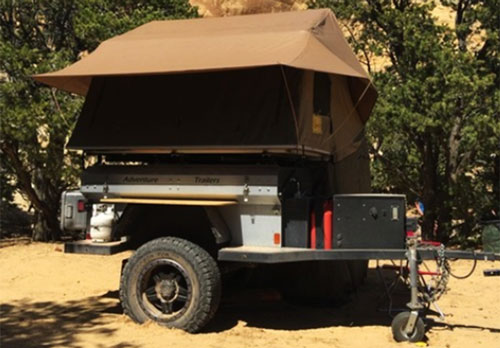 Globe Tracker trailer tent
Tents come with 3.3" thick high-density foam mattress w/ removable cover, PVC flysheet, windows with mosquito nets and privacy panels, YYK zippers,  Add-a-Room annex from HD ripstop fabrics w/floor and dedicated storage bag (each wall is an individual panel), two large interior storage pockets, 700 gsm Denier PVC tent travel cover and anodized aluminum ladder.
Tents are designed for trailers with heights from 59" up!.
---
Closed size (1,2)

Open size (tent)

Add-a Room size

Mattress

Mounting height

Weight (3)

Globe Tracker


83 x 59 x 8

83 x 59 x 25

83 x 55 x 84

Queen-size 

59

209 lbs

Globe Drifter


83 x 59 x 8

283 x 59 x 25

83 x 91 x 84

Queen-size

66

235 lbs
---
1. Dimensions in inches in L x W x H format
2. Add 2-3 inches to the length in closed configuration for fabrics and cover.
3. Includes ladder and Add-a Room
Summarizing: Although Eezi-Awn trailer tents are especially designed for cargo trailers they share many similarities with company's flagship products – rooftop tents. Given their limit of minimum height of the mounting platform (basically more than 60") they hardly fit into the class of trailer tents. In fact, they reflect reality of African and Australian wilderness where classic "tent-like camping" experience may not be too "healthy"

Gordigear
         Not surprisingly, Gordigear as an Australian company familiar with challenges of Outback, offers expedition-grade camping equipment. While Rooftop Tents (RTTs) make the main major part of the offer, the company also manufactures Trailer Tents and Trailers. As expected, trailer tents' designs reflect harsh conditions of Australian Mother Nature.
Gordigear offers two models of trailer tents, correspondingly: Savannah and Taiga. They are primarily designed for challenging off-road conditions of Australian interior. However, thanks to the modular design and ample choice of optional features (Annex room, Mesh-room, Shower room…) tents can be customized (size and configuration) to offer comfort expected at seaside campgrounds.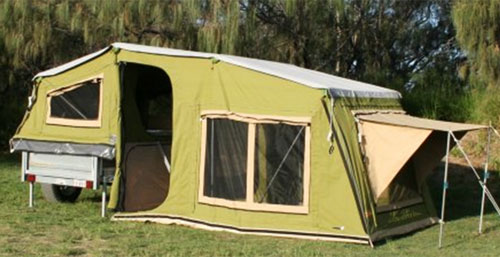 Savannah in its basic configuration
      Both tents are made from breathable, heavy-duty (14oz – about 400 gsm), ripstop, polycotton, polyurethane-impregnated fabrics. The bases are made from 0.7" thick marine-grade plywood on stainless steel frame; supporting poles are from durable aluminum and are equipped with grip-lock closing mechanism. 
All windows have triple layers configuration allowing to select transparent PVC covers (for rainy days), mosquito screens and privacy covers (fully closed). Very practical feature – if needed (for example due to "tear & wear" effect) any window can be easily replaced by the new one.
It's worth to mention that the roof (flysheet) made from 450 gsm (16oz) ripstop polycotton canvas is not only impregnated with polyurethane, but it is also silver-coated for UV protection and excellent light reflection capabilities so important in hot, sunny climate zones.
Tents come with almost 4" thick high-density foam mattress (almost king-size) w/removable and washable cover, steel ladder w/flat rungs, waterproof 450 gsm Oxford PVC travel cover (sealed via zippers and Velcro).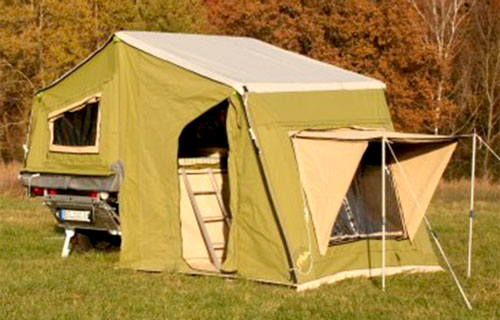 Taiga in its basic (standard) configuration
      The Taiga tent is smaller than the Savannah one (although the sleeping area above the ground is the same). Both tents offer comfortable "above-the-ground" sleeping space for two. However the tent section standing on the ground can easily accommodate not only "living space" but also extra sleeping area.

German-made Offroad Xtreme trailer offered by Gordigear for their trailer tents
Both tents are designed for cargo trailers with heights ranging from 35,5" to 45.3". They can perfectly fit on trailers with sizes: 6' x 4', 7' x 4' and 7' x 5' (other trailers will need just few more "steps" to install the tent). BTW – Gordigear offers their own camper trailers: Onroad (standard and XL) as well as Offroad (Standard and Xtreme).

---



Closed size (1)

Open size (2)

Mattress 

Weight

Savannah

90.5 x 69 x ?

90.5 x 210 x 90.5

86 x 69

322 lbs

Taiga

90.5 x 69 x ?

90.5 x 171 x 102

86 x 69

265 lbs
---
All dimensions in inches and in L x W x H format
Height in highest point
        The company claims, that their standard Trailer Tents can be set-up by one person in less than 5 minutes. They are equipped with a clever "one-pull-system" greatly simplifying the deployment of the tent (obviously and optional Annex Room with increase the setting-up/folding down times). The bedding (mattress and sleeping bags) remains in the folded-down tents.

Howling Moon
        Since more than 40 years, South-African company Howling Moon manufactures expedition-grade camping equipment. Experience gained in African bush (and later also in Australian Outback) led to designs of sturdy rooftop tents (RTTs), Trailer Tents, traditional tents and general camping gear well-recognized around the world.
Currently Howling Moon offers three models of trailer tents, correspondingly: XT, XT Classic and XY Delux. 
All of them share many common characteristics and materials but (as it could be expected) they also show many similarities with company's rooftop tents. And the most important one is – "They are built to last".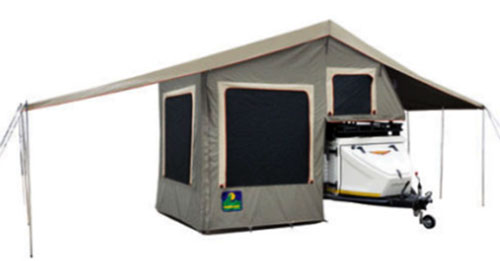 Model XT
     Tents are made from 320 gsm ripstop, fluorocarbon-coated polyester attached to composite laminated base (fluorocarbon coating guarantees much faster water run-off than traditional polyurethane coating). The canvas is supported by the structure made from 0.9" & 1" duralumin tubing.
The tents come with double-size 4" thick mattress (85" x 57"), insect nets-protected doors and windows, built-in PVC floor, anodized aluminum ladder, fluorocarbon-coated polyester flysheet, 
The XT Classic and XT Deluxe are equipped with a zip-closed compartment on the top of the travel cover. It is an ideal storage space for camping gear (folding tables, chairs etc..) – easy accessible also when you are on the road. Additionally, the model Deluxe comes with wider bed (85" x 79") and Skyvent zip-opening roof section. The Skyvent allows you to zip-open the roof but at the same time be insect protected.
All tent models can be equipped with optional Tailgate Patio Awning, while XT Classic and Deluxe can also use optional Tailgate Patio Side Walls, Multi-Room and Nose-Cone Patio Awning.

---



Size closed (1)

Size open (2)

Weight

Gnd-sheet floor

XT

85 x 51 x ?

85 x 57 x ?

209 lbs

71 x 85

XT Classic

85 x 51 x ?

85 x 57 x ?

209 lbs

71 x 85

XT Deluxe

85 x 51 x ?

85 x 80 x ?

209 lbs

71 x 85
---
1. All dimensions in inches and L x W x H format
2. Add to the tent's width 77" long and 85" wide awning (integral part of tent's roof) 
Go back to: --> Pros and Cons of Trailer Tents
The ideal level of the trailer's rack for Howling Moon tents should about 61 -to- 63 inches above the ground.

Note: All pictures on this page are courtesy of mentioned manufacturers
Note:  Check with the manufacturer and / or authorized RV Dealer for the up-to-date list of features, options as well as latest specifications. These written above may not be accurate and certainly are subject to change by the factory. We are not responsible for any inaccuracy, the above text is provided only for the general information.
This review was written based on publicly available information for the benefits of the community of RV-ers. We do not receive any gratification or financial benefits from RV manufacturers, dealers, and any other promoters of RVs. 
We are NOT involved in sale and/or retail of RVs!
---