Roadtrek Motor Home Campers
The Roadtrek motor-home campers are made to provide comfort comparable to that you will experience in a full-sized motor homes.
Roadtrek has been the number 1 selling manufacturer of Class B motor homes in North America since 1990.
The company produces user -friendly motor homes that are like vans or SUVs.
The design of Roadtrek motor home is very innovative and offers a lot of options usually available only in larger RV or motor-homes.
During the travel, you have the option to access your own bathroom, kitchen, bedroom, and living room.
Roadtrek motor homes are extremely fuel -efficient, they are very easy to maneuver because they have small turn radius. They are also very easy for road-driving.
As far as the amenities are concerned, Roadtrek motor homes are equipped with private bathroom, a change room, a bedroom, a kitchen and a place to relax. They feature storage cabinets with doors, ducts, refrigerator, cloverleaf dining table, a water tank below the floor, heat pump. The manufacturer took care to design the maximum comfort so features like lumbar support on the swivel's driver seat, a lot of legroom, large panoramic windshields make these motor homes very popular among campers.
If you add the possibility that they can sleep up to five persons for the night without bringing in additional mattresses, motor homes made by Roadtrek are something special and worth the money you pay for it.
Moreover, these motor homes have plenty of storage so you don't have to worry where you will put all the stuff you want to bring with you on a trip.

Roadtrek N6-Active is built on Nissan's van chassis

Roadtrek motor home models are 170-Versatile, 190-Popular, 210-Popular, CS-Adventurous, N6-Active, Ranger RT.
Roadtrek 170-Versatile is a Class B motor home that can satisfy all your needs whether you're taking your family on a vacation or you're going with some friends on an extreme vacation. It offers fuel economy just like a car and, it has all the features like a large recreational vehicle. It is very simple to park and maneuver, it easily seats 7 and sleeps 4 which make this vehicle perfect for larger families. Moreover, it has plenty storage for the gear.
Specifications -  length 18'9", width 7'0", height 8'9", interior height 6'1", dry weight 7,200lbs, gross weight 8,600lbs, cargo weight 1,250lbs, fresh water capacity 20gals.
Roadtrek 190 is another great Class B motor home by Roadtrek available in two floorplans-Versatile and Popular. The 190-Versatile can sleep four persons and can have either a regular dinette or an "L" shaped dining area while the 190-Popular can sleep three persons and have rear dinette that can be converted either  to two twin beds or a king-size bed. Like 170-Versatile, Roadtrek 190 is very easy for driving and parking. It also has good fuel economy and amenities typically found in larger motor-homes.
Specifications – length 20'5", width 6'7", height 8'9", interior height 6'1", dry weight 7,700lbs, gross weight 9,600lbs, fresh water capacity 25gals.
Roadtrek 210-Popular is the largest vehicle among all the motor homes manufactured by Roadtrek.
It is 7" wider than regular vans.
The bedroom area is more comfortable and the galley has expanded counter space and storage.
It has enclosed bathroom and steel-reinforced fiberglass frame.
Specifications – length 21'11", width 7'4", height 8'9', interior height 6'2", dry weight 8,300lbs, gross weight 9,600lbs, fresh water capacity 30gals.
Roadtrek CS-Adventurous is based on the Mercedes built Sprinter 2500 series van. It is the perfect vehicle for family trips equipped with a sink, refrigerator, bathroom and shower. It is fuel-efficient powered by Mercedes CRD turbo diesel V6 engine. It includes panoramic windows, large storage space.
Specifications – length 22'9", width 6'8", height 9'7", interior height 7'5", gross weight 11,030lbs, cargo weight 3,000lbs, fresh water capacity 33gals.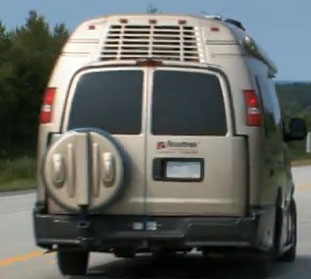 Roadtrek Popular-210 camper on the road

Roadtrek N6-Active has all the comforts of home, it is fuel efficient and is easy for parking. It can seat up to 7 persons and can sleep up to 5. Other benefits of N6-Active are:  lots of storage space, pop up roof which allow for more space, 2 swivel chairs, table, rear bed and upper bed.
Specifications – length 20'1", width 6'8", height 7'10", interior height 6'4", dry weight 6,800lbs, gross weight 9,100lbs, fresh water capacity 5gals.
Roadtrek Ranger RT
is ideal for adventurous people who enjoy outdoors while still having all the comforts of home:  refrigerator, sink, bathroom, shower and many more. This is lowest price fully equipped van. Other features include plenty of storage space and panoramic windows.
Specifications – length 20'5", width 7'0", height 8'9", gross weight 8,600lbs, towing weight 1,000lbs.
Roadtrek Ranger - it is amazing how much of "home" can fit to the small place of the Roadtrek camper van. You simply have to see it to believe!

---
You have the luxurious feel, but the handling of a van. Now if can imagine this image, you have a bathroom, kitchen, changing room and a bedroom along with a living room all in a van styled motor home.
Mercedes-Benz provides the chassis and power for the Short Sprinter and some other makes are available with 4-wheel drive. These motor homes are a class B and are rated highly in the United States and Canada.
The Roadtrek motor home even has their own club in the US and Canada. These clubs have gathering yearly in different areas, so everyone can get together and share good time s and stories about their experiences in the motor home van. The one thing I heard from some of these people, was that the popup really adds height to the inside and they feel very comfortable when traveling. This is not a bad review for such a small but great looking motor home.
The one thing I have to say is after seeing the inside and the outside underneath storage areas and out everything lies out, I was impressed. Even the aisle shower was set up nicely for convenience and privacy.
If you have a chance to see one at a camper show or at a campground, take the tour, once the popup is opened, you walk around without hitting your head. You will be surprised just as I was.
The Roadtrek motor home campers are truly a work of art. For a small area to have so many attributes, I would recommend everyone to look at one and then test drive it for the feel they have behind the wheel. You cannot go wrong with these little campers.
 About Us / Privacy Policy / Resources
Go from Roadtrek Motor Home Campers to Pop Up Campers Trailer Home

Motor Home RV Manufacturer