Rockwood Mini-Lite 1905
Top 2018 Travel Trailers
Rockwood 1905/1905BH are lightest from the family of 2018 Mini-Lite travel trailers; practical layout with walk-around bed and walk-in full baths opens new standards for medium-size RVs...

       Rockwood's Mini-Lite series of travel trailers gained popularity among RV-ers due to their lite design, affordable cost but at the same time large choice of floor-plans and genuine package of standard features often not available in medium-size RVs. 
The 2018 family of Mini-Lite travel trailers includes 14 different floor-plans ranging in length from 20'11" to 25'9" with weights from 3,339 lbs to 5,277 lbs. The models 1905 and its recently released new version 1905BH are the two smallest Mini-Lite members. While they are slightly heavier than our UVW limit of 3,000 lbs, their "user-very-friendly" layouts combined with loads of amenities convinced us that the Rockwood 1905 travel trailer (including its "BH"-version) deserves the place on the list of top medium-size RVs for 2018.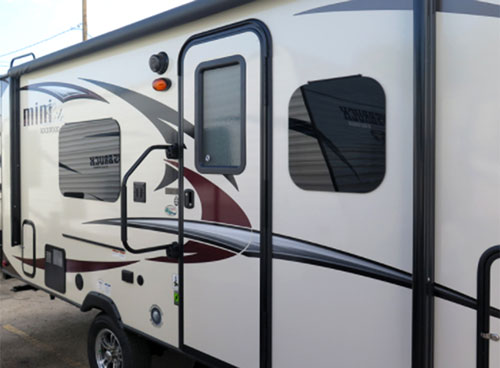 Rockwood Mini-Lite 1905 Travel Trailer
   ... and its floor-plan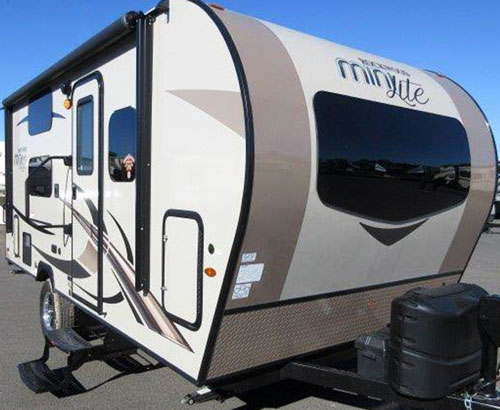 Rockwood Mini-Lite 1905BH Travel Trailer
Note two narrower windows on the side instead of one bigger as in the model 1905
         Let's first highlight already known strong point of Rockwood Mini-Lite series – and this is robust, good quality construction. Shell's frame (including sidewalls, floor and roof) is made from aluminum (name "Lite" obliges).  Sidewalls and roof are vacuum-bonded and laminated with high-gloss fiberglass exterior finish (walls) or rubber-composite membrane (roof). Vacuum-bonding makes them structurally strong while lamination "impermeable". While the 1905 is not designed as "All-Weather" travel trailer, thanks to its "decent" insulation and with the help of A/C unit and furnace, it can be used over extended seasons. The 4" thick roof has R-14 equivalent thermal barrier and correspondingly R-12 for floor and R-7 for sidewalls. 
Unfortunately, the 1905 (similarly like its closest "sibling" 1905BH) do not have enclosed underbelly so even optional water tanks protections (heating mats) will not make them ready for RV-ing in below-the-freezing point climate zones.
The Mini-Lite 1905 is a single-axle travel trailer, however unlike similar trailers, it was designed as "wide-body" model with full width of 96". And this makes a real deference in terms of available interior space. The most visible outcome is the "bedroom" area where you will find the lengthwise-oriented, "walk-around" queen-size bed. This arrangement will be certainly well-appreciated by RV-ers  as there is no need to "climb" over other person like in typical small/medium-size RVs with beds "squeezed" across their width.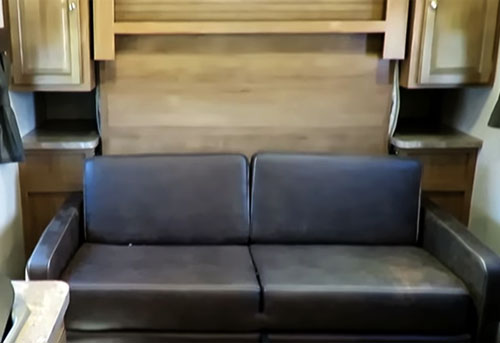 Sofa makes an essential part of the living section
Murphy bed behind the sofa and bedroom's cabinetry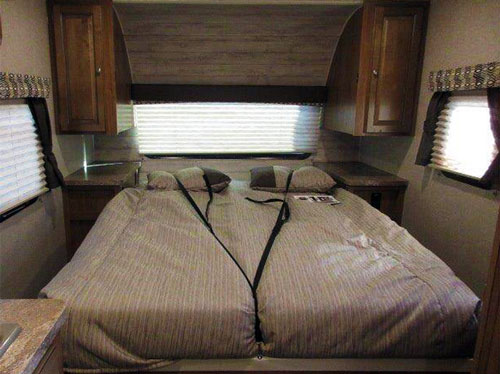 Open Murphy bed offers much appreciated "walk-around" solution. Note ward cabinets and nightstands on  each side of the bed.
       In order to increase interior's "open-space" during a day, Rockwood equipped the 1905 with the Murthy's bed. The sofa makes a nice living/entertainment corner, for the night however the unfolded Murthy's bed creates quite comfortable "Master-Bedroom" environment. The bed's setting-up process is assisted by gas-struts so it is really effortless. The unfolded bed locks automatically, preventing it from accidentally flipping back to its folded position. And the really nice surprise – you will find heated mattress! The straps will conveniently keep bedspreads and pillows together when you flip-up the bed into vertical position for a day.
Two side ward-cabinets with bars for hanging cloths and two nightstands with drawers complete bedroom settings while handily-located electrical receptacles (12Vdc/110Vac/UBS) offer much needed these days "connections" for all kinds of "electronics". And finally, also quite rarely seen in this class of campers – there is a curtain separating the sleeping quarter from the rest of the camper providing some level of privacy.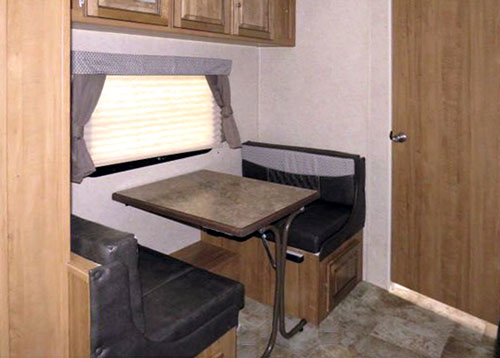 Mini-Lite 1905: Dinette section with visible fragment of overhead cabinets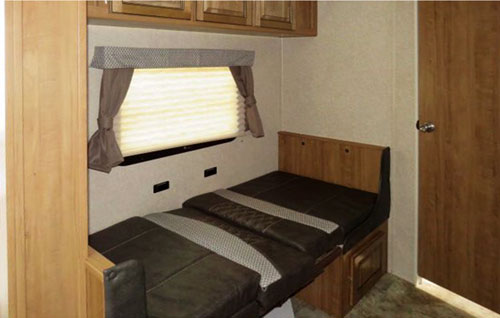 Mini-Lite 1905: Dinette converted into single bed will look similar in 1905BH model
Mini-Lite 1905BH: Extra bunk-bed in ready to use configuration
Note that once the bed is flipped-up the upper window is blocked.
         The main difference between the standard 1905 and its 1905BH version is a bunk-bed mounted above the dinette. Normally flipped-upwards if needed, it can be set horizontally well above the dinette level and is accessible via ladder (standard feature). Due to this arrangement, dinette's side window (typically large to make this part of the camper bright and offer nice views on surrounding Mother Nature) is divided into two smaller sections. The upper one is normally fully obstructed when the bunk bed is flipped-up, however it nicely "opens-up" the otherwise tight sleeping space when the bed is open for the night. Summarizing the differences: the 1905BH offers the sleeping capacity for 4 (preferably 2+2 kids), compared to 3 (2+1 kid) for 1905. However, the extra bunk-bed eliminates overhead cabinets you will find above the dinette in 1905.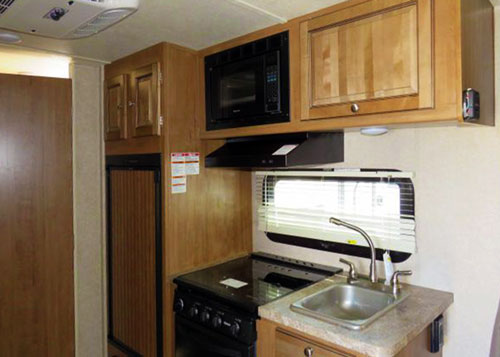 Kitchen
      The kitchen is equipped with 3-burner, high-output range with oven. Thanks to nice black-tinted flush-mounted lid it nicely integrates with the sink cabinet. Thanks to the "dedicated" window the kitchen area is quite bright. The hood with an electric fan will hopefully "confine" most of smells to limited area of the kitchen (but do not deprive yourself of the "heavenly" aroma released by freshly brewed coffee ). 

     Unfortunately, kitchen's working space is limited; while the range lid and the cover over the stainless-steel sink make the area suitable for preparation of meals, this space "disappears" once you start cooking and washing. Fortunately, just on the opposite side of the camper you will find dinette with free-standing 32" wide table. 
The standard built-into cabinetry microwave and fridge w/freezer as well as ample storage space (under the sink, overhead and above the fridge cabinets) make the kitchen functional and up to tasks. After all – do not expect to find in small/medium-sized RVs an environment of the residential kitchen.
        BTW, Rockwood took care of these limitations by offering an exterior sidewall-mounted gas grill w/working table (it's optional). The standard 13ft wide power awning will make the outdoor kitchen "weather-independent" (be it scorching sun or drizzling rain). The only restrictions to this concept can be imposed the amount of camping gear you can take with you for the trip, because camper's exterior storage space seems to be quite limited (good news is that the dinette table is free-standing so it can be easily removed and used outside).
The 32" wide dinette will barely fit 4 adult people, but as we always underline the fact – this class of small/medium-size travel trailers is perfect for just two people (in this case 1905 is a better choice) or for family with young kids (that's what offers 1905BH). Otherwise it will be crowded especially when bad weather does not allow you to extend the living and cooking quarters in the open air.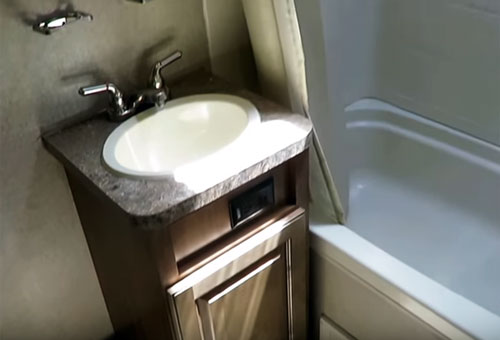 Section of the bath: vanity w/sink and tub w/shower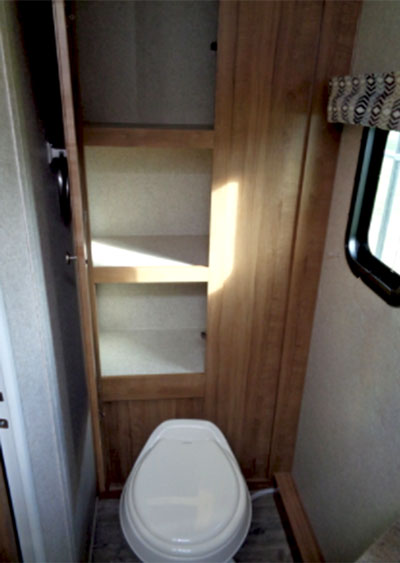 Bath: toilet and large linen cabinet behind
       The rear bath is a "changing-game" feature for the class of medium-sized campers. It's truly walk-in, bright space, with tub-shower combo, vanity w/sink, medicine cabinet, extra large wall linen cabinet and toilet with more than enough of room around! One would say - Wow! Ceiling-mounted Maxair Fan (w/weather-protecting cover) provides efficient ventilation although thanks to slotted bath doors, it also serves the entire camper.
Entertainment center is located in front of the rear sofa. It includes AM/FM/CD/DVD stereo w/remote control (actually you can control it from your cell-phone) and an optional 24" LCD TV. Due to its location next to the entrance door you will also find here the Central Control & Monitor panel as well as all essential switches.
We should also mention the interior elegance. Stylish, black appliances, leather-like looking (but breathable) micro-fiber covered seats and sofa, heated mattress, vaulted ceiling and maple-wood finished cabinetry (if this option is chosen) makes interior a cozy, warm place where you can relax and enjoy being on-the-road.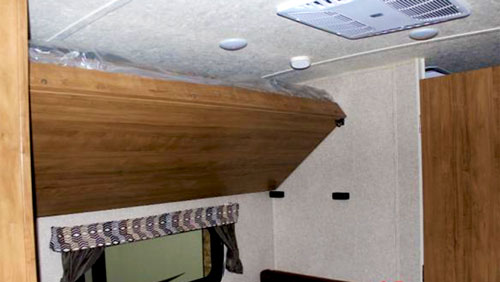 When bunk-bed is flipped-up the upper window is fully obstructed.
       On the negative tone: The 1905 interior's layout quite significantly limits the infiltration of natural lite into the camper. During the day, the large front window is fully obstructed by flipped-up Murphy bed. While you can enjoy "romantic" nights with views on the starry sky, during the day the bed must be flipped-up to open the living space and unblock the entrance. The situation is even worse in 1905BH where the upper window in the central section of the camper is blocked by the flipped-up bunk bed. As the result, even in sunny days the 1905BH interior is quite dark (obviously LED lights change this picture, but it's not the "nature" we may be looking for on our RV-ing trip). The bottom line is clear – its' something for something and in this case, it is Murphy's walk-around bed versus natural lite.
In contrast, the bath is quite bright thanks to large skylight above-the-shower and small side window (although for the privacy, you will probably keep the latter covered by shades).
Another inconvenience of both 1905 travel trailers is limited exterior storage space compared to other similar-size campers (front "basement" space us mostly used by the Murthy bed). Good news is that the strong roof construction and the (optional) rear ladder may offer some extra storage space if badly needed.
Now let's go for the short tour of the Mini-lite 1905 travel trailer
To continue reading select: --> Next Page
You will find technical specifications, standard and optional features as well as illustrating materials.
Note:  Check with the manufacturer and / or authorized RV Dealer for the up-to-date list of features, options as well as latest specifications. These written above may not be accurate and certainly are subject to change by the factory. We are not responsible for any inaccuracy, the above text is provided only for the general information.
This review was written based on publicly available information for the benefits of the community of RV-ers. We do not receive any gratification or financial benefits from RV manufacturers, dealers, and any other promoters of RVs. 
We are NOT involved in sale and/or retail of RVs!