Small Lightweight Rugged Pop Up Tent Camper
Small rugged pop-up tent camper may be the best to address challenges of wilderness…. Let's see presentation of one of the best examples - EcoTrek Camper
Adventure can come in many forms, some of us are prepared for it, while other times it catches us off guard.
If you are an adventurer though, and you often go camping, hunting or exploring the outdoor sceneries, the reality is that you always need to be protected and prepared for any challenge that might arise.
Small rugged pop-up tent camper may be the best answer to address such challenges….
Let's see pros and cons of one of the best examples - EcoTrek Camper

Design and usage

Getting the right tent trailer is essential if you want to make your whole adventure a safe one, and that's why you might want to opt for the small lightweight rugged pop-up tent camper, as this is a reliable, professional product that will help you get the job done quickly and easily.
This camper comes with an aggressive design, yet it's very practical and suitable to withstand multiple types of environments, which is really neat. Thanks to the powerful skeletal structure and one of a kind frame the camper is very solid and it even has a composite panel that's fully bonded with the frame in order to create a durable product.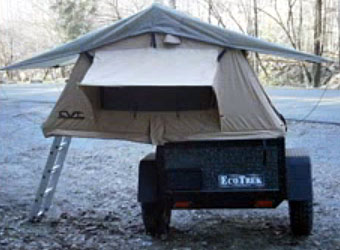 Seems to be ideal for adventures to wilderness....

Size and towing

On top of that, the EcoTrek camper also brings a very small size which makes it suitable for any location, be it a rugged terrain or back-wood trails. Additionally, since this is a lightweight product, you are literally able to carry it anywhere since it brings an increased portability which is really neat. 
The small size of the camper simply means that you can use just about any towing vehicle you have, as long as it has at least a capacity of 550 pound, just to make sure that you won't encounter any issues while on the road. If you are using a 2 inch coupler, you can use a class 1, 2 or 3 receiver hitch, but if you have a Lock N Roll 3 axis coupler, then you will have to use a class 3 receiver.

Suspension and water system

While the camper doesn't include a water system and sinks in it, you will be able to keep it dry at all times, and that will certainly help you quite a lot. However, the camper comes with a great suspension system whose main purpose is to help you reach the trail in an independent fashion.

Customizability and trailer plugs

If you plan to purchase such a camper, then it's important to know that the trailer plug needed here is a 7 blade electrical one, and if you have one of these you will be able to hook virtually any EcoTrek camper without a problem. Not only that, but these campers provide expansion space, so if needed you will be able to install trailer brakes or numerous other things that you might need.
Lastly, one of the major features that you can find on these campers is that they are fully suitable for any type of trip, providing you with a great shelter and lots of protection. If you care about the design, you can even color match the tow vehicle with the camper or opt for a camouflage theme. Everything here is fully customizable and you will certainly enjoy the result.

... and the best is always to see it with your own eyes, so here it is :-)

Conclusion

In the end, this product is a very interesting one so if you are looking for a professional camper to take in the wild, then you should certainly give it a chance as you won't be disappointed.

---
Visitor's story......

The rugged pop up camper allows you to do some off road traveling and camping.
The self-contained truck campers usually appear everywhere, in the deep woods, on campgrounds with no other forms of amenities such as baths and pay booths.
Up in Minnesota (MN) there is a campground called the best-kept secret in the state.
If you have a pop up trailer or a truck camper, you will find this campground very primitive. You will find a box for paying on the honor system, an outhouse and a pump for retrieving water. The wildlife in this area is populated. You see deer, raccoons, fox and the smelly skunk. You are generally all along in the campgrounds situated back in the woods far off the road.
In 1991, I traveled to this area and was quite amazed that such a place still exists. The following year in September of 1992, we traveled to Door County up in Wisconsin (WI) and found the Peninsula State campgrounds to be a very nice area. Although we appeared to be the only ones there, we had a good time, but never did fine any facilities that were open at this time of year.
Whether you travel in a pop up trailer or a truck camper you want to prepare yourself before going to these places by stocking up on water and you will need your own power supply. With this in mind you can enjoy these campgrounds all to you depending on the month or time of year.
Yes, it gets a little cool at night, but if you have a rugged pop up camper, this type of camping can get you back to nature and still have some accessories you need to remain happy in today's time. After all, we all need a taste of primitive living as you might call it today.
 About Us / Privacy Policy / Resources
Go from Rugged Pop Up Camper to Pop Up Campers Trailer Home