RV Motor Home Cabinets for Sale
Want to change old cabinets in your RV or customize the new one? Here is the list of places where you may find RV cabinets and parts for sale……
RVs and motorhomes often come pre-installed with cabinets to enable great storage and space utilization.
The options for these cabinets are wide and vary both in materials, finishes and cost.
Popular materials include solid wood, plywood, laminated cabinetry and more which all are suitable for small to medium sized budgets.
If you need more of a luxurious feel to your motorhome cabinetry then the options are even more refined from handcrafted solid oak cabinets to polished bamboo and even exotic wood veneers such as African Rosewood and European Larch.
The only limitations are price and availability so here is our list of where to find RV motorhome cabinets for sale for all types of budgets.

1. Custom RV Builders

Custom RV manufacturers are the most obvious place to start when searching for RV cabinets for sale because that is their business. 
More often than not they have a department that deals with internal decorations and can consult with you about what you have in mind.
Prices can differ so depending on your budget you can pick cabinetry options that fit to your limits or splurge on whatever high end options they have. 
However since this is a customer outfitter, expect higher prices than you would get from eBay
RV custom builders can be found online and offline. If offline, check with your local RV dealership for referrals or the yellow pages.  Many also have an online presence such as websites where you can view their portfolios.
Notable custom Builders who can deliver quality motorhome  cabinets include Truline Custom RV,  LazyDays Interior Remodeling and Davis Cabinets,


Visit LazyDay's full-service, professionally equipped RV Service department

---
2. eBay
RV motorhome owners can easily find cabinets for sale on eBay along with all parts necessary to mount or customize them for their space
Cabinets available for sale vary from laminate cabinets to solid wood cabinets. 
Buyers can also buy single doors for cabinets or complete cabinet sets so there is flexibility to accommodate whatever you  need
eBay allows buyers to get used RV motorhome cabinets or brand new ones. 
As can be expected prices for used cabinets are cheaper than the new ones. A used but complete oak laminate RV cabinet costs $19.95 as opposed to just the door of a brand new oak laminate cabinet which costs $15.00
Buyers should carefully measure their current RV cabinets because not all parts and units offered in eBay are "standard".  So knowing your exact measurements saves you from guesstimation
Another caution for buying RV cabinets on eBay is that not all units comes with everything needed to mount them such as braces, hinges and handles. 
Read the product description to make sure you understand what is included !

3. RV Salvage or Surplus Yards

Almost every state has their version of RV salvage yards. Searching on the internet for either "RV Salvage Yard" or "RV Surplus Yard" can get you results for your location. Asking on RV online forums can also point you in the right direction for the nearest yard
The inventory can be both used stock or surplus from different manufacturers
The benefits are that they have a large variety of inventory some of which includes obsolete, discontinued or hard to find items
Prices are usually very low depending on the condition and rarity of the products
The disadvantage of this is that there is no specific focus on RV motorhome cabinets so you never know if you will find what you are looking for or not
A good place to start is on RVerscorner which lists many RV Surplus or Salvage Yards

4. Visone RV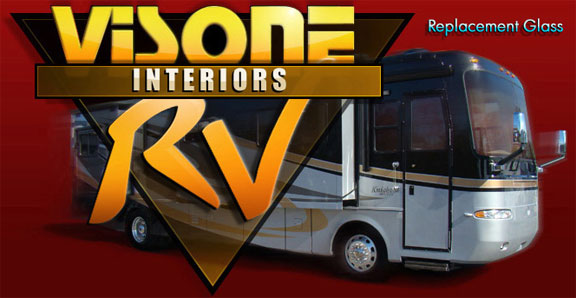 This is a general online store that sells RV parts from carbon monoxide detectors to RV cabinets. 
Visone RV has an entire site just for RV interiors and cabinets Visone RVinteriors
Motorhome Cabinets options include solid wood and wood veneer cabinets
Cabinets also can be bought with vanity mirror tops as opposed to regular finishes
Units are sold as individual door panels with accessories like cabinet catches being sold separately
The average price of cabinet door panels is $15 and sizes range from 10 inch high cabinets to 39 inch high ones.

5. Campingworld.com

Camping World is an online store for all things RV and camping related.

Their cabinet stock is limited to more specialized units as opposed to general motorhome cabinets
Types of cabinets that are sold include display cabinets that double as a bar, rollout shelves for cabinets of multiple sizes, specialized expandable cabinets and various organizers
Prices tend to be higher because of the highly custom uses and the quality of the cabinets. 
An expandable solid wood cabinet with cherry wood veneer may cost as much as $480 while a buffet service cabinet may cost about $400
Even the regular wood rollout shelf has a starting cost of $80. Metal shelving and cabinet choices cost significantly less though.

---
Visitor's story.....

With living space so compressed in an RV, every inch of space is used.
Storage is at a premium so cabinets are everywhere. There are cabinets over the fold outs, under the sofas and dinettes and beds. Some dinette tables have cabinets as a base. Of course the number and placement of cabinets depends on the type and size of your motor home.
My camper van will have less cabinet space than a large 5th wheeler. Our friends Jack and Nan have more cabinet space in their luxury motor coach than many people have in their homes. They even have a linen closet.
We know a couple who converted the toy hauler that once housed their 4 wheeler into a huge closet/storage area. The only cabinets in their mobile home were in the kitchen area and under their bed.
There are a few websites that sell RV cabinets, however we got the cabinets for our van at an auction page on Ebay. Even with shipping from Colorado to Maine we paid 20% less than the average retail price.
You need to be cautious when shopping the auction pages. Know the retail price of the cabinets you are interested in purchasing. Set a maximum amount you are willing to spend and stick to it.
Don't get caught in a bidding frenzy, you don't have to win this bid. You can always pay retail if necessary. Bidding just for the thrill of winning could cost you more than the retail price of the cabinets.
Shop smart. Make sure the cabinets you are looking at will fit the space allotted for them. Does the wood match your existing cabinets in type and color and scale?
If you are shopping online looking for cabinetry remember that few sellers maintain an inventory and what you see there today may not be available tomorrow and the reverse - what you can't find now may show up in a few days.
You could score big savings if you don't need the cabinets for your recreational vehicle right away.
 About Us / Privacy Policy / Resources
Go from RV Motor Home Cabinets for Sale to Pop Up Campers Trailer Home

Motor Home RV Furniture