RV Motor Home Tables and Chairs for Sale
Your RV is more than a vehicle – make it "home like" by choosing your favorite furniture: chairs, tables, sofas…..
Your motor-home is more than just a vehicle – it's a home on the road.
And to make it as comfortable as your home, you'll want as many amenities as your RV manufacturer offers.
But the great thing about RVs is that you can easily upgrade its features to those that are more in tune with your needs, so even if you buy a used motorhome for cheap, you can easily upgrade its seating options.
Here are a few great seating and table options for your motorhome:

---
Flexsteel Seats

If you're looking for new seating upgrades, look no further than Flexsteel seats. The seating specialist has years of experience in RV and marine furniture providing comfortable seats characterized by an exceptional quality.
They offer a variety of seat options including: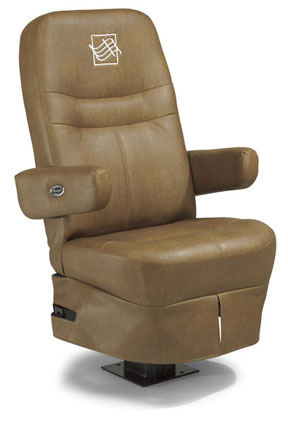 Motor Home Bucket Seat Class A: Model 283 BUSR

Extenda Flex Lounges: The lounge is a residentially designed sofa that features a hidden glide-out seat section intended for an additional TV or lounge position. 
Fold N Tumble: it can be positioned against any wall to prevent dangerous gaps and allows for a space saving of 75 inches deep footprint. 
Bucket Seats: These are perfect and comfortable for when you're driving and hauling your RV to various camping spots across the country. 
Sofa Sleepers: These sofa sleepers can convert in no time from sofa one to a bed!
Chairs and Recliners: You can easily have your favorite recliner from home out on the road with you. 
Dinette Seating: If you've been looking to update your old dinette seating, there are various options to choose from.

RV Furniture Center

If you're looking for a one-stop shop for all your RV furniture needs, then RV Furniture Center is where you'll be able to get anything you need. In addition to a number of chair options, including Flexsteel products, they have a great selection of dinette tables. 
Knocked-down units – They offer these freestanding dinette tables in a cherry finish, as well a natural finish.


---
Glastop RV Furniture
Another great place to shop for all your RV needs is at Glastop RV Furniture. They have been furnishing RVs and motor-homes with style and high quality furniture for more than 35 years.
Compact tables and cabinets: They have two cabinet options available that offer you added space with extra shelves. They are available in three different wood finishes and are a great addition with space-saving features.
Captains Chairs: They offer the industry's leading Class A and class C motor-home driver and passenger seats that are ergonomically designed for a comfortable and superior long ride.
Swivel Barrel Chair: This unique option features a freestanding swivel base and lift lid storage for a comfy experience that you can totally utilize for storage. They come in a variety of colors so you can easily pick one that matches your RV's interior décor.
---
Visitor's story....

Just like your home kitchen dining area, you need tables and chairs for your mobile home.
You may wonder where you can find RV motor home tables and chairs for sale. There are several on line stores and many real stores that sell tables and chairs for your motor home. My wife bought a new slipcover for the captains chairs in our camper van from one of the stores. Now she is looking for a dining table and chairs instead of the benches and fold down table we now use. So far she hasn't located the set she wants.
Our friend Joe and his wife recently found a "bolt to the floor" recliner on an auction page. Unfortunately they lost the bid. So they are still looking.
There are a number of other sources where you can buy RV tables and chairs. You can shop at RV super stores, online stores or try to order direct from companies like Flexsteel, Motorcraft, Villa and others.
If you choose to shop the auction site remember the chairs you can't find today may show up in a day or two and what you see today could be gone in a matter of minutes.
Also, avoid getting caught up in a bidding war. Many people get fired up as much by the desire to win as wanting a particular item. You can wind up paying much more than the chair or table is worth.
My cousin Johnny who lives in Georgia bought a dining set from an Ebay store. The seller was located just across the border in South Carolina about 70 miles away, and made arrangements to pick up the furniture and save shipping charges.
 About Us / Privacy Policy / Resources
Go from RV Motor Home Tables and Chairs for Sale to Pop Up Campers Trailer Home

Motor Home RV Furniture