RV Resorts Near Disneyland
Finding RV resorts near Disneyland seems to be a good idea not only for kids but also for parents

Disneyland is a place of dreams not only for children but also for most grown-ups.
It is very popular area, where numerous families come to enjoy all the fun and convenience of Disney world.
Since staying in a hotel may be very expensive, great number of families stays deprived of the opportunity to experience this exciting place.
On the contrary, many campgrounds and RV resorts, which are located near Disneyland, represent a wonderful way for families on budget to enjoy a resort vacation.
Thus, if you are traveling by an RV and are looking to vacation in California near Disneyland, there are several RV resorts nearby. Each of these resorts has some special amenities that will suit the needs of the visitors.
Among RV resorts that are placed near Disneyland the following are highlighted: Anaheim Resort RV Park, Anaheim Harbor RV Park, Anaheim RV Village, Canyon RV Park and Ponderosa Travel Trailer Park.

Anaheim Resort RV Park is located only a mile from Disneyland and is along the Anaheim Resort Transit Route. This lovely campground offers many amenities, which can be enjoyed all year round. The park offers a heated 36'x18' swimming pool which is heated to 85 degrees Fahrenheit, a hot water spa where you can escape from the hustle of the adventures of Disneyland, a clubhouse with 60" big screen TV with satellite service, reading area , small coffee galley, a computer room with internet access and banquet facilities for 40 people.
Further, the resort offers laundry facilities where all the guests can do their clothes washing in laundry rooms equipped with modern washers and dryers, then restrooms and showers even for handicapped persons. Also, visitors who have dogs may bring them along too as there is a designated dog walk area where they can take their pets for a leashed walk on the grass. Moreover, Anaheim Resort RV Park include picnic tables, free WiFi, handicapped accessibility and many more.

Anaheim Harbor RV Park is placed in the very heart of the action. It is the closest RV Park to Disneyland and has a shuttle that takes guests to Disneyland every 20 minutes. It is known for having the lowest rates in the area so if you come to this resort you may enjoy all the facilities without over extending your budget. Anaheim Harbor RV Park offers full hook ups, heated swimming pool, playground, large new laundry room, newly constructed bathrooms with wheelchair accessibility, free wireless internet access, free cable TV hook ups, mini market, public phone, vending machines, video arcade and many amenities which will make your staying at the resort enjoyable and pleasant.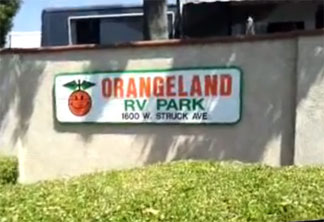 Anaheim RV Village is beside Anaheim Harbor RV Park also the closest RV park to Disneyland. It is located within walking distance to Anaheim and it takes just a short walk to Disneyland. The park occupies 10 acres of the Anaheim Resort District and has 293 sites including 23 premium sized sites.

Anaheim RV Village offers free WiFi, on-site propane, heated swimming pool and hot tub, arcade games, shaded picnic and barbecue areas, large off-leash dog runs, convenient store, playground and many more amenities. This beautiful well equipped RV Park offers lot of benefits, which will make you feel at home.
Canyon RV Park is located a little further from Disneyland than some other RV parks but it is so beautiful and full of wilderness where you can experience that "outdoors" feel with lots of grass and shaded sites that it is worth driving 20 minutes from Disneyland.
Canyon RV Park offers plenty picnic areas, open fire pits, firewood, ice and snacks, acres of trees, dump stations, laundry facilities, playground for kids, swimming pool and ropes course, amphitheater and nearby activities include fishing, golfing, horseback riding.
Simply it is a wonderful place to gather and enjoy good time.

Orangeland RV Park is located 10 minutes from Disneyland and is family owned RV park opened in 1972. Since it is less than two miles away from Disneyland, it offers shuffle to there.
The park has 199 paved RV camping sites where pets are welcome and offers many amenities and services including heated swimming pool, free wireless internet, free cable TV at each individual site, free high-speed computer station, restrooms, laundry facilities, and also leashed pets are allowed.
Moreover, guests can play shuffleboard and mini golf.
---
Visitor's story.....

You want to take the grand-kids to Disneyland and you will be taking your motor home. Now you need to find an RV resort near Disneyland so you don't have to spend half the day in traffic.
We have been there and done that. In 2004 we took our grandsons to Disneyland in our camper van. There are several RV resorts in fairly close proximity to Disneyland. We will briefly discuss the 3 parks we know best.
The Anaheim Harbor RV Park is the closest to Disneyland's main entrance. They have 198 recreational vehicle sites, showers, 2 pools and a coin laundry. Stay a few days, a week or a months, the rate schedules accommodates all of these.
Directly east of Disneyland is the Anaheim Resort RV Park open all year. They have daily, weekly and monthly rates. There are 150 sites with full hookups and cable TV to all sites. There is a club room and you can buy discount "city pass" tickets for Disneyland, Knotts Berry Farm, Sea World, the San Diego Zoo and San Diego Wild Animal Park.
We chose to stay at the Orangeland RV Park, just 5 minutes east of the Disney Park. They have extra large sites to accommodate the larger motor coaches and 5thwheelers. With 204 spaces, the park provides full hookups, cable TV and wireless internet to all sites. Telephone hookups are available and there is a modem station. There is a heated pool, shuffleboard courts, BBQ picnic area, and a club room, with a kitchen. What attracted us to Orangeland was the playground for the kids and the dog walk and dog wash station.
Some other RV parks to be mentioned due to their proximity to Disneyland are the Traveler's Park just ½ mile away, the Overnite Trailer Park 1 ½ miles and CC Camperland just 2 miles from the park.
All of these RV resorts are within easy driving distance of area attractions including some of California' most beautiful beach sand Disneyland.
 About Us / Privacy Policy / Resources
Go from RV Resorts Near Disneyland to Pop Up Campers Trailer Home

Motor Home RV Camping