Scamp Camper
Taking the scamp camper where people have not gone before is one of the biggest benefits that many people see to using these cute little campers.
People who are looking for small, lightweight campers that can be towed by small vehicles will surely be satisfied with lovely Scamp campers.
They have been present on the RV market for quite a long time, starting in 1972.
Since then, they are very often seen on the road and many campers' enthusiasts are fond of them because of the features they provide.
Buying the Scamp campers may be very wise decision due to many benefits these campers have to offer.
The main advantage is the economics. Thanks to their unique aerodynamic design assuring high fuel efficiency, lightweight design and being easy to tow they are considered as highly economical campers, distinguishing among many other vehicles of this type.
Another great benefit of this type of campers is the strength. Because they are made of a hard fiberglass shell, they are very sturdy campers. That in turn offers advantage coming with long-lasting, robust designs corrosion and rot free.

19' "Fifth-Wheel" Scamp Camper is impressive... Please have a look at what is inside...

Moreover, when the time comes to park your Scamp camper, it is quite easy to do that. Even more – once parked it is also very easy to set it up. You don't have to worry about tent poles or any kind of leveling system. You can simply park it wherever you stop and that's it.
As far as appliances are concerned, Scamp Campers are equipped with appliances according to the needs of the buyer since each model is built to order.
Scamp campers come in three different sizes where each model is designed to be towed by small vehicles, mini vans, SUVs or trucks so if you decide to buy this camper you don't have to consider buying another vehicle to tow your camper. The vehicle that you already own will be a perfect to accommodate the camper.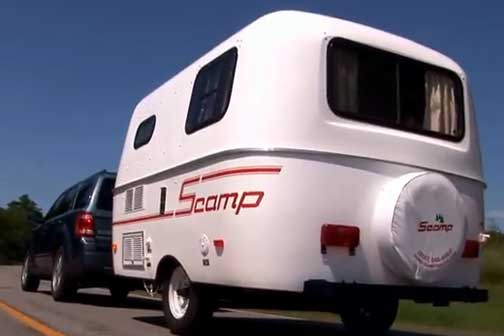 Scamp campers have such characteristic shape....

The three Scamp models are Scamp13', Scamp16', and Scamp 19'. Each of them comes with customized and built to order features to meet your needs including deluxe hardwood interiors, air-conditioning, awning, furnace and many other options that a buyer can choose when ordering a camper.
Furthermore, each model has plenty of space for cooking, sleeping, and what is important lot of storage space.
Scamp 13' camper is one of the smallest available recreational vehicle, which is perfect for individuals, but also for couples and even for small families. Since the available space is very cleverly used, this small camper can sleep up to four people. The unit is equipped with an upholstered sofa, which can be transferred into a set of bunk beds, fiberglass cabinets and a dining area, which can be turned into a double bed.

Scamp 16' camper is three feet longer than Scamp 13', which automatically adds to more counter and storage space, also it enables to have bathroom and shower configurations. It has side dinette, which provides space to sleep and eat without having to change a thing. This model can sleep four people and is a comfortable place where you can spend not only couple of days but even couple of weeks.

Scamp 19' camper is the largest of the Scamp units and is actually a fifth wheel style camper.
Since it is significantly larger than previous models, it can sleep up to six people due to a queen loft bed above the fifth wheel tongue.
The bathroom is between the loft bed and the main camper area providing privacy and quiet sleeping space.
Although it is the largest Scamp model, it can be towed very easily by a light duty truck set up for fifth wheel towing.

Even though all three Scamp models are actually small campers, they are outfitted fantastically. They represent the combination of quality workmanship and easiness of towing, and this combination makes them an excellent option for many camper lovers. What you must be aware if you decide to purchase this recreational vehicle is that it attracts attention wherever it goes and due to small size, it stands out among many other RVs.

---
Visitor's story......

While many campers are highly dependent upon having an external power source the scamp camper is a great little package all rolled up into one.
With the ability to use solar power to handle all of the electrical needs many who own scamps are quite pleased with the purchases.
While there are always numerous camper trailers that are available on the market, but finding a camper that is able to run on solar power alone is not something that is simple.
Finding a solar powered camper can sometimes seem impossible, however there are people who greatly appreciate the ability as well as flexibility that comes with having a solar panel attached to the top of the camper.
While not everyone is happy with the idea of using solar power only, most people discover that with only a bit of careful inspection of the sunlight surrounding their camp spot that it is possible to really enjoy using the solar panels as the only source of electricity and they are able to do so quite successfully.
Recent models of the scamp camper have seen cab over models introduced and this helps increase the popularity of the scamp even further. While it has already enjoyed great success as one of the best self-contained units on the market, adding the cab over models has furthered enhanced the ability of the scamp to go anywhere that you desire.
From lake side resorts to even camping out beside a lake in the middle of nowhere and anywhere in between the scamp camper is the perfect option for getting where you want to go without having to worry about finding an electrical connection.
Well suited for small groups as well as solo travel the scamp camper is a sure hit amongst campers and will be around for a very long time.
 About Us / Privacy Policy / Resources
Go from Family Campground Parks to Pop Up Campers Trailer Home
Scamp Camper / Pop Up Camper Awning / Hi Lo Camper Trailers / Capri Camper Trailers / Camper Trailer Repair / Camper Shower Reviews / Cabover Campers Trailers / Berryland Camper Trailers / Awning Lights for Campers / Arctic Fox Camper Trailers