Schult Vintage Travel Trailers
Schult Trailers introduced new standards to RV industry, thanks to fast growing demand for 8ft wide, 7ft high trailers, they became one of world's largest RV manufacturers

The manufacturer of Schult retro trailer was Schult Trailer Coach in Elkhart, Indiana.
The company was founded by Wilbur Schult and Walter O. Wells.
They started RV-business at Elkhart in 1934 with 20 carpenters to produce the first Schult trailer.
Wilbur Schult was not new into trailer business, earlier he worked as a dealer for Covered Wagon Trailers and distributor for Sportsman Trailer Company.
This first-hand experience helped him in steering the new manufacturing company well in its initial years. Schult's humble beginning received a big "boost" when he bought the Sportsman Trailer Company from its founder, Milo Miller in 1936 and changed the name to Schult Trailer Coach. This move opened "doors" into trailer manufacturing in a big way. Soon the new company became one of the largest manufacturers of trailers in the world.
By April of 1937, Schult had two plants in Elkhart with over 250,000 combined square feet of manufacturing space and had created a division in Ottawa, Ontario, Canada. He produced over 1500 trailers in 1937. When the firm started its production unit in Christchurch (New Zealand) Schult became perhaps the first manufacturer producing travel trailers in three countries and on two continents.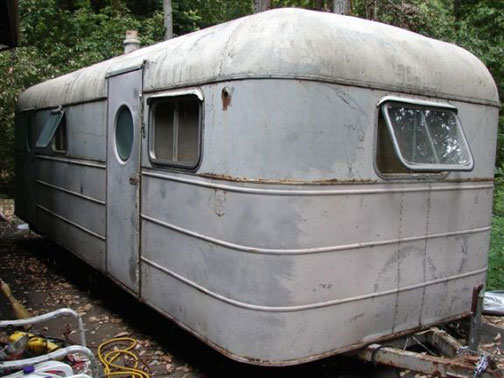 An old Schult travel trailer in "so-so" state (probably 1950 model)
Source: http://www.vintagetrailermuseum.com

Schult Trailers pioneered many changes to the standard designs prevalent during that time. The standard width of trailers at that time was 7 ½ feet and the height was approximately 6 ½ feet (maximum). Schult started producing trailers 8 feet wide with 7 feet height. Soon these measurements became the industry standards. Also Schult was the first manufacturer to build a full steel frame for entry level products. Schult Trailers designed and installed an optional full trailer "air conditioning system" which circulated air over a vault of ice to cool the trailer.
1938 Continental Clipper was so remarkable that its owners included King Farouk of Egypt who later sold it to a Maharaja in India. Schult also built trailers for the famed 1947 Gatti-Hallicrafters African Expedition. In 1957, the Schult Trailer Company evolved into the Schult Mobile Home Company and turned its attention completely to the manufactured housing. This company continues today as Schult Homes.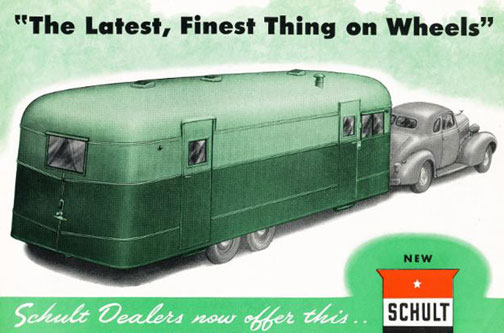 It looks impressive: so huge travel trailer and an "ant-size" pulling car...
Source: http://www.vendio.com

Schult Luxury Liner
When this model was introduced in 1944 the name of the manufacturer had changed from Schult Trailer Inc., to Schult Corporation. The trailer was built with genuine birch interiors and took great care for travel and living comfort and convenience. It was designed to be a two bedrooms home with quality standards. The kitchen included oven range, refrigerator, double sink and ample food storage space. Both bedrooms were furnished with the permanent beds, comfortable mattresses, wardrobe, hi-boy, large closets and drawers.  Living room sofa was converting to extra double bed and the sliding doors offered 3-room privacy.
During the WW II there was a government order for supply of Schult Luxury Liners for military complex workers. This step was taken with a view to provide portable housing to quickly answer fast changes in demands within war-supporting business. This 26 feet tandem model was well insulated and well heated providing comfortable living conditions throughout the year.

That is a "deep" history dating back to 1939

Schult Deluxe Commodore
This 21 feet retro trailer combines the hi-coach spaciousness and utility with easy trailing lightness. The trailer sleeps four adults comfortably. Private bedroom had luxurious and permanent bed, closet, vanity and wardrobes. Kitchen was well equipped. Interior of the smart living room was exquisitely finished. This model featured the sound engineering and space saving design like the larger model Luxury Liner. This model was well heated and well insulated to provide "four-seasons" living opportunities.

 About Us / Privacy Policy / Resources
Go to: Pop-up Travel Trailers and RVs

or to: Top-10 Vintage Travel Trailers,  Popular Vintage Travel Trailers