Shasta Campers
Shasta campers are not only for "old-timers"

Shasta campers first came to the market in 1941 and had been produced until 2004.
Firstly they were built as mobile homes for U.S. Armed Forces.
After WW2, the company started production for the market. T
he concept quickly gained popularity among Americans so the company expanded building in 1958 the large production facility in Goshen, Indiana.
In 1976 Shasta has been bought by Coachmen Industries Inc.
Shasta campers were very popular all over the western United States due to their high quality and low price.

The original models of Shasta campers were known as "canned hams" because they were small and had shape reminding canned hams. They were equipped very modestly having only few amenities, but their owners were usually very proud to tow them in front of others. Many people still have Shasta campers from 1950s towing them behind their cars. 
And frankly, some people are trying to find used Shasta campers for sale because they are nostalgic and are emotionally bonded to these times. The old Shasta models had silver wings, Z-graphic design on the side and baby moon hubcaps. The new Shasta models still have the same design with optional 5-spoke aluminum rims and tires filled with nitrogen gas to increase their life-span.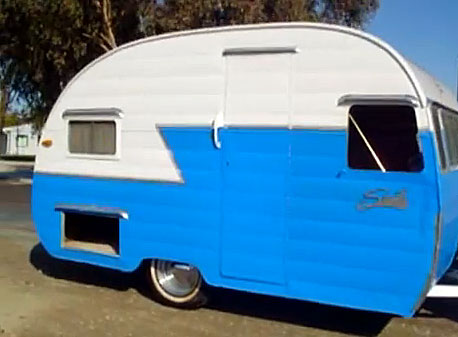 Now, part of the history - 1961 Shasta Trailer

Today's Shasta campers are still lightweight, but much larger and spacious  than their original  predecessors from 50-ties. The interior of the camper include 6 ½ to 7 feet of headroom, electric ovens and microwaves, refrigerators, kitchen sinks (basically all what you would like to find in modern RV). Furthermore, as a sign of time, they also include some luxurious amenities like televisions, DVD players, stereos and iPod stations. In the sitting area there is a sliding dinette which can be folded-out converting into queen-sized bed.
Modern Shasta campers are equipped with wet baths and water heaters; some models may have  AC/heat pump unit for heating and cooling and some skylight with retractable shades and screens and halogen lights.

....isn't it lovely? (this one is from 50-ties....)

Thanks to the vintage-like design and modern amenities included in the camper, Shasta recreational vehicles represent the combination of nostalgia with modern style.
The products that are still manufactured under Shasta brand name are: travel trailers, fifth wheels, motor home class C and destination trailers.
The Shasta travel trailers are Freeport, Oasis and Revere. The most famous fifth wheels produced by Shasta are Phoenix and Revere.  Shasta's motor-homes are represented by only one model  of class C motor-home – Cynara, and similarly there is only one model of destination trailers  – Revere destination trailer.

Shasta Trailer Model 2009 in version Retro-60-ties preserved its old shape and charm...

The Shasta Company was very popular and had plenty of dealers throughout the United States. And no matter which model you decide to buy, each of them include impressive looking interior design. Although these campers are no longer being produced, their popularity as vintage American campers still holds true. People are still buying them and refurbishing for modern use.

---
Visitor's story......

Shasta campers are travel trailers that were built from the year 1941 during the Second World War.
The high quality of these trailers and their low price made then extremely attractive to a large number of campers all across the Western United States.
Initially, the Shasta Company built these trailers from a factory located in Los Angeles, California.
The purpose of the trailers was to provide housing for personnel belonging to the US Armed Forces. Later, in the year 1958 it expanded its operations by opening a production facility in Goshen, Indiana.
Two decades later, the Coachman Industries acquired the Shasta company in 1976. For sometime, Shasta Industries built the trailers, which was a division of the W.R. Grace Company. As the years rolled by, the design of these trailers also went through a lot of changes.
From the year 1960 onwards, distinct "wings" were added to the rear side of the campers. These have become a distinctive feature on the Shasta campers that built after the 60's. The marketing of the brand was done by Coachman until 2004. Then for a period, only the vintage models were made available. In the year 2008, the distinctive wings reappeared as the brand was reintroduced in the market.
The latest models have all the frills of modern living. They have art deco interiors with all electric appliances and amenities. Some of the features include stainless steel sinks, blinds and microwaves in the kitchen with hot plate cook-tops. The trailers have wet baths and also come with a 19" LCD television. Many of these early trailer are still highly valued and retained among camping enthusiasts.
Even educational institutions have them as exhibits on their campus. For instance, the Lost Valley Educational Center has a Shasta Loflyte trailer, built in 1971 on its premises. You can learn more about vintage Shasta campers at Vintageshasta.proboards.com

 About Us / Privacy Policy / Resources
Go from Shasta Campers to Pop Up Campers Trailer Home

Pop Up Camper Trailer for Sale