Silver Streak Vintage Travel Trailers
Silver Streak Clipper Trailer was the successor of famous Curtiss-Wright 'Clipper' – itself inherited from the pre-war Clipper design made by Airstream….

Three partners by the name of Frank Polito, James Patterson and Kenny Neptune formed the Silver Streak Trailer Company right after they bought the design of the celebrated Curtiss-Wright model 'Clipper'.
The partners renamed the coach the Silver Streak Clipper.
They also made minor changes in the design by reshaping the front and rear Plexiglas windows.
The next modification came in late 1953 with the option of opening front and rear glass windows.
But new owners were more ambitious, so while keeping production of the renowned Clipper model they also rolled out many different models developed by their company.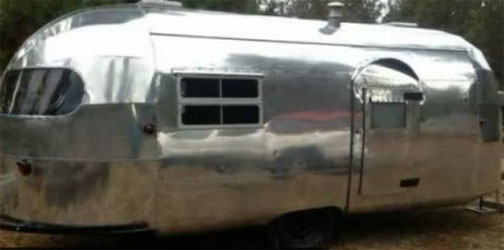 The Legend: Silver Streak Clipper from 1950

Clipper 23'

The most recognizable model from the stable of Silver Streak was Clipper. The 23-foot clipper came with both rear and side bath options. It was fitted with tandem axle. Higher windows, lined drapes with wrought iron rods, deluxe apartment stove, recessed vented wall heater, 10-gallone butane hot water heater, outside access door to water heater compartment, double sinks, twin beds, accordion door in bed room, toilet, tub and lavatory, all metal cabinets, luggage compartment on right side were some of the features of Clipper 23'.
The overall length of this model was 23'9", width of 8' and exterior height of 8'7". The model came in two different weights of 3380lbs and 3530 lbs.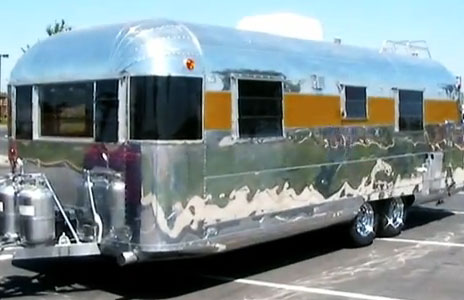 Silver Streak Camper from 1964 - after some "polishing effort" it is shinning once again

Chico

In 1958 the Chico trailer was introduced. This model had a length of 17 feet and 7 inches, width of 8 feet and exterior height of 8 ft and 3inches. As the name suggests it was a small trailer having only one bedroom. The model had aluminum exterior covering. The body weight of Chico was 1960 lbs.

Luxury Liner 31'

Silver Streak introduced this model in 1957. This all-metal riveted air-plane type construction trailer came with large picture crank-type windows. All cabinets were made of metal. The trailer was fitted with gas or oil heater, pressure water system; state approved hard plumbing, electric refrigeration. Gas refrigeration was provided at extra cost. The interior designing was tasteful with delectable color schemes.
Among the safety features were electric or hydraulic brakes and double insulated floor and wheel boxes. Luxury Liner had two doors.  Two options: side bath or rear bath were available for this model.

Jet 19'

Jet 19' model was rolled out in 1957. This was an all-metal riveted aircraft-type trailer which came in configurations: with bath and without bath. The overall length of the model was 19'9", exterior height 8'7" and the width 8'. The dry body weight of the trailer was 2440 lbs. The trailer had one bedroom – comfortable for small family. It was fitted with gas or oil heater and electrical refrigerator. The floor was double insulated helping to keep interior warm in cooler days and nights and comfortably cold in warmer times.
For the increased safety - the brake system was electric or hydraulic and the front window was designed as an escape opening.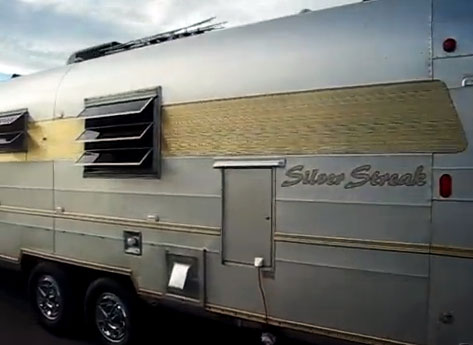 It's "Silver" and it is Rocket from 1973

Rocket 28'

Rocket was introduced in 1959. This model was available in two options: side or rear bath. The coach was lightweight and was easily towable to even difficult terrains. The overall length of the trailer was 27 feet 7 inches, width of 8 feet and exterior height – 8 feet and 7 inches. The dry weight of the model was 4070 lbs. This trailer also sported the all-metal riveted aircraft look which was the hallmark of all Silver Streak trailers.

 About Us / Privacy Policy / Resources
Go to: Pop-up Travel Trailers and RVs
or to: Top 10 Vintage Travel Trailers,  Popular Vintage Travel Trailers