Silverdome Vintage Travel Trailers
Silverdome, Inc pioneered travel trailer business, from 1931 they introducing models Hyway, Scotty, Country Club, New Heritage...

Silverdome, Inc. - a division of Kozy Coach, was established in 1924 and began production in 1931 in Berrien Springs MI.
The President of the manufacturing company was a 38-year-old Norman Christian Wolfe, who, like Trailerman Sherman, pioneered in trailer advertising.
At the time of its heyday Silverdome was the second largest and commercially successful travel trailer manufacturer in the United States.
Sometime, post-world war II, production was moved to Kalamazoo Michigan.
At the peak they shipped about twenty five coaches a month – quite good number given the fact that in early 30's RV-ing business and market needs were in very early "childhood" stage. The production was completely discontinued in 1961 - after 30 years of production!

Four 1936 Models

Silverdome introduced four travel trailer models in 1936 varying the sizes from 16 feet to 18 and half feet. These models came with separate bedroom, rear dinette, and a lot of storage space. Cabinets, drawers and wardrobes were built into every possible space for user convenience.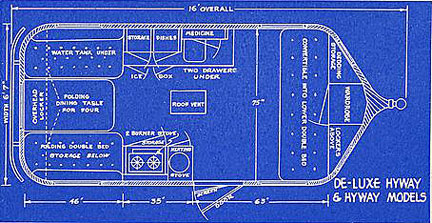 Floorplan of the Silverdome Hyway Travel Trailer (1937)
Source: http://amhistory.si.edu

Hyway

This model was introduced in 1937. The overall length of Hyway and Deluxe Hyway models was 16 feet while the width was 6 feet and 7 inches (narrower than the developing standard of 8 feet). The front of the trailer had a wardrobe, locker alcove and a couch that converted into a double bed underneath the storage space. An ice box and drawer cabinets were on the street side.
The kitchen galley was on the left of the entrance on the kerb side fitted with a double burner stove and an icebox. A double bed was located at the left of the galley towards the rear. There was water tank and a dinette on the rear side. To give shape to streamlined design a lot of interior space was sacrificed. Thus the interior tapered off after 12 feet of floor space.

---
Characteristic shape of the Silverdome Travel Trailer - model from 1955/56
Source: http://www.tincantourists.com

---
Scotty

Scotty model came in three sizes - namely 18', 20' and 22'. Scotty had sleeping accommodation for four or five persons. Combinations of ice and electric refrigerators were available. The 20' and 22' model had shower and toilet.

---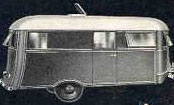 The Big Buy of the year - This is how Silver Dome Inc advertized their trailers in newspapers in 1936
---
Country Club

The overall length of Country Club model was eighteen and half feet. The interior looked delectable with birch interior paneling, special grained cabinet finish, deep cushioned upholstery, chrome hardware, two forward double beds affording sleeping accommodation for four adults, modernistic lighting fixtures, two commodious wardrobes, window shades, linoleum in a shade to harmonize with the interior and so on. A heating stove was enclosed in a grill cabinet. An extra battery was provided to operate 6-volt interior lights.

New Heritage

Silverdome introduced their first 10-feet wide trailers in 1956. They came in two lengths, namely 45 feet and 50 feet. These trailers gave detailed attention to luxurious living – for example the coffee table was part of the standard furnishing. There were features such as wall to wall carpeting, individual lighting over windows, compact kitchen with large refrigerator, furnace with thermostat, 20-gallon gas water heater and many more.

 About Us / Privacy Policy / Resources
Go to: Pop-up Travel Trailers and RVs

or to: Top 10 Vintage Travel Trailers,  Popular Vintage Travel Trailers