Slide in Truck Campers
Learn More About Slide in Truck Campers
Slide-in truck campers are considered as the best value in the RV world.
Although they are miniature camping units that slide into the bed of a pick-up truck, they are very popular among many camping enthusiasts.
Compared to other recreational vehicles available on the RV market, these campers offer the "compact" solution taking the best out of two worlds: cars (in this case trucks used for daily business) and RV world of campers.
Due to the "compactness" of this RV-ing concept, slide-in campers can go almost anywhere you want.
You are not limited to only some campgrounds with large, pull-thru sites like some large recreational vehicles are. Also you will not have any troubles on small roads nor be excluded from any parking lot as you may experience when driving large RVs.


Basic overview of how to load a camper onto the back of a pickup truck.

Apart from these options offered by slide-in campers, they provide comfort and protection as well. Usually they have roofs that pop up to allow walking space, and offer a lot more than space to sleep. There is also space to cook on a multiple burner stove and place to store food in a refrigerator. When the lunch time comes, you can do it at a fold-out table in your sitting area and if you want to take a shower, fully functioning and enclosed bathroom will provide you this possibility. When more storage space is needed for extra water, cooking gas, heater or anything else you wish to take along, you can be sure – slide-in truck camper has it.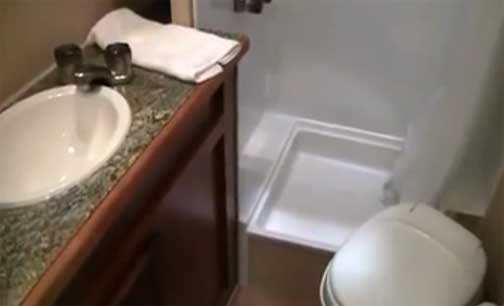 Chalet TS116 Slide-on truck camper - full bathroom!

Summarizing all the options provided by these truck campers, you may conclude that not only they can make long trips, but that these trips may be truly enjoyable.
Being manufactured to be durable, lightweight and with reasonable prices, these campers are extremely popular among campers worldwide. They are very easy to use. Sliding-it-in to the bed of your truck is a relatively simple process. And once hooked up, these campers are ready to go.
Another great benefit of these truck campers is that they can be easily unhooked, "parked" and left  behind while you can go sightseeing with your truck.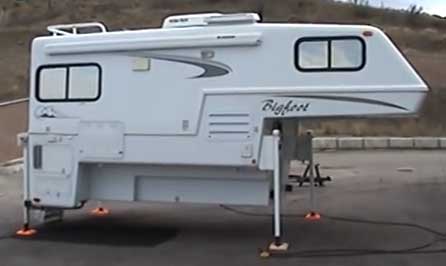 Bigfoot slide-in truck camper - series 2500

Compared to tent or pop up campers, slide in campers offer full protection from weather elements, bugs and other pests that you may face on a camping trip. That's why they are the perfect option for families with small kids. Since they are fully enclosed, you shouldn't have to worry that your children might get out at night or that some animals might get in.
However, the best benefit of slide-in truck campers is their versatility and their value. As far as versatility is concerned these campers can go literally anywhere where truck can go and when the price is concerned they are the least costly and hold their value better than any other recreational vehicle.
The leading company that has been producing the best slide in campers is Tundra.
Their campers are manufactured to fit each lifestyle which is the reason why so many people appreciate and embrace these campers.
The conclusion is that the slide-in truck campers can provide excellent combination of affordability, compactness, comfort and security for most of RV-lovers.
And the best is that camping in these lovely campers can still make you feel like being at home……
That is why, it is no wonder that so many people have recognized these campers as ultimate choice for camping.
---
Visitor's story......

The slide in truck camper provides quick getaways for the avid camper. You will find that the slide folding truck mounted camper is very easy to slip right into with your truck.
Truck shell is durable and stands up to the weather and last for as long as want it to. The perfect pop up slide truck camper provides years of enjoyment. Whether you are looking for a slide in truck camper, tent pop up trailer, four wheel camper or a fifth wheel camper (5th wheel camper) you can be assured of quality that provides for a no stress camping life.
A conversion van is also a great way to camp or add and extra sleeping room if you tow a tent pop up camper.
Taking along the motorcycle or the bike is easy to tow behind the slide in truck campers and provides another great way to enjoy camping and sightseeing. Because of the ease of attaching and detaching the truck shell, people have known to detach the camper on the campgrounds and travel the cities or go the store and just leave the slide in truck campers there.
Travel to some great places like North Carolina in a slide in truck campers and meet new faces in the campgrounds. North Dakota has a nice campground system that allows you to explore the beautiful scenery and area attractions. The beauty of the slide in truck campers is that they are always ready to go anytime or anywhere.
The manner in which you travel is all up to you and the truck camper provides for a feeling of freedom with your truck camper. Load up the family, hit the road to adventure, and see what all the fun is about when traveling and meeting new friends. Fun on the open road with a slide in truck camper.
Never under estimate the camper as a comfortable camping experience. Life is good when you can travel and explore the country in style. Just hop in and take off with a tuck camper for some enjoyable camping and adventurous times in your life.
 About Us / Privacy Policy / Resources
Go from Slide in Truck Campers to Pop Up Campers Trailer Home