Review of Canvas RTTs
American Manufacturers
Presentation of manufacturers of canvas-based (soft) rooftop tents, available series and models, their construction, basic parameters, pros and cons….
Once you decided that a soft, canvas-based rooftop tent is for you (see --> Soft RTTs - are they for You?)  )  let's see what is available on the market. 
Below you will find basic information about soft RTTs manufacturers (including foreign companies) as well as presentation of available models of soft rooftop tents. 
Please note that before you make the choice based on your needs and let's face it - feelings, you verify that your vehicle can take both the dynamic (on the road)  and static (on the campground) load associated with the RTT! 

North-American manufacturers of canvas rooftop tents:
Tepui Tents
         Tepui Tents (Santa Cruz, California) is one of the largest and best-known US manufacturers of roof-top tents.  Currently they offer the following series of soft (A-frame type canvas) RTTs: 

SKY Series
       This is probably the most popular line of Tepui RTTs. All models feature two built-in screened SKY panels offering irresistible views of the starry sky and surrounding trees (provided the rainfly is removed). This is on top of anyhow extended panoramic views through side windows and doors.
Kukenam ruggedized SKY model with visible diamond plate

The line of SKY tents includes:

Autana: Standard, Ruggedized and XL Ruggedized versions, Siberian Camo (Standard and XL Ruggedized version), XL Tan and the smallest model Ayer. 
Kukenam: Standard, Ruggedized and XL Ruggedized versions, Camo (Standard and Siberian) versions.
Baja Series
     This series represents lower-end RTTs and includes models: Ayer, Kukenam and Standard XL. In all Baja models, tent's canopy is attached to the tent's base by a zipper. It allows you to change the canopy depending on your needs (weather, climate zones etc..). The detachable rainfly protection is included as the standard feature. The selection choice includes:
Mesh-shade canopy for hot, humid weather
Lightweight nylon rip-stop canopy for spring
Aluminized canopy for harsher weather conditions
Standard Construction
      Tepui standard tents are made from rip-stop waterproof fabrics (material with interwoven reinforcement threads in a crosshatch pattern preventing tears and their propagation). The canopy is made from polyester cotton with water, UV and mold - resistant breathing coating. The rainfly fabrics is made from polyurethane-coated polyester. The base is made from welded aluminum tubes with the layer of insulation, while the supporting structure from ¾" aluminum tubes. All tents come with the protective cover (Heavy-duty PVC), mosquito screens on all windows and doors, high-density 2.5" foam mattress with detachable cotton cover, universal mounting brackets and 8ft 6" telescopic aluminum ladder as well as with 2-years warranty.
Some models are designed for 4-season camping, but for improved experience, the manufacturer strongly suggest to purchase an optional Weather Hood.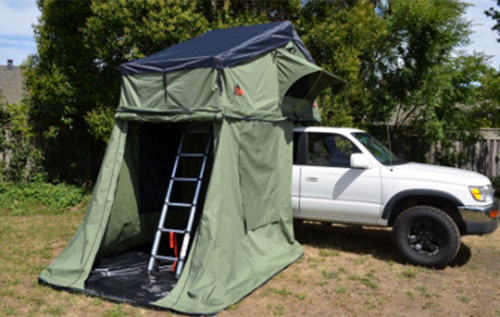 Autana ruggedized SKY roof-top tent (here with the Annex room)

Ruggedized RTTs
      They are especially designed for demanding off-road, out-of-civilization adventures.  The standard aluminum platform includes protective diamond plate. The main body is made with heavy-duty version of the fabrics while supporting structure uses heavier-gauge fully-wrapped tubes as well as includes extra rods and HD hinges. The list of standard features also includes an anti-condensation mat! 
Note that the ruggedized RTTs are definitely heavier, and will require after-market racks with adequate dynamic-load rating.
Size

      The smallest models Ayer (SKY and Baja) are designed for 2 persons. On the opposite side of the "spectrum" – all XL models are designed for 4 persons (practically 2adults + 2 children). All remaining models can sleep 3 persons (2 + 1 child).
Tepui Hard-shell RTTs
    Tepui Tents also offers one model of Hard-Shell (fiberglass) roof-top tent: White Lightning. It is the newest (and most expensive) addition to the impressive line of RTTs. It has an ultra-low profile (8" closed), highly aerodynamic design and includes built-in rack to carry up to 60 lbs of extra cargo (bike(s), kayak….). Interestingly, you can also keep the cargo on top of the shell while the tent is open! With 79" x 54" footprint it opens to 40" height at the entrance door.
Adventure Sole RT
         Mr. Justin Anderson, (owner of Adventure Sole RT) made it clear –  after surviving two encounters with bull moose walking into his campsite he realized that building the "portable" tree-house at every campground may be not practical . His next choice was obvious – designing Rooftop tents that will meet requirements of American Northwest (somewhere between Cascade and Rocky Mountains.)! Today, Adventure Sole RT is a well-known manufacturer of vehicle-based expedition equipment. It's portfolio includes two series of rooftop tents: Bravo (smaller) and Echo (larger one). Both series are available in three versions: Small, Medium and Large.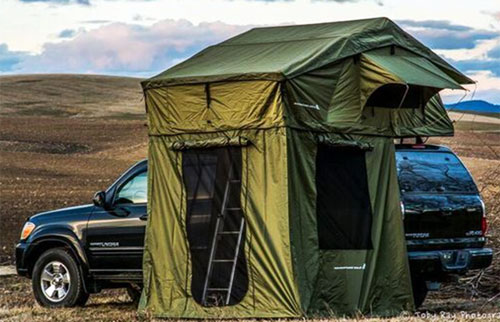 Echo comes with an annex room

        The tents are made from 280 g/ms ripstop poly-cotton canvas. They are breathable, waterproof, mold-resistant and fire-retardant. The polyurethane coating helps to prevent condensation from penetrating the canvas.
The base (1" thick sandwich of aluminum and polyurethane) combines two critical parameters: strength for static loads up to 750lbs (depending on models) and good thermal insulation. Similarly, all elements of the frame are made from aluminum. 
They come with 2.5" high-density foam mattress w/washable cover, 420D Denier-Oxford polyester rain-fly, roll-down windows' shutters (for privacy and weather protection), UV-stabilized PVC-laminated travel cover w/HD zip, insects' screens (can be rolled-up when not required) and 90" tall adjustable aluminum ladder. 
The Annex Room (optional for Bravo but standard feature for Echo tents) zipping to the rooftop tent includes two windows and a door (maximum height from the ground 6.5 ft). 
Bravo RTT

---






Open Size

Closed size

Mattress

Weight [lbs]

S (small)

W x L x H

48 x 84 x 42

48 x 42 x 12

48 x 84

96

M (medium)

W x L x H

56 x 96 x 48

56 x 48 x 12

56 x 96

120

G (large)

W x L x H

76 x 96 x 48

76 x 48 x 12

76 x 96

150
---
Echo RTT

---






Open Size

Closed size

Mattress

Weight [lbs]

S (small)

W x L x H

48 x 112 x 42

48 x 42 x 12

48 x 84

100

M (medium)

W x L x H

56 x 123 x 48

56 x 48 x 12

56 x 96

130

G (large)

W x L x H

76 x 123 x 48

76 x 48 x 12

76 x 96

165
---
Notes: 
1. All sizes in inches
2. Essentially, S-size tents are designed for 2, M-size for 3 and G-size for 4 people.
3. Static load: S-size tents 440 lbs, M-size 550 lbs and G-size 750 lbs
All Adventure Sole rooftop tents can be fold-out to the rear or either side of the vehicle.
Tuff-Stuff Overlander
           The company was founded by two enthusiasts of outdoor activities with particular love for off-road adventures. The company operating from Santa Ana (CA) offers wide range of camping gear including off-road, recovery and overland equipment. The centerpiece of company line of products is soft roof-top tent Overland.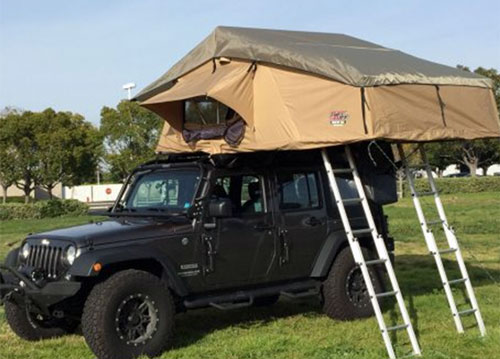 Overlander Elite - model designed for 4-5 persons is currently the largest on the market.

 It comes in three models, correspondingly Ranger, Delta and Elite. All models share the following characteristics:
Canvas are made from polyester/cotton rip-stop fabrics with polyurethane coating. They are waterproof, wind, UV and mold resistant and at the same time breathable.
Rainfly is made from Polyester/Oxford material polyurethane coated for maximum water resistance and longevity.
Base frame is built from 1" aluminum tubing and aluminum/fiberglass sheets.
       The model Elite is the largest on the market and can sleep up to 4-5 persons. It comes with 2 entry doors, two ladders and two separate mattresses with removable cover as well as split wall to offer some sort of privacy. The list of standard features also includes mosquito screens, PVC driving cover, mounting hardware, storage nets.... Interestingly, the Elite can unfold on either side of the vehicle (side or rear). 
All Overland roof-top tents are reasonably priced. 
Smittybilt (Overlander)
            To find the beginnings of Smittybilt you have to go back to 1956 when Mr. Basil Smith (known among friends as "Smitty") started a small mashine shop in his garage. As an enthusiast of Jeep off-road adventures, he wanted to develop camping accessories for slowly gaining popularity 4WD lifestyle. New ideas as well as the current name Smittybilt was brought to the "garage" by Smith's son Tom. The rest is history, and it is a prosperous one given the fact that today Smittybilt is an internationally recognized supplier of accessories for trucks and SUVs. Company's product line includes series of Overland rooftop tents reflecting the latest trends in recreational industry.

Overlander rooftop tent comes in two models: XL 2883 (designed for 3-4 people) and its smaller version 2783 (for 2 +1 child). While not specifically designed as winter tents, Overlanders can be used year-round in moderate climate zones.
Overlander model 2783 Canvas rooftop tent

 ... and its interior

---
Parameters


Open size W-L-H

Closed size W-L-H

Weight 

Static load

Overlander XL 2883


122" x 76" x 51"

 47" x 76" x 11"

148 lbs (67 kg)

770 lbs (350 kg)

Overlander 2783


95" x 56" x 51"

47" x 56" x 11"

132 lbs (60 kg) 

661 lbs (300 kg)
---
Overlander's main structure consists of base (1" thick aluminum and polyurethane) and anodized aluminum poles with stainless-steel hinges. Canvas are made from heavy-duty rip-stop polyester impregnated with polyurethane for waterproofness.  The tent comes with lite waterproof oxford rainfly, 18" wide, anodized aluminum sliding ladder (extends up to 6'10"), mesh windows, 2.4" thick foam mattress w/removable and washable cover, water and UV resistant travel cover. The LED lighting strip built into the tent's roof with lighter adapter (for charging phones, tablets ….) is also a standard feature.  It runs from car's standard 12V cigarette lighter.
As an option, Smittybilt offers an Annex that can be attached to the tent. It provides much needed "changing room" firmly standing on the ground.  
Note that Smittybilt Overlander is one of the most affordable rooftop tents on the market. 

Yakima Skyrise
             It all started in 1979 when Steve Cole and Don Banducci purchased a small machine shop Yakima Industries. As enthusiasts of outdoor activities and true visionaries of future needs for recreational sporting equipment they gave new direction and new dimension to this pretty much unknown company. Today Yakima operating from Portland is well-recognized supplier of vehicle racks (for bikes, boats, roof tents…), cargo boxes, bags and baskets, small cargo trailers and since recently canvas-based (soft) rooftop tents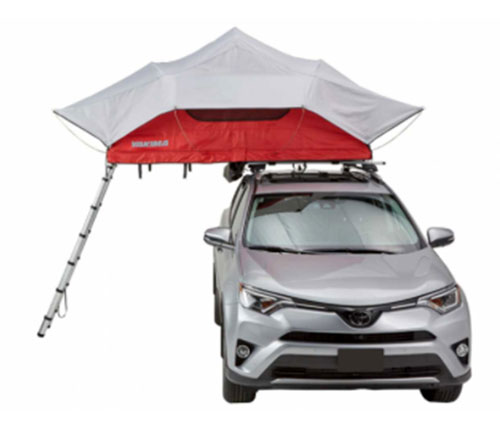 Roof-mounted SkyRise Medium tent

Currently Yakima offers two models of Skirise RTTs: correspondingly Small for 2 persons and Medium for 3 persons (2+1kid).  These days it is difficult to distinguish yourself in the crowdy market of rooftop tents (RTTs) – Yakima's main advantage is light but strong design. Canvas are made from rip-sop 210D nylon (lite, breathable) with mesh ceiling panel for better ventilation. The rainfly made from the same lite 210D nylon (but this time impregnated with polyurethane) provides protection from weather elements.
The tent comes with 2.5" foam mattress w/detachable and washable cover, aluminum ladder, travel vinyl cover and mounting hardware. Interestingly, the mounting process is easy (tool-free, no bolts required, instead some sort of clamps are used) so it can be quickly mounted/removed from the vehicle. Actually, manufacturer claims that it can be done in about 15 minutes what (if true) is a real advantage for owners of family cars used on a daily basis for commuting or business. In fact, Skyrise RTTs are designed for family cars rather than for off-road Jeeps and trucks.
For protection from theft, SkyRise tents are locked to racks with SKS Lock Core mechanism. Two of them are provided as standard features.
---
Parameters

Size open

Size closed

Weight

Stating Load

Skyrise Small


48" x 84" x 42"

48" x 42" x 12"

95 lbs

400 lbs

Skyrise Medium


56" x 96" x 48"


56" x 48" x 12"

115 lbs

600 lbs
---
Yakima's Skyrise rooftop tents are relatively inexpensive compared to similar products from competitors.

Mombasa Outdoor RTT-90xx
           Mombasa Outdoor is part of Mombasa Brand name recognized in US for its mosquito nets and original bed canopy designs.  It all started in 70's with the trip of Mr. John Edgar to Africa. Inspired by the urgent needs for mosquito nets, he together with his friend came to the idea of designing and manufacturing these life-saving items. Soon after (although in more "romantic" forms and shapes), the nets (or rather canopies) captured attention of interior designers opening doors to residences of higher level society. Mombasa Outdoor (and their main product rooftop tents) was just the natural step towards the company's roots - the Safari-inspired "outdoor living".  
We must mention however that throughout the years, Mombasa kept alive its belief that their mosquito nets (canopies) should not only be part of Hollywood luxury, but should also and may be first of all keep saving lives of those in need. That is why, Mombasa runs the program "One for One" (with every purchase of Mombasa brand canopy, the company gives for free a mosquito net to a child in need).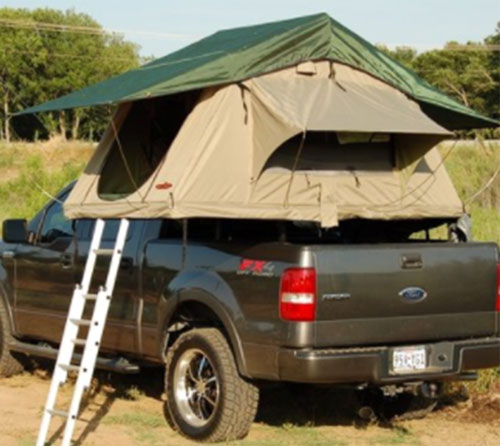 Model 9008 Expedition
        Currently, Mombasa Outdoor offers three models of soft (canvas) rooftop tents, correspondingly 9008 Expedition designed to sleep 2 persons, 9009 Explorer (sleeps 3) and the largest model for 4 persons – 9011 Adventure.
All these tents are made from polycotton w/polyurethane coating offering first level of weather protection. Two mesh windows are protected from rain by external awnings. The rainfly from polyester fabrics w/PVC (Polyvinyl chloride) coating makes the final "layer" of rain protection. All tents have robust base from aluminum sheet. They come with telescopic aluminum ladder expandable from 45" to 81".
On the negative side - almost everything else (mattress, mattress' cover, travel cover, straps etc (normally part of the standard features) seems to be optional at an extra cost :-(
Cascadia RTTs
           Cascadia Vehicle Tents (CVT) located in Bend (Oregon) is a family-owned manufacturer of rooftop tents, vehicle racks and camping gear. Company's motto: "Live life to the fullest and pursue your passion for the outdoors…" is supported by four series of rooftop tents correspondingly: Mt. Bachelor (smallest one), Mt. Shasta, Mt. Rainier and Mt. Denali (the largest one). Each of the mentioned series comes in two models: Summit (higher end) and Pioneer (lower end). And then each model comes in two versions: Standard and Extended.
The size and sleeping capacity is the same within the family of tents as shown below: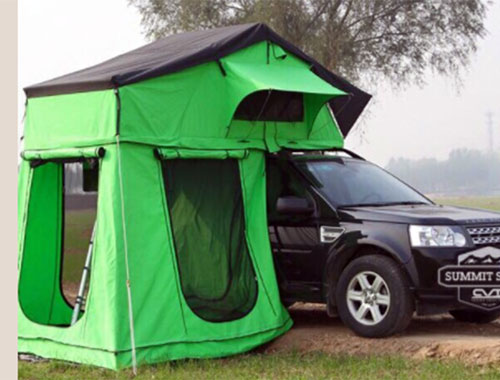 Model: Mt. Rainier Extended Stargazer Summit rooftop tent w/annex
---
Model

Mt. Bachelor

Mt. Shasta

Mt. Rainier

Mt. Denali

Size open (closed) W x L x H

48″ x 96″(48') x 40″ (15.5")

56″ x 96″(48") x 50″ (15.5")

72″ x 96"(48") x 50″(15.5")

87″ x 96"(48") x 50″(15.5")


Sleeps

2

2+

3+

4+
---
Notes:
a) Sleeping area is defined by tent's footprint in an open configuration (W x L)
b) All "Extended" versions are 36 inches longer in an open configuration thanks to added overhang (the open length 132").
All Cascadia's rooftop tents are made from poly/cotton rip-stop canvas. They are breathable, mold resistant, UV-protected and waterproof thanks to PU (Polyurethane) coating. They all come with 2.5" foam mattress, aluminum ladder ( 2 for Denali) , travel cover, rainfly, removable PVC floor and Annex Room. Good news - they are all compatible with roof racks from Baja, Diamond Racks, Front Runner, Garvin, Gobi, Thule, Voyager (Standard Pioneer is also compatible with Smittybilt rack).
There are several differences between Summit and Pioneer tents. For example, Summit tents are made from "stronger/better quality", a better finished and equipped with standard features. Following are the main differences:
Summit versus Pioneer
Canopy - made from stronger material (380g versus 280g for Pioneer)
Mattress with waterproof cover (versus washable blend of cotton/poly for Pioneer)
Travel cover - made from PU-coated 600D Polyester Oxford with taped seams (versus 420D for Pioneer)
Ladder - telescopic (versus sliding for Pioneer)
Base - Dimond plate honeycomb aluminum (versus aluminum frame, joists, sheets and foam for Pioneer)
Internal frame – all 1" aluminum but Summit's tents poles are also material-wrapped.
Rain fly – heavier w/ quick release buckles.
     All Summit tents come with LED lights with ON/OFF and dimmer switch, 72″ Anti-Condensation Mat, two shoe rack/holders and two USB ports.
The extended overhang (part of all Extended models) considerably increases the area of the Annex Room. Thanks to this extension, annex not only offers extra sleeping or storage spaces but also covers the ladder and so protects from weather as you enter/exit the tent. 
Note: CVT is an all-American manufacturer of canvas-based rooftop tents (currently 16 models). However, the company also makes one hard-shell model – Mt. St. Helens. With fiberglass floor and roof and typical rip-stop poly/cotton canvas it can sleep 2 to 3 persons.
Hinterland Industries RTTs
           Hinterland Industries (California, USA) is owned and operated by a family deeply rooted (and devoted) to the outdoor life. Having almost 20 years of experience in design and manufacturing of "expedition"- grade gear, the company claims their rooftop tents are some of the finest and sturdiest you can find on the market.
Currently Hinterland offers two models of soft-shell rooftop tents: Rincon and Jalama. Each of mentioned models comes also in Scout edition (lighter and less expensive).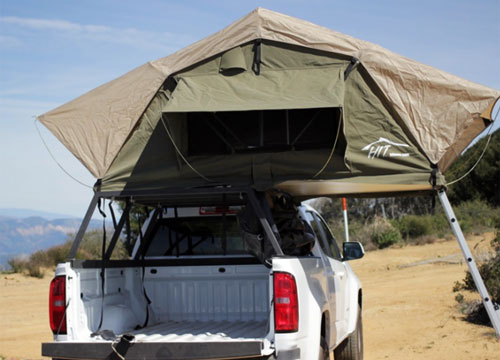 Model Jalama

        All standard versions of Hint rooftop tents are made from very robust 400gsm poly-cotton ripstop fabrics. It's breathable, UV and mold resistant and waterproof (thanks to PU coating as well as dual-stitched & weather taped seams).  The rainfly is made from 420D Polyester Oxford fabrics (waterproof, mold and UV protected). It's elevated to allow for better ventilation.  
The sandwich of aluminum sheets w/fire-retardant insulation layer makes tent's base. Together with supporting structure made from 1" tubing w/alloy joints Hint RTT's should guarantee strength and long lifetime. (it should be noted that Hinterland's rooftop tents are designed for four seasons, so they should withstand snow's load). For this reason, hinges and ladder mounting points are made from stainless steel, while rainfly comes with reinforced mounts.
Tents come with 3" thick high-density foam mattress w/washable cotton cover, 2 straps w/handle loops at the entrance, sliding aluminum ladder and HD, 4 interior storage pockets, waterproof 1200gsm PVC travel cover.
The green colors (canvas and rainfly) help the tents to blend with the surrounding nature!  Note that Scout editions have reduced weight (280 gsm fabrics, 5/8" structural tubing)
---



Open size (1)

Closed size

Mattress

Weight (2,3)

Static load

Sleeps

Rincon


48 x 56 x 15.5

132 x 56 x 50

96 x 56

130 lbs

600 lbs

3

Jalama


48 x 56 x 15.5

96 x 56 x 50

96 x 56

130 lbs

600 lbs

3
---
Notes: 

All dimensions in inches in the format L x W x H
Weight of Scout editions is about 10 lbs lower.
Weight without Annex Room
   Compared to Jalama tents, Rincon tents come with and enclosed overhang and an Annex room as the standard feature. They have also different base (aluminum frame, honeycomb core and diamond plate bottom) in place of Jamala's aluminum/foam sandwich.
Jalama also comes in a lower profile version with curved top (called JalamaCT).
Note that all tents come in green colors (canvas and rainfly). It helps the tents to blend with the surrounding nature!

Odin Designs RTTs
           Founders of Odin Designs (Castle Rock, Colorado) certainly took inspirations from opportunities offered by the surrounding Mother Nature. According to company's claim, Odin Designs are dedicated to "…  offer the highest quality outdoor gear for wherever your adventures may take you". But due to the location, most likely initially this "wherever" was targeting nearby Southern Rocky Mountains. No wonder (given the roughness of the territory as well as thriving wildlife) rooftop tents are focal point of company's product line.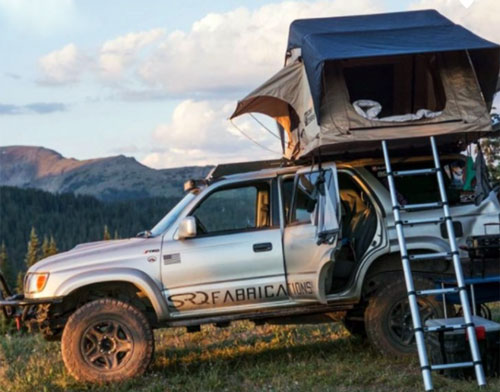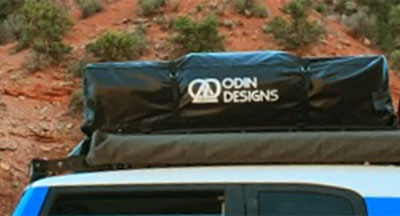 Type-S rooftop tent: in open and folded configurations.

        Odin Designs offers two series of soft-shell (A-Frame shaped): Type-S and Type-E rooftop tents. To make it clear – "E" stands for "Extended" and refers to the overhang covering the entrance and ladder. The overhang also offers chance to easily attach an Annex Room (standard feature for Odin's Type-E rooftop tents). Each type of tents comes in two different sizes, correspondingly for 3 or 4 persons.
Oding Designs' rooftop tents are made from 420D/260gsm fabrics (blend of polyester-nylon) reinforced by the ripstop pattern. Thanks to polyurethane coating it is waterproof as well as mold and mildew resistant. Very similar is the design of rainfly (420D/180gsm PU-treated Oxford polyester).
The base is made as a sandwich of aluminum sheets and insulated aluminum square-tubes with a Diamond-Plate bottom. Canvas' supporting structure is made from 5/8" aluminum poles.
Tents come with 2.5" high-density foam mattress w/ washable cover, anti-condensation mat, YKK zippers, side-windows awnings (rolling all the way up), central skylight, 1200D/680 gsm PVC-treated travel cover, 8 ft telescoping aluminum ladder.
Note that a clear PVC window is added to the rainfly to take full advantage of tents' skylights.
---



Open size (1,2)

Closed size

Mattress

Weight (3)

Type-E (for 3)


126 x 56 x 49

48 x 56 x 12.5

96 x 56 x 2.5

130 lbs +18 lbs

Type-E (for 4)


126 x 56 x 49

48 x 56 x 12.5

96 x 56 x 2.5

130 lbs +18 lbs
---



Open size

Closed size

Mattress

Weight

Type-S (for 3)


96 x 56 x 52

48 x 56 x 12

96 x 56 x 2.5

?

Type-S (for 4)


96 x 76 x 52

48 x 76 x 12

96 x 76 x 2.5

125 lbs
---
Notes:
All sizes in inches, format L x W x H
Exterior height (w/rainfly), Interior height is 43"
Extra weight - Annex (including detachable floor, mounting hardware and window rods)
Note: Type-E rooftop tents are preferred solution for toll vehicles (SUVs, Jeeps….). It will allow to fully benefit from the Annex Room (adjustable from 6.5 ft to 7.5 ft). Type-S rooftop tents can be mounted low, so while they will do well when installed on taller SUVs and Jeeps, they are also suggested for truck beds, trailers, compact cars etc…

---
The list of North-American manufacturers of roof-top tents also makes a Canadian company:
Treeline Outdoors RTTs
             Treeline Outdoors is a Canadian manufacturer of rooftop tents. It was founded in 2013 in Alberta (Canada) by enthusiasts of adventures into the Wild Nature after being attacked by a grizzly when in the tent. This frightening encounter was an inspiration to come-up with the safer solution – rooftop camping. Indeed, a model of rooftop tent was the first product introduced on the market by the new-born company…..
Today the Treeline Outdoors is a recognized manufacturer of rooftop tents and camping tools. Currently the company offer 4 models of rooftop tents: 
Lodgepole (entry-level tent designed for 2 people)
Tamarak Constellation (premium model for 2-3 people)
Ponderosa (mid-size model for 3-4 people)
Redwood (largest model designed for family of 4+).
The last three models represent the 3rd generation of Treeline tents and come also in "Goal-Zero" versions equipped with a solar kit and an Annex Room.. 
Why Treeline_ Ten Reasons from Treeline Outdoors on Vimeo.
    All Treeline tents are designed for harsh conditions of Canadian wilderness and climate.  Their main characteristics (clearly differentiating Treeline rooftop tents from competition) are:
Tents have "rounded" shapes (instead of typical "boxy"). That makes them "more aerodynamic" and so slightly "smooths-out" the impact of wind, rain and snow… 
Canvas and fly are made from stronger fabrics. Thickness of 380 gsm polycotton tend body and 420D Denier Diamond rip-stop rainfly seem to be a good compromise between sturdiness, weather protection, cost and weight.
Canadian climate obliges – the canopy window and dual skylights are designed as frost-proof. It promises stargazing "spectacles" during clear night and natural light during a day.
Roll-up windows' awnings. While windows awnings are essential to protect tents from weather elements they also greatly limit views on the surrounding nature. Treeline proposes solution allowing to quickly roll-up awnings (weather permitting) to take full advantage of rooftop tent location!
With the exception of Lodgepole, all remaining (3-rd Generation) models are made on honeycomb aluminum bases. Aluminum tubing (frame and canopy poles) have 2mm (80 mils) thick walls. Such design is lightweight and offers strength, durability but also some sort of thermal barrier. Also, the canopy poles are equipped with condensation sleeves!
Quick-Release (hand-tighten) mountain brackets. They allow for quick tent's installation. While short installation/removal process is welcomed please note the weight of rooftop tents (103 lbs to 183 lbs) makes it quite difficult anyhow and requires participation of at least two (if not more) persons. 
In partnership with Goal-Zero (industry leader in portable solar power), all Treeline tents come with straps (D-rings) on windows awnings. They are designed to securely attach solar panels. The solar kit (panels, interior LED lighting and charging stations) is a standard feature in all "Goal-Zero" versions of Treeline tents.
To keep the "stuff" off the ground, well organized and safe, Treeline offers "Shoe/Utility bags attached under the tent's base. The idea of keeping the shoes for the night out of the tent, but easily accessible, protected from weather elements and eventual "crawling intruders" seems to be very clever. You will also find HD rubber latches for storing heavier gear under the tent (35 lbs max load).   
---
Model





Lodgepole


Tamarac

Ponderosa

Redwood

Open LxWxH 




122x56x50

122x56x50

122x72x50

122x88x50

Mattress

[inches]

95x55

95x55

95x72

95x88

Weight

[lbs]

113

103

135

183
---
Note: when closed (travel configuration) tents have the following dimensions: 49" x W x 15"

 Each Treeline rooftop tent comes with 2.5" thick, high-density foam mattress with waterproof cover.
As mentioned earlier, Treeline 3rd gen rooftop tents are designed for four-seasons adventures. The strong structure, rugged canopy and fly can withstand the snow load. But it does not exclude them from expeditions to warmer climates.  Two integrated ventilation ports as well as mentioned roll-up awnings and screens on all 3 windows and screens on doors should be sufficient to keep interior temperature comfortable and air fresh.
Camco
Unfortunately Camco recently closed its operations :-(. You will find however on the market their rooftop tents as well as many happy customers....
Please continue at: --> Review of Soft RTTs-2 (next page)
You will find presentation of the Australian manufacturers of soft rooftop tents:
Or jump to the last page of presentation: --> Review of Soft RTTs-3 (page 3)
You will find presentation of the South-African manufacturers of soft rooftop tents:

EEzi-Awn
Bundutec
Front Runner
Howling Moon
Did you change your opinion on soft RTTs? Well, may be you should look instead at --> Hard-Shell Rooftop Tents ?
Note: All pictures on this page are property of mentioned manufacturers
Note:  Check with the manufacturer and / or authorized RV Dealer for the up-to-date list of features, options as well as latest specifications. These written above may not be accurate and certainly are subject to change by the factory. We are not responsible for any inaccuracy, the above text is provided only for the general information.
This review was written based on publicly available information for the benefits of the community of RV-ers. We do not receive any gratification or financial benefits from RV manufacturers, dealers, and any other promoters of RVs. 
We are NOT involved in sale and/or retail of RVs!
---