Sonic X Off-Grid RV: Concept
KZ Recreational Vehicles
Sonic X is a cutting-edge, off-grid RV equipped with 1kW of solar power as well as water pumping and filtering system harvesting it from natural sources like streams, lakes, rivers...
    Boondocking becomes more and more popular and with it there is a growing pressure on RV Industry to design and deliver supporting this lifestyle RVs. To be honest, it's not an easy task. Modern-day Off-Grid RVs have to meet several criteria, of which the following three are the most important. These are: energy and drinking water autonomy as well as comfort necessary to make RV's "tight space" a desirable place to live and enjoy. 

Sonic X Off-grid RV: here with kayak rack

Sonic X Off-grid RV: floor-plan

     Among numerous companies trying to get into this lucrative market is KZ RV – company founded in 1972 and headquartered in Shipshewana, Indiana (subsidiary of world's largest RV manufacturer Thor Industries). On the latest RVX exhibition that took place in Salt Lake City (March 12-14, 2019) the company presented the concept-model of an energy and water self-sustainable RV. To make it clear to readers – the RV Experience is the yearly event that brings the world's RV industry (RVs and in general camping gear manufacturers, suppliers and dealers) together to present and promote the latest achievements and trends in the recreational industry. Some RV products will be newest models already leaving factories doors, some only prototypes waiting for feedback from RV-professionals and visitors, equally important, from potential consumers.
According to the president of K-Z RV Mr. A. Koltookian, presented under the codename "Sonic X" a trailer that should be not only self-sustainable, but also durable, ready for off-road adventures and at the same time stylish and modern, furnished with features conforming to today's (and if possible future) life-style and expectations.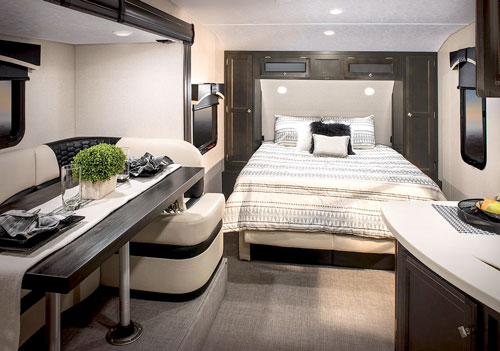 Sonic X Off-grid RV: interior w/Murphy bed in night configuration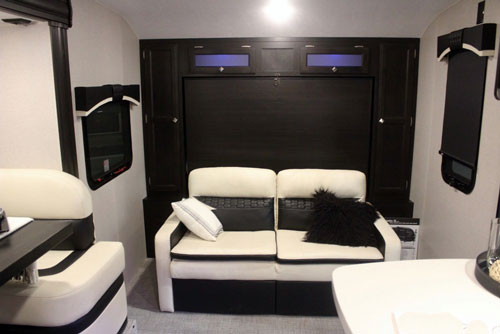 Sonic X Off-grid RV: interior w/Murphy bed in day-configuration

      Given its concept-phase, many details and specifications are not available yet. The current prototype weighs about 6,000 lbs and measures 26 feet of length, but it is only an indication of the company's future plans and if needed – will be subject to change.
However, several construction details and features (while still corresponding to the "pilot" stage), seem to show already well-defined intentions and goals of K-Z RV for their future travel trailer. We can only hope that the project will move soon to its final, commercial production stage.
The model (and released floorplan) reveals major lines of the design: 
front bedroom w/walk-around Murphy bed system easily converting into day-time sofa/love-seat. The bed system also includes integrated side-wardrobes with nightstands and overhead storage cabinets
Central galley including 2-burner stove w/glass cover and sink (both stainless-steel, flush-mounted),  7 cubic-ft, 2-doors, 2-way refrigerator, microwave and cabinetry;
Slide-out dinette with robust "butcher-block" table and wraparound sofa
Entertainment Center (large TV screen integrated into "general-use" cabinetry). Note, that there is also an exterior ET center with an access on the patio (passenger)-side
Rear walk-in dry bath (vanity w/stainless-steel sink, shower cabin w/sliding doors
Stylishness and elegance enhanced by graphic design, décor, leather upholstery, European-style furniture…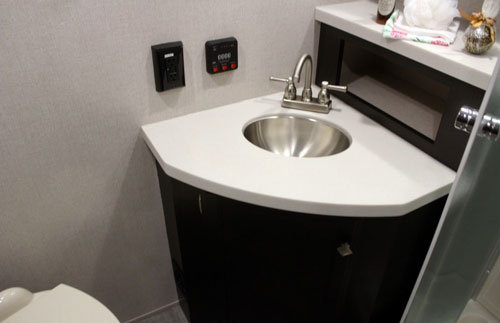 Dry bath: Vanity w/sink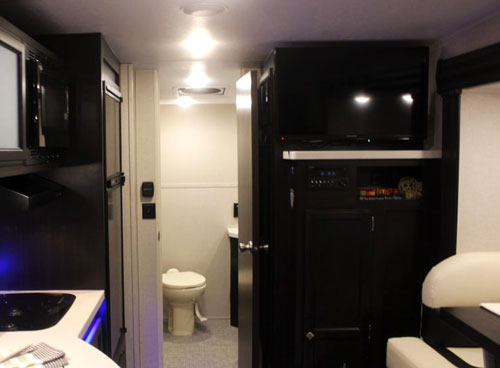 Interior Entertainment Center with dry bath in the background
Construction:
    It's hard to imagine boondocking on the parking lot, no wonder then that the Sonic X is designed as an all-terrain travel trailer. The Huck-bolted frame of this 26ft long model according to K-Z sources offers unmatched strength by far exceeding welding-technology. It's an important durability factor given increased dynamic loads, twisting forces and vibrations to which the trailer will be exposed in off-road environment.
The shell is made from lightweight, carbon-fiber composite material. It promises not only always sought elegance, but also robustness and more importantly - fuel-efficiency. The frameless, tinted windows and Chroma-coated reflective roller shades help preventing heat and UV infiltrating camper's interior.
The "Rock Buster" skid-plate (well, the name speaks for itself) was mounted under the trailer to prevent damages so typical in "no-road" environment. Twin torsion axles with 30 inches off-road tires….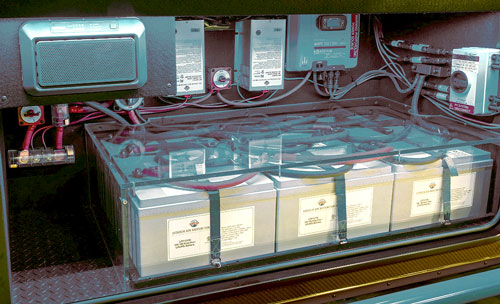 Bank of Lithium-Ion batteries
Energy-autonomy
     The roof-mounted array of solar panels combines 1kW of installed power. It feeds the 1,000 Ah bank of nine lithium-ion batteries. It's serious power, certainly highest installed as standard, fixed power in commercial RVs although far from as the company claims, "endless solar power". At first look, it seems that major electrical RV's appliances including: microwave (high peak power, but limited to just a few minutes), refrigerator (if needed, also able to run on LPG), Entertainment System (two TV screens, stereo….), dual-power fan and power-efficient LED lighting throughout the camper can fit into 1kW power budget. 
However, let's remind readers that the power budget will depend on weather conditions as well as an angle and length of exposure to sunlight (so, time of the year and geographical location). On the other hand, the power consumption will depend on the owner's decisions….
The LPG (2 x 20lbs tanks w/auto-changeover) is still the only source for crucial 2-burner stove and obviously it is not "endless" power source, it needs replenishment!
Fresh Water-autonomy
       Thanks to big technological progress the dream of energy autonomy slowly but surely is becoming the reality. However, viable RV systems guaranteeing continuous access to fresh water are still in their infancy (despite the fact that without water there is no life). So far, such systems (although on a smaller scale) are successfully used in "Expedition-type" RVs. Well, the K-Z seems to take a lead in solving this problem. 
The Sonic X comes equipped with "Secondary Infinite Water System" (SIWS) designed to pump water from natural sources (streams, lakes), filter it to "drinkable" form and then store in a "gigantic" (100 gallons) tank. The system comes with heavy-duty water pump and 25 ft long hose (the latter will certainly need extension).
Certainly, the Sonic X it is the good news for boondocking aficionados although still, we must wait till it materializes.
Expected construction details:
Frame: Huck-bolted
Body: Carbon-fiber composite
Windows: Tinted
Suspension: Twin, Torsion axles
Wheels:  30 inches off-road tires
Leveling system: LevelMate Pro high-speed power stabilizing jacks
Tongue jack: Power, LED-lighted
Bumper: Triple-tube
Protection: Rock-Buster skid plate and 360 degrees "Nerf-bars"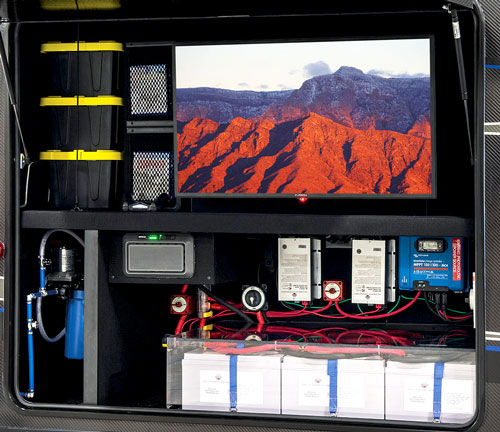 Here you have it all: Bank of batteries, water system, storage w/bins and large TV screen (all in one exterior compartment)
Expected "Off-grid" features:
1,000W of roof-mounted Solar Panels w/control system
Bank of nine lithium-ion batteries
Secondary Infinite Water System (SIWS) including HD water pump, hose and advanced filtering system
Enormous, 100-gallon freshwater tank.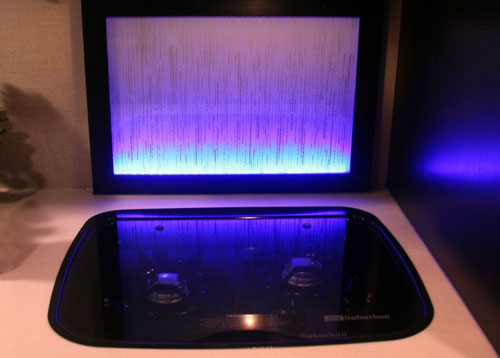 Flush-mounted cook-top with glass cover
Stylish dinette
Expected interior features:
Euro-designed ultra-soft furniture package with midnight accents
Murphy bed system (sofa/loveseat for day, bed for night)
Night-stands w/USB & 110V outlets
7 cu.ft., 2-way (gas/electric) fridge
2 power fans w/rain sensor
USB charging stations
110Vac outlets
Custom dining table
Ultra-soft furniture
Large storage area
HDTV w/ Bluetooth DVD player
Concealed wall Safe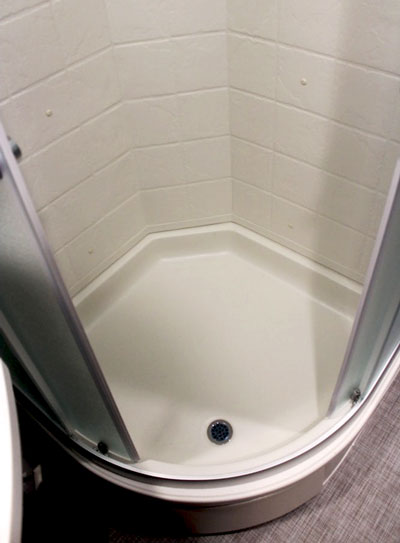 Shower cabin
Expected exterior features:
Integrated bike-rack (for up to 4 bikes)
Kayak rack
30A detachable marine-grade power cord
Back-up camera
Exterior Entertainment System (TV, Bluetooth sound-bar….)
Four roof-mounted high definition LED light bars
Large pass-thru storage w/ slam latch doors, magnetic catches and LED light strip
Wall-mounted safe is an good idea, regarding guns, we would like to point out there there are already too many of them on the streets, so if possible leave them home when going to explore the Mother Nature. And hunt with the camera instead!
         After all these superlatives, let's face the reality. The Sonic X is a good step towards the Environmentally conscious RV designs. But certainly, at the current stage it is Not the self-sustaining, endless-power camper. Requirement for LPG (fossil fuel) necessary to run the stove, possibly water heater and certainly heating system leaves still important challenges for designers and engineers. Another question is bath or rather its grey and black water tanks. The latter can be eliminated by the composting toilet, the grey water however still needs to be filtered before dumped out.
An obvious challenge will be the power-hungry (by nature) cooling system. While for millennia we did not have such comfort, these days it seems like an A/C is an indispensable element of modern life. The massive use of solar energy makes it even more difficult because for better efficiency, the RV should be exposed to the sun, which in turn will make its interior "less enjoyable" (so to speak). One of possible solutions will be replacing Solar Panels by wind turbines but not only at the cost of $$$ (they are bulky and noisy).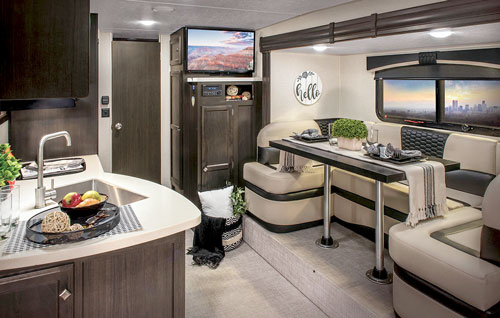 Sonic X Off-grid RV: above residential elegance
Below: here is the fun- up to 4 bikes thanks to front-mounted rack 
BTW – glossy, white exterior will greatly help to reflect solar radiation instead of absorbing it as currently used black composite panels.
Environmental sustainability also means – recyclability of components and materials. Not sure if the carbon fiber (apparently mixed with plastic) qualify to this group of materials. However, to put it in the right perspective - RV's like the futuristic Sonic X, sCaraban, or Living Vehicle seem to be creating the right trend towards environmental sustainability. These are "Forward-Looking" designs stuffed with a lot of eco-friendly, technologically advanced components and systems. Hopefully, this trend will not stop….
Go back to: --> Review of Off-Grid RVs
You may also want to see the close "cousin" of Sonic-X (apparently used for the presentation of the concept of the Off-road and Off-grid model):
--> Lightweight Sonic SN220VRB
Pictures: courtesy of K-Z Recreational Vehicles (either directly or from the article by Mr. C.C. Weiss published in newatlas.com)
Note:  Check with the manufacturer and / or authorized RV Dealer for the up-to-date list of features, options as well as latest specifications. These written above may not be accurate and certainly are subject to change by the factory. We are not responsible for any inaccuracy, the above text is provided only for the general information.
This review was written based on publicly available information for the benefits of the community of RV-ers. We do not receive any gratification or financial benefits from RV manufacturers, dealers, and any other promoters of RVs. 
We are NOT involved in sale and/or retail of RVs!