Sun Lite Truck Camper
Sun Lite is a well known manufacturer of quality truck campers. Although the company went out of business in 2009, their truck campers are still found on the camping market.

Sun Lite has produced truck campers from 1982 to 2000 and at the beginning they produced camping trailers and truck campers and after the 2000 model year Sun Lite truck campers are being produced under Sun valley Incorporated.
Sun Lite truck campers are mainly ideal for fishermen or hunters but are also perfect for small families and couples offering the basic and necessary amenities such as a stove, a fridge and a heater, mattress bed, sink, porch light, a roof rack, a roof access ladder and more.
The company designed lightweight truck campers that are meant for use with small pick up trucks.
Sun Lite truck campers are built on a frame of plywood and fir, with no chipboard employed. Sidewalls have fiberglass insulation on the inside and the whole camper is covered in a high-glass aluminum skin while the single piece roof is covered in vinyl. Although they are smaller in size, they can sleep up to three people on beds and convertible sofas.
They are affordable truck campers, which price vary depending on the model. So, Sun Lite truck camper models from the late 2000s for example may be bought for $6,000 to $10,000 depending on the condition and the model.
Specifications of the Sun Lite truck campers models vary accommodating different truck bed and weight limitations, but the standard features are consistent.
The most popular models of Sun Lite truck campers are: Eagle and Skyhawk,

Sun Lite Eagle models are Eagle RK, Eagle SB, Eagle Wardrobe, Eagle Window, Eagle WS, Eagle WT Sport, Eagle WT/WTSB.
---
---
Eagle RK

Eagle SB

Eagle Wardrobe

Eagle Window

Eagle WS

Eagle WT Sport

Eagle WT/WTSB

12'6"

12'2"

12'6"

12'6"

14'9"

13'10"

13'10"

7'0"

7'0"

7'0"

7'0"

7'0"

7'0"

7'0"

5'7"

5'7"

5'7"

5'7"

5'7"

5'7"

5'7"

1,185

1,090

1,185

1,145

1,485

1,325

1,295
---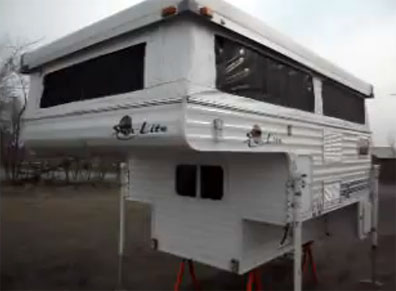 San-Lite Eagle RK truck camper

Sun Lite Skyhawk models: Sun Lite Skyhawk, Sun Lite Skyhawk SB
---
---
---
Visitor's story.....
Believe it or not, the Sun Lite truck camper is still around and when you travel, you see these campers at many different campsites and sightseeing areas.

This truck shell has become a little extinct, but seems to be making as come back as a popular truck camper. Because of so many different types of truck campers such as the Ford Ranger truck camper you probably see many truck campers and do not realize it could just be a Sun Lite truck camper.

Truck camper manufacturing is a popular business with the different style trucks becoming available. The tent pop up travel trailer, a van and a four wheeler still remains popular for most travelers, but the truck camper will still be around for years to come. The Sun Lite camper fits in to this category with the special accessories and custom interior designs.

The popular Sun Lite camper also allows the camper to take an additional trailer with a motorcycle or bike or maybe a car along on the trip for those special sights seen around New Hampshire or New York. Camping is always fun no matter where you stay, the nice thing is the ability to be outside and enjoy the comforts of home away from home.
The Sun Lite camper is made durable and of quality material that's provides for many years of use and enjoyment. If you ever see someone with a Sun Lite camper, jus ask them how they enjoy the camper, they will more than likely tell you they have fun and feel real comfortable inside and out.

Enjoying any truck camper even a Sun Lite truck camper will be an experience that no one can deny himself or herself. So get in a truck camper today and try it out so you can see how much fun camping can be anywhere.

 About Us / Privacy Policy / Resources
Go from Sun Lite Truck Camper to Pop Up Campers Trailer Home