Taxa Mantis Off-Grid RV
Off-Road Travel Trailers
As an off-grid travel trailer, Taxa's Mantis is designed with everything necessary for off-road travel, comfortable RV-ing as well as energy, water, supplies and gear autonomy....
     Mantis is the newest addition to the series of Taxa Outdoors' trailers, and it is the biggest one. So far Taxa is probably known for the unique and I guess we can say already famous Cricket.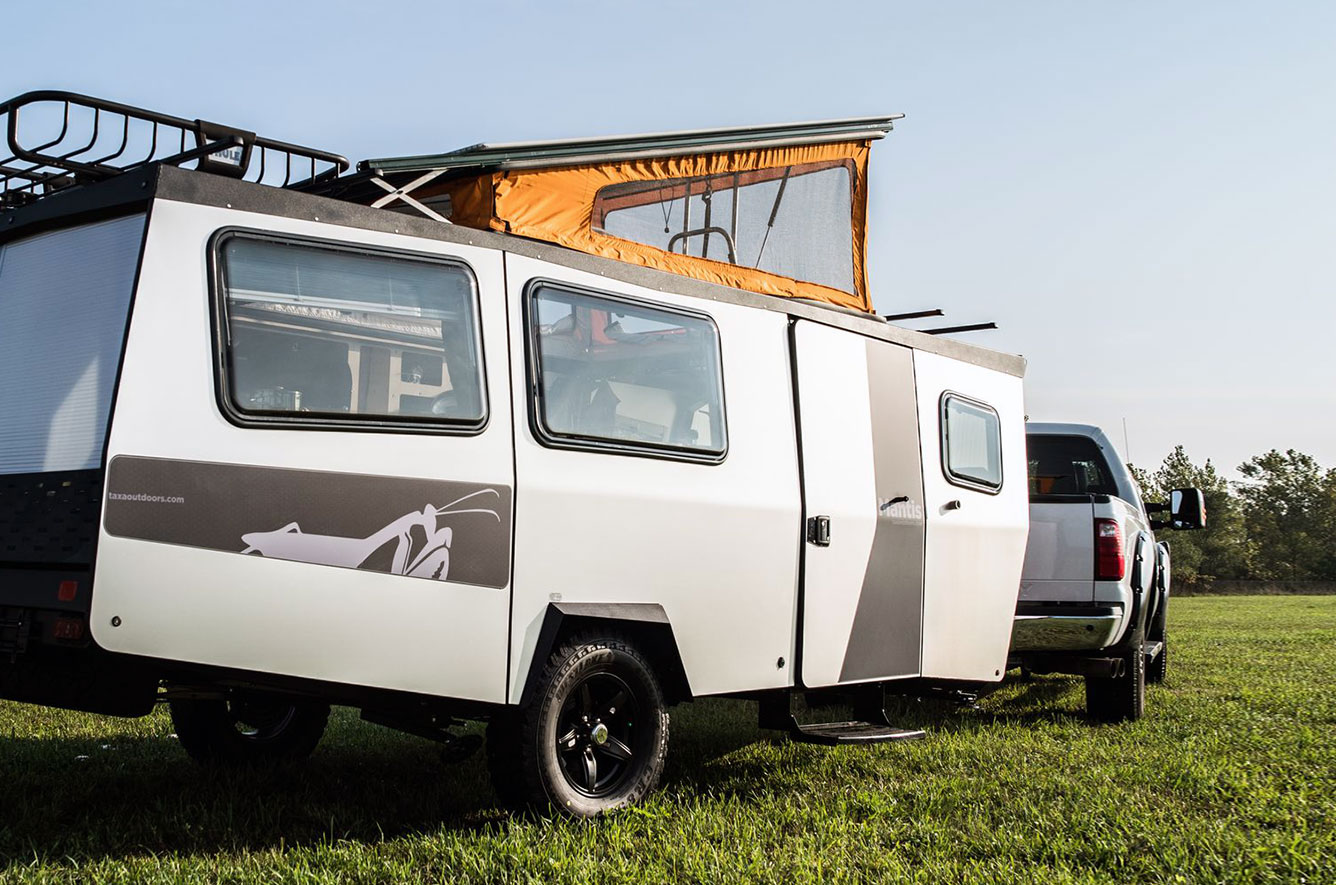 Mantis travel trailer with raised pop-top roof
Mantis floor-plan
       For those however, that so far did not come across any of Taxa Outdoors trailers, let's introduce you to the company starting with the quote from its founder and CEO Mr. Garret Finney: 
Taxa is a leading manufacturer of innovative, lightweight campers and trailers for wanderers seeking off-the-grid adventures.
Well, these words probably could be heard everywhere inside of the RV industry, this time however, they come from the man who in his professional career has several years of work for NASA's space programs.  And understandably, his knowledge and experience can make big difference that we can see (and experience "on the road") in Taxa's designs. 
As an off-the-grid travel trailer, Mantis is designed for all-terrain conditions with everything necessary not only to travel across a no-man land but also to provide comfortable RV-ing conditions, as well as energy, water, supplies and gear autonomy for few days in such environment. These demanding design goals require larger size RV what automatically sets challenges to keep within reasonable limits not only its length but also weight. As if this was not enough, company also wanted to make the design practical, and one of the most important aspect of practicality is the ability to store the RV in a typical, residential garage. That's how Taxa Outdoors came with the Mantis.

Taxa's Mantis in road (and storage) configuration
Description
        Seen from the outside, Mantis keeps Taxa's distinctive asymmetric design style, although to a lesser extent than Cricket. Mantis, with the exterior height of only 6'10" (6'11" for Cricket) - share also another common characteristic of Taxa trailers – low aerodynamic profile on the road and ability to be stored in standard-sized garages. However, in contrast to Cricket, Mantis has a pop-top roof only over the central section of the trailer including kitchen and wet-bath areas (the tilted design offers the headroom correspondingly from 5'11" up to 7'10"). Thanks to such design, the large front and rear sections of Mantis roof are available for cargo and bike racks!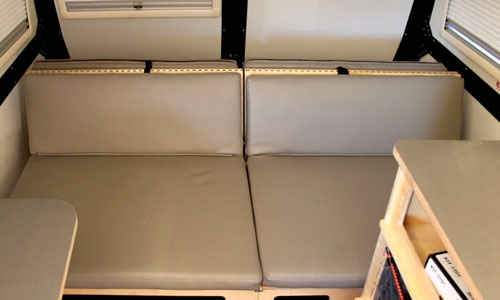 Folding Sofa in its "day-configuration"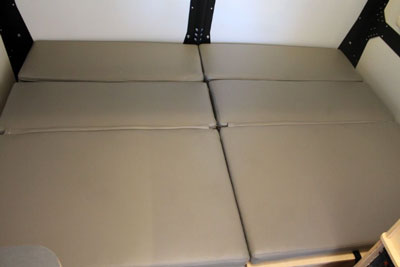 Unfolded sofa makes the full-size master bed
        The sleeping spaces are located at both ends of the trailer with lower headroom of about 4'7". At the back, the day-time sofa converts into master bed (75" x 54") for two adults. While quite comfortable for sleeping, unfortunately, it is not very practical design for frequent folding/unfolding. 
Smaller sofa at the front can be converted to two bunk beds but despite factory's claim that they can sleep adults, it seems that only the bottom one (75" x 24") may be used by an adult person (if really needed). The top one is slightly narrower (75" x 22") and most likely suitable only for a child (provided security measures protecting from falling). It is safer to assume, that under normal circumstances, the Mantis can sleep 2+2 rather (2+1 comfortably) than 4 adults.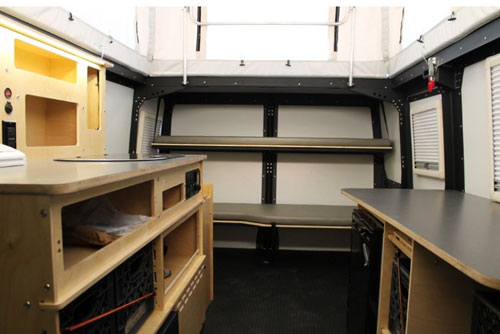 Mantis: view from the master bed
       Central part of Mantis' trailer houses kitchen, working space and wet-bath (the latter is optional). It's relatively spacious and certainly bright area. The kitchen itself provides quite innovative storage strategy. Instead of cabinets with doors and drawers, a bunch of handy, easy to remove milk-type crates is provided by the manufacturer. The combo stainless-steel 2-burner stove and single bowl sink with hot/cold water takes little space, leaving a lot of countertop's area free. This impression is farther underlined by the stylishly tinted lid, fully covering the combo stove-sink unit.
While the free space in any RV is always precious, in this case however, the Mantis' combo design seems to have some limitations. First, due to limited size, it may be quite difficult to use both burners simultaneously. Secondly, the very shallow and small sink bowl is not very practical. In fact, given abundance of working counter-top space on the cabinetry on the opposite side of the trailer, such solution seems to be too "under-engineered" or in other words, not very practical.
The optional fridge with freezer completes the set of kitchen appliances. Altogether, it's not much, but obviously, the Mantis is an off-road and "out-of-grid" camper so power hungry appliances like microwave do not fit well to these design goals. However, there is a lot of room for small kitchen appliances according to individual needs. To make it clear – available space as well as robust electrical system leave a lot freedom for RV-ers. 
It may be worth to mention that "milk-crate" storage boxes can be topped with covers and pads (specially designed for this purpose by Taxa) converting them into seats!
Kitchen with lid-covered combo stove-sink (here on the right side the standard cabinet instead of an optional wet-bath).
      Two 12V deep cycle batteries that thanks to standard solar pre-wiring can be fed by optional Solar Power System provide the energy autonomy when in the wilderness. Two 20lbs LPG tanks significantly add to the overall energy budget. And obviously, the 30 Amps shore power connection with 110Vac/12Vdc converter removes electrical power limits on campgrounds. 
The optional wet-bath consists of a half-height cubic including cassette toilet and shower covered by folding-down counter. The plastic curtains make the upper part of privacy and shower protection system avoiding this way the "crowding" impact of solid-walls. It seems to be a well-balanced solution, just doing the required job, especially thanks to cassette-style toiled that eliminates troubles with draining and cleaning the black tank. Note, that the cassette is accessible from the outside, so its service is relatively easy.  BTW - when it comes to shower – Mantis is also equipped with an exterior hot/cold water shower, allowing for closer contact with the surrounding nature 
Mentioning water tanks –Mantis is equipped with fresh (20 gallons) and grey (22 gallons) water tanks. 
The electrical installation (with exception of an A/C unit and 110V receptacles) is running at 12V. It includes LED lights: interior (with 2 dedicated reading lights in the master-bed area), exterior (with porch and entrance light) and several 12V receptacles and USB ports. The propane plumbing and two 20LBS LPG tanks guarantee the operation of stove burners as well as Truma furnace and water heater (note that the fridge runs only on electricity).
           We already mentioned that thanks to pop-top roof's side-windows the central part of the Mantis is quite bright. But in fact, the brightest part of the trailer is its rear end literally surrounded by windows. It's a strong point of Mantis' design, because almost by the definition, off-road campers are bringing RV-ers into the Nature.  And by extension of this idea, they should also let the nature to infiltrate camper's interior creating some sort of harmonious "continuity" between outdoor and indoor ambiance.
Note that Taxa Outdoors' designers did not provide any cable/satellite TV pre-wiring. It was a matter of an educated decision following Taxa's convictions: "There are no TV programs that can be "healthier" than the Mother Nature. So, once you are already out there, enjoy surroundings instead of staying glued in front of the TV screen".
Galley with storage shelves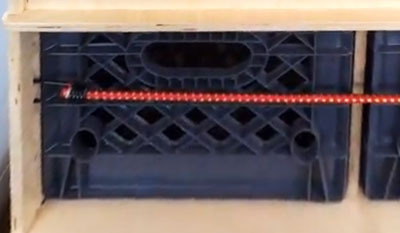 Galley: "milk-crate"- type storage box
Despite its medium-size, the Mantis travel trailer offers a lot of storage space. We already mentioned kitchen storage areas including shelves and milk crate-style boxes. Now is time to add to that master underbed storage (also accessible from the outside) and under-bunk storage space. Even when the lower bunk bed is set down to form a couch, the available space is quite spacious and can be used for larger camping gear (folding chairs, table etc…). However, when the bunk beds are folded-up on the wall, the space is fully opened for large items (if needed you can keep bikes when on the road). 
Obviously, the two racks on the roof provide extra space for bulky stuff. The rear one can be equipped with optional bike racks, solving the major problem for biking lovers. For easy access, you will find a little step on the back of the trailer, helping to reach the racks.
And then, like in most off-road RVs, storage space is a matter of pragmatic approach combined with imagination. And this is a "room" for hanging nets on the walls or under the ceiling for all kind of small items that should be easily accessible for everyday use.
BTW – generous storage space and a large 8 feet long awning open unlimited possibilities to move the living space closer to the nature.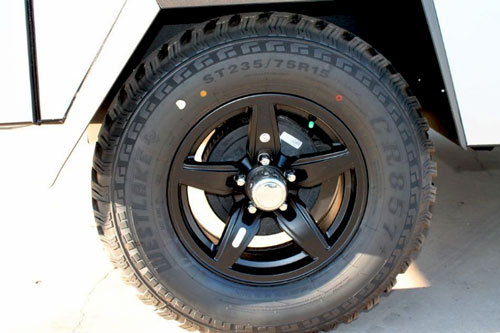 Mantis: all-terrain tires
       As expected from off-road campers, Mantis is built sturdily for all-terrain driving conditions. The frame as well as shell's structure is constructed from powder-coated steel. Whenever possible however, aluminum sheets and reinforced plastic is used to minimize the weight. Foam-core walls insulation as well as effective A/C unit and optional Truma combo Furnace & Water Heater allow for extended season RV-ing. Obviously, canvas-based walls of the pop-top roof are a weak spot in overall insulation strategy. But as we all know very well – nothing comes free and this compromise seems to be a reasonable trade-off between the low profile (aerodynamic on the road and ability to store in the garage) and comfortable headroom for living.
All-terrain 235/75R15 tires and ample trailer's departure angles should make driving across a no-man-land a hassle-free experience. 
Needless to mention, that the A/C unit (cleverly wall-mounted into the kitchen cabinetry) can be of help only when you are connected to the grid.
To continue and see Mantis' specifications as well as its standard and optional features go to:
--> Mantis Off-Road RV: Specifications and Features
Looking for top off-road RVs? Please go to:
--> Basics of Off-Road Campers
--> Review of Extreme Off-Road RVs
Most Pictures: courtesy of Taxa Outdoors
Note:  Check with the manufacturer and / or authorized RV Dealer for the up-to-date list of features, options as well as latest specifications. These written above may not be accurate and certainly are subject to change by the factory. We are not responsible for any inaccuracy, the above text is provided only for the general information.
This review was written based on publicly available information for the benefits of the community of RV-ers. We do not receive any gratification or financial benefits from RV manufacturers, dealers, and any other promoters of RVs. 
We are NOT involved in sale and/or retail of RVs!