Tent Camper Trailer
The tent camper trailer is designed for easy towing and easy set up.
Choosing a recreational vehicle that is perfect for you and your family can be very difficult task.
There are so many different types of RVs that sometimes it is hard to make up our mind.
However, if your budget is low and you still wish to own a recreational vehicle, then the tent trailer is a perfect choice.
Tent trailers are type of recreational vehicles that are among the lightest and easiest to operate of all RVs. They can be towed by a large range of vehicles including any mid-size car with a hitch. And an extra bonus - when not used, the tent trailer can be stored in a typical garage in order to protect it from the weather.
Tent trailers can sleep from 2 to 6 people so they are ideal for families with kids. Although they are compact when closed, once opened they offer a lot of space.
Like any other recreational vehicle, tent trailer offer many features, which make them highly popular in the camping world. Inside they have comfortable sleeping areas - sometimes hidden in the center part of the trailer but in most cases in the folding-out extensions. Other features include sinks, stoves, tables, refrigerators, while some may have even showers. All the items inside the tent trailers are specially designed to fit into limited space of the trailer and still leave enough of an open living space.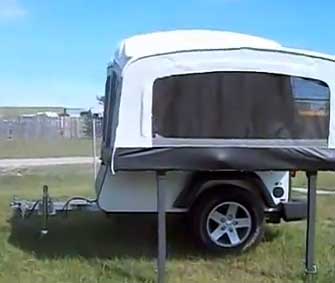 Livin-Lite soft-top-tent trailer

Indeed, living areas in most of tent trailers are quite pleasant giving a feeling of space due to large, roll up vinyl windows in the canvas sides.
Their affordability affects the buyers' decision very often. As buying any RV is usually great commitment, purchasing tent trailer is very reasonable. Furthermore, they do not significantly increase your fuel economy and when you take into consideration their easy towing, there is no a single reason not to choose this type of trailer as your first recreational vehicle.
There are few classes of tent trailers – two most popular are standard fold down tent trailers, which are known as pop up and soft-top tent trailers. The main difference is that a pop up has a hard roof and a box that opens and expands to approximately double its starting length while soft top trailers are generally lighter because they have a soft fabric top instead of a hard roof. The main manufacturers of pop up trailers are Flagstaff, Rockwood, Starcraft, Palomino, Jayco, Viking, Coachmen while Jumping Jack and Livin Lite produce soft-top trailers.
Another interesting type of tent trailers is a flip-top tent trailer.
The main idea behind this design is that the lid unfolds to become part of the floor of the camping unit while canvas unfolds to provide waterproof covering.
These flip tops can be set-up amazingly quickly.
There are trailer tents where most of the walls are made of canvas.
The fabric of the tent is folded out from the trailer and pegged out. These trailers offer off the ground beds that fold out from the main trailer body.
As you may see, there are many different types of tent trailers but the most important thing is to be satisfied with what the trailer gives you.
To conclude choose the trailer according to your needs.
And here is the idea of Flip-top (FlipPack), although this time in stalled on the pickup truck.

---
Visitor's story......

If you have the urge to get out and travel to Alabama, Alaska or anywhere else in the country, you just have to get yourself a great camper and hit the road.
You can find nice pop-up trailer campers, truck campers or any other type of camper everywhere you look. If you are on a budget, look for something a little older than the newer models.
You might find a 1981 or a 1982 pop-up camper and you could take the inside and turn it into a unique camper with everything you want and need as far as accessories are concerned.
The tent campers are great for the entire family; you can travel with the pets and have an enjoyable time. I like camping close to attractions and taking the bikes for a ride to see the things I never get to see every day.
I especially like Alabama this time of year and the scenery is one you never forget. You can ride your bikes everywhere and have a great time. Then at night, you put a log on the fire, listen to the crackling fire while the neighbors stop and say hi, and enjoy story telling.
It is always fun for everyone hearing the stories of others. You never know what you are missing until you try it and you will want more.
The tent camper trailer is just one of the many ways to enjoy camping life, the other would be, and well there is no other way. The seasons are great and the country is beautiful. You will never find something more exciting then camping with a recreational vehicle of your choice. Get out and have fun this summer with a pop-up tent camper.
 About Us / Privacy Policy / Resources

Go from Tent Camper Trailers to Pop Up Campers Trailer Home
Starcraft Tent Campers / Pop Up Tent Campers Trailer

Camping Parks in US,  Campground Parks in Canada