Titanium Fifth Wheels
What are exactly titanium fifth wheels?

Titanium fifth wheels are manufactured and produced by Glendale RV Company, which is   Canadian company, an industry leader in the recreational vehicle market

That is the reason why when Titanium fifth wheels are mentioned is usually referred to Glendale fifth wheels.
The famous company estimated that there are over 120,000 vehicles registered and in use throughout the world, especially in North America.

These famous recreational vehicles got the name thanks to their several advantages over many other recreational vehicles of this type.
The major advantage is that the company uses a unique design approach in order to handle few critical key points for the campers. First of all, the positioning of the pin box provides that more of the interior space is placed forward of the truck rear axle.
This enables more efficient use of the interior space and makes the vehicle 15% shorter in tow length in comparison to many other fifth wheels. Next great benefit over other fifth wheels is that Titanium fifth wheels have aerodynamic design of the front cap which makes the Titanium fifth wheels a distinctive and interesting appearance.
Apart from the amazing design, it also contributes to significant fuel savings reduction of the tow vehicle. And we must admit that it is worth accounting especially in those days of economic crisis. This reduction of fuel cost is provided thanks to the front cap with minimal air resistance. Thanks to the front cap design they also provide exceptional road handling and stability.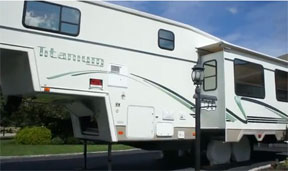 Titanium Fifth wheel looks impressive

Titanium fifth wheels manufactured by Glendale are made of only top quality materials including interior space and indoor systems such as air conditioning, refrigerators, and furnaces. That's why these recreational vehicles are considered as the world's most aerodynamic and the best engineered fifth wheels. They are also design with style and above all they are lightweight.
The first Titanium fifth wheel appeared on the RV market in 2001 and the last model was made in 2010.
Each Titanium fifth wheel is equipped with the Mor/Ryde rubber equalizer suspension system, which enables smoother and more controlled towing. It also provides improved protection for both the unit and cargo by isolating and absorbing road shocks. They range in length from 29 to 42 feet, width 8'0", height around 12" and sleep 4 to 8 or 10 people depending in the model.
Interior of the Titanium fifth wheels is equipped with all the necessary amenities such as queen bed, sofa bed in living area with under sofa storage, day/night shades, bath skylight above shower, 3 burner range, free standing dinette, LCD TV and DVD/CD player with a 5.1 surround sound entertainment system, two swivel rocker recliners in living area. Many more features included in the RV make the journey very comfortable.
Titanium fifth wheels can be used in short bed pick-up trucks as they are made out of lightweight composite materials. They are balanced for easy towing making this vehicle one of the first RV design of the new millennium.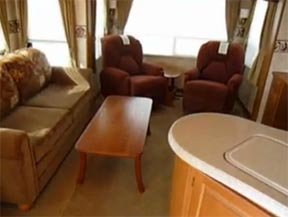 Warmness of the real home is what you will find in Titanium Fifth Wheel

---
Visitor's story.....

If you were thinking about a Titanium fifth wheel, you might like to know some important information about the units.
If you plan to travel to Minnesota or Mississippi, you will want the 5th wheel with everything you need including heat and air-conditioning. Back in 1986 and 1989, camping was as popular as it is now, except fifth wheels were not.
Today, you can buy a new or used fifth wheel with everything you need. You can choose from 29 ft to forty-one foot long units as well. The pin weight can range up to nineteen hundred ponds depending on the model length.
The height in the bedrooms is seventy-seven inches high while the living are has a height of one hundred inches. The windows are made from safety-tinted glass, and the entrance doors are thirty inches wide.
The grey and black water tanks are forty-nine gallons while the fresh water varies from forty-eight to sixty-three gallons depending on the 5th wheel you have. The slide outs operate on a 12-volt drive motor system. The exterior is fiberglass and easy to maintain. The entire line offers many different accessories as well as interior décor.
You can have the mandatory upgrades that has axles that never need lubing, the optional upgrade that includes the interior and comfort packages. Optional equipment package has twin beds, skylight and extended pin box as well as other things. You can find the standard package has a roof rack, monitor panel, inverter of four hundred watts and two thirty pound propane tanks.
The Titanium fifth wheel is quite cozy and seems to have so many different packages for upgrading to so you have everything you need. Traveling needs to be fun and you can make it that way by looking for something that will last and ride comfortably.
 About Us / Privacy Policy / Resources
Go from Titanium Fifth Wheels to Pop Up Campers Trailer Home