2017 Top Toy Haulers


Part 2
Toy Haulers (SURVs) represent the concept of "home-with-garage-away-from home", offering living quarters and dedicated cargo space for "toys"; see top models for 2017/18
Continuing from the  --> PREVIOUS page
We will first finish description of most important characteristics of best Toy Haulers, then proceed to the review of best models on the market.
Ability to handle larger crowd
      While small-size toy haulers are practically designed for "two with toys", the large ones usually can handle and sleep 6 to 10 persons. In such situation just one bath is not enough. In most cases the problem is recognized by manufacturers so bigger rigs have two bathrooms. This gives the chance to keep the front's bathroom as "mostly private" (part of the Master Bedroom), while the second one (usually next to the garage) may well serve remaining crowd. 
You will also find out that many toy haulers do not have dedicated "Dinette Booth". But do not worry, for that purpose you can use any folding table. Keep in mind that once the toys are unloaded, the cargo room takes the form of Living/Dining and Entertainment area. Large folding sofas along the walls need just one or two tables to set-up comfortable conditions for consumptions of meals (but not only….). 
      Large crowd requires a lot of "living" space (whatever it means). If you anticipate traveling in company of friends or family members it may be crucial that your Toy Hauler is equipped with two power awnings and has LP quick connect to set-up an external grill (obviously an external kitchen will be very beneficial). If you are already in the hands of Mother Nature, try to fully enjoy such opportunity, it does not happen on a daily basis….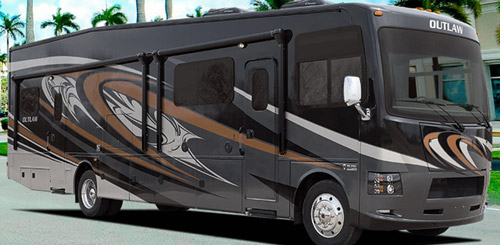 Welcome to the world of luxurious RVs: Outlaw Motor-home 37RB Toy Hauler
Living Quarters
     While the sections above are addressing questions specifically related to Toy Haulers, the living comfort follows the same rules as in any other type of RV. And the truth is that almost all larger toy haulers offer familiar residential-like living environment. Multiple slide-outs, king or queen-size beds, spacious wardrobes and dressers, walk-in bathrooms with radius showers, stainless-steel appliances, wooden cabinetry, solid-surface countertops, leather sofas and chairs, entertainment systems and even fireplace – you will find them all in modern-days SURVs.
Well, it's the sign of time. Most of us gave up on "Spartan" live getting addicted to "luxury".....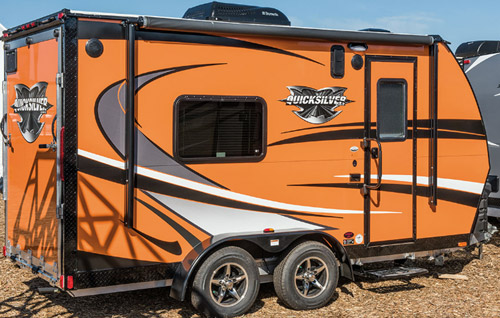 Livin' Lite offeres medium-size QuickSilver toy hauler (box length of just 15'6")
   ... and its floor-plan. Given very modest layout and features this one is for those clearly nature-oriented) 
Toy Hauler: Fifth Wheel or Trailer
....  In other words which one is "better" (whatever it means: safer, easier …) to tow? Although this question is valid for any towed trailer, it has more significance in case of toy haulers as they are usually longer.
And the answer is: Towing a fifth wheel trailer is safer and easier for the following reasons:
The total length of the tandem including the truck and fifth wheel is smaller than that of the truck and comparable travel trailer. And that means – it is easier to tow, make turns and maneuver.
Since the FW's hitch (and associated load) is applied directly over the truck's rear axle instead of at the back of the chassis (like in the case of travel trailer), the ride is more secure. The traditional "bumper-pulled" travel trailer (especially packed with cargo in the real garage) can significantly change the load distribution what in turn may decrease stability, lead to trailer swaying and loss of control.
The downsides – there are always some. In this case it's the hitch that takes the space in the truck's bed even when the FW is unhitched.
Of course in many cases the choice between the FW and TT is made based on the towing car you already own. 
Regarding motor-coach toy haulers – these are really different "animals", so just to let you know, there are companies making them.
OK, so let's start presentation of best Toy Haulers for 2017. (please note that this is a work in progress)
---
Keystone Fusion 325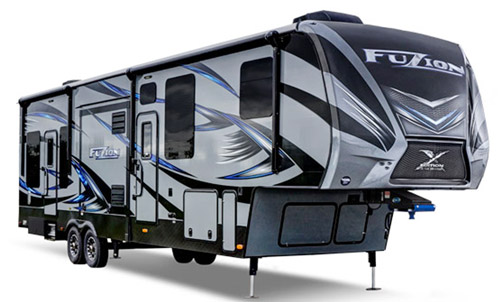 The model 325 is the lightest and smallest from the series of Fusion Fifth Wheels (FW). Of course it's all relative – the absolute numbers with Dry Weight of 12,806 pounds and Length of 38'3" by all accounts make the Fusion 325 an impressive rig. It will still require a powerful, Heavy Duty truck to safely hit the road, but the good news is that it will allow you to carry more toys than you may find in your garage…..
Like most toy-haulers the Fusion 325 offers the flor-plan with front Master Bedroom and bathroom, central kitchen integrated with living area and a rear garage. It has two slide-out extensions (bedroom's wardrobe and living room lunge (reclining-sofa) as well as 2 side entrance doors (and rear ramp door). As mentioned earlier, the Fusion 325 is a higher-end RV with elegant furniture, appliances and look......
See details at: --> Fusion 325 Toy Hauler FW
---
Thor Outlaw 37RB A-class Motorhome
Thor Outlaw A-class Motorhome toy hauler - model 37RB and its floor-plan.
      From the outside the Outlaw 37RB looks like the traditional bus-like A-class motorhome. What makes the difference is the interior floor-plan. Compared to traditional motorhomes the residential-like living area is only slightly reduced (thanks to slide-outs and loft). At the same time a spacious garage and patio are added opening new possibilities once the toys are out. For example the garage can serve as an extra sleeping space, mobile office, dog kennel or together with the rear patio as the large lounge or place for party…. 
See details at: --> Outlaw 37RB Toy Hauler
Livin'Lite QuickSilver 7x20HJ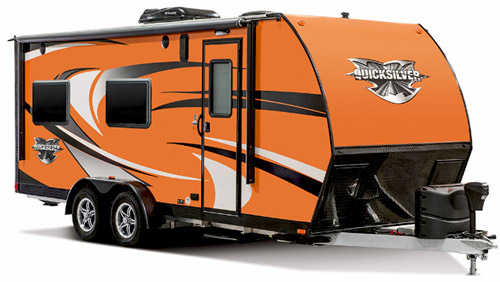 Livin'Lite QuickSilver 720HJ Toy Hauler
      LivinLite offers several models of Quicksilver toy haulers from the smallest one 7 feet wide 7x18FK (it's a newest model with box length < 19ft) to the largest one 8.5 feet wide -  8.5x30FBR (box length of 30'3").
Here we will make the presentation of the narrow body model - Quicksilver 7x20HJ (in many design aspect very similar to the standard model 7x20).
As mentioned earlier there are many benefits of all-aluminum technology. One of them is their lite weight and what comes with it – the affordability. And this is not only due to reasonable initial ticket price but also because some smaller models are within the towing range of popular trucks and even SUVs.....
See details at: --> QS 720HJ Toy Hauler
work in progress!
---