Top Winter Camping Boots
Good winter boots are essential for successful winter camping adventure; see top brands and models to choose from….

Winter camping boots should ideally be waterproof and yet breathable.
They should provide adequate insulation from the harsh weather and should be long enough to reach your knees for full protection.
The best ones are laced so that they snugly fit your feet and do not give you sore feet at night.
That given, most of the professional campers prefer branded double layered boots that speak for themselves in times of needs.
And most of them recommend double layered boots because they give extra protection and insulation for the toes and feet.

The best double-layer insulated boots
Garmont Momentum Mid Snow GTX boots ($140+)
Not succumbing even in -4F, this boot is long lasting and recommended for the harsh winter conditions. The outer structure is of leather and the lining with waterproof nylon.  It gives good traction in the snow and keeps your feet insulated with the Gore Tex Koala Membrane lining inside the boots. It gives good ankle protection as it has a mid-cut and the stiffness pad inside gives a comfortable ride. The three layered soles will give you comfort, traction and all the flexibility you need.

Garmont Momentum Snow GTX boot
---
Caribou Wool Boot  ($160+)
Withstanding subzero temperatures, this one has the advantage that it has a woolen lining inside. Outer shell is made of vulcanized rubber and inner lining is knit wool. Wonderful traction and useful in deeper snow as well. While the boots are excellent, the only con is that it is on the heavier side. But then, that also adds up to the much needed traction while on snow. Flexible, warm and sturdy enough for rougher terrains. The leather keeps the water/dampness out of the soles.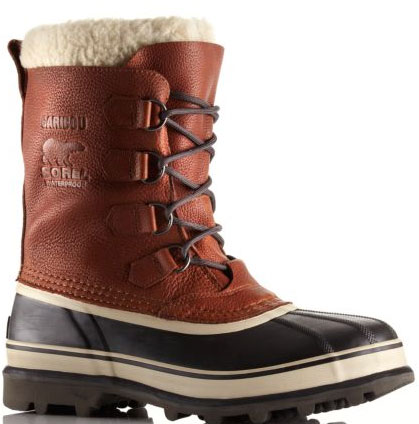 Caribou winter wool boot

---
The Northface ($140+)
This brand has a wide variety to choose from and hence specifications will differ. But the most recommended pair has always been Jozie Purna (for ladies). They are well insulated pull on boots that make winters easier to bear, especially if you love camping. This one is lightweight and made of synthetic outer shell. They are stylish as well as perfect for a snowy night camp. Perfect arch support for longer use.

North-Face Jozie Purna winter boots for women

---
Skechers Earth Pounder Merino Mens Winter Boots ($90+)
Outer layer is all leather and it comes with a rubber sole. There is a faux fur lining inside that will keep your feet warm and cozy. The mid-sole is actually helpful in shock absorption and are quite flexible for a long trek. They are pretty light and hence will prove to be more comfortable than the heavy ones. These lightweight champions can even withstand the near zero temperature of the harsh winters.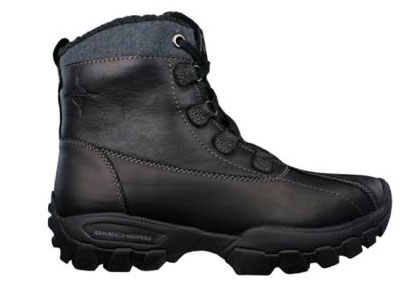 Earth Pounder Merino men's winter boots

Baffin Madelaine ($160+)
Another very recommended winter boot is the Baffin's Madelaine. More to the broader side of sizes, this is another women's pair that looks good and feels good together. They are durable and could even pass as an everyday boots. They withstand -5F and lower. There are zippers lined with leather so that you can get into them comfortably and still not get wet. Not very flexible but makes up for that in traction and support for your soles.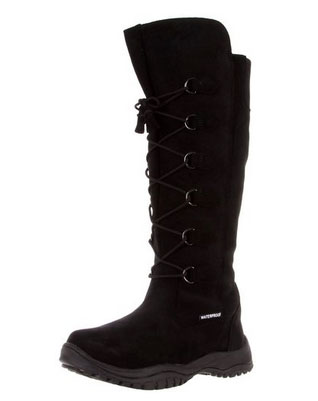 Baffin Madelaine women's winter camping boots

Let's watch other suggestions from experts....

Always make sure you get the right size as fit is a major variable for traction. And get the ones that have two linings. They always are better at keeping the wetness away. Go for knee length ones and tuck your pants or jeans into the boots so that moisture does not dampen the clothes and thus get your feet cold. The prices are only indicative. It may or may not change subject to the distributor.

 About Us / Privacy Policy / Resources
Go to: Pop-up Travel Trailers and RVs
or Best Winter Travel Trailers