Travel Supreme Motor Home Campers
The all-famous Travel Supreme motor home campers bring people around the country in style.
Travelling in luxurious motor homes has plenty of benefits which is the reason why people are often willing to pay a significant sum of money to enjoy them.
Some of supreme motor homes rival penthouse at some luxurious hotel.
Each of these motor homes includes modern designed exterior as well as interior looking like something from a magazine. 
A ride in such motor home is extremely pleasurable experience that surely can't be forgotten easily.
Supreme motor homes provide top of line amenities which will enable you to experience unbelievable travel journey. They usually offer extreme space in the driving and living areas with couch and recliners, a bathroom with shower and often a tub, kitchen and storage spaces, even a separate bedroom in the back depending on the floor-plan, heating and air conditioning, hot and cold running water, 100-125 volt electrical system, a dinette, closets and an entertainment center. Usually they accommodate up to 8 people depending on the model and floor-plan. 
When it comes to the price of supreme motor home campers, the only that can be said is that they are very expensive.  Prices for brand new motor home can start from about few hundred thousand dollars but as you add amenities, the cost rapidly climbs….
Here is the list of top five the most expensive and the most luxurious motor homes in the world, which would bring sparkle in the eyes of people who enjoy luxurious living, and who can afford these supreme motor home campers.
Vantare Platinum Plus is made by Featherlite Luxury Coaches and is high class all the way. It is made of Prevost bus shell and inside this motor home you will find the most luxurious materials such as rare Inca marble which is used for entry steps and the stair raisers are made of hand –made glass tile embedded with copper. Italian leather is used for covering the ceiling and AV cabinet, while dashboard and a steering wheel are covered with Sapelli Pommele - a large tree native to tropical Africa.
Luxurious interior of Vantare motor-home

Swarovski crystals, suede, Schonbek crystal, antique bronze and onyx are just some of the materials used inside the motor home. Furthermore, it is equipped with a stainless steel dishwasher, Sub-Zero refrigerator freezer, a king bed with plasma TV that lifts out of the footboard, Malbar washer and dryer and in the aft closet there is a built-in treadmill with a 13-inch LCD TV which disappears behind the mirror. Vantare Platinum Plus has a garage slide-out compartment where you can place your sport car. This fabulous motor home costs around $2.5 millions.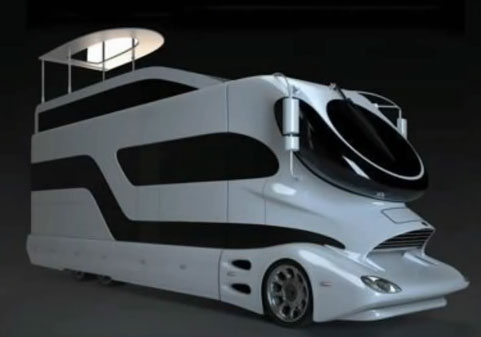 EleMMent Palazzo looks like the design from the Next Century...

EleMMent Palazzo is manufactured by an Austrian motor home maker, Marchi Mobile. It is huge 40 foot long motor home covered with gold and lot of luxury features. It is like a palace on the wheels. Inside there is a huge master bedroom, 40-inch TV, on-board bar, fireplace and even its own rooftop terrace.
However, the most impressive feature that this motor home has is that it can wash itself, and at the press of a button the lounge magically pop up. Underfloor heating and extravagant marble lighting and stunning décor are features that mustn't be forgotten. The price of this luxury RV is about $3 millions.

Country Coast Prevost is luxurious motor home that will definitely astound you. The exterior of this excellent motor home is absolutely stunning while the interior is amazing with glitz and glamour everywhere. It offers a king size bed and barbeque option as well. It contains a bedroom, kitchen, living area, and bathroom. It is a semi off the road motor home and its price is almost $1.3 million.

Newmar King Aire is an extravagant luxurious motor home with central air conditioning, refrigerator, water dispenser, microwave oven, a bedroom with TV and cable connection, sound system, phone connections, padded vinyl ceiling, window shades, cruise control, hydraulic leveling jacks with automatic control and a power steering. The cost of this amazing motor home is about $740,000.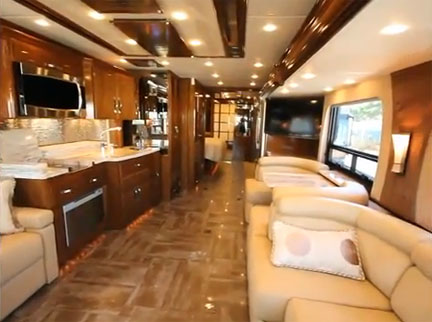 Inside view of the Newmar King Aire motor-home

 Monaco 44 SIG Premier is luxurious motor home 44 ft long and is one of the most complete class RVs available. It has sleeping capacity of 6 persons, dual turbo diesel engines, leather powered pilot and co-pilot seats, full-blown refrigerator, LCD TV in the bedroom and lounge area, aluminum wheels, 10 airbags, adjustable pedals, diesel generator. The price of this motor home is about $225,000.
---
Visitor's story.....

These motor homes put a popup camper to shame. With a length of up to forty-five feet, these motor homes allow you to travel in the utmost comfort.
With four slide outs, you can just imagine the room and spaciousness of these campers. You might find a Monaco Signature or an Alante with all the accessories fit for a queen and king.
If you look at a forty foot Safari Cheetah with two slide outs, you will find the price to be about two hundred and twenty-five thousand dollars for a 2007. You also receive leveler jacks and awnings. Get a LCD TV in the package for the bedroom and family room.
Now what more could you want. How about the thermal pain windows, washer and dryer, icemaker and refrigerator, central vacuum and all the luxuries one could only imagine. You sure do not have an icemaker or washer and dryer in the popup camper.
These motor homes are designed like a bus, and not the normal looking motor homes you see on the road. I know of some people up in Sheboygan, Wisconsin, that have a Travel Supreme and travel every year down to Florida.
They have a driver, so they can spend time together and never miss any sights. Now this I think is traveling in style. Someone to drive you all over the country and you have no worries about driving.
The Travel Supreme motor home campers are wonderful recreational vehicles when compared to the standard motor home or the popup campers. Even a fifth wheel cannot come close to this traveling camper.
If you find yourself in need of a spectacular camper, you at this type of motor home for comfort.
 About Us / Privacy Policy / Resources
Go from Travel Supreme Motor Home Campers to Pop Up Campers Trailer Home

Motor Home RV Camping