Travel Trailer Hitches
What you need to know about travel trailer hitches

Driving with an attached pulled travel trailer may be very exciting, but beside the excitement this kind of traveling means great challenge and a lot of responsibility.
The best way to be prepared for these challenges is to be familiar with the mechanism that connects the trailer to the vehicle.
The simple truth is that this mechanism (hitch) is responsible for your safety and safety of other road's users.
Before buying a travel trailer hitch, one must know that there are five different classes of travel trailer hitches that accommodate basic towing needs.
Each has a different weight rating.


See how the Eaz Lift Weight Distribution Hitch helps to improve your towing experience...

Class 1 is the lightest type of the hitch and usually it is used on a small car, truck or a minivan for towing small pop up campers or trailers that are about 6 feet (1.8 meters) long with weight of up to 2,000 pounds (907 kilograms). Some class 1 hitches are available in designs that are attached to the bumper, but definitely more reliable are those that are attached to the frame.  These hitches can be with removable tongue, which means that when the car is not towing a travel trailer, it doesn't have to have the device sticking out at the back of the car – it can be easily removed. For more serious RV-ers it is suggested however to get hitches with affixed tongue.
Class 2 is used on mid-sized cars, pick-ups, mini vans and cross-overs. Such hitch can tow up to 3,500 pounds (1,588 kilograms) and can pull a trailer that is 12 feet (3.7 meters) long. These hitches are attached to the frame.
Class 3 represents the "first grade" of heavy duty hitches that are designed to pull the load of up to 5,000 pounds (2,268 kilograms). These hitches are perfect if you are driving a full size pick-up, car, SUV or van and can tow a decent sized travel trailer.
Class 4 also corresponds to heavy duty hitches, similarly as Class 3,  but can tow up to 10,000 pounds and are perfect for towing bigger travel trailers. Their mounting brackets distribute weight more evenly along the frame of the truck that is towing thus making them ideal for towing heavy duty trailers. These hitches are built specifically for the vehicle you are driving.
Class 5 are the largest size and are designed for extra heavy loads, above 10,000 pounds and are perfect for towing extra large travel trailers. They are also specially built for your vehicle. The weigh distribution system adds spring bars to each side of the trailer thus distributing weight more evenly along the frame and so improving the stability of the vehicle while towing the trailer.


Reese Pro Series Travel Trailer Weight Distribution Hitch Setup And Orientation

There are a number of well recognized names in travel trailer hitches' industry like Reese, Curt, Valley, Putnam and many others. They all are producing top quality travel trailer hitches. These hitches are made of high strength steel, have good reliability and service (if required).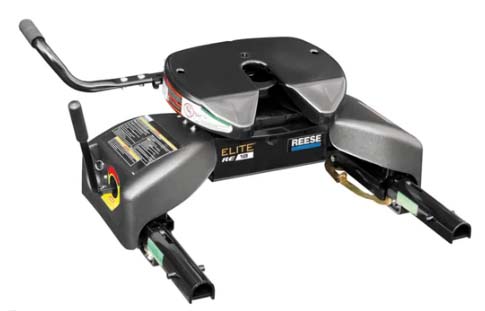 Reese hitch for 5th wheel trailers

---
Visitor's story....

A travel trailer hitch is considered to be really effective if it is suited for the situation and also considering the load capacity of the vehicle being towed.
They are manufactured with certain load rating and different sizes of coupling parts.
When considered their classification is mostly based on the amount of weight they can carry.
There are three types: weight-carrying hitch, the weight-distributing hitch and the fifth-wheel hitch.
Weight-carrying trailer hitches are made to carry the whole travel trailer's tongue weight. So if you are about to get this type then you will have absolutely no problem in carrying what you need with it around.
If you think that you will have to do that, then this one is really good for your travel trailer. Weight-distributing trailer hitches are used with a receiver hitch and some special parts which divide the tongue weight among the tow vehicle and trailer axles.
So in case you do not want to put all of the weight on one hitch then this really solves your problem by simply dividing the weight.
Fifth-wheel hitches are made for mounting the trailer connection point in the middle of the truck bed, which is also really useful.
Also some of the big manufacturers of travel trailer hitches are Putman, Hidden Hitch, Valley, Draw-Tite, Reese, Curt, Convert-A-Ball, and Colibert.
 About Us / Privacy Policy / Resources
Go from Travel Trailer Hitches to Pop Up Campers Trailer Home