Traveleze Vintage Travel Trailers
Starting in 1931 by Kenneth Dixon in LA, Traveleze was one of the earliest travel trailers manufacturers and sellers.....

Amazingly, Dixon was selling trailers directly on the street until 1936 when he finally decided to build a dealer facility.
During and after W.W.II the Traveleze trailers were shipped and sold as an "assemble-it-yourself" kit.
In 1947, the production factory was built in Burbank.
Due to the market success the Traveleze Company rapidly grew to end up with five production plants.
Traveleze was the first company to offer trailers with a gas refrigerator; they also build the first truck camper and were the first to offer trailers for motorcycles.
We do not know exactly when Traveleze ceased production but in 1983, it was the oldest company still being run by its founding family. Traveleze brought out fourteen models in the size range from 16 ft to 35 ft.
In the mid to late 50s they were also producing larger two bedroom trailers like most other manufacturers. They even ventured with a few 10-feet wide units.

Late 60's Traveleze camper after "rejuvenation"....
source: http://traveleze.webs.com

Traveleze 16S

Launched in 1961, this compact model designed with a front overhang introduced new standard regarding the look and shape of trailers. It had provision to sleep six thanks to the full size double bed in the upper berth. For flexibility this bed was convertible to a single-size one providing more living space.
Standard features included dual mode (gas/electric) refrigerator, automatic marine-type toilet, 20 gallon waste holding tank, stove canopy with fan, back up lights, 12-volt air compressor, combination of 110V and 12V lights, dual butane tanks and gas water heater. The trailer came with additional storage and floor space as well as with plenty of cupboards and drawers. The dinette was located at front while the gaucho bed and bath with lavatory were located at the rear side of the trailer.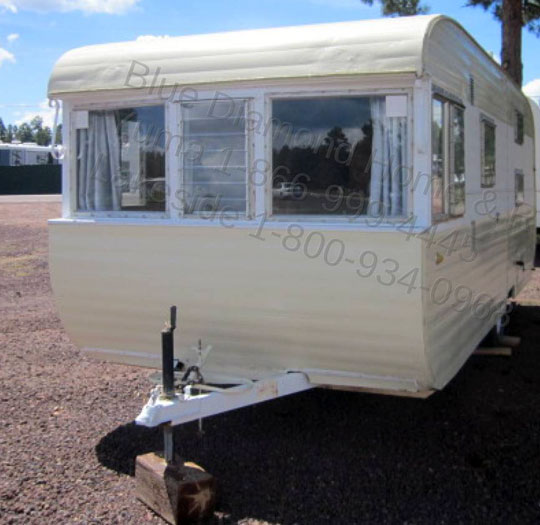 Marvelous Traveleze 1959 travel trailer - look at the front window, it's "home-like"....
Source:www.bluediamondhomeandrv.com/travel-trailers

Model 24

The model's overall length was 24ft and the external body length of 21ft and width of 8ft. The weight of the trailer was 3800 lbs. The interior height was six and a half feet. The 40 inches sectionals were convertible to extra bed. Trailer came with many jalousie windows and attractive drapery on them. Features like 20 gallon pressure tank, reflective foil with fibreglass insulation, built in TV cabinet with slides, cooking range with ventilator fan, two entrance doors (with 24D model only), full bath with flush toilet, colored fixtures, twin butane gas, extension table, circulating butane wall heater, electric hot water heater, hydraulic brakes (well, it is really a long list) made this trailer attractive and comfortable for users.

1968 Model

The canned-ham compact model had dinette at the rear, kitchen at the side and a bed on the front of the trailer. The twin butane gas cans, truck tires, insulated walls, jalousie windows on all sides of the trailer were some of the standard features. The single door entrance was located at the center of the trailer. In the kitchen the multi-burner gas stove had a ventilator fan on top. Wooden cabinets provided sufficient storage space but also stylish line and elegance. The model was fitted with a marine type toilet in the bath.

 About Us / Privacy Policy / Resources
Go to: Pop-up Travel Trailers and RVs

or to: Top 10 Vintage Travel Trailers; Popular Vintage Travel Trailers