Truck Camper Bed Liner
Truck Camper Bed Liner: …and the debate rages on…

Plastic Drop-In Liners
It seems so logical to get one of those plastic drop-in liners for your pickup truck.  It has so many advantages.....

It distributes the force of impacts and it protects your truck bed from dents and scrapes and scratches. 
It's certainly less expensive than a sprayed-in liner. 
You can take it out if you want to; it's quite easy to remove if needed. 
You can even buy one and install it yourself without paying some professional to do it for you. 
And it does make the loading experience for your camper a bit easier and smoother.

    Then you look at it from the other side of the coin… 
      They have a slick surface which can allow your camper to move.  They're difficult to repair; the product PlasticWeld will not stick, however 5-minute-epoxy works.  They're watertight so the plywood's bottom of your camper can end up sitting in as much as 3 inches of standing water if you park it on a slope.  If we're being honest here, we also have to admit that they're difficult to use with the HappiJac style front anchors.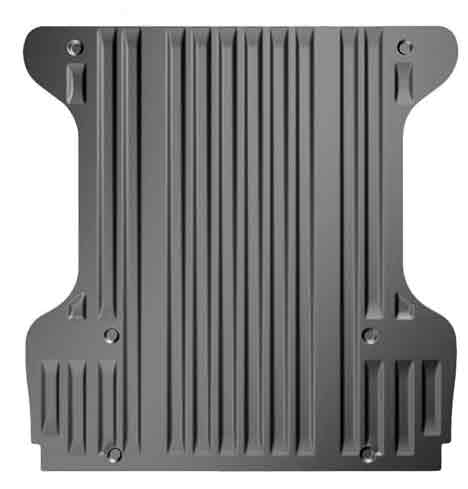 Example of a plastic drop-in bedliner for Toyota Tundra

   Worse yet, sand, salt and water can work their way underneath it and cause damage.  If it happens, it's usually because the liner vibrates as you're moving.  It is alleged that it wears the paint off of your truck bed.  There's no question that it makes the truck bed narrower by about 1-2 inches, particularly around the wheel wells where we're already sort of short on space.  It still leaves 48 inches so you can lay plywood, drywall or paneling flat.
    It's never happened to me, and I've never seen it happen, but there are stories of truck liners blowing right out of the truck bed as you're driving down the highway.  That could be an installation problem or it could be an intrinsic defect. 
    So what is the alternative to truck bed liners?
Sprayed-On Liners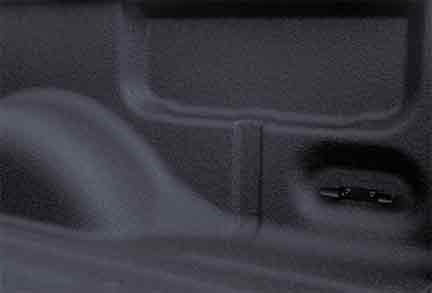 Example of the Line-X Spray-on Truck Bedliner

  The good-side of sprayed-on liners is that they can be repaired.  They provide a very rough surface which helps to keep the camper from moving around, and since they're applied directly to the surface there's no chance for sand, salt, or water to ever get underneath it and cause damage.  More importantly, the drain holes in the box are left open so standing water in the truck bed is going to be minimized.  Obviously this is not going to interfere with the HappiJac system, and you can use one of those heavy duty rubber mats to protect the surface.
    Of course it's not perfect either, because it doesn't distribute the force of impacts or protect your bed from dents or scratches.  This process is definitely more expensive than a drop-in liner.  And unless you have some very unusual equipment in your garage you can't install this yourself.

The Ultimate Choice?
      I don't think there is one.  Everything is a trade-off.  Nowadays they have a sprayed-on surface for those drop-in plastic liners that provides more traction so your camper doesn't slide around as much.  That's a step in the right direction.  Modern inserts come with tabs that make it very difficult for the liner to come out accidentally. 
    Some people have said that they are perfectly content to use the truck the way it was delivered.  That is to say without a sprayed-on liner, and without a drop in liner.  Their only concession is a bed pad.

So what is it going to be for you? 
Are you going to pay for a sprayed-in liner?  Is the drop-in plastic liner the choice for you?  Or are you just going to go naked?

---
Visitor's story.....

The truck camper bed liner protects the bed of the truck from scratching and wear and tear of hauling things and from damage that might occur when attaching the truck camper.
These liners come in a hard plastic and are durable enough to withstand any type of abuse.
If you live down in Tennessee (TN) and use your truck for camping on the weekends and hauling wood or other abrasive materials during the week, you want to have a good bed liner.
I have seen bed liners on trucks as old as a 1983 or a 1984 that look in better shape than the truck itself.
If you use the truck to haul a pop up trailer camper and the bed of the truck to take along the ATV and other things to keep you busy while visiting the outdoors.
The bed liners do not allow for water or debris to get to the truck finish, keeping it free from the elements.
If you take a trip to South Dakota (SD) and take in some events such as Sturgis, and use your truck bed as a place to sit and enjoy the day, having a bed liner will protect your truck finish from the scratching and spillage that more than likely could occur.
Some people even use the back of the truck to camp out under the stars for more of a back to the wilderness type of experience.
If you need a truck camper bed liner for your truck, you need to find the right size and fit for your year of truck in order to fit the bed. If the liner fits improperly it might not protect the truck finish the way it should.
The whole liner needs to protect from water and salt seeping underneath in order to protect from rusting as well during the winter months.
 About Us / Privacy Policy / Resources
Go from Truck Camper Bed Liner to Pop Up Campers Trailer Home