Truck Camper Manufacturer
Truck campers are maybe the most practical and functional types of recreational vehicles for camper enthusiasts who enjoy spending their free time in the outdoors.

Usually campers use their truck campers almost every weekend or at least once a month because truck campers are economical. 
They are compact size, they provide enough space and include all the necessary amenities such as toilets, showers, kitchen facilities and air conditioners.
There are numerous truck camper manufacturers in the camper industry but some of them are the most popular producing high quality truck campers. Here are some of the famous names: Lance, Adventurer, Northwood, Northstar….
Lance has been manufacturing America's most popular truck camper since 1965. Thanks to their dedication to work and high quality production, their truck campers can still be seen on the road. The company is based in California and in the last decade Lance has won the prestigious DSI Award (Deal Satisfaction Index) for quality almost every year. They have been producing truck campers that can be used in wet winter weather and freezing cold because they are well insulated, efficiently heated and can withstand harsh weather conditions. Their truck campers are made of high quality materials.
Thanks to such long experience in producing truck campers Lance has become one of the leading manufacturers of truck campers in the United States. They produced several different models such as Lance 825, Lance 855, Lance 865, Lance 950S, Lance 992, Lance 1050S, Lance 1172, Lance 1181, Lance 1191 and each of them boast the best quality and excellent features.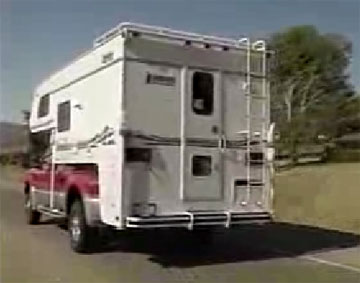 Lance truck camper on the road

Adventurer is another famous manufacturer of truck campers which has been present in the RV market from 1969. Their reputation has been built on a commitment to customer satisfaction. The team working in the company is dedicated to ensuring excellence in all areas of design, engineering, construction and assembly. They are also known for outstanding service, quality and value. Adventurer truck campers are famous for their durability, and very attractive look. Inside the truck camper one may notice durable upholstery, furnishing and extra storage compartments.
The company is trying to produce high quality, and stylish truck campers that can be bought at very reasonable prices. The most popular models of Adventurer truck campers are 80GS, 86FB, 89RB, 910FBS, 106DBS, 80SK, 80W, 810WS, 86SBS, 950B, 980RDS.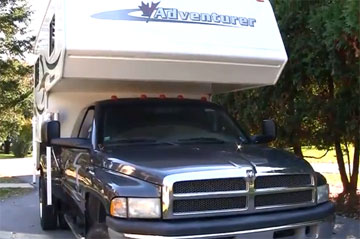 Adventurer truck camper ready to go!

Northwood company has been established in 1994, by Ron Nash. It is located just outside La Grande in Northeastern Oregon. Today they are one of the largest private-sector employers in the area. All their truck campers are built to withstand off-road use without the worry that you will have to give up the comfort of the home. The most famous models of Northwood truck campers are Northwood Mfg and Northwood Mfg Arctic Fox.

Northstar has been manufacturing truck campers since 1955 and has been selling them to the numerous dealers since 1961. Their truck campers are designed to be warm and comfortable with practical function and design. Truck campers manufactured by Northstar offer maximum storage for keeping your gear. Since the company is specialized in producing only truck campers that helps them offer only the best designed truck campers.

Palomino has been on the RV market from 1968 and since then they have been producing truck campers that will not only fit your needs but will also exceed your expectations. The experienced team employed at Palomino company pay a lot of attention to quality and design and when innovative techniques are added to highest quality materials and lovely design, Palomino truck campers hardly have a competition on the recreational vehicle's market. The popular models that Palomino has been producing are Bronco, Maverick and Real-Lite.

---
Visitor's story...
I had met a man from North Carolina that use to work in for a truck camper manufacturer business before he retired.

He had some great stories to tell about the making of a truck camper canvas and the pop up slide camper. He said that the experience of creating the truck shell and adding the accessories gave him the idea to travel after retirement in a camper that the camper manufacturer that he worked for created.

He was adamant about the differences between a tent pop up travel trailer and the camper manufacturer that designs his style camper. He said that the construction and the quality workmanship that it takes to make a truck shell are of high quality standards. He said there is nothing wrong with a four wheeler or a van camper, but he prefers his way of travel to any other way.

He said he has seen motorcycles towing campers and the bikes do not provide protection from the weather and he prefers to drive and feel dry or cool depending on the conditions. The truck camper manufacturer he worked for allowed him a small discount that made it affordable to purchase a truck camper shell.


 About Us / Privacy Policy / Resources
Go from Truck Camper Manufacturer to Pop Up Campers Trailer Home