Truck Camper Plans
Truck Camper Plans - you will need plans if you want to build a camper

Floor-plans

Truck camper plans usually represent the horizontal cross-section of the truck camper at the floor level.
For that reason they are also called floor-plans.
This is the most common graphical representation of the truck camper (any camper) internal layout.
Such plan shows you how the camper is divided into various sections and what it is equipped with.

Regardless if they are in color or only black-&-white they give buyer the chance to have some feeling about what is inside of a given camper – for example where is the bed, where dinette, where the stove etc. – all that in the fixed scale.
Although the first step in the final process of buying a camper is undeniably a tour of the selected "candidates", unlike the visual tour, the floor-plan is the only way to show you proportions (scale) of everything inside of the camper. So this is an essential initial phase of buying the truck camper.

During the tour of the camper we see only one section (be it kitchen, bedroom, toilet, etc…) at the time. It is difficult to visualize all individual areas in terms of the layout and relative proportions between them because we cannot see them all at the same time, and even if it will be possible, we see them in perspective that is changing the scale (remote areas seem to be smaller than they are in reality).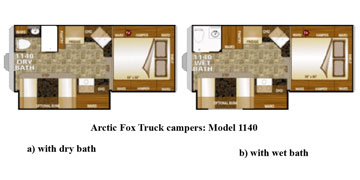 Example of the Arctic Fox Truck camper model 1140 in two configurations: Dry bath (left), Wet bath (right).
Courtesy of: Northwood Manufacturing
http://www.northwoodmfg.com/index.php?page=makeplans&make=camper

Also, during the tour we may be impressed with "non-essential" items adding "value" (colors, materials, fabrics, shapes etc…). They are important for our overall feelings about the camper, but they should not "darken" our perception of fundamentals – space, ergonomics of configuration, easiness to access particular areas etc..
That is why the access to the floor-pan is so crucial at the initial stage of selecting the model of the truck camper or in general any camper.

Even more important – most camper models can be arranged by manufacturer in different internal configurations. In other words, they may have individual areas and/or particular appliances and furniture laid-out differently, or having different sizes or simply only optional. While in such case the overall footprint of the camper will be the same, the internal arrangement and configuration may offer totally different living and working space inside of the camper….

The best choice is to look for truck camper plans where the different floor-plans of the same model are shown on the same page/sheet of paper. This way you can compare them closely and think about the pros and cons for each internal arrangement.

Summarizing: the floor-plans offer a chance to compare different versions of the camper and narrow our choice to only few preferred candidates before we move to the final stage. Floor-plans save the buyer a lot of time.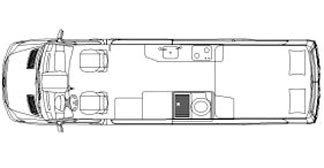 An example of the campervan floor-plan

Where to find truck camper plans (floor-plans)

Once you buy the new camper, the attached floor-plan loses its importance. However if for same reason you need them later (especially for 2nd-hand truck campers), the best place to find them is eBay or Amazon where many camper owners sell them.

Buyers of the new campers (or relatively new 2nd-hand models that are still supported by manufacturers) should look for floor-plans at websites of the original manufacturers. These official sites are the most reliable sources for truck camper plans! 

If you are looking for a more "exotic" (vintage) camper plan that you cannot find on any web page, you should look on dedicated forums. Often such places have members that can give you just what you need. Try the Truck Camper Forum or the RV.net Forum for rare and special truck camper plans.

How to make your own truck camper plan

Making a camper plan is not as difficult as it sounds.
If you want to sell your camper and it has no camper plan, be sure that people who are interested in buying it might want to see the plan.
You should look online for some truck camper plans to get the idea on how to make the design.
Once you are familiar with how a truck camper plan should look like, you have to take the measurements of everything in the camper.
Then you can draw the camper's cross-section, starting with the footprint of the camper (floor level), and one by one adding everything inside such as shower cabin, dinette, table, stove, and so on. Mark the place where the windows and doors are. Make it as detailed as possible, this will help both you and your future customers. Remember that the best floor-plans also show the exact measurements of each unit in the van.

DIY Plans

These plans are mainly targeting those that want to either build the camper on their own or make major internal renovation work in an old camper. Typical cases are: a)    Converting truck van into a camper-van by the owner.
b)    Renovating second-hand camper (or our own old camper).

DIY plans may be three-dimensional or what is most common – represent several horizontal and vertical cross-sections of a given camper. They give ideas about what can be done inside of the camper and quite often provide also detailed instruction as of how to do it.

These plans usually are not offered by camper manufacturers (they want to sell the camper and not the plan). If you need such plan look for it in specialized shops (or right sections in a good bookstore). Most likely you will find good choice of such plans and DIY instructions on Internet.
---
Visitor's story.....

Truck camper plans come with designs to build your own truck shell with a nice slide out side for more room. Trucker camper plans of manufacturer truck campers available allow you to choose a floor plan that accommodates all your needs and allows you the knowledge of knowing if the camper fits your truck.
The camper plans allow for comfort camp truck camper space. This means you can have comfort not found in a van camper or a four wheeler that requires a little more space in order to be comfortable.
The camper plans may have an added attraction of installing a truck camper kayak carrier for canoeing down the many rivers found around the country. The tent pop up travel trailer does not have certain advantages of a truck camper, towing a bike with the motorcycle or a bike is much easier with the truck then with a tent pop up camper.
Truck camper plans are designed with space and need in mind. The manufacturers or the do it yourself creative mind will find a truck camper very nice.
Ohio or Oklahoma, anywhere you travel, the truck with nicely designed truck camper plans allows all the accessories and functionality needed when traveling and camping the countryside. You cannot go wrong when you choose the best camper made for your style and taste.
If you decide to take the kayak or the motorcycle, a truck camper sure does fit the bill for allowing more freedom when you travel.
Find some camper plans that interest you and either buy the right one or build one that can be customized exactly the way you need it to be for comfortable traveling.
 About Us / Privacy Policy / Resources
Go from Truck Camper Plans to Pop Up Campers Trailer Home