Directory of Campgrounds: Tent and RV Camping Parks Vermont (VT)
Find RV Parks and campgrounds from where you can start exploring Vermont's nature…
Vermont is known for its wonderful lush green forests, hills and mountains.
It is located in the New England region of the northeastern United States.
With natural sites such as Lake Champlain or the Green Mountains, it is a great place for nature lovers.
Some of its national parks are the Marsh-Billings-Rockefeller National Historical Park and the Appalachian National Scenic Trail.
The largest ski areas in New England are located in this state; therefore it is also popular winter destination. It is also worth to visit the Lake Champlain Maritime Museum, Birds of Vermont Museum, Montshire Museum of Science or the Brattleboro Museum and Art Center.

A collection of photographs depicting the beauty and fun things to do in Vermont State Parks

Limehurst Lake Campground
4104 Vermont Route 14
Williamstown, VT 05679
(802) 433-6662

This is a seasonal park open between May and October. It is small with 57 sites of which 30 have full hookup service.
At the campground you can rent one of rustic cabins (full-size bed, set of bunks, TV, small fridge and electrics, plus outdoor fire-ring for cooking). Campground also offers trailers for rental.
There is a public beach and water slide that you can enjoy, and if you are a fan of water sports, you can rent paddle boats, canoes, rowboats or kayaks from the campground. There is a snack bar and a country store where you can find the most important items you may need. Campground offers planned weekend activities for families and kids as well. You will be able to visit attractions such as the Spider Web Farm, Waterbury's Ben and Jerry Ice Cream Factory, Stowe, Barre's Rock of Ages Granite Quarries, Granite Museum, Thunder Road in Barre, Floating Bridge and more.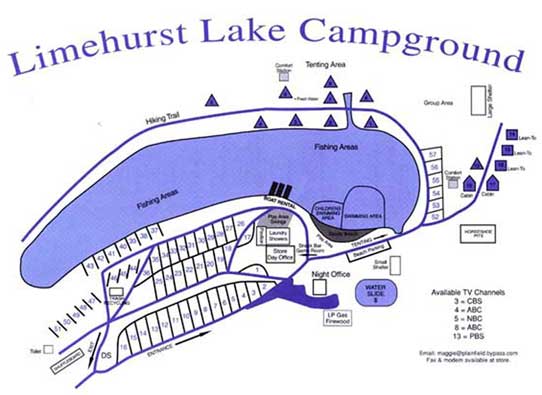 Map of the Limehurst Lake Campground
Source: www.limehurstlake.com

Tree Farm Campground
53 Skitchewaug Trail
Springfield, VT 05156
(802) 885-2889

Tree Farm Campground is a seasonal park open between May and October. It is located in a pine forest with lots of trees and fresh air. It has 101 total spaces and 36 full hookups including water, electric and sewer plus cable and internet.
All campsites are spacious and offer privacy to enjoy nature in company of your loved ones. The sites have picnic tables and fire rings for barbecue. You can enjoy a free hot shower and the cleanest restrooms after a long day of travel. There is even free coffee and doughnuts at the lodge every Sunday morning. Tree Farm Campground is close to downtown Springfield's stores and restaurants. Make sure you check out the events in the area, there are plenty of them every season!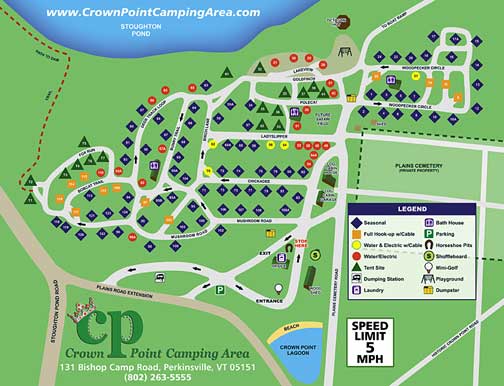 Crow Point Camping Area
131 Bishop Camp Rd
Perkinsville, VT 05151
(802) 263-5555

Crown Point Camping Area is a family campground that is open during the summer season. It is located on a pine plantation next to Stoughton Pond. This family owned and operated camp offers a peaceful vacations in the shade of beautiful pine trees.
There are 12 full hook-up sites, some water/electric sites and tent sites (maximum offered power is 50 Amps).  Cable TV & Wi-Fi is available. There are three clean, full-facility bathhouses, modern showers, restrooms and laundry service.
Since the park is next to the lake you can do some fishing, boating (there is a boat launching ramp), canoeing and kayaking. Hiking and mountain biking trails are also next to the lake.
You can enjoy some of the planned events like bingo, potluck dinners, weekend bbq's, ice cream socials and Saturday night bonfires. From the park you can visit the Harpoon Brewery, Sugarbush Farm, American Precision Museum, Montshire Museum of Science, Okemo Mountain Resort……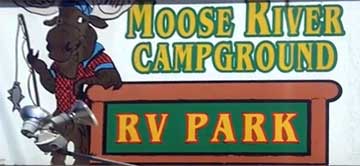 Moose River Campground
2870 Portland ST
ST Johnsbury, VT 05819
(802) 748-4334

Moose River Campground is open from May to October. There are 45 sites, 25 of which have full hookups with 50 amp max electrical service.
The park has on-site RV service, RV supplies store and self-service RV wash. You can purchase firewood and ice as well as LP gas. The campground offers laundry, showers and restrooms.
Moose River is right next to the campground, so you can do fishing. There is also an area for are also outdoor games that you can play, and the pavilion for rainy days. Moose River Campground also offers planned activities, especially for families. Some of the nicest places to visit are the Maple Grove Farms - Museum & Factory, Fairbanks Museum & Planetarium, Old Stone House Museum, St. Johnsbury Country Club and Maplewood Golf Club.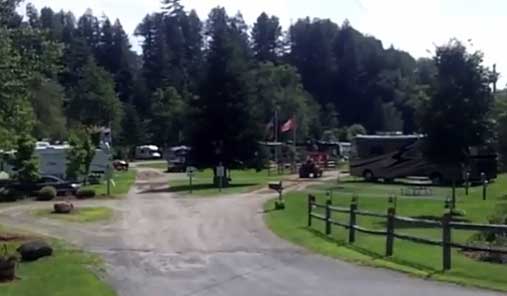 View of the Moose River Campground in St Johnsbury, VT
Lone Pine Campsite
52 Sunset View RD
Colchester, VT 05446
(802) 878-5447

This park is closed during the winter. It is located in the most beautiful regions of the state, the Lake Champlain Valley. The Standard Full Hookup service includes 50 amp power, water and sewer on a large grassy site. The Premium Full Hookup offers 50 Amp service, big-rig site with grass and cable service.
There are sports courts and a fully stocked camp store at the Lone Pine Campsite. During hot summer days you can cool down in one of the two giant swimming pools. The laundry facilities are excellent and the showers as well. There is an internet access throughout the campsite.
Local attractions include visit to the Ben and Jerry's Ice Cream Factory and sailing excursions on the Lake Champlain. For shopping you can visit the Church Street Marketplace. 


---
Visitor's story......

Some local campgrounds have rental companies that have a pop up camper, motorhome trailer or a mobile home that they rent out on a weekly schedule.
If you want to camp at a beach camp or a some other type of campground, check the directory of campgrounds: tent and RV camping parks Vermont (VT) and see if any fit this type of need.
It is a lot easier to rent a motor home or another type of recreational vehicle if the company is close by or onsite of the campground.
When you have access to a directory of campgrounds: tent and RV camping parks Vermont (VT), you can find campgrounds around many attractions such as Bromley Mountain Thrill Zone & Alpine Slide.
Try your hand at some miniature golf some karting. There is also the Vermont Wax Museum for some real life looking pieces.
Have a look at some campgrounds in the area of Vermont:
Common-Ground Park
1781 VT 100
Hyde Park VT 05655
802-888-5210


Dorset RV Park
RR 30
Dorset VT 05251
802-867-5754


Hideaway Squirrel Hill Campgrounds
53 Hideaway Campground
Ludlow VT 05149
802-228-8800


Lakewood Campgrounds
122 Champlain St
Swanton VT 05488
802-868-7270


Maple Grove Campground
Route 104
Fairfax VT
802-849-6439
 About Us / Privacy Policy / Resources
Go from Directory of Campgrounds: Tent and RV Camping Parks Vermont (VT) to Pop Up Campers Trailer Home
Go to: US RV Parks and Campgrounds