Volkswagen Campers
Volkswagen was one of the first companies making camper vans....

The first camper van was manufactured back in 1950 and from the beginning, it become very popular in the camping world.
Volkswagen vans are small and middle-sized camper vans, which are simply fantastic and as such, they won the hearts of many people around the world.
At the beginning of the manufacturing, these campers were marked as family vehicles and were designed to sleep four - two adults and two children.
However, nowadays models may sleep up to four adults. Beside the sleeping area, these campers also have a small kitchen with sink, gas stove, a small water tank providing running water  and refrigerator.
Some models may also have additional options such as satellite TV, wireless Internet, pop up roof, sliding side door, rotating front seat, large windows, and many more features.  As far as the exterior design is concerned, they may come in many different color combinations and various styles.
When compared to other RVs, campers produced by Volkswagen have some advantages. First and the most significant benefit is the price. They are much more affordable than any other standard camper. In addition to this fact, such campers may be used as second vehicle for families as they are not too expensive and do not require lot of money for repairing when damaged. At last, they have much better fuel  efficiency than any other recreational vehicle.
There are several models of Volkswagen campers. These are Split Screen camper van, Type 2 Bay Window Camper, Type 25 VW-The Vanagon, The Volkswagen T4, The Volkswagen T5.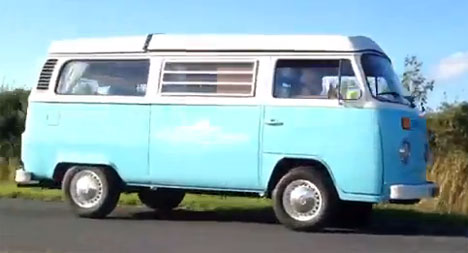 Legendary Volkswagen Camper-van

Split Screen camper van is also known as "Splitty" and has traditional classic appeal. It is a rounded camper van with the sweeping V molding on the front, the huge VW badge, split windscreen and big round headlights. It was a very good camper van but its main downside was it was very slow and it couldn't give you the speed that you would want. Also, the spare parts for this camper are very difficult to find and are often a bit expensive.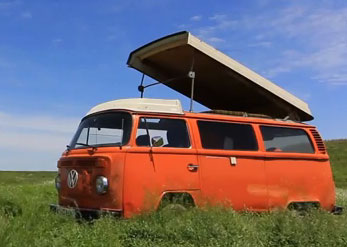 Another legend -  Volkswagen T2

Type 2 Bay Window Camper is good for typical camper with traditional appearance, sliding side door, and larger engine. It has rounded shape with better visibility and offers more space. Newer models are a bit faster and are cost-effective in fuel. However, its main disadvantage is that this camper gets rusty very quickly.
Type 25 VW Vanagon is the third generation of Volkswagen camper vans, which are larger than the previous models and offer a lot of space. This model is much more angular and its interior is equipped with the kitchen cupboards, storage room, the rear bench that converts into a double bed, and the swiveling front seats, which create a small but comfortable lounge with one or two swiveling tables.
T4 Volkswagen camper was the fourth generation camper-van and was introduced in 1990. It has relatively sleek shape with huge amount of space thanks to the water-cooled engine that is placed in the front.
Presentation of the VW T5 campervan

T5 Volkswagen camper is a bit larger and slightly better than previous models. For some reason this fifth generation camper van is still not introduced to the US market.
---
Visitor's story........

The Volkswagen campers have surely made a come back.
The once popular hippie vans have evolved over the years to be a rather nice little pop up camper van.
You can find some years as old as a 1980 that are in nice condition.
The engines seem to hold up very well with these camper vans. I had the chance to visit an RV and camper show in Pennsylvania a few years ago.
They had VW campers on display starting back to the year 1981. Some were just beautiful looking inside and out.
In Oregon, these campers are popular with many campers and you see them around in many campgrounds. People have long since preferred to keep their VW campers, since the gas prices seem to rise higher every year and these vehicles are great on gas mileage.
I have seen them with outdoor screen tents attached and people just sit in the screened in area for entertainment. One person had a TV with a wood frame for putting the bench seat from inside the van so he had an outdoor sitting area. When he traveled, the kids had a seat to sit on.
The back end opened up for a nice little kitchen area. This was convenient for cooking and grilling out anywhere he went. Since he had the kitchen in the rear and inside, he had a bed on top of the kitchen for two to sleep.
Inside was the bed for sleeping the fit another two people and he still had plenty of walking room. These Volkswagen campers have sure come a long way. Not everyone is cut out for VW campers even if they have all the necessary equipment and a pop up camper top, but they are economical in this day of high gas prices.
 About Us / Privacy Policy / Resources
Go from Volkswagen Campers to Pop Up Campers Trailer Home