Volkswagen Westfalia Camper Vans
The Volkswagen Westfalia camper vans are actually conversions of Volkswagen Type 2 which were sold from early 1950s to 2003. They have become an icon in American and British culture, as a symbol of hippy and surf culture in the mid to late 1960s.
The first and legendary Volkswagen Westfalia camper van was born in 1950.
It was a revolutionary camper van, which enabled people to sleep, cook and store their camping equipment in a camper. 
At that time, Westfalia Werke was a well known German coach company producing camping trailers.
In the early 1950s, an American officer who was serving in Germany asked Westfalia to design the interior of a Volkswagen van modeled on the design of their camping trailers.
The partnership between Volkswagen and Westfalia lasted for fifty years and during that time they have converted four generations of camper vans. Although this relationship ended in 2004, older models of VW Westfalia camper vans are still popular. Maybe they are even more famous and wanted than many other brands of camper vans. Lot of people around the world who are in love with these camper vans are persistently repairing and restoring thirty and forty years old VW Westfalia camper vans in order to keep them in as better condition as possible.
Most people owning VW Westafalia camper van are very proud of them. They pay unlimited attention and care to their Westfalia camper vans. Some Westfalia owners create their own interiors; paint their exteriors in order to achieve the unique look. All VW Westfalia camper vans sleep and travels four people while some models may have additional seat that can be installed for fifth person on demand. They have 2 full-sized double beds-each bed is 6 feet long and 4 feet wide, a kitchenette with a 2-burner gas stove, a sink with water pump and a water tank whose capacity is 10,5 gallons and a 3-way refrigerator-gas, 12V and 120V.
These camper vans have pop-up roof with a skylight, an easy sliding side door, large windows, and plenty of cabinet space. The front seats inside the VW Westfalia camper van can be rotated. Beside that they have a dining table, electric and water hook-ups, propane tank, privacy curtains, and a fire extinguisher. They are very affordable for longer trips as their gas mileage ranges from 18 to 21 miles per gallon. In addition to all these amenities VW Westfalia features, it has an AM/FM stereo with a CD player.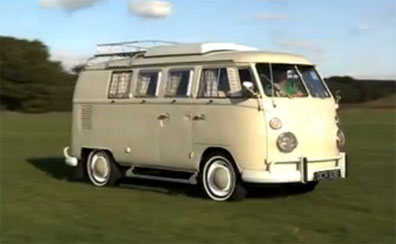 Earliest generation of Volkswagen- Westfalia campers - T1 Split-Screen

There are five generations of VW Westfalia camper vans: The T1 or Splitscreen, the T2 or Bay Window, the T3 or Vanagon, the T4 or Eurovan, and T5 or California.
The T1 or Splitscreen camper van had dinstinctive V shaped front panel and air-cooled engine at the back. It was the first fully equipped camper van produced by Westfalia.
The T2 or Bay Window was made in 1967. It had more modern design than the previous model. It had one piece windscreen, was very comfortable for driving. It also had pop-up roof installed allowing standing height and additional two beds on the top.
The T3 or Vanagon camper van grew in width and length. It featured pop top roof and high top roof with an extra bed. The interior featured almost everything that today's camper vans include.
The T4 or Eurovan was the fourth generation of VW camper vans which had a water-cooled engine in the front. At the back there was a huge storage room and it had new interior design.
The T5 or California, the fifth generation of VW Westfalia camper vans were introduced in 2003. These models are very similar to the previous ones, only a bit larger and better.
Volkswagen Westfalia camper vans have come a long way from the 1950's. At the beginning the camper vans were legendary and simple while today's models are with innovative, unique designs and excellent quality.

---
Visitor's story.....
One of things I recently had the chance to see was the Volkswagen Westfalia camper vans.

These vans are design and customized for the utmost camping experience. I was looking at a 1979 Volkswagen Westfalia that was for sale in Ohio and could not believe the room and accessories. The pop up camper was equipped with a sink and refrigerator. It could comfortably sleep four people.

I then compared it to a 2006 VW van in Oklahoma and found that they have come along way, since the older years. I was amazed at the mechanism they use to raise and lower the pop up camper top. In all, these camper vans are good quality campers. Although the difference in years, and body condition, they were both nice campers for a small family. If one would find a camper of this kind, they could fix it up to meet the needs one has for a tiny RV.

If you have a chance to look at these campers, you should check out the inside to see how people have customized them and made them a home away from home. If you use this camper as the master suite, you could also pull behind a smaller camper for recreation, family, and friends to sleep and relax. There are so many options for camping no matter what you sleep in these days.

The interesting thing about these campers is that they were popular in the 70's and 80's as ": hippie vans" or the owners were "a flower child". Today everyone owns a van like this and he or she travel all over the countryside. If you need a nice little camper with a pop up top, you cannot go wrong with the Volkswagen Westfalia camper vans. Whether you choose a 1979 or a 2006 VW camper van, you will have a great time camping.


 About Us / Privacy Policy / Resources
Go from Volkswagen Westfalia Camper Vans to Pop Up Campers Trailer Home