VW Volkswagen Camper Vans for Sale
VW Volkswagen Camper Vans for Sale - Would you like to find VW van?

For a long time VW camper vans had been considered as vehicles for hippies but in last few years they have become the iconic vehicles among many people who enjoy freedom and camping.
Known as minibuses they were first introduced in 1950 and almost instantly gained popularity because they offered an inexpensive way to take the family on a lovely vacation.
They were more affordable than standard recreational vehicles and offered much better fuel economy than any other RV..
The first VW camper vans were originally marketed as family vehicles and were designed to sleep two adults and two children while newer models can sleep up to four adults.
Except the sleeping space, as a standard VW camper vans include small kitchen with sink, gas stove, small water tank to provide running water and refrigerator. Higher-end options include wireless internet, satellite TV, pop up roof, sliding side door, rotating front seat, large windows and additional cabinet space.

Let's start with the presentation by Peter Vaughan: Various companies who convert Volkswagen campervans produce a wide and diverse variety of styles, practicality and prices.... So let's see what can be done :-)

Due to the excellent features and amenities that these campers provide, they are very popular, and sell well.  The bottom line is – VW camper vans are recreational vehicles that people are looking for. Maybe more people prefer the older versions but the newer models are not far behind.
Today VW camper vans can be found used or new and the best place to find them is the classifieds. If you prefer vintage models you can find them in classic car magazines or classic car dealers. Another excellent option is collector's magazines, but Craigslist and eBay are good options as well because they are a lot of private sellers,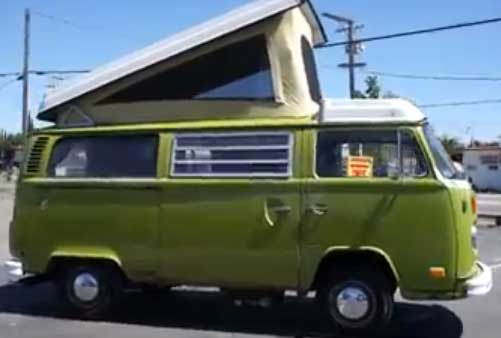 That model is a "remote" past, but still alive, not only in dreams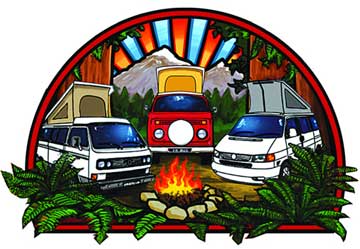 There are also numerous small companies that sell them. If you are searching for places in America maybe you should try "Go Westy" for example.
Left: Go Westy (source: www.gowesty.com)
It is a well known company that sells and restores different types of VW camper vans as well as parts for them (including parts for old models). For details see www.gowesty.com


You may also visit the "The Samba" (www.thesamba.com/vw/)  - the largest Volkswagen online community. You will find there plenty of adds, pictures or forums which may help you to find the perfect VW camper van for you. And of course there are always numerous online dealers selling new, used or vintage VW camper vans.
Some people love to buy VW minibus and to convert them into a camper van which is also wonderful idea if you like to customize your RV "home".



Outside of America, Great Britain has more companies dealing with all kinds of VW camper vans than any other country in the world. For example worldwide famous "Just Kampers" (www.justkampers.com/)  is a great place to look for VW campers, spare parts and  accessories. Another great UK company to check is VW Kampers (www.vwkampers.com/)  (believe or not – they started the business importing VW camper vans from guess where? – well, from sunny California!

The companies mentioned above are just a few from many more existing in the world.
Each of them can help you find the perfect camper van that you are looking for.
All these companies have been in the business for a very long time and with their knowledge and their dedication to these excellent camper vans they will surely help you to make the best choice!
But one important thing should be mentioned at this moment – these days in most cases VW camper vans for sale are not cheap regardless if they are new, used or vintage. This is not only due to their recognition as excellent RVs, but also due to growing nostalgia for "Old Good Times" we still keep in our memories….
Nevertheless – the fact is that being present on the road for more than 60 years, VW camper vans have proven themselves as some of the most versatile and quality built recreational vehicles.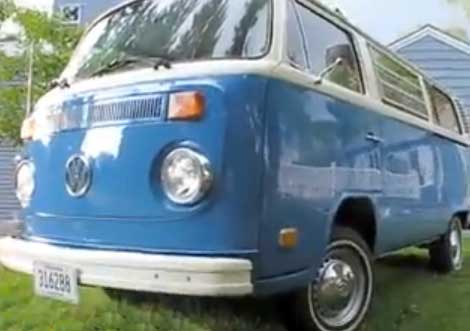 Another nostalgic view.....

---
Visitor's story......

Now these camping vans come equipped considering they usually pop up in ads for VW Volkswagen camper vans for sale.
I have not seen a VW for years. In 1990, I believe somewhere in that time frame, I saw one on the road and thought about the television show, Mod Squad.
I remember Peggy Lipton and the guys traveling around in the Volkswagen camper, all fixed up for sleeping and partying.
That was a hot show back in its time.
Campgrounds are good places to see all the different things people travel with when camping and moving around to different parks.
If you ever run across these types of campers, you should actually check it out just to see what the inside has to offer. They really are quite cozy inside. I mean the pop up camper trailer offers more, but these little units are quaint.
I like looking around the campgrounds and talking to people who travel different ways, and I tell you, I have seen just about everything. I met some people in Massachusetts when I was out there, they had 1991 VW and it looked nice inside. The man had done the whole inside himself and I have to say, it was very nicely done and decorated beautifully.
VW Volkswagen camper vans for sale sometimes need some work done depending on the year. If you have some time and a little extra money, you could fix one up and turn it into a real nice camper. The possibilities are endless when you buy a VW. You do not have to spend a lot of money on campers to enjoy camping and traveling all around the country.
The weather permits for year long camping depending on where you go and at what time of year you go.
 About Us / Privacy Policy / Resources
Go from VW Volkswagen Camper Vans for Sale to Pop Up-ing Home