VW Volkswagen Eurovan Camper
The Eurovan Campers are not just like any other camper out there in the market


About the history of the Volkswagen Eurovan Campers
They have a history that makes them unique and at the same time they are one of the most popular campers ever made.
The Volkswagen Eurovan Campers have been manufactured by the company called Winnebago.
This brand has many other types of RVs all over the world and their name is well known for quality and highly functional campers and travel trailers.
This model of the brand is also called Volkswagen Transporter T4.
What many people don't know about these vehicles is that they were inspired by the legendary Westfalia campers which later Winnebago adapted thus creating the American version of this vehicle.
When these campers were first introduced to the market of RVs they were a sensation for many reasons and remain until today one of the most preferred RVs.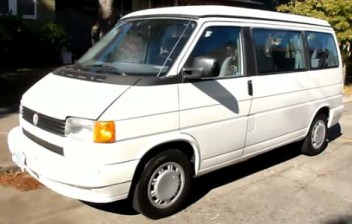 VW Volkswagen Eurovan Camper, model 1993
Benefits and characteristics
So why is this camper so loved by the majority of people who love traveling? It is simple. First of all, it has a better engine and it is more fuel efficient, and it has a front mounted engine instead of a more regular rear end mounted one. When this vehicle was introduced, having such an engine was a very knew and innovative thing. Its size is also one of its strengths, since it is bigger than a minivan, thus having enough space inside, but smaller than a standard size pick up truck. This way it is easier to drive it, park it, and it also consumes less gas.
However, the major characteristics of this camper that makes it stand out among other ones is its pop up roof top. This is great because it is ideal for longer journeys as a low profile car, but when you camp you have enough head room and you can walk around comfortably in your car. This pop top roof was introduced by Westfalia and later used by Winnebago as well, creating a unique van.
Another reasons why so many people like this camper is because it has all the characteristics of the traditional Volkswagen camper, which is a classic. Its structure both inside and outside captures the essence of this classic camper, and sustains its name with durability and stylish design. If you love the design and style of the Volkswagen campers, you will love this one too.
Models of the Volkswagen Eurovan Camper
1.      The Eurovan Weekender
This camper is as its name suggests great for weekend getaways. During the week days it can be used as a regular car, and it has seating capacity of 7. It is low profile and fuel efficient. When it is used as a camper the rear bench can be converted into a sleeping space and the pop top roof has space for another bed. This way up to 5 people can sleep comfortably in this vehicle. However, the camper comes with no inner furniture such as cabinets and storage space. It comes with a folding table, and a cooler box as well for some food and drinks which is enough for a weekend camping.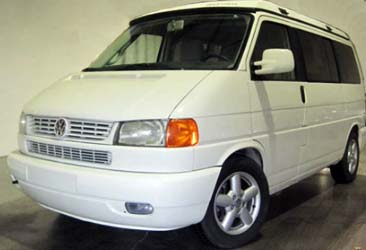 VW Volkswagen Eurovan Weekender, model 2001

2.      The full camper
The full camper is a Eurovan camper as well manufactured by Winnebago. It is bigger than the other models and it also comes with all kinds of things that you need inside. While it can be used as a regular van, it has a lot of facilities that make it a comfortable motorhome. This makes it also ideal for longer journeys. It comes with a double bed, a kitchen area with some storage space and cabinets, a heater, fridge and stove. It has fresh water and gray water holding tanks. The only thing that this camper lacks is a bathroom, but in the times when these campers were created having a bathroom inside a camper was less common.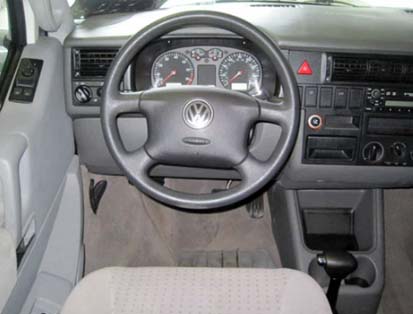 VW Volkswagen Eurovan Weekender, model 2001- view inside

Why choose the Eurovan camper
If you choose one of the models of the Eurovan camper you will have the classic characteristics of the Volkswagen camper with some newer, more modern and more efficient traits and features. This camper is very versatile with its ability to be a perfect everyday low profile van, but also a comfortable travel vehicle with its pop up roof top.
Buying Volkswagen Eurovan Campers
Nowadays you can only find the Eurovan campers in stores and online shops that sell used RVs and motorhomes. Winnebago has new lines of models that they have released on the market. However, the Eurovan campers up until today remain sought for by many travelers and fans of Volkswagen campers. If you are looking for such a vehicle you can find them through some dealers, but here are also a couple of shops that have them for sale.
Pop Top Heaven
This shop sells VW campers of all kinds, including Volkswagen Eurovan Campers. They have the largest selections of trailer of this kind, so you will surely find what you are looking for in such a variety of products. They sell both new and used VW campers, and you can also use it as a place to advertise your vehicle if you want to sell it. They have many types of Eurovan Full Campers, they also have the Weekender model, and some Vanagon Campers as well. The models they sell at this online store are from all over the USA, and they have different mileage and they are in different conditions.
Go Westy
If you like Volkswagen campers, you have to visit this store. They specialize in VW campers and they have a large selection of various models that are very difficult to find today. They have both Westfalia camper vans and the Eurovan campers. Here you can find also some old parts for replacements, accessories of all kinds and more.
And now let's make a tour of this Volkswagen Weekender 2003...

.....awesome van, decked out with GPS, navigation, Recaro seats, drop-down TV screen in the back, custom drawer in back hatch, and nice presentation :-)

 About Us / Privacy Policy / Resources
Go from VW Volkswagen Eurovan Camper to Camper Van