Directory of Campgrounds: Tent and RV Camping Parks Washington (WA)
Tent and RV Camping Parks Washington (WA)
Washington is a state in the Pacific Northwest region of the United States.
The geography of the state is quite beautiful, with numerous islands, deep fjords, and bays.
The lush rainforests in the east and mountain ranges in the west give way to many national parks.
Some of the most amazing natural sites are the North Cascades National Park, Mt. Rainier and Reflection Lake, Adams Glacier Basin and Columbia River Gorge.
It is also worth to visit the Seven Wonders Museum, Bellevue Arts Museum, Burke Museum of Natural History and Culture, Children's Museum in Seattle and Lewis and Clark Interpretive Center.

Starting point: Trip to Washington's Olympic, Mt. Rainier and North Cascades National Parks
Peaceful Pines RV Park & Campground
1231 W. 1
Cheney WA 99004
(509) 235-4966

Peaceful Pines RV Park & Campground is located on 7 acres of pines and green field in a rustic environment. They offer full-hookup, pull-through sites with 30/50 amp electrical service. You can use the internet and watch movies thanks to the cable TV for no additional cost.
Although there is no grocery store at the campsite, you will find one at walking distance from the RV Park.
There are four lakes only 10 minutes away, so there are plenty of possibilities for water related activities. Nature lovers will find something special in the nearby Turnbull Wildlife Refuge. Others may make a visit to the Eastern Washington University.
Cheney, where the park is located, also offers a lot of attractions and fun, especially during summer time. The Cheney Jubilee is famous and so is the Cheney Rodeo, moreover, summer concert and outdoor movie nights are very popular among visitors.

....enjoy the Laser Light Show near the King's Court RV Park...

King's Court RV Park
212 East Grand Coulee Ave
Grand Coulee WA, 99133
(800) 759-2608

This is a small campground in the Grand Coulee Dam area. They have 32 full hookup RV spaces, with sewer, water, electricity and cable TV. Note that the RV park offers discounts for off season!.
The laundromat in the campground is coin operated. You can buy soap, fabric softener and laundry bags at the camp.
They also offer a special service to guests, for example the Free Shuttle Bus to the Laser Light Show that is organized not far away from the campground.
While the park doesn't have a lot of facilities, there are plenty of things to do in the area: Banks Lake is close by - perfect for fishing, boat launches and water sports. Steam Boat Rock State Park has beautiful walking trails. Spring Canyon National Park and Colville Tribes Native American Museum are also places you must visit while you are here.

North Lake RV Park and Campground
20 Roosevelt Road
Kettle Falls, WA 99141
(509) 738-2593

Whether you are looking for adventure, fishing or simple relaxing, you can find it all at North Lake RV Park and Campground. They offer full hookups with 30 and 50 AMP service (50 Amps by reservation only). The Park has also log-cabins for rent. They are fully (large cabins up to 6 people) or partially (small cabins up to 4 people) furnished, but they do not have running water. Also, you will need to bring your own bedding.

Thanks to the large area, the park is perfect for groups. On the premises you will find a community gas BBQ with large canopy where you can spend some lovely afternoons.  The RV Park offers free coffee and breakfast treats.

North Lake RV Park and campground is a family oriented. There are nature trails around, fishing possibilities, wildlife and bird-watching as well. Northern Lake Roosevelt is just a walk away, you can go swimming there on hot summer days, and go huckleberry picking after that.

View on the Grand Coulee dam on the Columbia River (Washington)

Grand Coulee RV Park
Bridgeport Hwy 174
Grand Coulee, WA 99133
(509) 633- 0750

Grand Coulee RV Park has mostly gravel sites with a few trees. It is very close to the town, as the matter of fact the Park is located right at the town's perimeters. They have pull-through sites with full hook-ups including 20/30/50 Amps electrical service.
All sites have access to washroom, shower and a covered picnic area with tables and BBQ. Groups are welcome. There is a book exchange place as well, so bring your old unwanted ones with you!
The park is just a couple of minutes away from Grand Coulee's downtown with all its great restaurants, gas, shopping centers and sightseeing.
For attractions and activities - you can easily reach from the park the Lake Roosevelt & Boat Launches as well as the Fishing Hub of Eastern Washington.
Grand Coulee RV Park is only minutes away from Laser Light Show at the Grand Coulee Dam.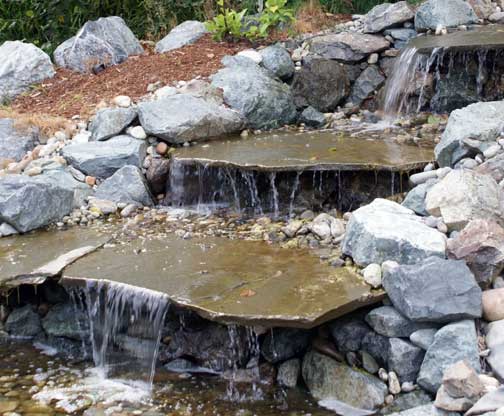 .....waterfalls in Hi-LO RV Parks will greatly help to find the peace after leaving the hectic city life behind......
Source: http://hi-lorvpark.webs.com/

Hi-Lo RV Park
705 Baker St
Cascade Hwy
Hamilton, WA
(360) 826-6530

Hi-Lo RV Park is nested in green hills but surprisingly it is only a few minutes away from the town. It has 28 sites with full hook-ups including water, sewer, power and cable.
This is a family friendly campsite, welcoming kids of all ages. The park is also great for larger groups, since they have a BBQ pit with a kitchen area and dance platform for various gatherings and events. The park has several water fountains where you can relax.
You can access numerous trails from the park and have an amazing walk through "generous", pristine nature. You can ride your bike to the town on the graveled trail. Horse-back riding is also possible in the area.
Those in need of town-type of entertainment can visit Concrete with its restaurants and opportunity of sightseeing.
And do not miss - Hi-LO's friendly staff organizes enjoyable karaoke nights, just try and you may leave the party as a new rising "Star"…..

---
Visitor's story.....

Watch the wildlife scenes and beautiful lighthouses along with super campgrounds that await you when you travel to Washington.
A directory of campgrounds: tent and RV camping parks Washington (WA) provides a few names of some campgrounds for a motorhome trailer, pop up camper or as some would say, a mobile home.
If you need the space, some campgrounds have over-sized lots for more room.
Take the motor home or any recreational vehicle, enjoy the beach camp or a wilderness campground, and explore the land while in Washington.
With a directory of campgrounds: tent and RV camping parks Washington (WA) you have a starting point to finding the right campground for your stops.
Always leave enough time to travel to all the attractions you want to stay at when camping and traveling around the state of Washington.
Check these campgrounds for possibilities:
Midway RV Park
3200 Galvin Rd/Exit 82-I-5
Centralia WA 98531
360-736-3200


Smokey Point Mobile-RV Park
17532 Smokey Point Blvd
Arlington WA 98223
360-653-8804


Brookhollow RV Park
2506 Allen St
Kelso WA 98626
360-577-6474


Woodland Shores RV Park
1090 A Street
Woodland WA 98674
800-481-2224


Alderwood RV Resort
14007 N Newport Hwy
Spokane WA 99201
509-467-5320
 About Us / Privacy Policy / Resources
Go to: US RV Parks and Campgrounds

Go from Directory of Campgrounds: Tent and RV Camping Parks Washington (WA) to Pop Up Campers Trailer Home